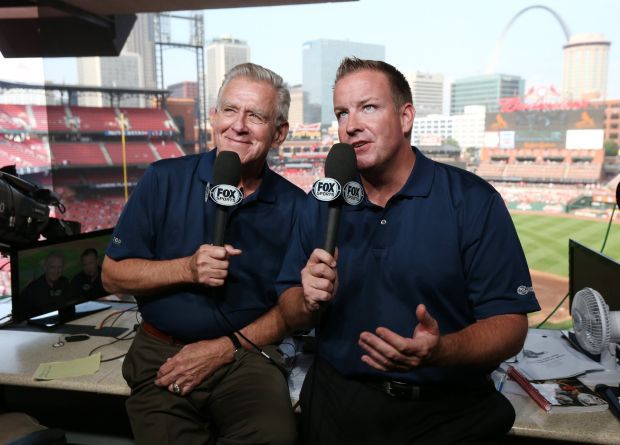 This space usually disdains promotional clutter that junks up broadcasts of sporting events, especially when Fox Sports Midwest turns a Cardinals telecast each season into an elongated sales pitch for a premium seating area at Busch Stadium — and on a more frequent basis when it shows gratuitous shots of team-owned Ballpark Village.
But one exception is FSM's annual salute to U.S. military members during a Cardinals telecast — this year called the "This One's For You" game. Coverage starts at 6:30 p.m. Friday, followed by the Cards entertaining the New York Mets 45 minutes later.
Dan McLaughlin (play-by-play) and Tim McCarver (analysis) have the broadcast, the 10th edition of the event.
Live hookups are planned with members of the Missouri National Guard's 1st Battalion, 138th Infantry Regiment serving in Qatar, as well as interviews with military families at Busch. FSM's Sara Dayley is scheduled to talk to Clarence Adelhardt, a World War II veteran from Troy, Ill., in the second inning. Adelhardt, who turns 100 this summer, is to be honored on the field before the game as the Cardinals have designated the contest "Military Appreciation Night."
"I find this telecast to be the most meaningful we do all year," McLaughlin said. "While technology has changed over the years since we started in terms of the families being able to communicate, it's still powerful because (some of) these families have not been in physical contact with each other for a long, long time. For the children especially, to see their reactions, their emotions, that's why we do this. It's a chance to hopefully have the families connect with loved ones and friends but, also, a chance to give the troops a slice of home and that's Cardinals baseball. Also, it puts in perspective how lucky we all are to have these troops protect us and their sacrifice. We should never forget what they do and I think we make sure they know how appreciative of their service we are."
While McLaughlin finds the experience rewarding, it does require adjustment on his part.
"It's a difficult telecast. There's the balance of trying to present the game properly and also give the troops and their families the right amount of time and respect they deserve. Also, there is the reality of a (transmission) delay of doing an interview with the troops and staying in-time with the game. It's a delicate balance, but it's completely worth it.
"Also, it's emotional for all of us involved with the telecast. These troops and their families put so much on the line and I never forget that it allows us the privilege of enjoying a baseball game. I love doing it. It's been an incredible experience over the years and I know this one will be as well."