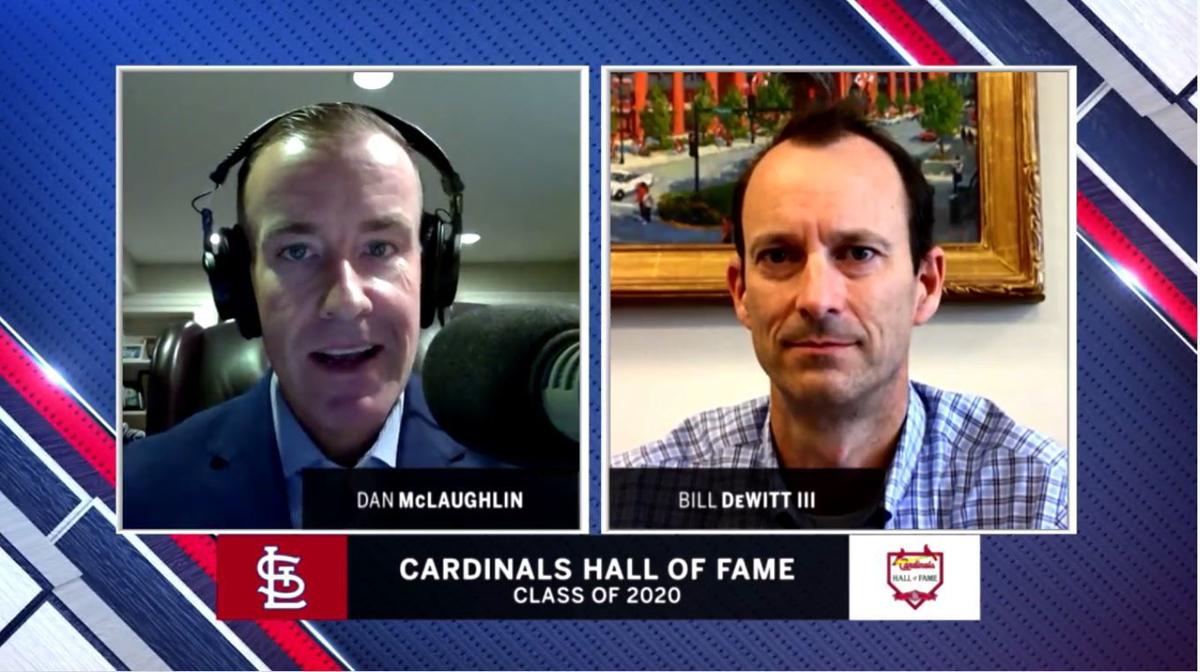 Fox Sports Midwest is moving forward with its first newsworthy production since the coronavirus-fueled shutdown of almost all major sports began two months ago.
It's not exactly the massive undertaking ESPN and NFL Network combined on in televising the NFL draft last month, meshing video feeds from across the country into a stellar performance — especially given the circumstances. Now FSM has a half-hour show, at 6:30 Friday night, in which the Cardinals' Hall of Fame class for this year will be unveiled. It is to be repeated at 10 a.m. Sunday and 6:30 p.m. Monday.
Like in previous editions, it is a recorded presentation. But this version literally has a more homey look than the ones that usually are taped at the Cardinals Hall of Fame. Host Dan McLaughlin was at home this time when he did his segments and Cardinals president Bill DeWitt III was in his office at the sparsely-occupied Busch Stadium team headquarters.
"It was different for sure," McLaughlin said.
The program unveils which two of seven nominees have been selected to be in the team's shrine. Voting was conduced by fans, whose had the following list of players from which to choose — Steve Carlton, Keith Hernandez, Tom Herr, Matt Morris, Edgar Renteria, Lee Smith and John Tudor. A veteran player also was selected by a committee.
McLaughlin wouldn't divulge the winners ("Are you trying to get me fired?" he kiddingly said). But he did say that although the inductees were told ahead of time that they had won, their response in talking about it publicly for the first time "might have been the coolest part of it.
"To have their reaction to hearing, 'Hey you're going to be wearing that red jacket, you're going into the Cardinals' Hall of Fame, what does it mean?' You definitely could see it meant a lot to them. It was kind of a culmination of their careers in St. Louis, so you could tell it was kind of emotional for them. . . . I think fans will really get a kick out of it."
This type of off-site broadcasting has become the norm during the shutdown. ESPN has announcers calling Korean baseball games from their homes, NASCAR commentators have been working from a studio, and NBC's Mike Tirico hosted a charity golf event last weekend from his home.
However, Brian Anderson plans to be working in an open-air booth near the 18th green on Sunday when he is the lead broadcaster for the charity golf match in Florida in which Tiger Woods and Peyton Manning oppose Phil Mickelson and Tom Brady. (That is on multiple Turner Broadcasting outlets, at 2 p.m. — TNT, TBS, truTV and HLN.)
The new look
And expect to see more remote announcing once sports return to normal — not necessarily for broadcasts of major teams, but in other shows. For instance, instead of having someone call in to discuss a developing story, that person could be on the show via video conferencing.
"It's here to stay," FSM executive director Larry Mago said. "We will use this technology for other things. It's not going away."
He said it is "definitively additive," meaning that the technology eventually will be supplemental to traditional coverage.
Friday's telecast won't be the first remote production for FSM, which has shown trivia contests involving some of its announcers and produced a program about the National League Central Division in such fashion. That was done for Fox Sports Midwest owner Sinclair Broadcasting's outlets in NL Central markets.
And FSM has shown a lot of old Cards and Blues games. While viewership hasn't approach the levels live games attract, these broadcasts accounted for the top-rated prime-time sports programming in St. Louis on 18 of the 30 nights in April.
Finding a place
Remote production could be a forerunner of the way some Cardinals games are covered this year, by broadcasters who are not on site — provided there are Cards contests this year.
Mago, without going into specifics, said plans for a return to baseball start with the worst-case scenario then backtrack toward what would be a normal broadcast. That way the personnel will be prepared for whatever situation they could face.
He calls it the "what-if" situations.
All kinds of possibilities for broadcasters have been raised, including working at home for all games, being in a studio for all games, being on hand for home games and working remotely for road contests.
Broadcasting from a ballpark or studio, both with social distancing, would seem the most likely That's because it would be expensive to equip homes of play-by-play broadcasters and analysts with enough monitors and other equipment to do the best possible job under the circumstances. And communication with others, either broadcast partners or production personnel, is better in one setting. Announcers currently working from home often talk at the same time.
McLaughlin is eager to get back to work, no matter where that is located.
"In these times, we have to be as flexible as possible," he has said. "So if I was asked to do play-by-play from my kitchen, count me in."
Keep up with the latest Cardinals coverage from our award-winning team of reporters and columnists.