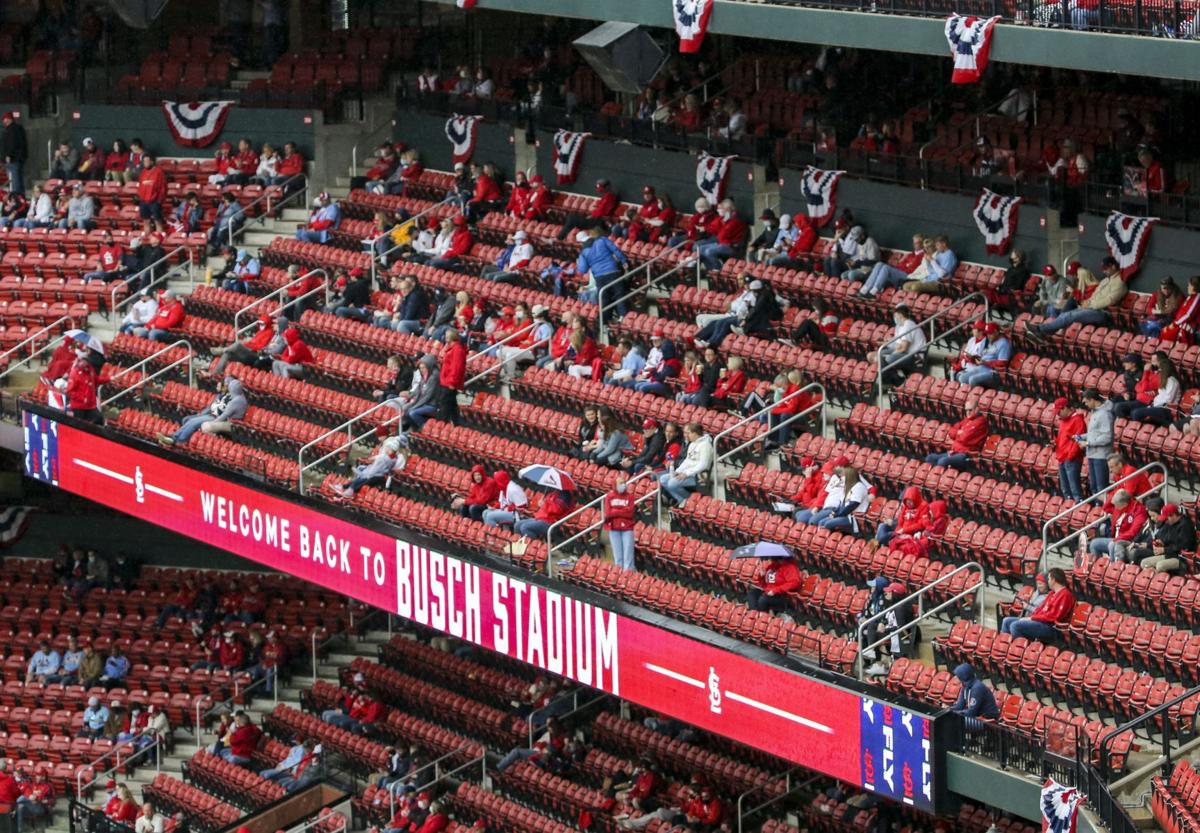 The piercing sound reverberates through Busch Stadium. It shrieks through loud and clear — obnoxiously so — on Cardinals radio broadcasts. It likewise adds a grating backdrop to the television soundtrack.
"Wooooo" howl some fans in the latter stages of many Cardinals home games in what has become a ritual that has annoyed many. It apparently is a homage to retired pro wrestler Ric Flair, who made that cry part of his schtick.
And some members of the local media are weighing in, mostly tongue-in-cheek.
One of those is longtime local sportscaster and St. Louis University basketball radio play-by-play announcer and baseball aficionado Bob Ramsey.
"The Cardinals have officially lost BFIB (best fans in baseball) status," he tweeted this week. "Now that I have your attention, until the 'woos' stop, it's just another fan base. Hey, do what you want . . . you paid for the ticket. . . . but there are consequences."
He suggests instead of BFIB, it's time for a new moniker for Redbirds rooters — CNPGF.
"Cardinal Nation . . . pretty good fans!" Ramsey concluded.
Michelle Smallmon, co-host of the morning drive-time show on all-sports station WXOS (101.1 FM), also is unhappy.
"The woo people must be identified and be forced to do a postgame (interview) and explain themselves," she tweeted.
Sportscaster Charlie Marlow, of KTVI (Channel 2) and KFNS (590 AM), went as far as posting a poll on Twitter in which he wanted to know which is worse: no fans last year or wooing fans this year.
The results of his unscientific survey were that 67% of the 1,119 respondents preferred the empty stadium to the wooers.
Tom Ackerman, sports director at Cardinals Radio Network flagship station KMOX (1120 AM), had an amusing take on it in a tweet this week:
"Hearing renewed criticism of Woo Birds in recent days. Fortunately, I've done research on this issue. The Woo Bird thrives mostly in environments with three factors:
The howling is nothing new. Three springs ago, Post-Dispatch sports columnist Benjamin Hochman was rankled as it was gaining traction — after the rap song "Ric Flair Drip" came out.
"Sitting in the stands at Busch tonight," he tweeted then. "The fans (have) begun woo-ing. It's MADDENING. And they're not even all doing it Ric Flair style. It's more of like a dying wolf."
Sportscaster Doug Vaughn of KMOV (Channel 4) and KFNS has long been in favor of pooh-poohing the wooing:
"If the Masters can ban patrons who yell 'dilly dilly', maybe the Cardinals can eject fans who yell 'wooo," he tweeted in April 2018. "Can anything be more annoying? That trend will cause people to leave game or turn off the tv."
But it has resurfaced this young season and the cry might be even louder now than in the past. With attendance limited because of the coronavirus pandemic, there are tens of thousands of hard, empty seats in the ballpark from which sound bounces.
The howling is not unique to St. Louis. It reportedly has been heard in Houston, Pittsburgh, Philadelphia among other places in recent years.
It even has made its way from the stands to the playing surface. After Utah beat Boston in a nationally televised NBA game in February, Jazz guard Donovan Mitchell let loose with a couple "wooos" to team videographer Trey Kamberling according to a KSLsports.com report.
Back in St. Louis, Jim Hayes wants to "eschew the woo." Hayes, reporter and anchor for Cardinals telecaster Bally Sports Midwest, had some fun with the topic on Thursday.
"Upon the Cardinals return from their current road trip, I will be patrolling Busch Stadium in a tee shirt that reads Eschew The Woo, in an effort to quell the recent outbreak of behavior detrimental to the common good," he tweeted. "Thank you for your cooperation."
Ratings report
It's early — very early — in the baseball season, but Cardinals TV ratings are holding fairly steady compared to recent years despite Bally Sports Midwest having only two games so far that were played in full during prime time and five of the 12 contests being decided by six or more runs.
Ratings figures are available through the first 11 games, and those were seen in an average of 6.3% of homes with a TV in the St. Louis market. That is an 18% increase over the club's full-season rating for last year's pandemic-fueled truncated season and a 4% decrease compared to the 2019 season average. However, Nielsen — which tabulates viewership figures — says BSM's telecasts are drawing an average of 121,000 fans per game, compared to 83,000 last year and 99,000 in 2019.