MILWAUKEE — A gnarled, ugly game that had its messy moments before it erupted into angry ones cratered into a loss with lingering consequences for the Cardinals.
The Milwaukee Brewers jettisoned starter Jack Flaherty early and left manager Mike Shildt irate later in the worst loss and possibly costliest game in many visits to Miller Park. The Brewers scored nine runs off Flaherty on their way to an 18-3 victory Tuesday, and as they stacked rallies an incident that sent Yadier Molina for X-rays brought Shildt toe-to-toe with Milwaukee's dugout.
An insult he heard, from someone near the Brewers' bench, was too much with the lopsided score and possible injury to Molina.
He still seethed more than an hour later.
"I'm not going to take it," Shildt said. "I'm not going to take any chirping out of the dugout. We're not going to start things, but we're not going to take it. Heard something I didn't appreciate. I will always have our players' backs. I will especially have a Hall of Famer and a guy who has the most physical, mental toughness that I've ever managed and may ever manage. I will always have his back."
The nine runs against Flaherty were a career worst for the opening day starter, and the 18 runs scored by the Brewers were their most ever against the Cardinals. The loss left the Cardinals fuming, their pitching on fumes, and sporting welts galore — physically, in the box score, and on their nerves.
Molina caught another two innings after Ryan Braun's bat hit him in the left hand for a catcher's interference. The results of the X-rays were not immediately known, and the Cardinals expected to have Molina undergo another exam Wednesday. Infielder Kolten Wong was removed from the lineup shortly before first pitch because of a soreness in his side that Shildt said the team hopes it caught before it became more severe. He too was undergoing additional exams.
On the eve of a doubleheader Wednesday and another one Friday, the Cardinals needed five innings from the bullpen and aren't sure if their two Gold Glove-winning fielders will be available today, tomorrow, or this week.
"We're at the crossroads," Shildt said of the roster decisions. His concern for Molina was as apparent in the postgame interviews as it was on the field.
He added: "If Yadier Molina is in discomfort something is wrong."
The Brewers had already shoved Flaherty (3-2) from his start by sending 10 batters to the plate in the fourth. They were on the way to having 11 hitters in the fifth when Braun, with the bases loaded, clipped Molina's glove. The catcher's interference brought home another run, widening the lead to 12-2. At that moment, the Cardinals were primed by a previous issue with the Brewers' hitters and the runaway score. Molina's injury had their focus. But Shildt set his eyes on the Brewers' dugout. What he heard in response drew his response.
Jedd Gyorko picked up on Shildt's fury quickly and created a buffer between his former manager and his current team. Eventually, pitching coach Mike Maddux and even Molina would work to separate Shildt from the Brewers players and manager Craig Counsell.
Shildt declined to say the phrase he heard or who said it.
"I feel like it was more directed at me, quite honestly," Shildt said. "Did I do anything to warrant it? Perhaps. I was staring in the dugout. I will accept that. With my mask on it's hard to appreciate what people are really intending. I can hear great, though. My hearing doesn't suffer with the mask on. … There's no allegations against Ryan Braun, necessarily. It just didn't look good. It's a second catcher's interference of a guy who has caught since June of 2004 when he made his debut. It just didn't look good when a little bit of conversation took place prior to it. It didn't look good.
"At that point you think I'm going to accept that? No," Shildt continued. "But you take the high road. There was a look in the dugout. There was something said. At that point all bets are off."
Shildt's anger simmered for minutes after the brouhaha cleared.
No punches were thrown, no players were shoved, and all sorts of COVID-19 protocols and social-distancing practices were shattered. Both managers were ejected.
Despite Shildt telling him the game was out of hand and the health of his hand was more important, and teammate Matt Carpenter making one last attempt to lobby Molina to leave the game, the catcher played on. He was there later to defend rookie Nabil Crismatt's warmup tosses and engage in an animated discussion with the umpires. Shildt said he did not get an explanation on the details.
"That's what make makes him so damn special," Shildt said.
The Brewers put the Cardinals on alert in the first inning when former MVPs Braun and Christian Yelich socked back-to-back home runs against Flaherty. That erased the Cardinals' 1-0 lead and continued Flaherty's troubles with the Brewers. He's yet to win a game in six starts at Miller Park, and no other team has had success like Milwaukee against him. In the second half of last season, he allowed five earned runs in 12 innings to the Brewers and five earned runs total to any other team he faced in 87 1/3 innings. Flaherty pitched into the fourth inning, but did not get an out. All five batters he faced reached. All five batters scored.
In his previous 33 1/3 innings against the Brewers, they have 41 hits, 30 earned runs, and 11 home runs. There are no secrets.
"Uncanny how well they read him," Shildt said. "They were taking some really close pitches. To their credit, evidently."
The Brewers spent innings ignoring Flaherty's slider, and after the game the righthander was asked if he felt they knew what pitch was coming.
Did they know him that well? Did he have a tell?
"There are a handful of pitches that I didn't execute," Flaherty said. "They were on a lot of pitches that I threw. At the end of the day, it comes down to execution. Especially in situations like that where it snowballs."
That is the Cardinals' concern coming out of a loss like Tuesday's — that what happened in it will lead to losses in the days to come. The uncertainty of two stalwarts, Molina and Wong, and the use of three relievers from a thinned bullpen means there could be a cascade of complications for the roster. Anger cools, but this loss could burn.
There are five games in two cities in a span of 60 hours.
"Sometimes you get beat," Shildt said. "You get beat and you tip your hat. And we've tipped our hat before. We don't like doing it. But we tip it. I've got zero concerns about Jack Flaherty, like I've got zero concerns about the sun coming up."
---
CARDINALS QUICK HITS
THE CASE FOR BRINGING BACK CARLSON — NOW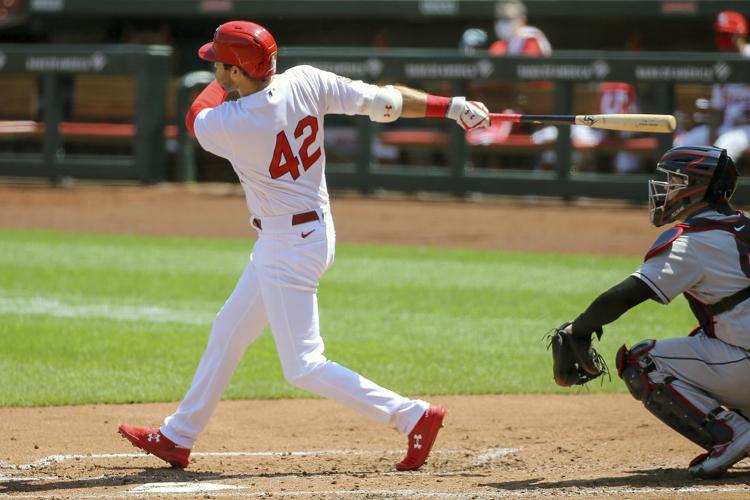 QUESTION: What is best at this point purely for the long-range development of Dylan Carlson: to pull him back out of the frying pan into the fire this month, or to call it a season for him to digest and build from?
COMMISH: If nothing else, Carlson can help defensively or as a pinch runner. He is better than some of the players who are here and he might help the club win a big game, either in the regular season or the playoffs. He doesn't have to win it by himself.
I bring him back. Development can come next spring.
TOO SOON TO FIND FAULT WITH FRONT OFFICE?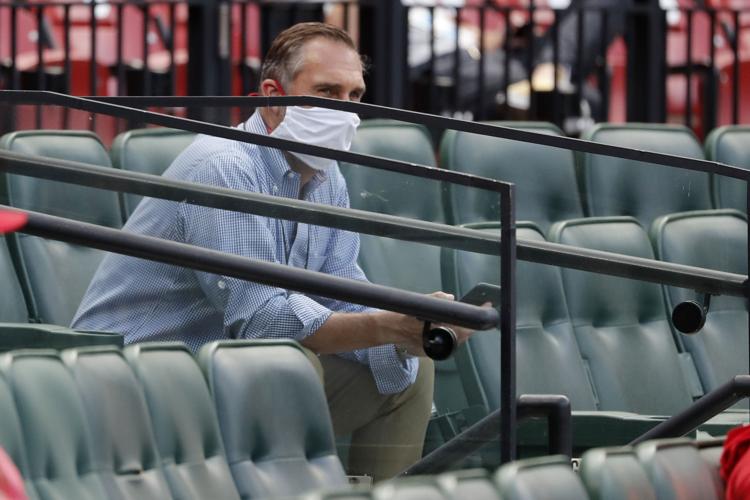 QUESTION: 'Mo' has said he hasn't been looking much at analysis of the roster and is instead focused on surviving the day-to-day games. Do you think there has been enough sample size for the front office to make that analysis in the offseason and make the necessary changes to get this team above the .500 level?
COMMISH: Not to ignore the question, but virtually no one's thoughts in the front office are on next season yet. First goal: Finish the season. Second goal: Make the playoffs. Third goal: Get as far as you can with what you have -- or what you have left.
Then comes the gnashing of teeth as to whether this season has been a legitimate sample size or not. In some cases, whatever sample size there was is going to have to be enough to make a decision.
I don't think the front office views this team as a .500 team, but others would say you are what your record says you are. There will be changes.
---
Follow-up: The offense wasn't good last year and isn't in most cases this year, so when is DeWitt going to start holding Mo, Girsch, Shildt and (hitting coach Jeff) Albert accountable?
COMMISH: There will be time for all this in October, either early in the month or later, depending on how things shake out in the next couple of weeks.
Little has been normal about this season and the analysis part of it will have to factor that in. But everyone is accountable if the Cardinals don't make an eight-team playoff field.
HISTORICALLY BAD OUTFIELD?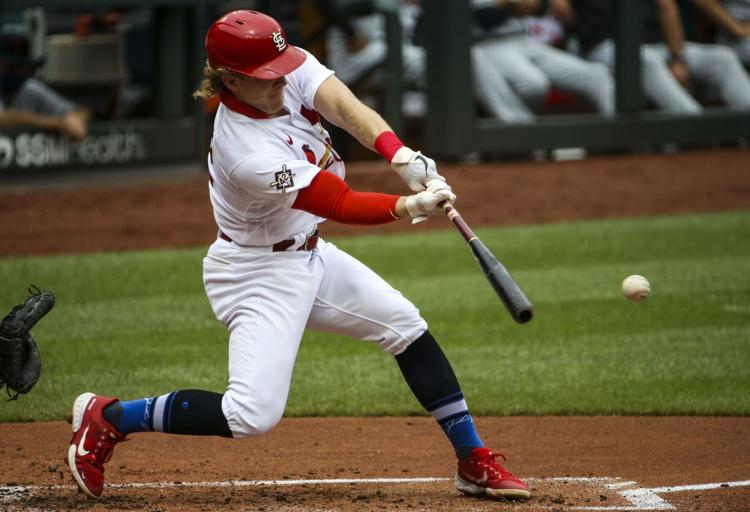 QUESTION: Some arguments online are focused on whether this is the worst Cardinals outfield ever, or just in the last 30 years. With Fowler out, how does the Cards outfield rank?
COMMISH: Other than yesterday's ball lost in the sun, this actually is a good Cardinals outfield defensively.
Offensively, it is one of the worst I've seen in my nearly 50 years here.
But, remember, there have been only 40 games played by mid-September, rather than the 150 that would have been played.
DROP CARLOS FROM THE ROTATION?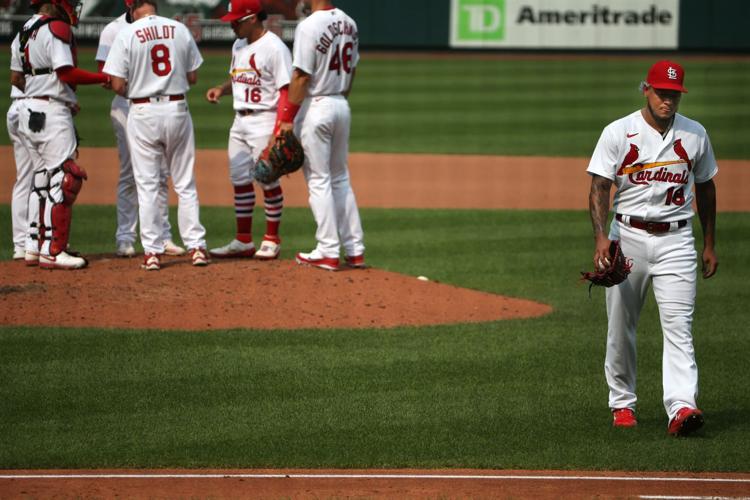 QUESTION: Roughed up in his first two starts. Given an early lead Sunday, he coughs it up. Given a 3-1 lead, he coughs that up. 90 pitches net the team four innings. ERA still over 10.00. How long will the Cardinals continue to prop up Carlos Martinez as a worthy starter?
COMMISH: If Dean catches that fly ball, it's still 3-1, but 90 pitches nonetheless are too many for four innings for Martinez.
He's got two certain starts left — at Pittsburgh and Kansas City —and then he might find himself back in the bullpen again for potential postseason play, because Flaherty, Waino, Hudson and Kim all would start ahead of him.
---
Follow-up: Carlos was successful as a closer last year, and he's bombing now as a starter. And the team doesn't have a closer. DUH. How about they make Carlos the closer?
COMMISH: I wouldn't rule out Martinez being a late-inning man in the playoffs, perhaps even the closer, but he would have to be convinced that is the best thing for him and the team.
CARDINALS' HOPE FOR THE FUTURE?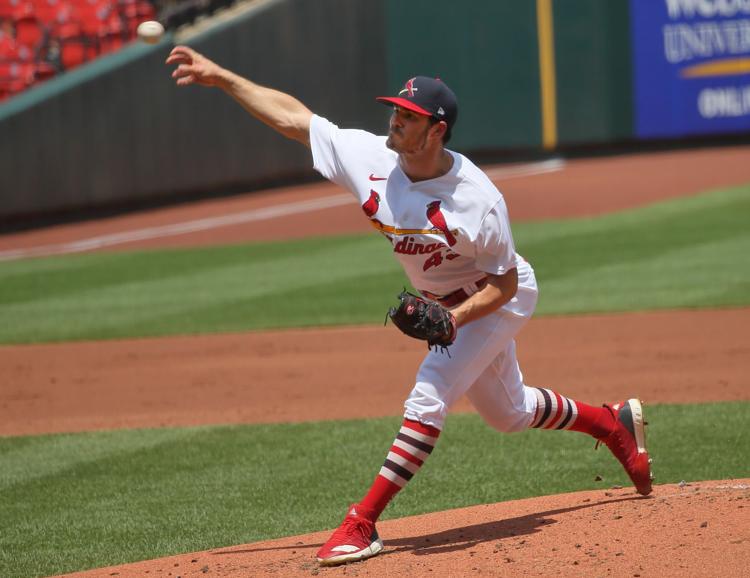 QUESTION: How do you assess the Cardinals' pitching for the next few years? Seems there's is a never-ending flow of decent prospects. Should we be optimistic?
COMMISH: We're seeing enough of Reyes that we can imagine him in the rotation next year with Flaherty, Hudson, Kim, Waino, Mikolas and maybe even Martinez.
Hicks should be back in the bullpen with Cabrera, Gallegos, Gomber and Helsley. And Liberatore and Thompson are not far off as young lefties who could help.
But none of these guys can hit, with the exception of Waino. You can be bullish on the pitching, but some of it likely will be sacrificed to get more offense.
PLAYING .500 GOOD ENOUGH?
QUESTION: All the Cardinals need to do is continue to play .500 ball the rest of the way to claim second in the division. What odds do you give that of happening?
COMMISH: Very good actually, as long as that .500 includes winning five out of 10 from Milwaukee, which is two games behind the Cardinals, but four losses behind. The Cardinals also have eight games left against last-place clubs Pittsburgh and Kansas City.
CARDS-CUBS MATCHUP IN OCTOBER?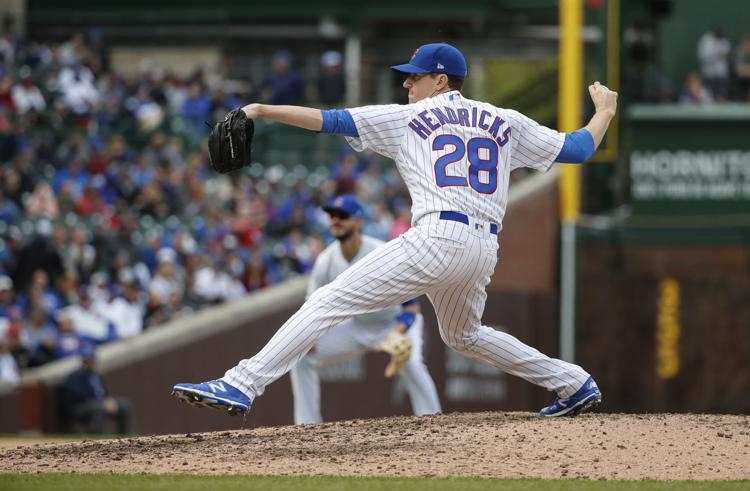 QUESTION: On the chance that the Cards face the Cubs in a 3-game series in the first round of the playoffs, what would you see as the pitching matchups? Who do you think would be favored in such a series?
COMMISH: Flaherty-Darvish; Waino-Lester; Hudson-Hendricks, if the schedule works out that all would be on proper rest. That leaves the Cubs with a no-hit pitcher, Mills, in the bullpen.
Cubs would have to be favored because they've played better, and their bullpen may not exposed as much in a very short series as it would be in a longer one.
COMMISH'S BOTTOM LINE ON THE 2020 CARDINALS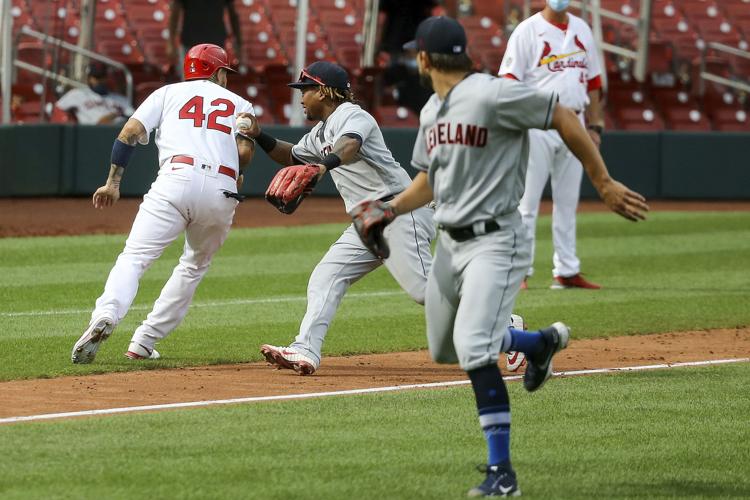 COMMENT: Much of the Cardinals' current situation is really just a collection of self-inflicted wounds. They were a bit lax on protocols at first and that led to their jammed schedule. They have a number of players who have simply under-performed this season. This team put itself into a bad place and appears to have hitched its proverbial wagon to the wrong horses.
COMMISH: I refuse to spend too much time analyzing this season when it is not over.
Has it been a good one? No, not by anyone's standards other than that the Cardinals are going to reach the finish line, it seems, when there had been some serious doubt. They could be hitting their stride now. Or they could have no stride.
This is not a great team. I think we all can see that. But could they win a playoff round or two? Of course they could, because they can pitch.
CARPENTER COMING AROUND?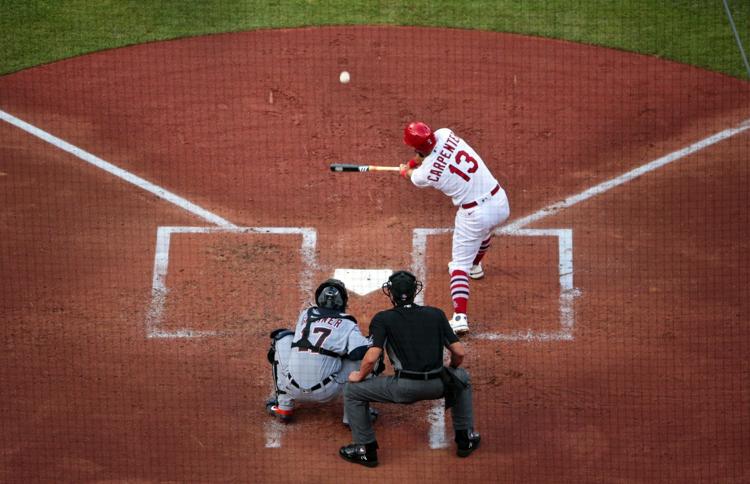 QUESTION: How much should we read into Carp's good homestand? A blip or a lasting improvement?
COMMISH: I would choose to look at it as water seeking its level. Carpenter is not a .170 hitter. How much higher than that is debatable, but the ball looks better and sounds better coming off his bat.
He has only to be good for a few more weeks, not a few more months. You worry about next year's contract whenever the offseason comes.
---
Follow-up: Good news: Carp's bat has come to life. Bad news: Carp's bat has come to life ... so now we'll have to suffer through 4-5 months of sub-.200 hitting during the 2021 season while we wait for the one hot stretch.
COMMISH: If you are a fan, perhaps it is better not to fret yet whether this is another tease. A productive Carpenter gives the Cardinals a lot better chance to contend this season. Their offense needs all the help it can get.
WHAT'S BEHIND ALL THE BULLPEN BREAKDOWNS?
QUESTION: Have the breakdowns in the bullpen lately been due to overuse because of the number of games?
COMMISH: The Cardinals have been very careful, to the extent of giving up on a couple of games, not to work relievers two days in succession.
I suspect that it's just that the Cardinals have been playing catch-up all season, both in the games played and the games behind, and pitchers are stretching the limits of their bodies, which probably aren't as in good a shape as they would be in a normal season.
PLAYOFFS IN A BUBBLE?
QUESTION: Are you anticipating that the postseason is headed into a "bubble"? If so, is that good for baseball? Would you worry about future postseasons, or perhaps just the World Series, slipping to neutral sites?
COMMISH: I would be OK with just the World Series in a neutral site in future years, but there will be "bubble" ball for the final three rounds this season and I'm not exactly sure why. Teams have been traveling all season, so why stop now? The weather won't be that bad anywhere in mid-October.
ADD EDMONDS TO THE COACHING STAFF?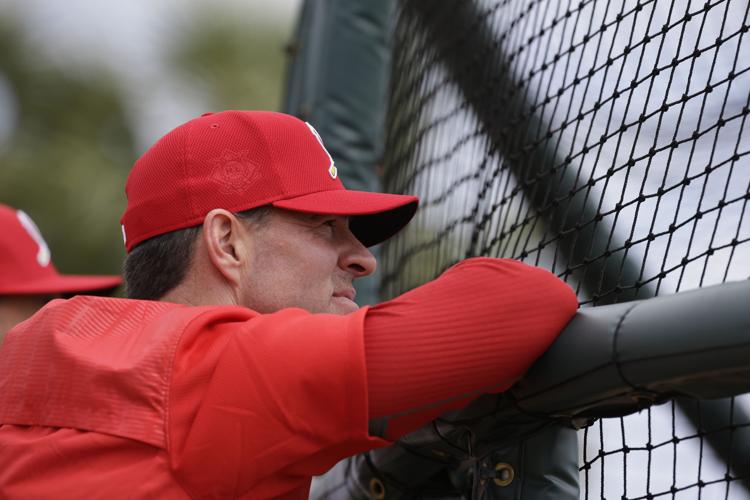 QUESTION: Jim Edmonds really amazes me with all his baseball knowledge. Would love to have him as our hitting coach, even part-time. Do you think there's a remote chance of that happening?
COMMISH: I don't think Jim wants to be on the road all season long or put in all the extra hours a coach has to on a full-time basis. I believe he prefers the part-time aspect of any coaching he would do. He has a high Baseball IQ, yes.
MOLINA AND THE MONEY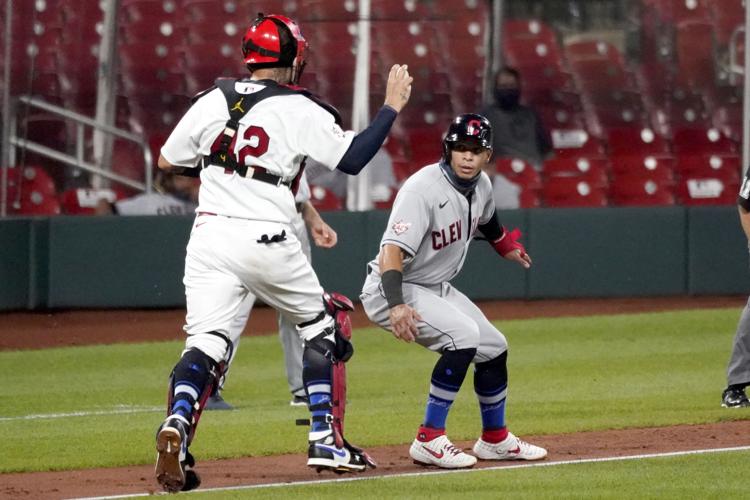 QUESTION: This year's salaries are prorated. Does that apply to offering a free agent like Yadi a reduced contract, or is a reduction offer still based on his full-year salary?
COMMISH: Since Molina made $20 million this season -- if there had been a full season --the Cardinals couldn't cut him any more than 20 percent, or down to $16 million. So the contract offer would not be pro-rated.
The play will be for Molina to file for free agency and then see if the two sides can agree on something mutually beneficial.
NO CHANCE FOR JUSTIN WILLIAMS?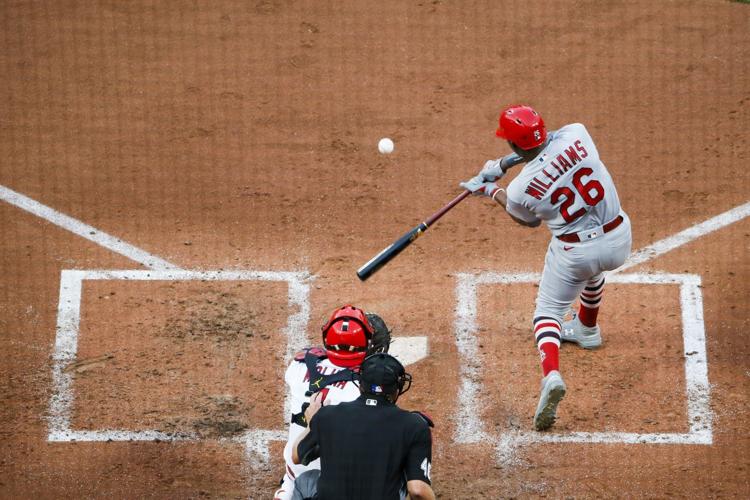 QUESTION: 'Mo' hinted about Justin Williams being added to the taxi squad. Any chance that we see him play in the next week or so?
COMMISH: For whatever reason(s), Justin Williams is not high on the Cardinals' radar and he did not do particularly well in either training camp this year.
Anyone on the taxi squad is only an injury away from being activated. And there have been plenty of injuries. But would Williams play much? No.
ALBERT THE GREAT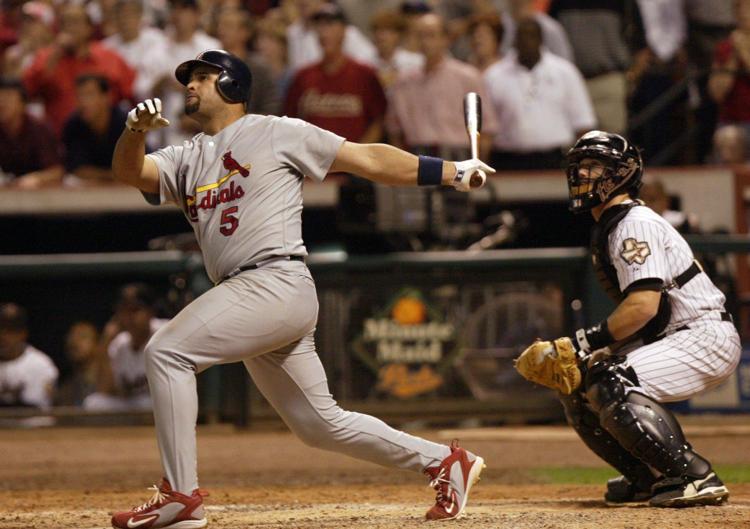 QUESTION: El Hombre is back in the news with another milestone homer. What's your favorite Albert Pujols memory? What are the qualities that made him extraordinary for 11 seasons here?
COMMISH: It would have to be the game-winning home run off Brad Lidge in Houston, keeping the Cardinals alive for another game in the National League Championship Series in 2005.
Pujols' work ethic, equal to his talent if not surpassing it, was his best quality. And his knowledge of the game and its history was extraordinary for someone who was not born in the U.S.
---
Follow-up: Do you think Pujols will ever catch A-Rod in home runs (696)?
COMMISH: It will be hard to do unless Albert becomes a regular player again, which doesn't seem likely. I don't see Albert hitting 36 home runs the rest of this year and then next year. Once he lost the chance to play a full season this year, he also lost his best shot at 700 homers.
LINDOR ON THE RADAR?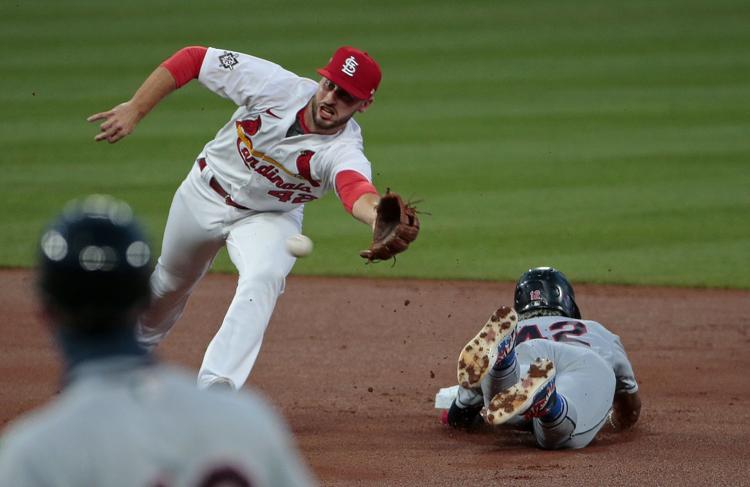 COMMENT: The Cards should take a run at shortstop Francisco Lindor in the offseason. Even if it costs a Hudson or a Liberatore or a Thompson. Lindor is something they don't have, anywhere on the field!
COMMISH: I would take a run at a Lindor every year. But what does it cost? In both players and money? A lot.
But you're right. They don't have a Lindor-type talent. Not many clubs do.
Keep up with the latest Cardinals coverage from our award-winning team of reporters and columnists.