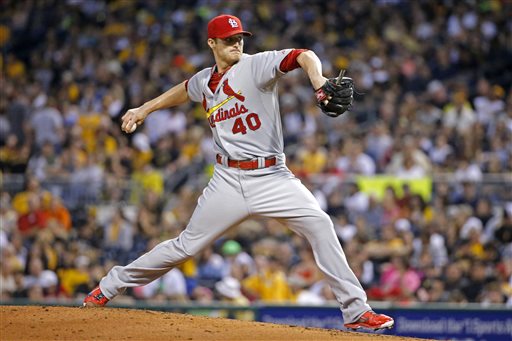 In a sense, Shelby Miller was a very popular fellow while he was pitching Sunday night in Pittsburgh. Catcher Yadier Molina strolled out to the mound for a couple of visits. Pitching coach Derek Lilliquist stopped by with a few well-chosen words.
And then manager Mike Matheny came out to see him in the fifth inning. He would be the last visitor. "We were running out of messengers," Matheny said Monday night.
The topic de jour before Monday's Cardinals game with the Chicago Cubs was all the attention directed to and the angst about Miller, surely the most criticized pitcher riding a five-game winning streak.
Matheny admitted that Miller's won-loss record, much like the three-season run by Lance Lynn, "is something you don't turn a blind eye to. Shelby's finding a way to get it done. But he's making it a little more difficult on himself and a little more difficult on our bullpen."
Of the stream of visitors, capped by Matheny, Miller, who lasted 5 1/3 innings, said, "I don't see it too often. But what he did was pretty cool. He pretty much told me, 'You're better than this and just calm down.'
"I made some big pitches to get out of that inning and we won the game, which is all that mattered."
But Miller said, "He wasn't chewing me out at all. He was probably frustrated with what the situation was. We're winning the ballgame 4-0 and I'm doing everything I can not to let them get in the game, which I almost did the complete opposite of."
Yes, Matheny was a little frustrated. "'Pep talk' was kind of the theme," he said. "But I'm not happy when we're playing the way we were.
"It was one of those days when you could see it slipping away. There was urgency to get things right. We were in a position where we (could) have that game go the wrong direction, so there was some force behind the message.
"These guys haven't seen me really, really mad. They've seen me close. I didn't swear at him. But he knew I was serious."
Matheny said Miller's mechanics are off enough now that "it takes a lot of work, a lot of visits."
Miller probably shook off Gold Glove catcher Yadier Molina more than is customary but he said, "Some of the shake was to get the hitters off balance. Usually, we don't shake that much."
Miller's basic problem is his inability to control the strike zone with his fastball, whether he is trying to yank the pitch or trying to throw it too hard in stressful spots or flying open in his delivery.
"It's just a little bit of everything," he said.
Miller, 23, said that he got "ticked off" when he got into jams. "And that can be troubling," he said, "because that's when you start trying to throw the ball harder and trying to blow it past people and that's when you start walking guys and your mechanics get all messed up."
"That's where guys like Waino (Adam Wainwright) are better than me. They drop what's happening right there and focus on the next pitch."
Miller, who leads the major leagues in walks with 27, said he would start to work on his problems even when he is just playing catch between bullpen sessions.
"Sometimes when you play catch, you. . . don't take it as seriously as you need to," Miller said. "I need to work on things between starts every single day. Maybe I've been slacking a little."