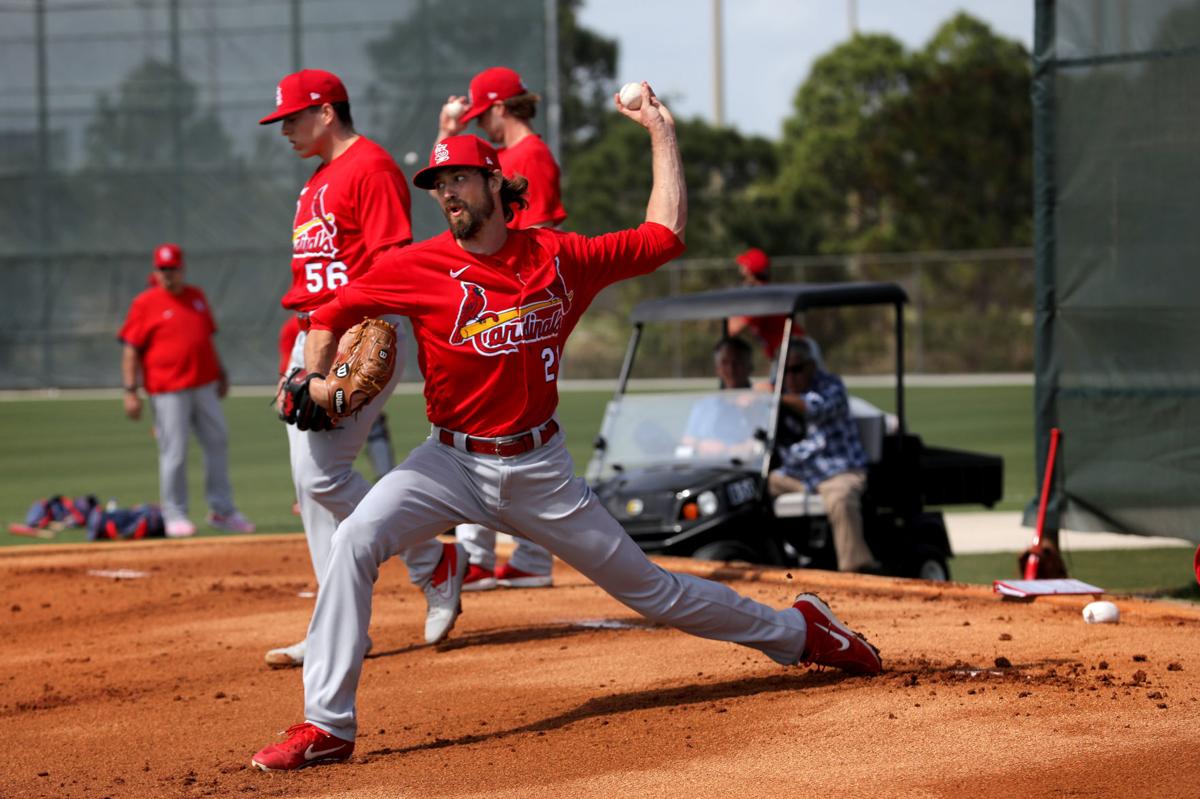 JUPITER, Fla. — Lefthander Andrew Miller was fifth in the National League in games pitched (73) and second in relief holds (28) last year, his first season with the Cardinals. He had five wins and six saves for the Central Division champions.
"I pitched in 70-odd games but I'm a lot better than I was last year," said Miller, 34.
Pitching coach Mike Maddux, upon hearing this declaration, said, "I love the attitude. That's the pro that he is. But if he's a lot better than he was last year, man . . . we'd be the benefactors."
Miller probably won't be what he was in in 2015 and 2016 with the New York Yankees and Cleveland.
But who could be? In 2015 with the Yankees, Miller struck out 100 and walked 20 in 61 2/3 innings and held opposing hitters to a .151 batting average while posting 36 saves.
Between New York and Cleveland the next season, Miller was a combined 10-1 with respective earned-run averages of 1.39 and 1.55. He permitted just 42 hits in 74 1/3 innings while striking out 123 and walking but nine.
In the postseason, when manager Terry Francona rode his stallion hard, Miller pitched multiple innings on several occasions, seemingly without incident. He was named the American League Championship Series MVP after he worked 7 2/3 innings over four games against Toronto, striking out 14 and giving up just three hits.
He had pitched in four of the five games in a division series win over the Yankees and appeared in four more games, covering 7 2/3 innings, in a seven-game World Series loss to the Chicago Cubs.
Seeking 'fun run'
But for the next two seasons, until he got to St. Louis, Miller was dogged with injuries — right knee, left hamstring, left shoulder. He was on the disabled list five times in that span, missing 85 games in 2018.
"I wouldn't trade the run I had for anything," said Miller at Cardinals spring training camp. "I wouldn't go back and change a thing that happened. But it kind of caught up with me and turned into a grind for a while. Hopefully, the grind is over pretty soon and I get to go on another fun run."
The good news for Miller was that he was healthy for a full season in 2019. The bad news was that he hit eight batters, five of them righthanded hitters. And he allowed 11 homers, with righthanded batters hitting seven of them in just 54 2/3 innings. Both were career highs. His ERA was 4.45.
These are the things Miller speaks of when he says he can be a "lot better."
Asked to grade his season from 1-10, Miller said, "Somewhere in the middle. I felt I competed but there was no consistency. I'm proud of the work I put into it and the ability to get it done, but it was a real big grind.
"I was able to stay on the field and I was able to get through most outings. But, whether it was throwing enough strikes or enough quality strikes — it was easy to look back at the pitches that were home runs and that they weren't any good.
"I don't feel I had too many stretches where I thought I was that good. But I found a way to pitch pretty well in some big games down the stretch. We had some games against the Cubs (in Chicago) and it was fun to be out there. The atmosphere was something I kind of stepped up to. There were other games — a game against Miami at home and Arizona on the road, where I need to be better."
In the season's final week, Miller lost a 1-0 lead in Arizona for Jack Flaherty when he surrendered a ninth-inning home run in a game the Cardinals lost in 19 innings. Against the Marlins in June, Miller tossed a game-losing homer in the 11th to light-hitting JT Riddle.
He earned his keep in a four-game Cardinals sweep at Chicago in late September, gaining the Holy Trinity for relievers in the three games in which he appeared. He had a hold, a win and a save.
Maddux could understand why Miller might be more amped up when facing Anthony Rizzo and the like.
"Those guys with name recognition, who have really cool bubble-gum cards always get your radar up," Maddux said.
Closing time?
With closer Jordan Hicks out until summer after undergoing elbow surgery last summer, Miller could find himself in more closer situations.
"He got big outs in the seventh, eighth and ninth innings last year," Maddux said. "That's kind of his role. Where we are in the lineup, dictates when he throws."
Whenever Miller appears, he isn't bothered by facing the requisite three batters, according to baseball's new legislation. Though he gave up five homers, he did hold righthanded hitters to a .238 batting average while limiting lefthanded hitters to .211.
But Miller is bothered by the rule.
"I'm not really a fan of it," he said. "We've got a game that's pretty darn perfect as it is and adding a rule isn't usually how I'd go about making adjustments. But it's not for me to decide."
Besides his hit batsmen, Miller also walked a hitter every other inning (27) last year.
"Ultimately, if I command the ball better and if I'm more consistent in my mechanics, the walks are down, the strikeouts go up and the home runs go away will go away and I think I can be as good as I ever was," Miller said. "I don't know if that's eternal optimism, or unrealistic. It's on me to find that again.