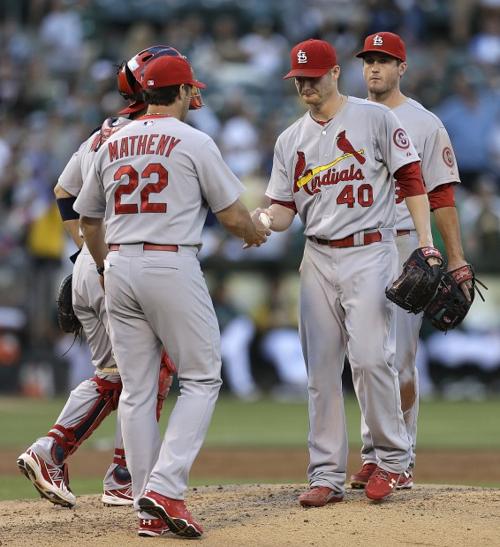 OAKLAND, Calif. • With a few throws left over from his abbreviated start Friday night against the Oakland Athletics, rookie Shelby Miller threw an extended bullpen session Sunday morning as he searched for his fastball command.
"I looked back at the video again and the ball was running, it just was a straight four-seam (fastball) with no life," Miller said. "I'm just pushing it."
Miller threw 35 pitches in a between-start workout that usually involves throwing 20. He spent the time focusing on his mechanics. Pitching coach Derek Lilliquist spotted that Miller was rushing how quickly he gets the ball out of his glove on his delivery, and ace Adam Wainwright studied the rookie from several angles during the bullpen throws.
Miller feels that he has accelerated his arm out of the windup and interrupted his timing and ability to control his fastball. He allowed five runs in 1 2/3 innings of work Friday and said his fastball was the culprit. So deceptive early in the season that teams like Milwaukee praised its life, it has gone flat or lacked accuracy in recent starts.
Miller has lost three of his last four games and allowed nine runs in his past 7 1/3 innings.
"It isn't going to take much time to get back to normal," said Miller, who is set to start Wednesday against the Angels. "This is going to be the longest four days ever."
Hesitant to do so last year at this time, Cardinals manager Mike Matheny said he has lobbied for a few of his players to make the All-Star Game, which will be played later this month in New York. Matheny said he reached out indirectly to Giants manager Bruce Bochy through mutual friends.
"I don't want to insult (anyone) either," Matheny said. "I've been able to throw some things out there. I think you've got to develop relationships (with other managers). You have to command some respect in order to have that sort of say. I haven't been around this league long enough to do that."
The Cardinals packed both red hats and their blue road hats for this trip. The club, while yet to commit to a formal plan with their hat choices, has decided to wear the blue hat and use blue helmets when playing a team with a red color scheme, like host Anaheim or rival Cincinnati. … Carlos Martinez completed a quality start Saturday, and though he lost,  his ERA overall at Class AAA Memphis is 2.02 in seven starts. He has 34 strikeouts in 34 2/3 innings and three of his past four starts have gone at least six innings. … With his 5 1/3-inning relief appearance Friday night, Joe Kelly joined a group of eight Cardinals relievers since 1970 to have as many as three five-inning relief appearances with the team. Ricky Horton, now a broadcaster with the Cardinals, had four long-relief outings of at least five innings with the Cardinals. … At 130-117 (.526), the Cardinals continue to have the highest winning percentage of any National League team in interleague play. The A's, 163-133 (.551) have the fifth-best winning percentage in the AL in interleague games.