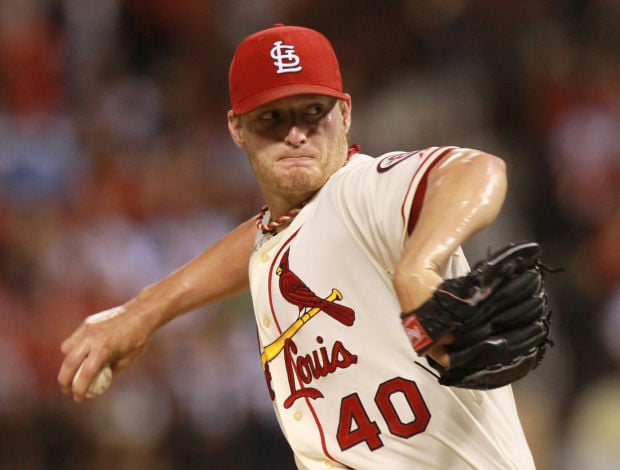 A starter who still seeks to find some way to contribute to the Cardinals' postseason run, rookie Shelby Miller captured the odd contradiction of his current role standing outside of the team's dugout before Game 6 of the National League championship series.
"Hopefully," Miller said, "they don't have to use me."
He got the wish he didn't want.
The Cardinals completed the NLCS in six games with a 9-0 thumping of the Los Angeles Dodgers that night, and they went the entire series without using Miller. The righty, who won 15 games and will appear on many NL Rookie of the Year ballots, warmed up several times as the starter encountered turbulence, but he did not throw a pitch in any of the six games. Miller, who had a 3.06 ERA in 173 1/3 innings and 1.75 ERA at Busch Stadium, was the only pitcher on the roster who did not appear in the NLCS.
Manager Mike Matheny refuted the notion that Miller was a misspent asset or that his spot on the roster was curious because the long-relief role was one they didn't want to use. Like Joe Kelly at the start of the season, Miller was a talented arm under glass — available in an emergency but otherwise unused.
"He allowed us to make some moves knowing that we have him there," Matheny said. "He's going to be a guy we're going to use if we get into a situation where we've got a bunch of innings to eat up, whether it's at the front end or back. He's going to be our guy (if) we have to put things together."
Cardinals officials have said that Miller, 23, is not in danger of eclipsing any innings limit they placed on his young shoulder and that he is not injured. Fatigue was a concern as the rookie saw declines in his strikeout rates in September, and the Cardinals said the break from starting in the first two rounds could have a strengthening effect for Miller. When the Cardinals had innings to shoulder, as Matheny described, in the 13-inning Game 1 of the NLCS, Miller warmed up but it was Game 4 starter Lance Lynn who actually entered the game and pitched two innings for the win. Miller sat.
Cardinals general manager John Mozeliak said that the club is comfortable with Miller pitching another 14 innings or so this postseason.
"The arm feels good," Miller said. "Fresh."
As the Cardinals' approach Wednesday's start to the 109th World Series, they can readjust their rotation. Ace Adam Wainwright is set for Game 1, and rookie Michael Wacha, who won two games and the MVP in the NLCS, will be available to start Game 2. Wacha's ascension this October has made Miller's absence all the more conspicuous. Both were on the Cardinals' save-the-innings campaign. Wacha conserved his innings this season through a six-man rotation in Class AAA, breaks and a turn in relief. Miller had two extended breaks between starts during the regular season, when he was one of the big league's most consistent rookie starters. The Cardinals cited Pittsburgh and Los Angeles as difficult matchups for Miller, leaving open the possibility that he'll start when the World Series shifts to Busch.
Asked Friday if Miller could offer an alternative in short bursts like rookie Carlos Martinez or Seth Maness have this October, Matheny said Miller has "too much value with how he's been built up."
He's thrown 14 pitches this month, and when the World Series opens Wednesday Miller will have thrown one inning in the 27 days since his last start. He's been trying to stay sharp with flat-ground work and believes the feel for his pitches "will come naturally." Matheny said Miller hasn't been caught in the self-fulfilling bind of not being used because of little use.
"If we've got to eat innings we have all the confidence in the world even though he hasn't been out there in a while," Matheny said. "It's not an easy job, just like it's not easy being a bench player. But you've got to figure it out (how) to make it happen because when we need you, we need you bad."
Cardinals cleanup hitter and likely designated hitter in the World Series, Allen Craig, said after Game 6 that he feels his swing is ready and his left foot is healthy enough to be on the active roster. The Cardinals expect him to be at least an option off the bench during the games at Busch Stadium. How much he can tolerate on a foot that six weeks ago sustained ligament damage will determine his role.
Craig took the equivalent of 10 at-bats during a controlled simulation against pitchers like Jaime Garcia and Jake Westbrook on Friday afternoon at Busch Stadium. He has also intensified his running drills, though will take the days before Game 1 to continue the rehab. He has heard from doctors that he cannot do any more damage to his Lisfranc (foot) injury.
"There are some things that I can improve on," Craig said. "I'm happy with where I am. I feel like there is something I can work with now. I'm not going to miss the World Series for anything."
Wacha's parents, who saw their son win the NLCS MVP late Friday night, headed to the airport at 5 a.m. Saturday morning to attend the Wyoming-Colorado State game in Laramie, Wyo. Wacha's younger brother, Lucas, is a standout linebacker for the Cowboys. … The NL team is 19-36 in World Series when the American League club has home-field advantage, as it will this season based on the All-Star Game outcome. … Carlos Beltran's double in the first inning was his 30th extra-base hit in the postseason. He is the third player in NL history to have at least 30, following Albert Pujols (37) and Chipper Jones (31).