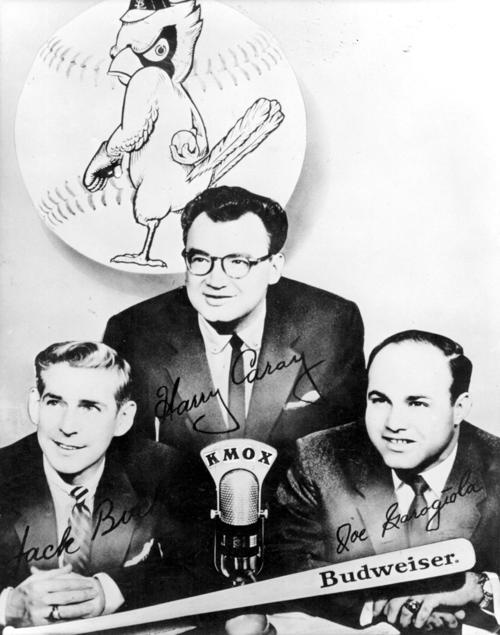 MLB Network takes on a distinct St. Louis flavor the next two Sundays, as it focuses on two baseball broadcasters who were born in the city before becoming national icons behind the microphone.
Joe Garagiola, who was a catcher for the Cardinals before his career blossomed as a broadcaster, is the subject of this weekend's edition of "The Sounds of Baseball" series. Harry Caray, the say-what's-on-his-mind sportscaster who broadcast the Cardinals before finding a huge national spotlight with the Cubs, via cable TV, is featured Aug. 16. Both episodes air at 7 p.m. T
he series previously has centered on Cardinals announcer Jack Buck, also in the lineup have been Vin Scully, Bob Uecker (who was a Cardinals backup catcher in 1964 and '65) and Al Michaels.
The series is co-hosted by Bob Costas and Tom Verducci.
"At various times, Joe was a play-by-play guy, an analyst, and a true 'color' man," Costas said in a statement. "A storyteller and humorist. Beyond that, he was a huge television star: 'Today Show,' 'Tonight Show,' game shows, New Year's parades, and more. Joe was a favorite of baseball fans, but also enduringly popular with millions of viewers who wouldn't know a sacrifice fly from a squeeze play. And Harry Caray? Truly one of a kind. Bombastic, an unabashed homer, a genuine, larger-than-life character. He broke just about every rule in the broadcaster's handbook, all to delightful effect."
Costas added: "It's been very gratifying to see how well 'The Sounds of Baseball' programs have been received. Our intention has been not to merely string together a bunch of great calls. That's an important part of it, of course, but we have also tried to present insight into and examples of what made each of these baseball voices so distinctive."
KFNS managerial change: Geoff Witt, the general sales manager at KFNS (590 AM), also has begun running the day-to-day operations of the mostly sports radio station. John Hadley, who had been in that role, has been reassigned to oversee the youth baseball complex near Lake of the Ozarks in which KFNS owner Randy Markel is the majority shareholder. That facility is scheduled to open Labor Day weekend.
Hadley remains on the air, a member of "The Hardline" show that airs from 1-3 p.m. weekdays. His departure from a managerial position at the station is not being mourned by several current and former on-air personalities.
Meanwhile, Markel said talks continue with multiple parties for him to sell the station, either in full or part, and that "anything is possible" — including a format change.
Philbin's local sportscasting line: Regis Philbin was a man of many hats in an illustrious national television career that spanned decades.
But here is an interesting fact. From 1972-75, early in his career, he would fly to St. Louis from Los Angeles once a month to tape several editions of weekend variety shows that aired on KMOX (now KMOV), Channel 4. Philbin, who recently died at 88, also was a huge sports fan and was tabbed to do commentary on football Cardinals exhibition game telecasts in 1973.
The Post-Dispatch's John Archibald, who wrote about St. Louis television at the time, talked to Channel 4 program director Chris Duffy when Philbin's assignment was announced.
"Regis is a great sports fan, and this won't be entirely new to him," Duffy said. "He did color commentary on football contests while he was a student at Notre Dame and has done some sports work in San Diego. He's always wanting to get more athletes on his shows for us than we think is a good idea. Now he can do a couple hours of sports."