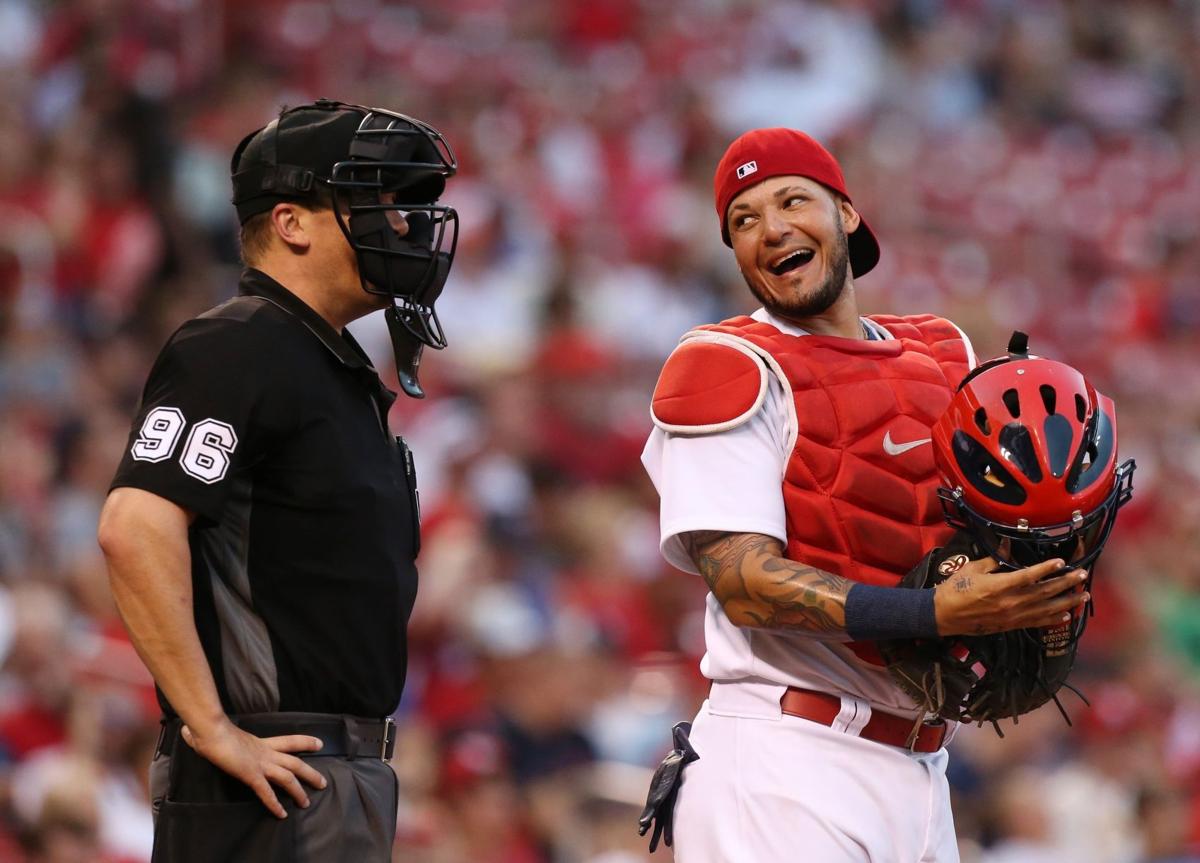 To have two Gold Glove candidates was a coup for the Cardinals because in 2018 they had the most errors (133) in the majors, by 12, and also the lowest fielding percentage, .978. Eight-time winner Yadier Molina was a candidate at catcher and second baseman Kolten Wong was a first-time aspirant.
The Cardinals had a rich history of Rawlings Gold Glove winners since the award was started in 1957. Ozzie Smith (13), Bob Gibson (nine), Curt Flood (seven), Bill White (six), Ken Boyer (five), Jim Edmonds (five) and Keith Hernandez (five) all have won a handful as Cardinals. Now, Hall of Famer Gibson has company at nine as Molina, who made his ninth National League All-Star team this season, also won his ninth Gold Glove.
Molina, after a two-year absence, outpointed Milwaukee's Manny Pina and San Francisco's Buster Posey to go gold again, even though he threw out a career-low 12 baserunners, albeit in just 39 attempts. The announcement was made Sunday night on ESPN.
Wong, who earlier had won the Fielding Bible award as the top defensive second baseman in the majors, was a runner-up to three-time winner D.J. LeMahieu of Colorado.
Molina didn't make an error from July 12 through the end of the season, covering 519 1/3 innings and 509 total chances.
Molina has made 1,773 starts at catcher, 10th most in major-league history. His 1,836 games caught are the most by any catcher for a single team. And he set a major league record for catchers 35 or older by starting 27 consecutive games after earlier in the season missing 26 games when he was struck in the groin area by a foul tip.
The voting process gave about 75 percent weight to the balloting done among managers and coaches and 25 to sabermetrics, which had favored Wong over LeMahieu in the Fielding Bible awards announced last week.
But Wong, while delighted that Molina had regained his Gold Glove status, didn't seem overly disappointed not to have won at second over LeMahieu and Chicago's Javier Baez.
"To say that one of us deserves it more than another is hard to say," offered Wong. "You're looking at three really good defenders who play the game the right way. You can't take away from DJ."
Besides Molina's nine Gold Gloves, giving the Cardinals a total of 89, Molina's former manager, Mike Matheny, had two as a Cardinals catcher and another former Cardinals backstop, Tom Pagnozzi had three, meaning Cardinals receivers have won 14 Gold Gloves in the past 28 seasons.
Molina, 36, wasn't available to comment but Wong said, "Yadi is just a machine. To see what he does on a daily basis and the preparation that he has for his craft ... it drives you to want to be better in your position.
"It's hard to win Gold Gloves and to do it nine times is incredible. He's a Hall of Famer we're watching right now."
While the club has had multiple winners at each position (outfield counting as one spot), only one Cardinals player has won at second base. Fernando Vina was voted a Gold Glover in both 2001 and 2002.
Largely because of an assortment of injuries, Wong started only 98 games at second base this season.
"I think that definitely hurt me this year — that I missed so many games due to injuries," Wong said. "Trying to stay healthy is something I find kind of difficult to do because of how I play the game. When I play the game as hard as I do every single day, little things, like the injuries I usually get, happen.
"I just have to sustain better and play smarter, I guess, to stay in there every day."
According to Fangraphs, Wong led major league second basemen with 19 defensive runs saved, along with topping all second basemen in ultimate zone rating (13.4) and defensive runs against average (15).
"It wasn't like I had my heart set on (the Gold Glove)," said the 28-year-old Wong, although he did openly campaign for the award during the season. "When you look at the names I was going against, you can't sit back and say, 'I'm going to flat-out win this Gold Glove.'
"I was honored to be in contention for it, being somebody who came into this league as not a defender. I had a really good offensive year (.285) in 2017 and a really good defensive year in 2018. So, hopefully in 2019 everything finally clicks and people will see what Kolten Wong is all about."
Wong committed just nine errors for the season and, in the past three seasons, has committed only eight, 10 and nine miscues, respectively.
"The metrics side (the Fielding Bible award) got it right but the coaches saw something else and went with DJ," Wong said. "But, it's hard to go one way or the other."
The remainder of the National League team was composed of first basemen Freddie Freeman of Atlanta and Chicago's Anthony Rizzo, who tied; LeMahieu, shortstop Nick Ahmed of Arizona, Colorado third baseman Nolan Arenado, Pittsburgh left fielder Corey Dickerson, Atlanta center fielder Ender Inciarte, Atlanta right fielder Nick Markakis and Arizona pitcher Zack Greinke.
Boston had three Gold Glovers in the American League with center fielder Jackie Bradley Jr., right fielder Mookie Betts and former Mizzou infielder Ian Kinsler at second, although Kinsler played more of the season with the Los Angeles Angels.
Oakland had two in first baseman Matt Olson and third baseman Matt Chapman. Shortstop Andrelton Simmons represented the Angels, Alex Gordon of Kansas City was the left fielder and the Royals' Salvador Perez was the Gold Glove catcher. Houston lefthander Dallas Keuchel was the Gold Glove pitcher.
Cardinals catcher Yadier Molina in Puerto Rico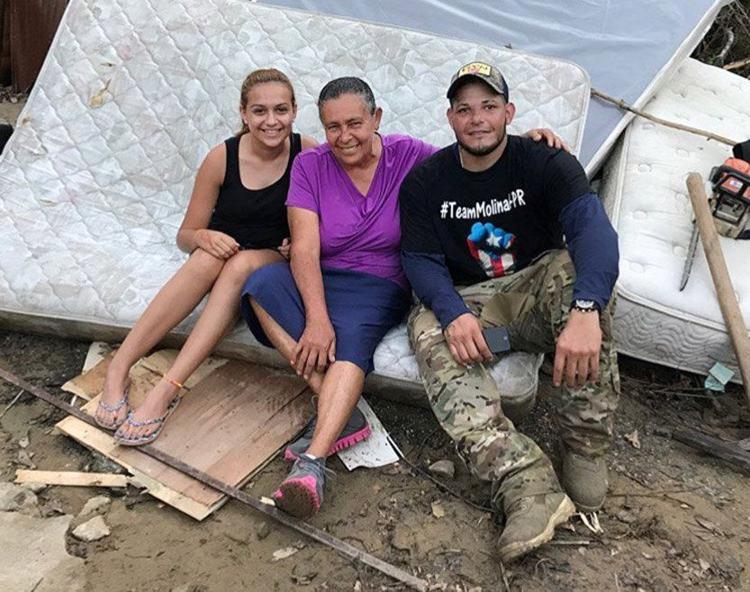 Yadier Molina takes selfie with friends in Puerto Rico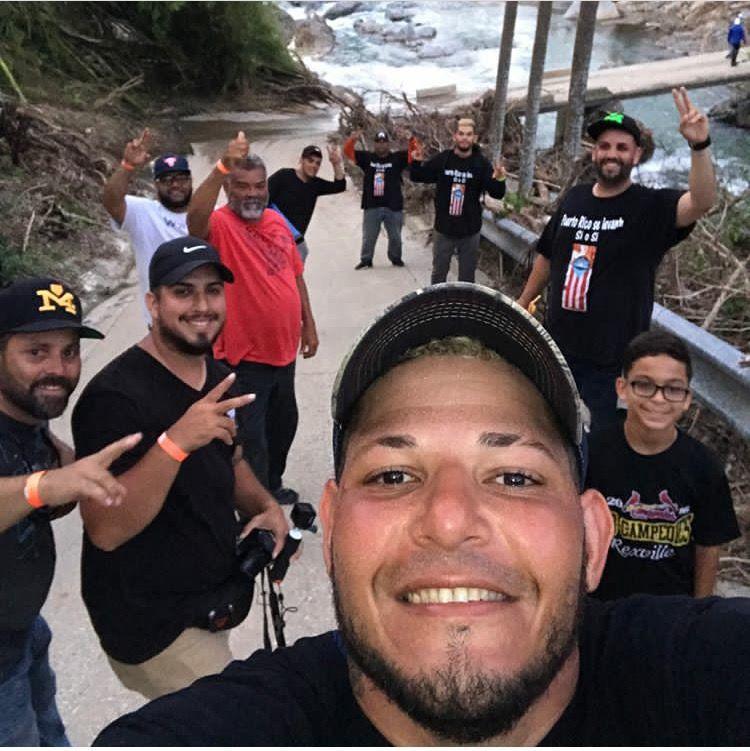 Cardinals catcher Yadier Molina in Puerto Rico (2)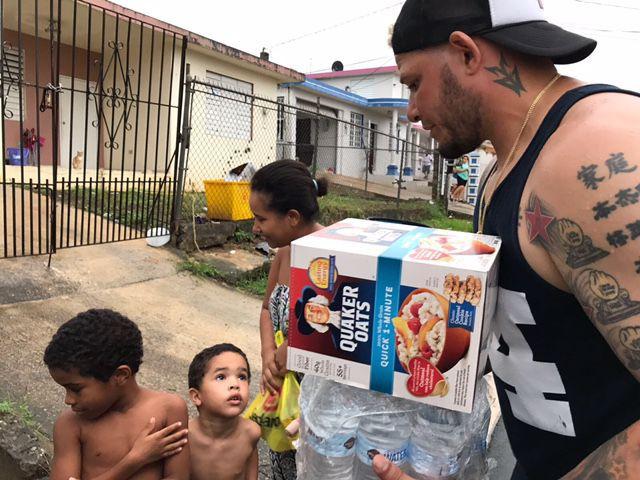 Molina greets neighbor in hometown Vega Alta, Puerto Rico
Cardinals catcher Yadier Molina in Puerto Rico (4)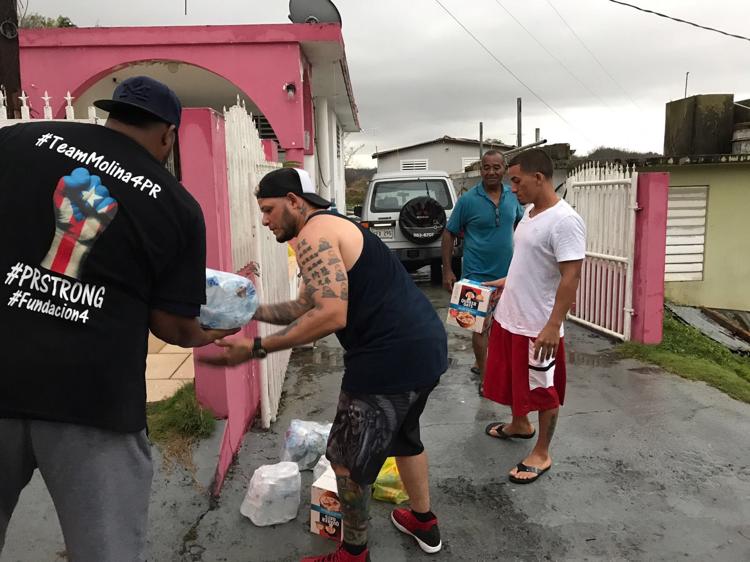 Cardinals catcher Yadier Molina in Puerto Rico (5)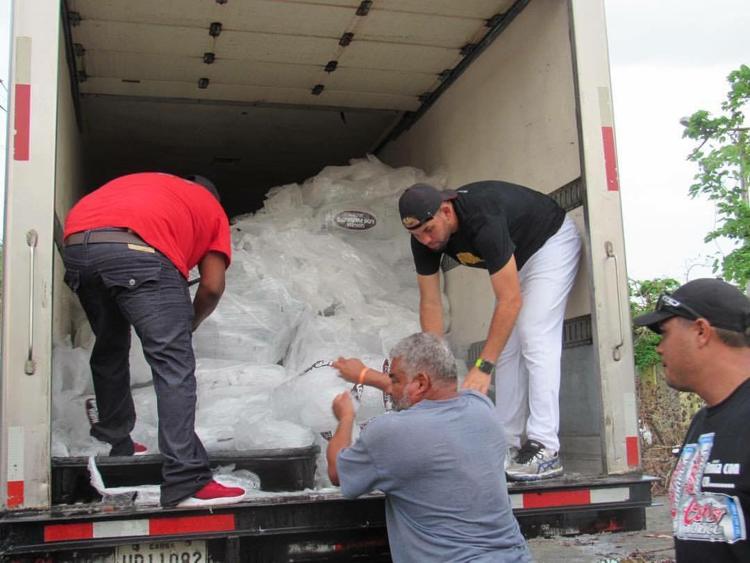 Cardinals catcher Yadier Molina in Puerto Rico (6)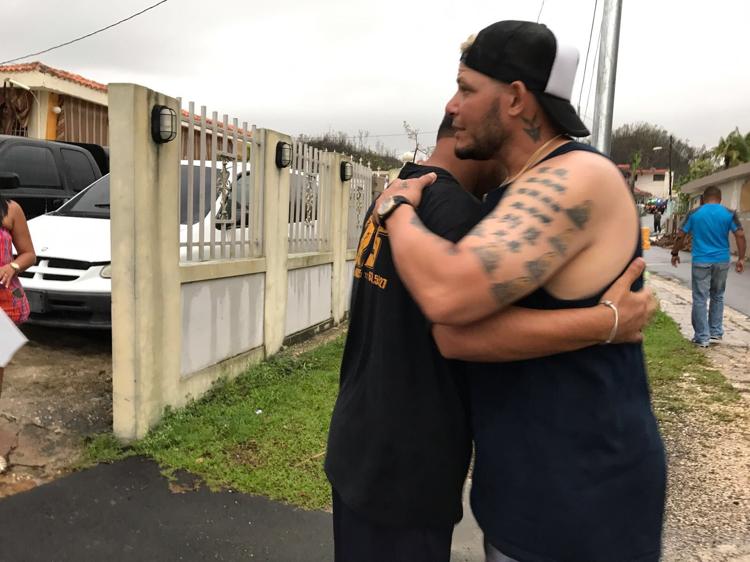 Cardinals catcher Yadier Molina in Puerto Rico (7)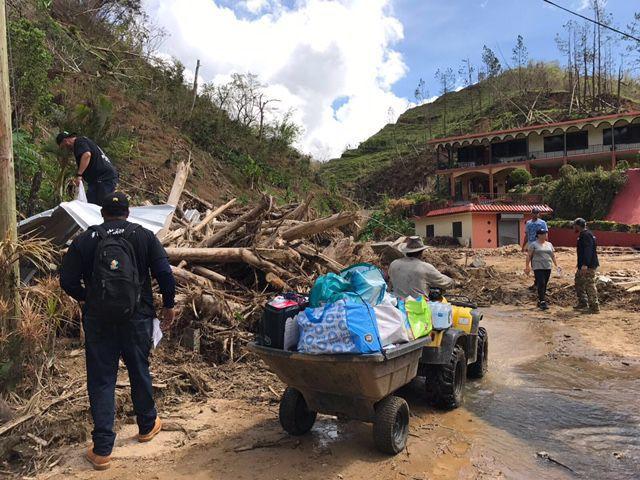 Cardinals catcher Yadier Molina in Puerto Rico (9)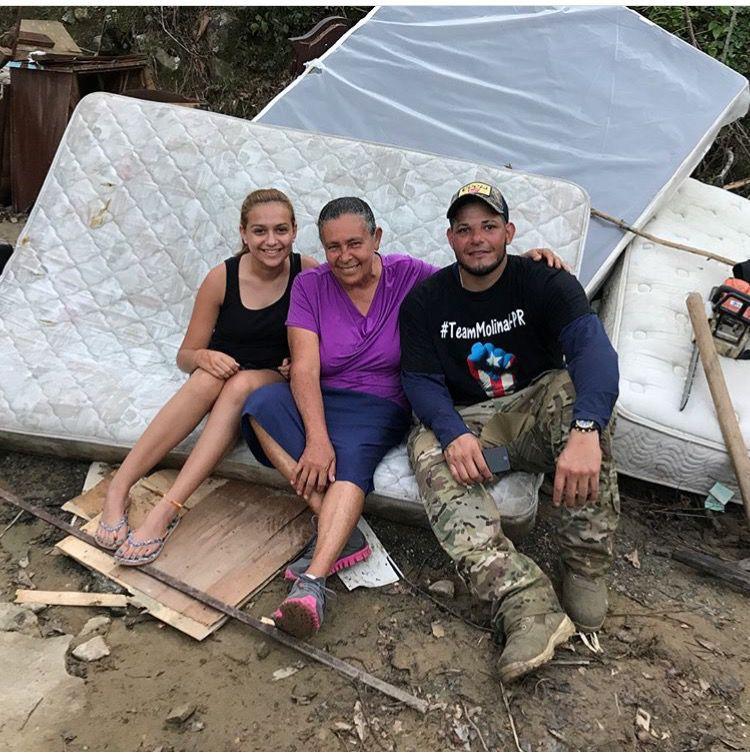 Cardinals catcher Yadier Molina in Puerto Rico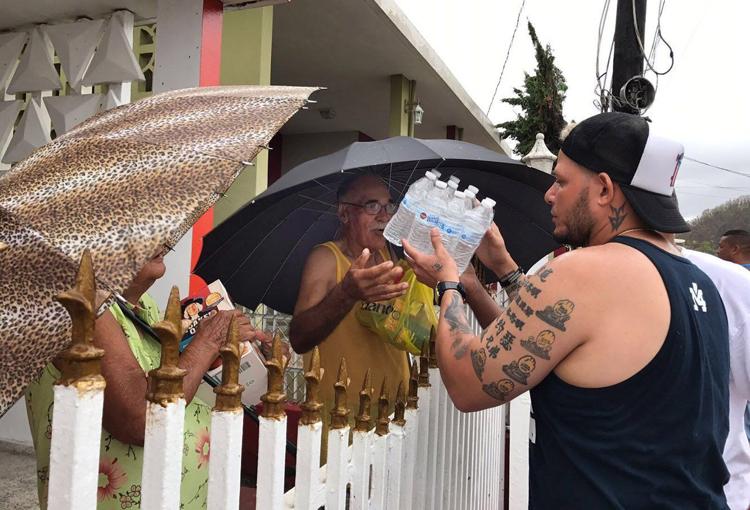 Cardinals catcher Yadier Molina in Puerto Rico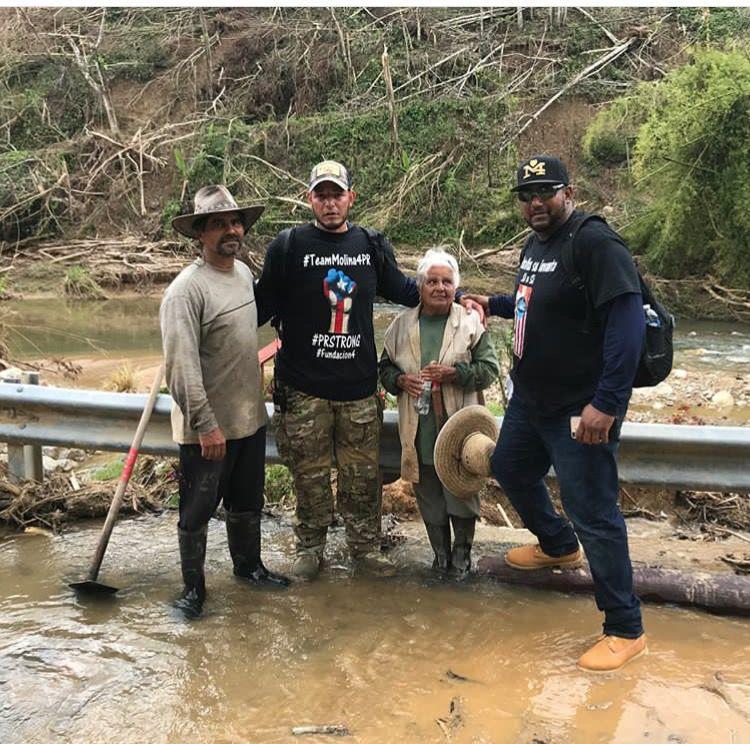 Molina poses with kids from Puerto Rican baseball academy on Feb. 13, 2014
Wanda and Yadier Molina at "A Night in Old San Juan"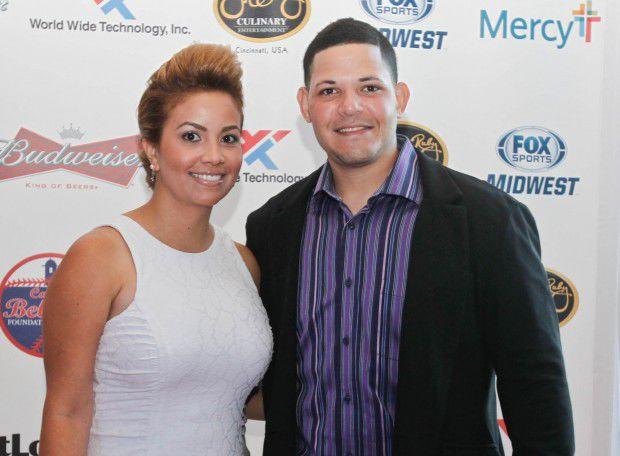 Yadier Molina accepts gold and platinum gloves in 2012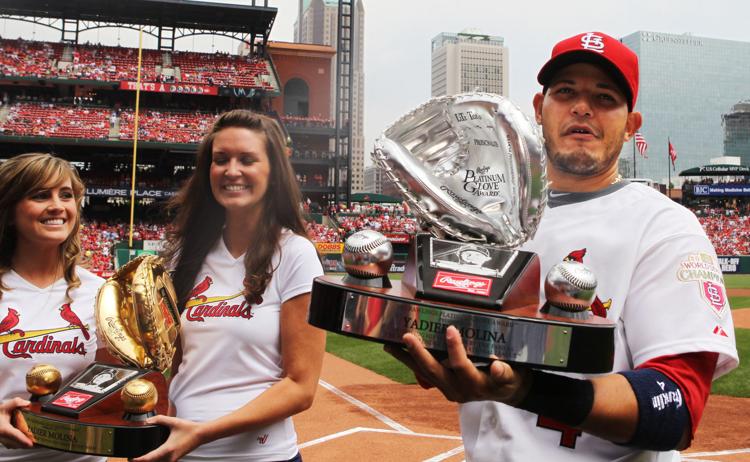 Yadier Molina gets doused by teammates in clubhouse celebration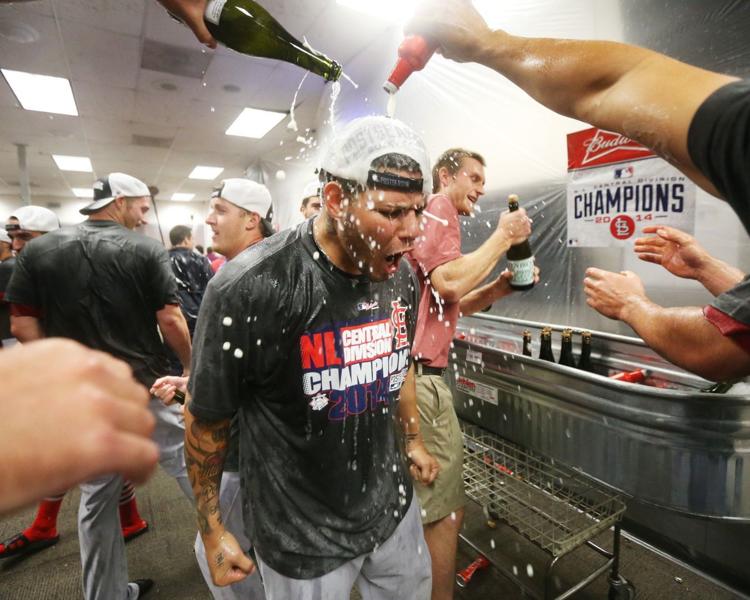 Molina bounds out of the dugout in 2013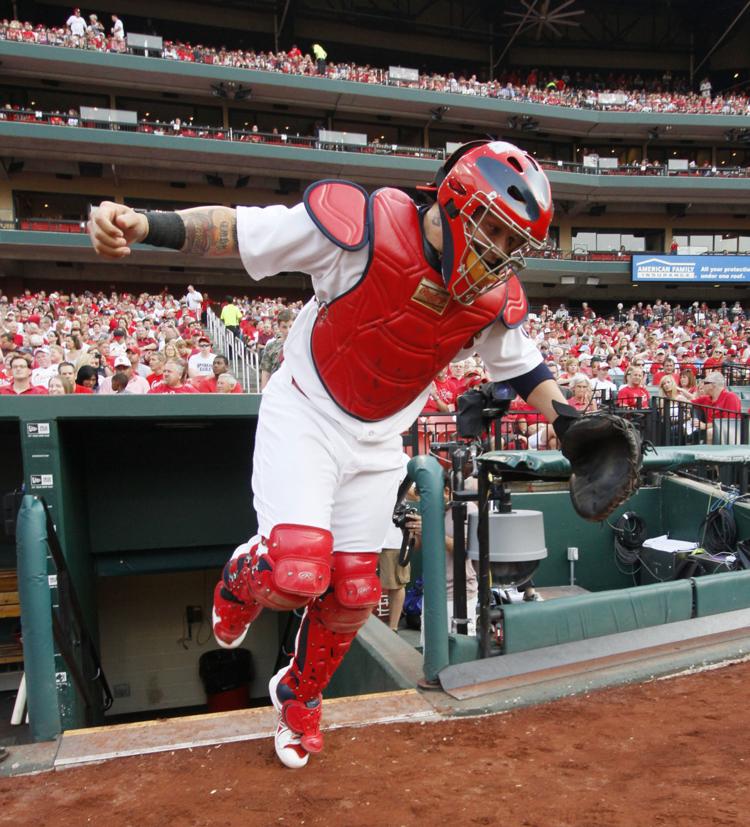 Molina jumps for joy after winning the World Series in 2006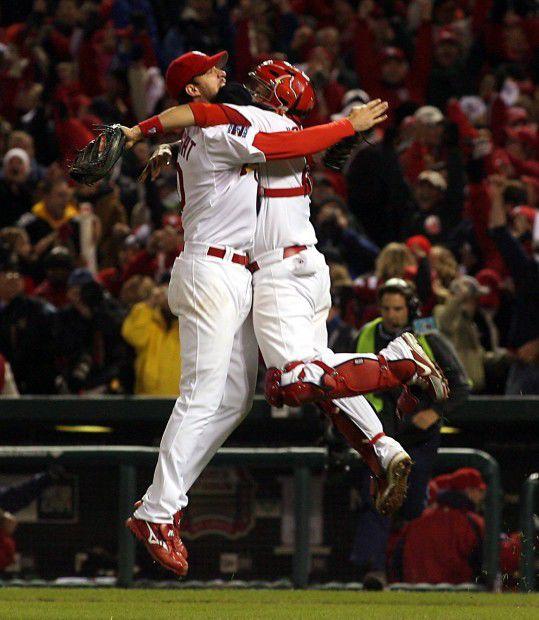 Yadier Molina jokes with teammate during spring training on Feb. 16, 2011
Yadier Molina greets fans at 2013 Winter Warm-Up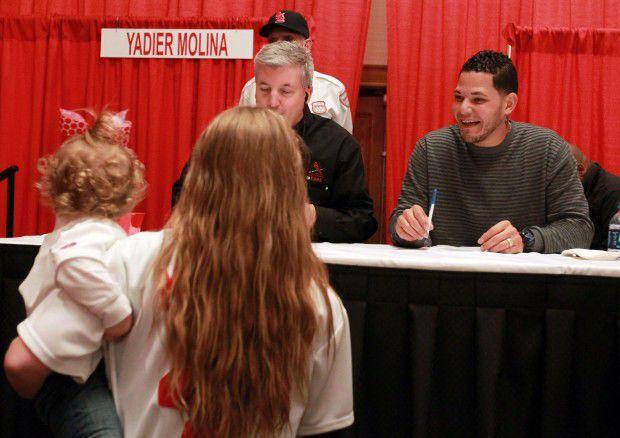 Molina celebrates a hit in Cardinals home opener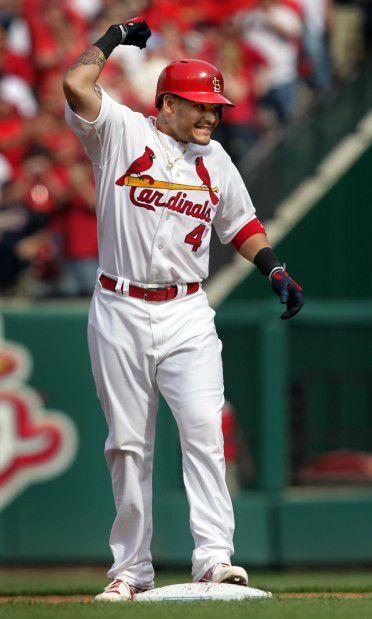 Yadi fist bumps brother Bengie Molina in game vs. Royals on May 30, 2013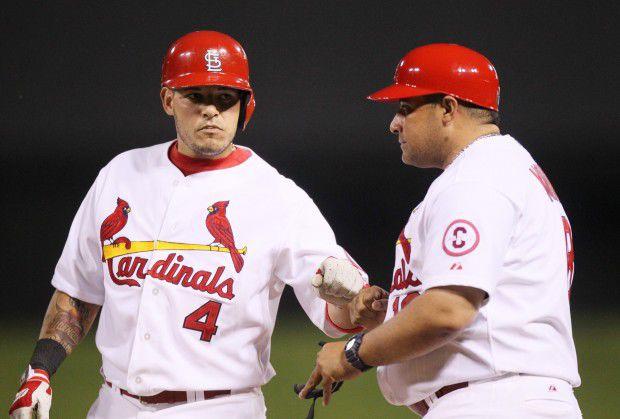 Yadier in the batting cage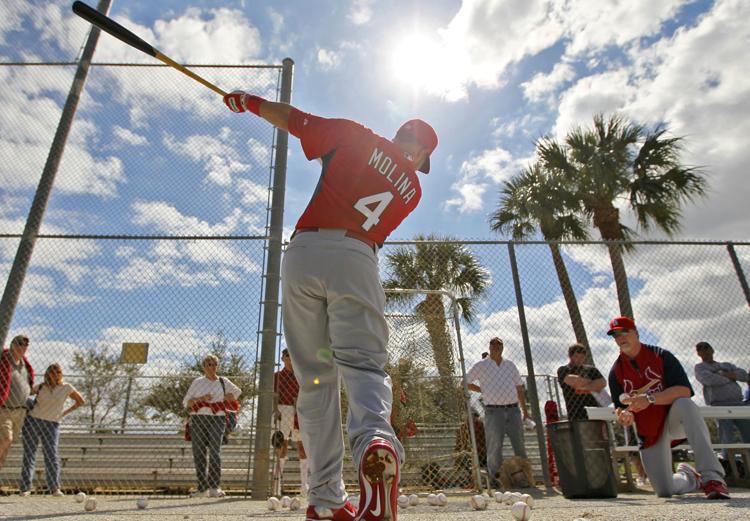 Molina in dugout during spring training contest with Mets on March 1, 2017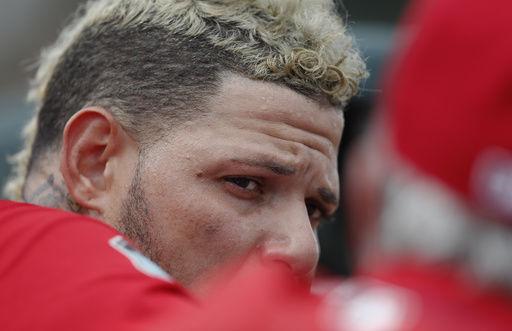 Yadi jumps into Adam Wainwright's arms in 2006 Game 7 win against Mets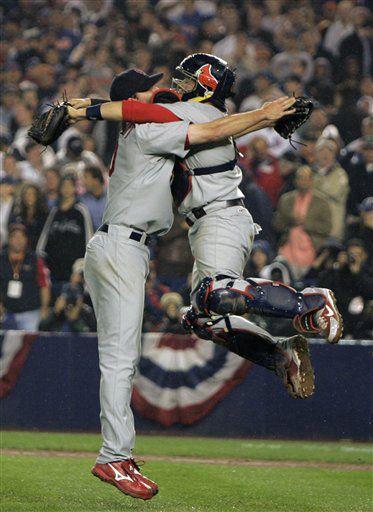 Molina delivers supplies to people in Puerto Rico in aid of damage left by Hurricane Maria
Looking for another out against Pirates, Molina gets ready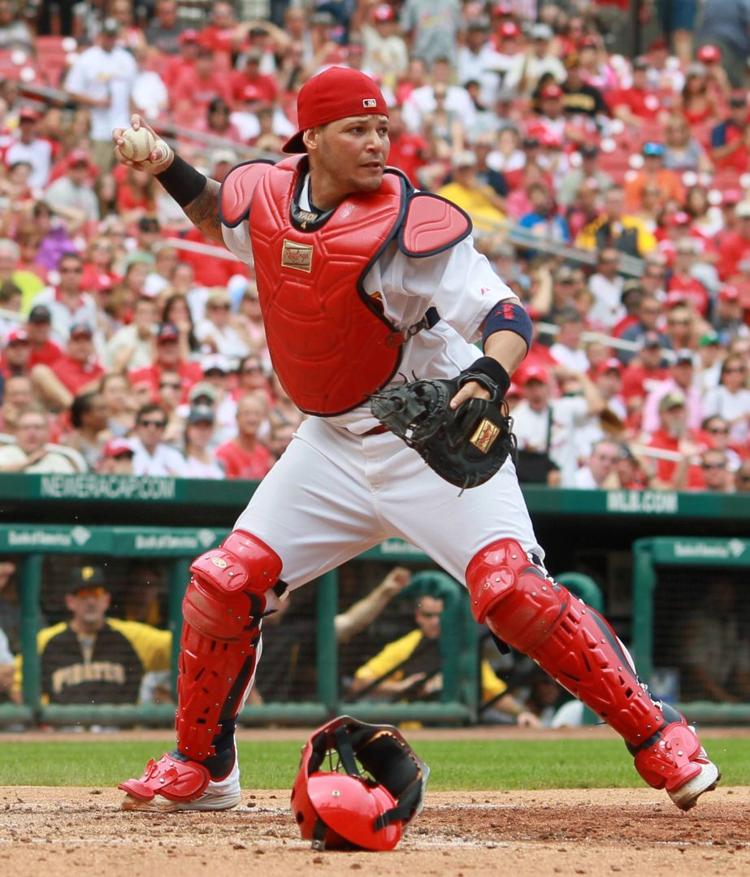 Yadi takes on field photos before 2017 All Star Game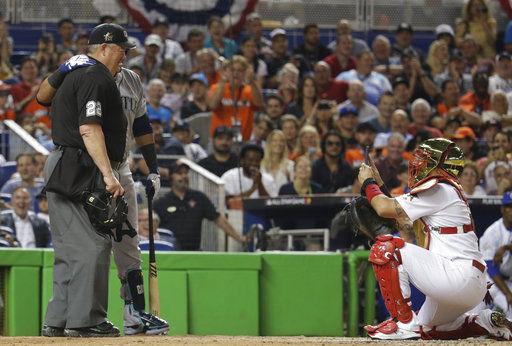 After a strikeout to end a scoring threat, Molina celebrates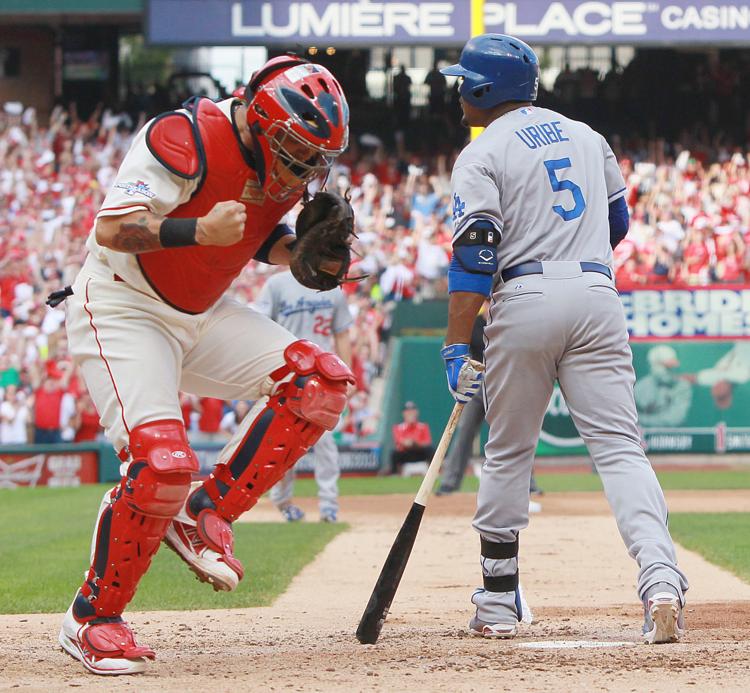 Ball gets stuck on Molina's chest protector in game against Cubs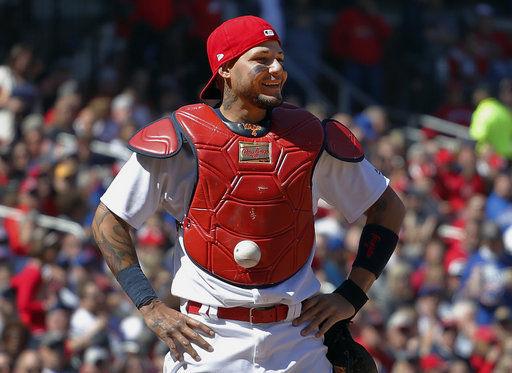 Molina guns down another runner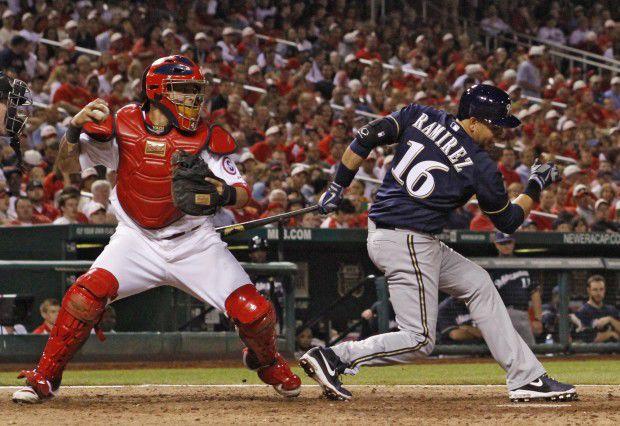 Yadier Molina heads back to the dugout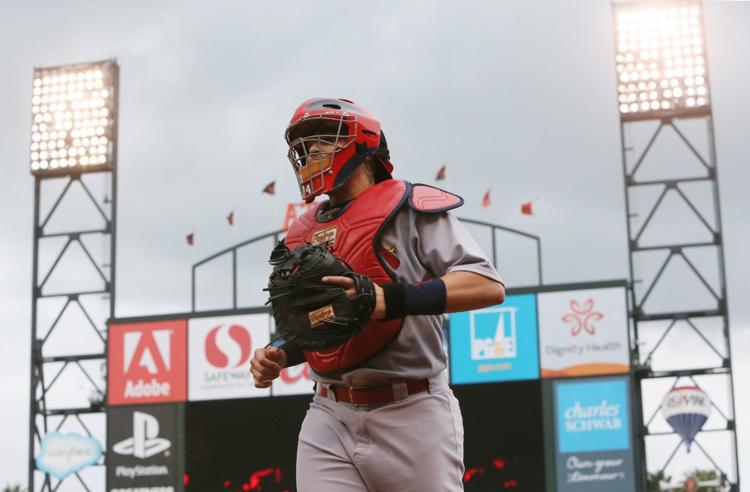 Molina singles during 2006 World Series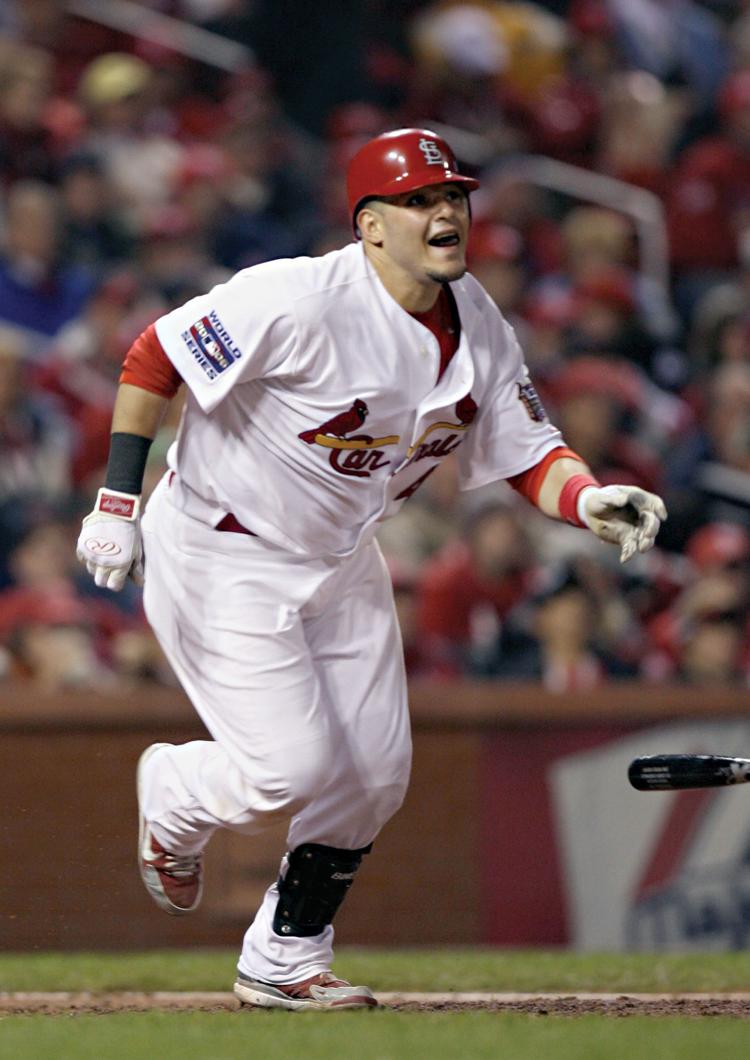 Portrait of Yadier Molina in 2013 spring training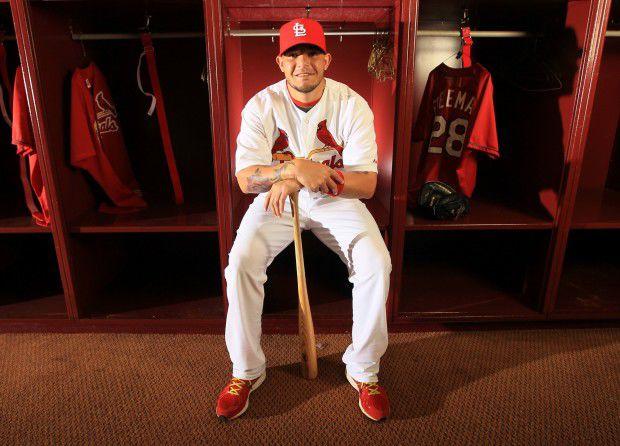 Molina reacts after driving in a run against the Cubs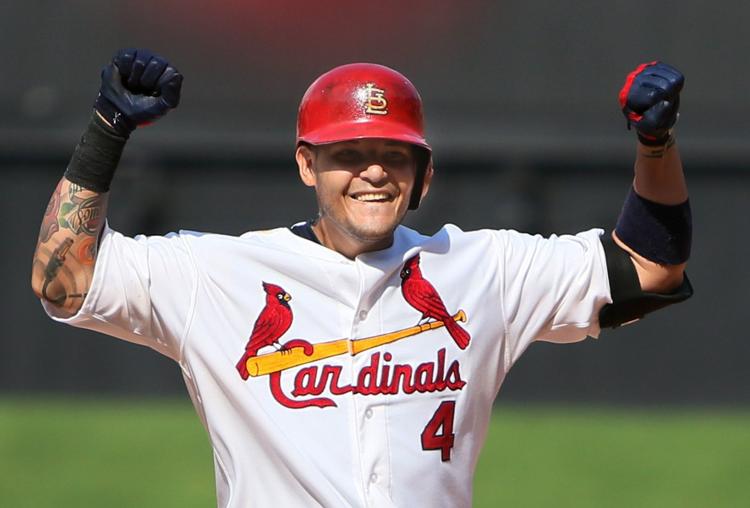 Molina gets congratulated by Adam Wainwright after scoring on wild pitch in 2012 NLDS game vs. Nationals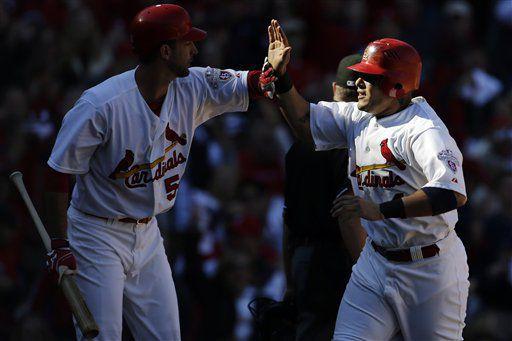 Yadier Molina waits in 2008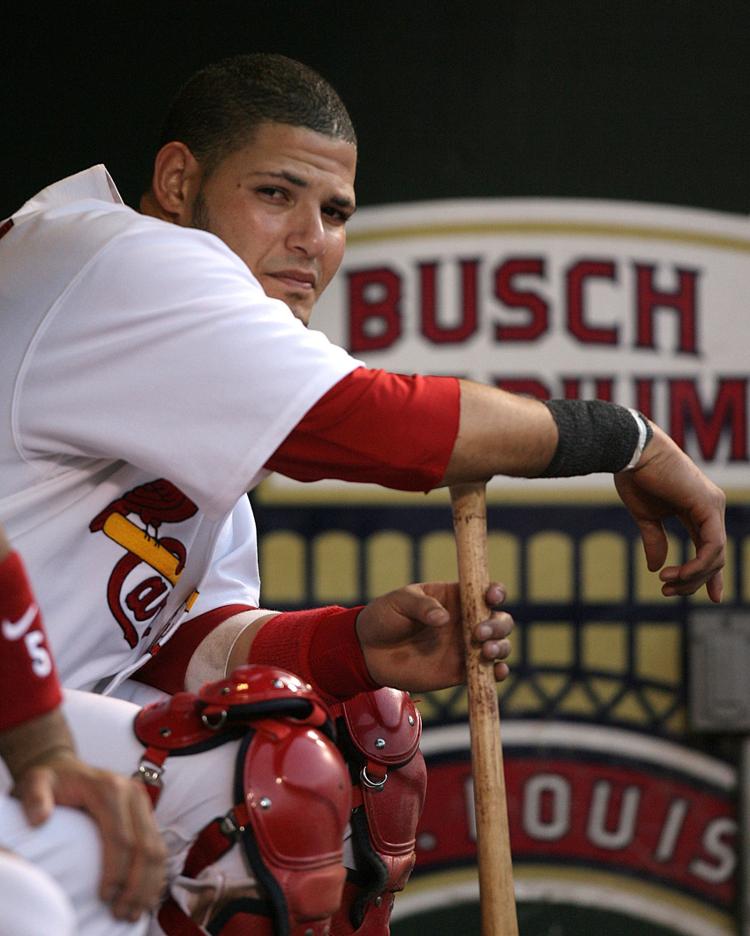 A grin from Yadier Molina
Yadier Molina takes a throw in spring training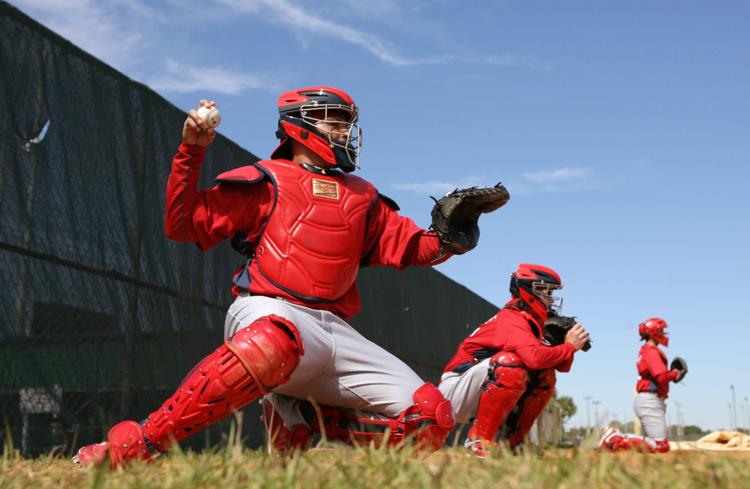 Molina in the dugout in 2013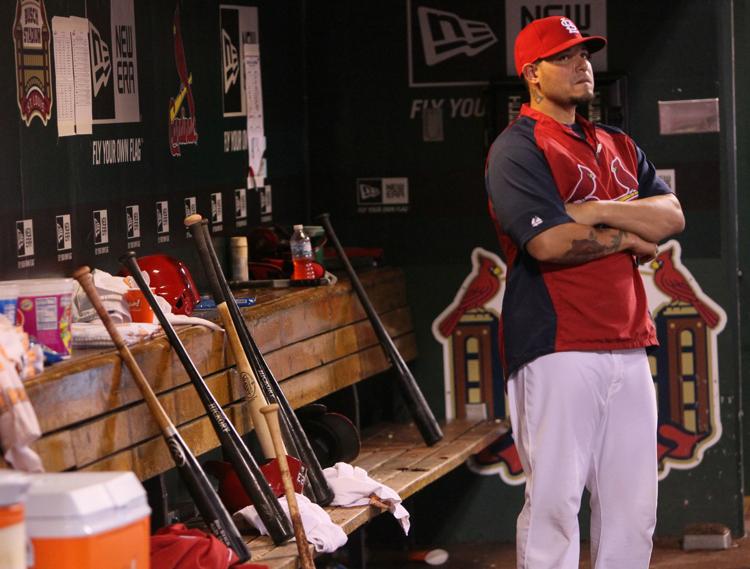 Yadier Molina celebrates grand slam against the Royals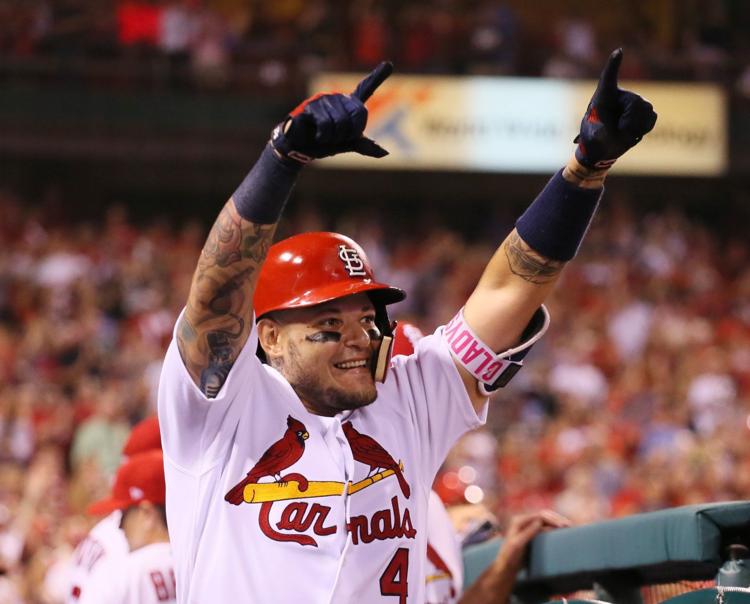 A hug between Yadier Molina and Albert Pujols after 2011 World Series Game 6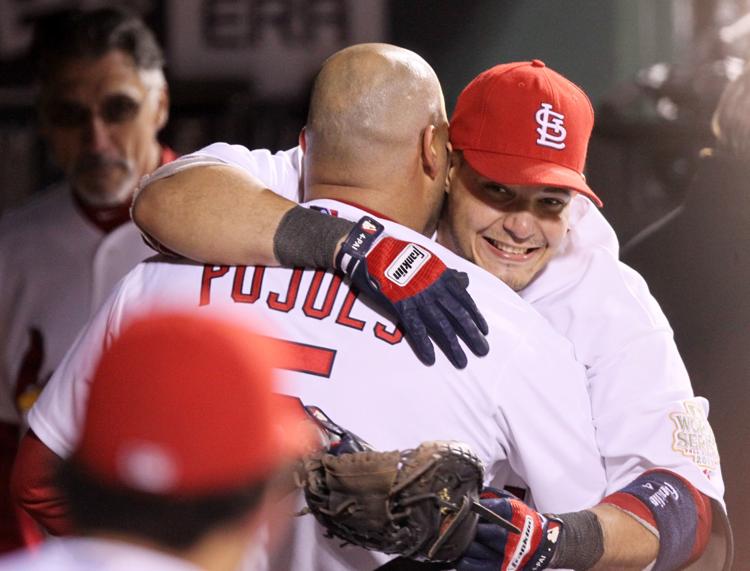 Yadier Molina adjusts his hat during 2013 practice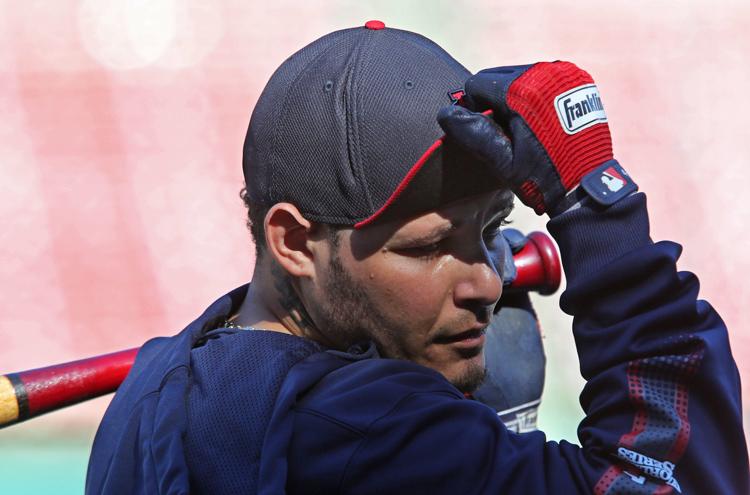 Molina throws out Joey Votto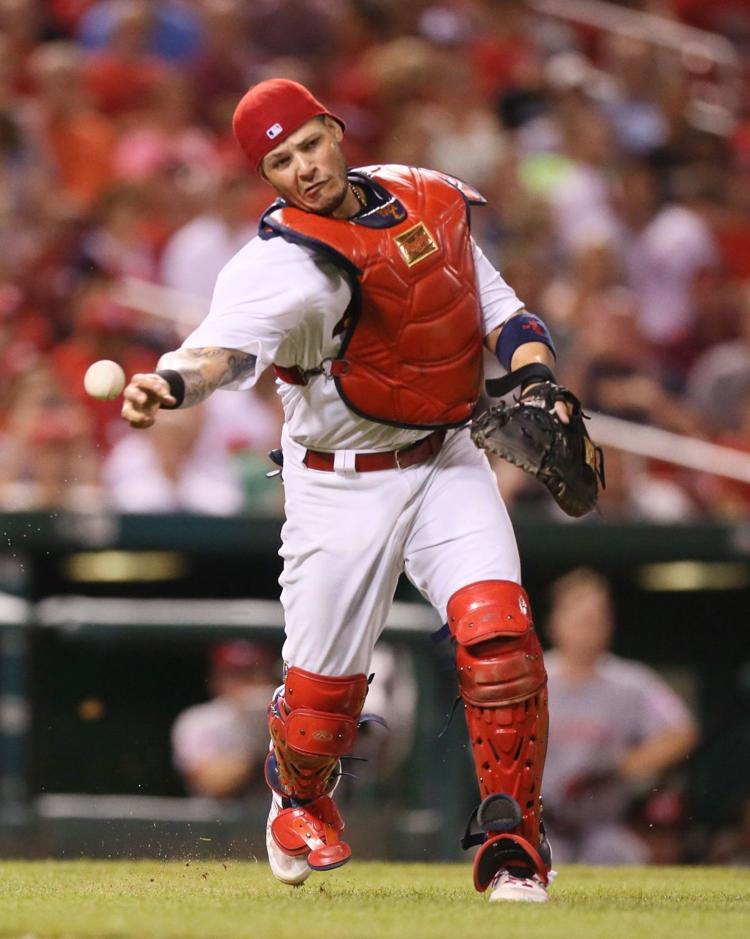 Cardinals win the pennant