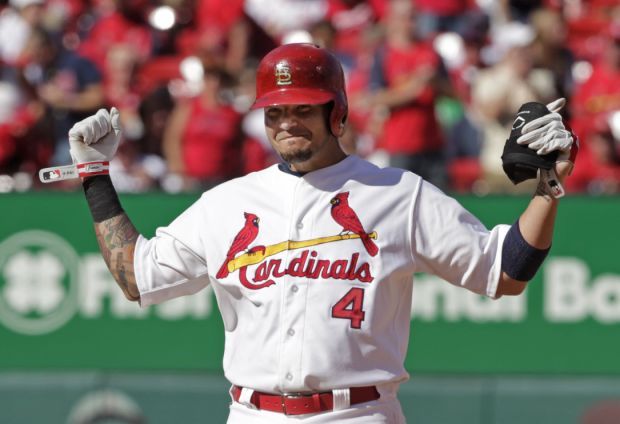 The Cardinals' 12-4 record in games caught by Yadier Molina since he returned from the disabled list is testament mostly to his inestimable receiving and pitch-calling skills. The hardest part of the recovery process from a torn ligament in his right thumb, hasty even by Molina standards — he was supposed to be out eight to 12 weeks and was back in seven — probably was how soon he would recapture his hitting stroke. He had strung together three consecutive .300 seasons with the possibility of a fourth.
In 13 of Molina's first 16 games back, Cardinals starting pitchers have allowed three earned runs or fewer. That comes as a surprise to very few.
But, after getting six singles in his first four games back, Molina went three for 25, again all singles, over his next eight games. There was some concern that he might have rushed his return on the offensive side, having played in only two minor-league rehabilitation games, albeit impressive ones.
In the bigger picture, the Cardinals having Molina again is always going to be a plus, but now they appear to have his bat, too.
Extending his hitting streak to five games Sunday in a 4-1 series-sweeping win over Colorado, Molina had a three-hit game, including his second double in the last three games. He is eight for his last 17 and up to .287, the average he had on July 9 when he jammed his right hand into the ground on a slide at third base and went on the disabled list.
Shortstop Jhonny Peralta, who rapped his 21st homer Sunday, said, "The lineup that we have right now is pretty good. Everybody is doing what they need to do, and Molina today got three hits. We need him doing that every day."
Well, perhaps not every day, but Molina's return deepens a lineup that too often this season has had trouble scoring. By outpointing the Rockies by eight runs over the weekend, the Cardinals have made it to a modest plus-10 for the year.
Molina suspected it would take awhile for him to recapture what he had, given his lengthy time away. "It's hard," he said. "This is the big leagues and, obviously, it's hard."
The strength in his hand is gradually returning, said Molina. "Slowly, but it's coming back. It's going to take time.
"You have to be right on top of that in the training (room), doing my exercises."
Manager Mike Matheny said he thought there would be a strength issue, too.
"The health is there," said Matheny. "We were very confident about the thumb being in good structural shape. It's just the strength taking a little while.
"You (media) guys asked the other day about no extra-base hits. You're seeing the ball jump off his bat a little bit more and he's able to trust it. That has to come with time."
The Cardinals, at large, have seemed to have found the same stride as Molina. They are 16 games over .500 for the second time, and they are inching closer to their eighth outright division title since 2000 after a number of anxious moments along the way.
"I'm not surprised," said Molina. "You guys are surprised. We knew that we've got the talent to play good baseball and we finally did."
Among the other stabilizers the Cardinals are displaying is a bullpen that is rounding into potential postseason form. Five relievers got 10 outs and allowed just one hit Sunday, with Trevor Rosenthal fanning the side to give the Cardinals 16 whiffs for the game. One of the strikeouts was by lefthanded specialist Randy Choate, who fanned two of three hitters he faced this weekend after not having pitched in September until Saturday night.
"That's our job," said Choate. "It was a good day for the (bull)pen. Everybody came in and did what they were supposed to do. Hopefully, we can continue that the rest of the season and through October."
Molina's handiwork is in play there, too, but he seems to have added another element to his game. In the last two contests, he went from first to third on an infield hit — OK, he already was running on the play — and he slid home safely on a short wild pitch Sunday. On the last home stand, allowed to run for himself in the ninth inning, he dashed in from second to score the winning run on a routine single to center.