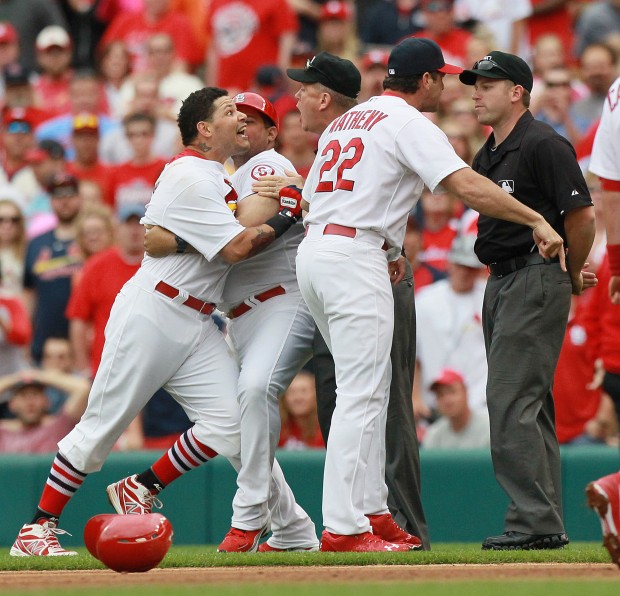 Yadier Molina isn't backing off his stance that he did nothing wrong Sunday when he was ejected for bouncing his helmet. But he determined Wednesday that prudence took equal or higher billing than what he believed to be right.
After catching all 14 innings of the Cardinals' 7-6 loss on Tuesday to Arizona and wanting to make sure he was available for a series in Cincinnati, which will begin Friday, Molina dropped the appeal of his one-game suspension by Major League Baseball and said he was going to watch Wednesday night's game with Arizona at home.
"I appealed for a reason," said Molina. "But, at the same time, you're thinking about the team, too.
"I feel I shouldn't have the suspension (for making contact with an umpire after being kicked out). But I just caught 14 innings and I knew Mike (manager Mike Matheny) might give me a day off today. If Mike's going to give me a day off, it's a good idea to drop the appeal."
Matheny said that wouldn't necessarily have been the case but added, "It was a good day to get the suspension out of the way and get it off his mind."
The whole mess began when Molina, accelerating late, was nipped at first base on a spectacular play by San Francisco shortstop Brandon Crawford. Mad at himself, he bounced his helmet down the right-field line and turned to go to the dugout to get his gear for the next inning.
Rookie umpire Clint Fagan took exception to Molina bouncing the helmet and ejected him, and that made Molina really mad, with two coaches, including brother Bengie, and his manager trying to restrain him.
"I believe I didn't do anything wrong. I've got passion for the game," Molina said.
"On the field, you react. You don't have time to think. That's the way I am. I don't want to say I'm sorry I did it because that's the way I play."
The backup to the backup catcher (Tony Cruz) was Ty Wigginton, normally an infielder. Wigginton said he once had caught seven innings at Class AAA. Matheny said he had talked to first baseman Matt Adams, who had been a catcher at Slippery Rock. "But he ran away from me," Matheny joked.