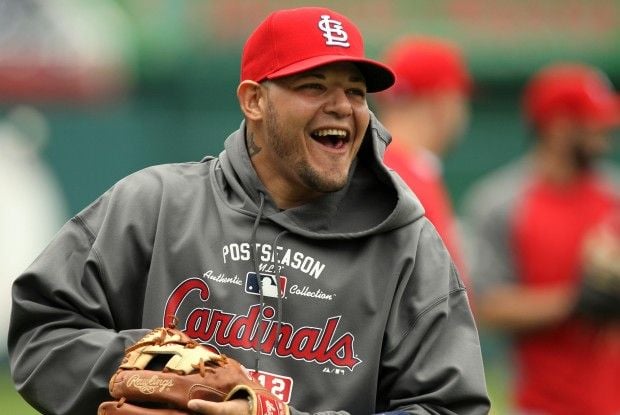 For Yadier Molina, Thursday was significant for more than just being the day he finished fourth in the National League Most Valuable Player award voting, the highest finish ever for a Cardinals catcher.
It was also the day he got back to work.
Speaking from his home in Jupiter, Fla., the town where the Cardinals' hold spring training, Molina said Thursday marked the end of his post-season break and the start of his offseason workouts. Hours before learning that San Francisco Giants catcher Buster Posey had won the MVP award with 27 of the 32 first-place votes and that he had finished fourth with two first-place votes, Molina was out running. He's already chasing 2013.
"I know I can do more," Molina said. "I wanted to do more this year for me, for my team, and I know I can do it again. I'm going to work to be better because what I did this year was good, but I know I can do more."
Together, Posey and Molina made history for their position Thursday. Posey, already the first catcher in seven decades to win a batting title in the National League, is the first catcher to win the MVP award since Cincinnati's Johnny Bench in 1972. With Molina's fourth-place finish, the duo is the first catching pair to finish in the top four of voting in the awards' 88-year history.
Milwaukee outfielder Ryan Braun, last year's winner, finished second, and Pittsburgh center fielder Andrew McCutchen finished third, four points ahead of Molina. Posey, Braun, and McCutchen were the only players named on all 32 ballots submitted by writers from the 16 NL cities. Molina received 31 votes, and appeared fourth or higher on 29 of them. Molina's two first-place votes came from writers in the New York chapter. Posey was first or second on 31 of the 32 ballots.
Posey's first MVP comes in his first full season in the majors and punctuates a comeback from a vicious, season-ending leg injury he sustained while blocking the plate early in 2011. When he returned for 2012, he insisted on staying at catcher.
"It's a position to start playing in the first place, you have to love it," Posey said Thursday night. "It didn't take long when I got back in the crouch to remember (loving it). … Anybody who has caught before understands the grind of catching."
Posey's offensive numbers elevated his MVP candidacy. He won the league batting title with a .336 average, hit 24 home runs, drove in 103 runs, and slugged .549. Yet, Molina was often nearby in a list of the leaders. His .315 average finished fourth in the NL. He hit 22 home runs, and while setting career highs across the back of his baseball card Molina also slugged .501. His offensive numbers were the best by a Cardinals' catcher since Ted Simmons, who never finished higher than ninth in the MVP voting as a Cardinal.
To his offensive breakout, Molina added a defensive performance that merited his fifth consecutive Gold Glove as the best fielder at his position and his second consecutive Rawlings Platinum Glove as the best fielder in the NL at any position.
Former Cardinals hitting coach Mark McGwire said this past season when he joined the team, then-manager Tony La Russa told him the one player the Cardinals couldn't afford to lose wasn't first baseman Albert Pujols. It was Molina. The franchise affirmed that opinion this past spring when it kept Molina from reaching free agency this winter and signed him to a five-year, $75-million contract that starts next season. The deal, Molina said, played a part in his MVP-caliber season.
"When you're playing with something like that on your mind you can't put all of your game out there," Molina said. "You're human. You're going to think about it. When we got it done I felt relief. You feel this, 'OK, now I can concentrate.' … My concentration was better. My preparation was better this year. I'm getting more mature about the game, about hitting, about everything."
While competitive, the NL MVP award was not as debated as the American League award. Triple Crown-winner Miguel Cabrera, of Detroit, won his first MVP with a first-place vote on 22 of the 28 ballots. Angels rookie Mike Trout, who had a sublime debut with a .326 average, 30 homers and 49 stolen bases, finished second with six first-place votes.
Two other Cardinals received votes in the NL race. Left fielder Matt Holliday finished 11th in the voting and Allen Craig received four votes to finish 19th. Holliday received a fourth-place vote from a Denver-based writer.
Posey is the fifth catcher to win the NL award, joining Roy Campanella (three times), Bench (twice), Ernie Lombardi and Gabby Hartnett. He is the 14th winner of the MVP to also have won the Rookie of the Year award, and he is the third Giant to complete that feat, joining Willie Mays and Willie McCovey.
"To have my name mentioned with those guys doesn't even seem real," Posey said.
At 25, Posey has won two World Series, a Rookie of the Year award, a Hank Aaron award for offensive prowess, the Comeback Player of the Year award and now the MVP – all with only 308 games in the majors. At 30, Molina has raised his career highs for batting average, slugging percentage, on-base percentage, RBIs and home runs for the second consecutive year. His previous best finish in the MVP voting was 21st, in 2011.
"I know in my first couple years I wasn't the same type of player I am right now and how important it is to me to be a complete player," Molina said. "That's what my team needs from me. That's what my focus has to be. I'm proud of what I did this year. Next year I want to be even better. The goal is to win a championship. That's what it always is."