On his social media platform of choice, Instagram, free agent Yadier Molina shared video Tuesday of him taking batting practice with his brother's team in an otherwise empty ballpark. He regularly has posted closeups of his smartwatch after his runs, showing both his distance and his quickening pace. His posts have become a chronicle of what used to be the predictable, even mundane, progress of preparation for spring training.
There's something lacking from these snapshots this winter — a destination. It's still not clear what team he'll be swinging a bat for or where the last runs of his career will scored.
With 34 days remaining before the Cardinals are scheduled to have pitchers and catchers report to Jupiter, Fla., for spring training, Molina remains unsigned, along with fellow former Cardinals and free agents Adam Wainwright and Kolten Wong. The Cards have been in touch with Molina's representative almost weekly, with both sides now expecting that dialogue to increase in the near future.
Molina, 38, repeatedly has made clear his preference to return to the Cardinals. He's seeking a two-year contract, but recently acknowledged with the sluggish offseason that if an appealing offer isn't there he'll consider retiring.
"Getting ready as always and God will tell," Molina said in an interview with Cardinals broadcaster Polo Ascensio set to run Thursday at noon St. Louis time on La Vida Baseball's Facebook page. The interview was done in Spanish. "If God wants me to come back, then I'll come back. And if not I will retire happy with my head held high."
Molina's agent, Melvin Roman, declined to discuss specifics of ongoing discussions with any team but said that "things could move fast" when offers begin to take shape.
The Cardinals have advertised their interest in re-signing Molina and Wainwright. What officials have said publicly about requesting patience so they can determine what their budget is, they've also expressed privately to several agents this winter.
As their annual Winter Warm-Up heads online this weekend, the Cardinals have yet to add a player on a major-league contract this winter. Even in the landlocked, iced-over NL Central that is leaking talent from every roster, they are the only team that hasn't made a trade, though they have continued this month to explore possible deals for an offensive addition.
The uncertainty surrounding the pandemic and this coming season — its length, its start, and whether MLB can have all that it wants, from an on-time opener to some fans in the stands — has coupled with reduced revenues to dull Major League Baseball's winter. Only a few teams have stoked the Hot Stove Season: Notably, the Mets acquired superstar Francisco Lindor in the past week; the Padres traded for the Cubs' Cy Young runnerup Yu Darvish; Washington signed Cubs slugger Kyle Schwarber; and the White Sox have taken up the gust in the Windy City with moves for Lance Lynn, Adam Eaton, and, this past week, $50-million closer Liam Hendricks.
The Cardinals have spent this week exploring talks with the agents about arbitraton-eligible players, a group headlined by Jack Flaherty. A deadline arrives Friday to swap salary offers and salary requests with all arbitration-eligible players, and the Cardinals will discuss contracts before then with Flaherty, Harrison Bader, Alex Reyes, and Jordan Hicks.
Like many veterans, Wainwright's market has been slow to develop. Wong has met with some interested teams and started to field offers. The Cardinals, to date, have not been one of those active pursuers, a team source confirmed. At least one club attempting to sign D.J. LeMahieu, the premiere free-agent infielder, sees Wong as an alternative if LeMahieu signs elsewhere, another source described.
That has been one of the brakes on this offseason as the leading free agent at several positions has yet to sign, set the market, and trigger the race for remaining options. What is true at second base for Wong, his peers such as Tommy La Stella and the Cardinals, also is the case at catcher.
All-Star and Gold Glove Award-winner J.T. Realmuto is the top catcher and one of the best all-around players available in this free-agent class, and yet he hasn't signed, his market also slow to develop. Some of the same teams that have interest in Realmuto could pivot to Molina as a short-term, even one-year option at catcher, and that would increase Molina's traction for an offer.
The Phillies reportedly continue to try and re-sign Realmuto. The Nationals and Angels have had communication with Molina's representatives. In the interview with La Vida Baseball, Molina muses playfully about rejoining Albert Pujols with the Angels.
The Mets, a team once interested in Molina, has helped define the market for him by signing catcher James McCann. A backup at times in his career, McCann scored a four-year, $40.6-million contract because of a strong performance in 31 games in 2020 and flattering advanced metrics.
Nine months older than Realmuto, the 30-year-old McCann does not have the track record of Molina. Age helps set the length of contract, while performance and expected performance sets the average annual salary. McCann's $10-million per year deal coming off a career year informs what Molina with his career can command on a one- or perhaps two-year deal.
From 2015 through 2019, McCann had a .684 OPS, but an uptick for 18 homers and a .789 OPS in 2019 was part of his All-Star season. In each of those years, Molina's batting average was higher than the average catcher's, and his on-base percentage and slugging was better than average in three of the past six seasons.
Both dipped in the shortened 2020. In advanced metrics, McCann vaulted from 64th in 2019 in Baseball Savant's ranking at pitch framing to eighth in 2020. In that same measure, which looks at how many strikes a catcher snags on the perimeter of the zone, Molina ranked 12th in 2020. (Realmuto was second.)
The Cardinals have referred to Molina as a "legacy" player. Part of that description is not just that he's only played for the Cardinals and will be the last to wear their No. 4 but also that he could burnish a Hall of Fame career while finishing as a Cardinal. Since 1961, Molina's Defensive Wins Above Replacement of 25.4 ranks 11th at all positions. Ahead of him are only three catchers, including Hall of Famers Gary Carter (26.1) and Ivan Rodriguez (29.6). Ozzie Smith is the leader in dWAR since 1961, at 44.2.
A nine-time Gold Glove-winner, Molina's 2,025 games rank ninth all-time for a full-time catcher, and the only catcher with a dWAR as high and more hits and doubles than Molina is Rodriguez.
On Wednesday, Molina posted a photo of his older brother, Jose, in his uniform as manager of Atenienses de Manati, a winter ball team in Puerto Rico. It was on their field that Yadier took batting practice, and it was with them that he mused about making a return. On Instagram, Molina suggested he'd "like to play" for them in the playoffs. In the meantime, he'll continue to prepare, continue to hit, and, as he does devoutly, continue to run and see if it takes him in the direction it always has before.
Derrick Goold's answers to your Cardinals questions
The Cardinals beat writer also discusses Winter Warm Up surprises, free agents and more in his weekly chat with readers.
Adam Wainwright, rosin bags and DJ LeMahieu: Derrick Goold's answers to your Cardinals questions
Q: Are any teams interested in Adam Wainwright other than the Cardinals and Royals?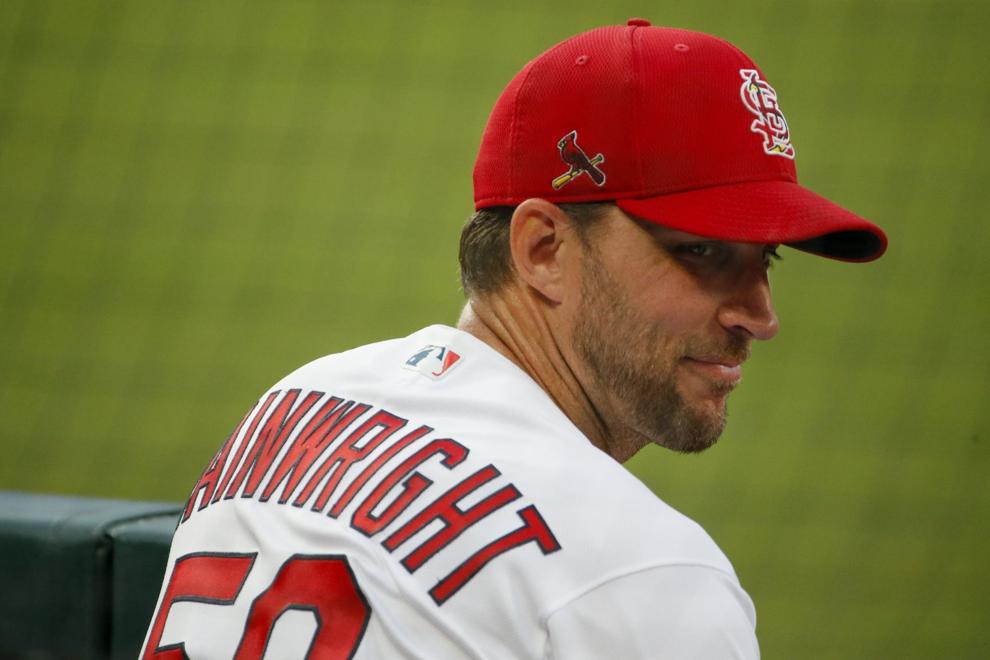 A: The Royals reached out. That could be due diligence, but it also could be gauging his interest in whether they're a fit. (Royals owner) Dayton Moore is a huge fan of Wainwright's -- scouted him, drafted him, signed him with Atlanta. And has admired him from afar. Atlanta stood out with interest, and it's possible that hasn't been extinguished with the signings/moves they've made. Keep in mind the Braves have really done well with the one-year deals in recent years (Donaldson, Ozuna), and that they also may be looking at a minor-league addition that comes to camp off the roster but is all about a shoo-in for a spot once the roster gains clarity, or the 60-day IL is available.
At last check, Wainwright was fielding interest, and now it's time for there to be offers. And at that point the Cardinals know what it will take to sign him, as well.
Q: You tweeted that this week will force some action/movement from the Cardinals. What do you mean by that?
A: There are deadlines this week. On Friday, arbitration-eligible players and teams must have swapped salaries. The Cardinals have been in contact with their arb-eligible players, like Jack Flaherty, and starting around Tuesday will engage with urgency to negotiate deals with those players to avoid exchanging salaries on Friday and going to an arbitration hearing next month. Any time there is a deadline, there is movement.
Q: What substances besides resin are permitted to use by pitchers? If pitchers used resin with pine tar or another banned substance would you consider that cheating?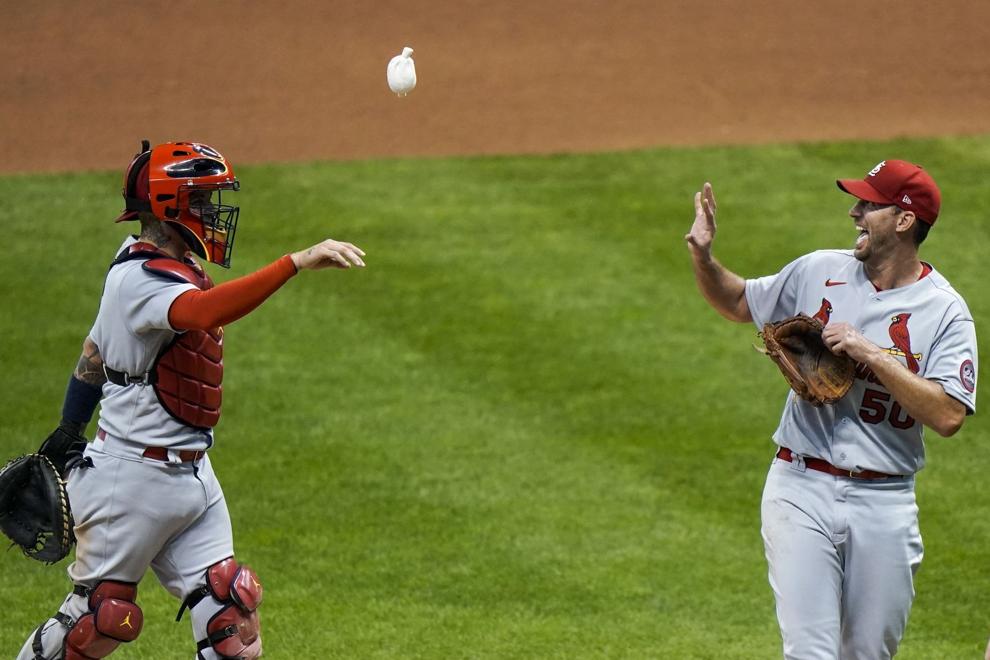 A: Count me in the camp that would like pitchers to have a better grip on a baseball. I imagine this question stems from the lawsuit in Orange County, and it's an interesting one. In recent years, the seams on the baseball have gotten lower, and you've seen the blisters and issues that have potentially sprouted as a result of that (see: Lynn, Lance). In cold weather, hitters and pitchers both benefit from the pitcher having a grip on the pearl. There are rules about foreign substances -- beyond rosin -- but teams look the other way for the benefit/safety of the hitter when it's cold, when the pitcher isn't getting funky movement, isn't flaunting the rules, etc.
The concoction that's at the center of the lawsuit in Orange County was a mixture of rosin, pine tar, and the Manny Mota Stick substance (that glue-stick like thing that you see hitters rubbing along the bat for getter grip). As you probably know, pitchers have used other recipes that include Bullfrog sunscreen, and you'll see that on their forearm, for example, and that got a lot of attention when the memo went out about the crackdown on foreign substances.
Some background: During spring training 2020, before the whole thing came to a halt because of a pandemic, Chris Young, former pitcher and an executive in the commissioner's office who has since become the GM of the Rangers, sent a memo that said the rules regarding foreign substance would be strictly enforced. Response to the memo was ... mostly, "Believe it when we see it." There was additional skepticism a few months later when the new operations manual for 2020 allowed for pitchers to carry a wet rag to the mound so that they wouldn't lick their finger tips (re: COVID-19 protocols). There was a suspension a few years ago for foreign substance when a pitcher had pine star blob on his neck. Hard to ignore. Suspension followed. But you can see the mixture of rosin and sweat and whatnot that collects on the brim of a pitcher's caps, especially when it's cold outside.
The rule is 6.02.
It's difficult to enforce, as you can imagine. Rosin is cool. Sunscreen is cool. But if they mix to give the pitcher some additional stick, is that then a foreign substance as is the umpire going to eject the pitcher? Pine tar is readily available from the hands of other players, and most hitters would prefer the 100-mph fastball comes with some control/grip in cold weather, so that walking up to the line -- or over it?
Lots of infielders have some kind of stickiness that they use on the field. And here is where you ask about the time Yadier Molina had the ball stick to his check protector. After several conversations with umpire and league officials, I learned that it's not illegal for a catcher to use some stick-um on his gear. So there it was. Stuck. 
Major League Baseball has looked into altering the manufacturing of the ball so that it has some uniform tackiness. Baseballs like that are used in other leagues. It's an interesting notion that would, say, eliminate what John Smoltz was frustrated by all those years ago at Cincinnati with the slick pearls he found on the mound.
Baseball should do better to clarify this gray area, but that lawsuit is going to make it less likely at the moment.
Q: We have heard a lot about (hitting coach) Jeff Albert and all the technology he brings to hitting with monitors, widgets on the end of bats, etc. Does he also work on the mental side of hitting or does someone else handle that? All the technology in the world is useless when a two-strike fastball down the middle is taken.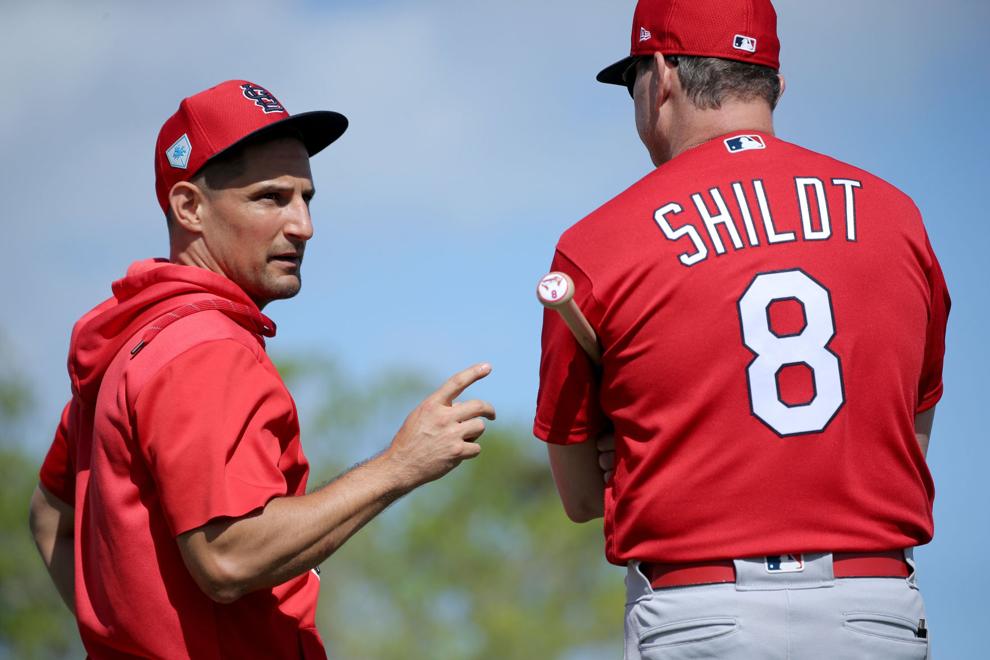 A: Interesting question. An important part of it, for sure. The short answer is yes -- that is an area of interest for Albert, judging from the conversations I've had with him, from the conversations with him hitters have told me about, and even from the books/studies that he's looked into. Just from my own observation, this was clearly an area where Mark Budaska excelled, and did so at the Class AAA level before being a trusted source for hitters in the majors. And you of course know how much of a priority it was with Mark McGwire. John Mabry, by rule, was less forthcoming about anything when he was hitting coach.
Albert is definitely a student of hitting -- from tech to philosophy. That comes across even when a reporter talks to him. Now, there's only so much time in the day, and this past year there was so little time in the cage, especially after the outbreak, and the emphasis has been on Albert expanding and modernizing and harmonizing the use of tech for hitters across the organization.
The Cardinals did have a mental coach on site a year ago at spring training, and hitters have also turned to former players or personal confidants for that as well.
Q: Any more information about the rumor that the Cardinals are interested in DJ LeMahieu? Surely, there is no way they would spend that kind of money....or is there?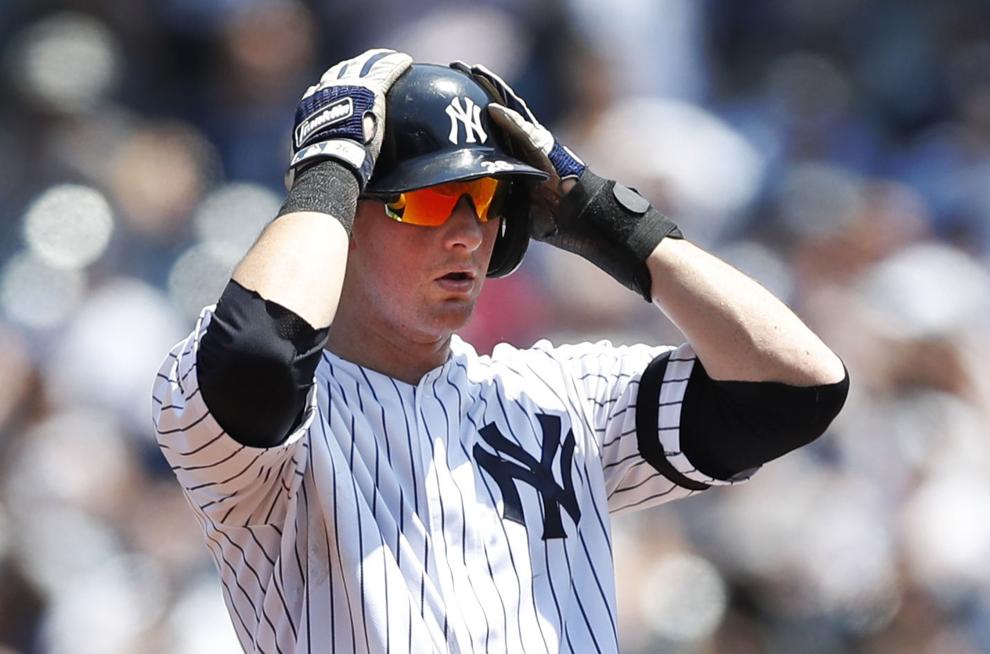 A: The Cardinals did what they do -- they reached out early in the winter to agents for a multitude of free agents. They did this in part to get a sense of what the marketplace was going to look like by researching the asking price on players. If they could understand, for example, what LeMahieu was going to try and command, then they could also have a general sense for Kolten Wong, Tommey LaStella, etc. They also owe it to themselves to check on whether a player is interested in what they could do – like if he really wanted to be a Cardinal, or whatever. They don't know unless they call. But by keeping in touch they can see if the market bends their way -- and also the outlines of what it will take, again, to sign another player in that same area.
How aggressive were the Cardinals? That's the question. Before New Year's I heard over and over from sources how the Cardinals were asking for patience, or were saying they didn't yet know what they could spend. Some of that was tied to Yadier Molina, less of that was tied to Adam Wainwright, and a lot of that was tied to the unknown length of the season ahead and if, when, how many tickets will be sold. They were not described as aggressive, not even when it came to pushing for an agreement with Molina.
The market has waited for them, in a way. And it makes sense for them to circle back and see where things stand with the leading player at a position of interest for them. At worst, they get info that helps them frame offers for others. At best, they find they have more to offer than originally believed. At last check, they don't expect to win an auction, and they have continued to position themselves as a team that will reduce payroll.
Q: Are there any 2022 free agents the Cardinals could and would target when bad contracts are off the books? The class is shortstop heavy, which is not a need unless you move Paul DeJong to third.
A: There are so, so many. Trevor Story could be there. Cory Seager will likely be there, as a free agent represented by Scott Boras. There will be discussions on whether that means moving DeJong to third base, where Matt Carpenter may not be as his contract expires and the Cardinals have options, or if DeJong goes to second base because that spot is left uncertain coming out of 2021. Plenty of moving parts for a team with that option.
Q: You've said in that JT Realmuto's movement/market will set the tone for Yadi Molina's. Are you surprised that he has not signed anywhere yet? And can you envision the Cardinals signing a DH-type player even before that decision is made, if only to not get left without a good option later?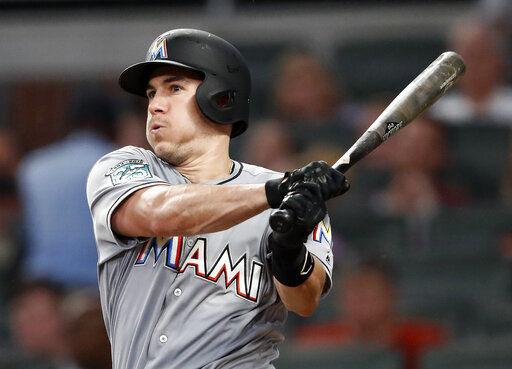 A: I am not surprised. Going into this winter, any team official or agent or player that I talked to was clear to send up the notice that it was going to be a long, sluggish winter. And that was going to be true with the top of the market players, too. And check it out. How many have signed? George Springer, nope. Realmuto (pictured above as a Marlin, though he spent this past year in Philadelphia), nope. DJ LeMahieu, nope.
The Cardinals are reluctant to commit big dollars to an ideal DH candidate without knowing that he has a place in their lineup. It's more likely they make a move like they did last year for Brad Miller than to bet on the universal DH at this moment and get one of the high-dollar candidates for the role.
Q: Do you think the Cardinals may be waiting to announce Yadier Molina and/or Adam Wainwright's re-signings at the Winter Warm-Up?
A: Nope. John Mozeliak does like his theater, for sure. But he would have to move fast to get those deals completed and announced and stay ahead of folks like all of us asking. Clubs do have to file such things with the union and MLB, and the more people who know -- because it takes a lot of people to know -- the less likely they can stage something like that. Still, this week will provide some added pressure to make moves.
Q: Reading Rick Hummel's recent story on Matt Carpenter felt like I was ... reading a duplicate of your interview one year ago with him. 1) He's traveling three hours to do intensive workouts. 2) He's tinkering with his swing. 3) Different excuse this time – COVID -- but again making excuses for his declining performance over now multiple years. He's a aging player who this team with its offensive woes cannot afford to carry. Your thoughts?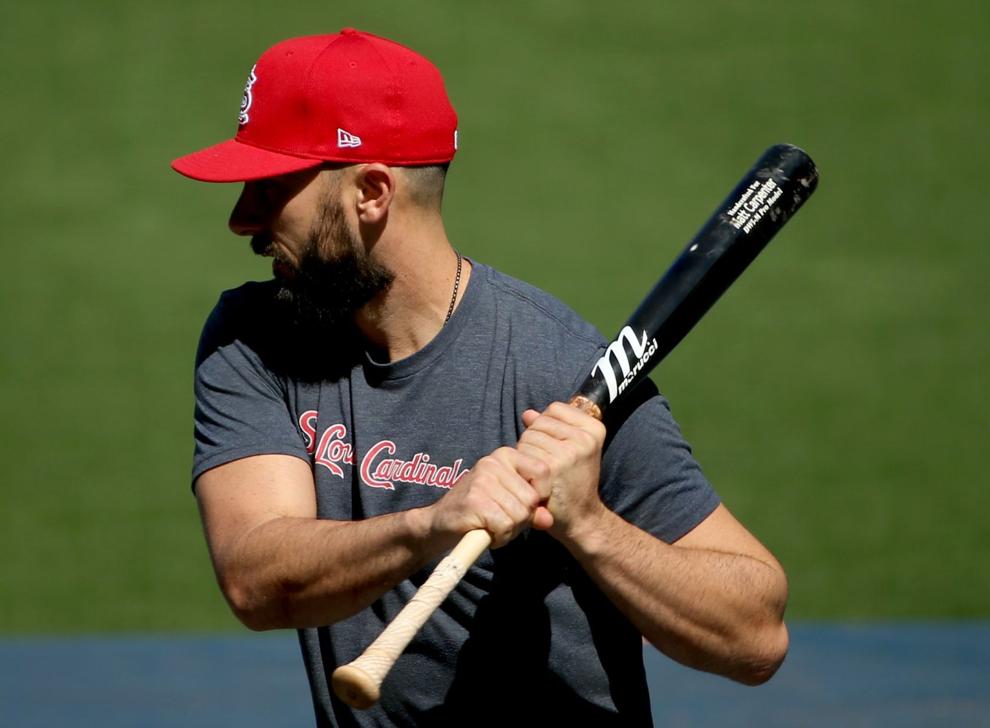 A: If you don't give someone a chance to improve, then for sure they won't, not in your eyes. Given. … It's always better to try something, anything, everything. No?
Carpenter is chasing ways to improve, and it is clear that this past year, the shortened 2020 with its COVID-19 interruptions, did not offer much of a referendum on the work he did. The hitter that Carpenter was in spring training 2020 was visibly different than the one that was getting limited playing time toward the end of 2019. Lance Berkman said he would be (a different hitter) in my interview with him a year ago, and he was right. You could see it in the way that Carpenter went about his prep for games and how he approached those exhibition at-bats in Grapefruit League play -- and then everything stopped. Everything. And when it started, he had 60 games to figure it out and 11 doubleheaders, and all of it.
So many hitters didn't start hot and never got hot (see: Yelich, Christian), and it's not like 2020 had any forgiveness. The schedule just wasn't long enough. I'm not sure any of us could say what kind of hitter anyone was in 2020 -- and that goes for Marcell Ozuna to Carpenter to Harrison Bader to Paul DeJong to Cody Bellinger. We know what they were in a snapshot, and we would be doing the numbers a disservice not to also include the previous year in the evaluation. Carpenter complicates things because he was working to change things.
Which brings us back to the answer: Would you rather he surrender and not try? That's not really the route of a professional, let alone a professional competitor, and it's certainly not what the Cardinals want from him as he enters the final guaranteed year of his contact.
Q: Is baseball partnering with a gambling origination? If so, is that really a good idea for baseball? Remember they banned Pete Rose from the Hall of Fame and baseball for gambling on baseball. What has changed?
A: They HAVE partnered with a gambling establishment. A few years ago the winter meetings were held in Las Vegas at the MGM because baseball has a business relationship with MGM, and this past year and years to come the GM meetings were going to relocate to Las Vegas because of that relationship with MGM. What's changed?
Well, society, mostly. A Supreme Court ruling has opened the way for gambling on sports around the country, and let's not kid ourselves that sports are going to ignore the possibility of that windfall. Heck, NFL has catered to Fantasy Football, and for years now baseball has had advertising for DraftKings, etc. Picking DraftKings rosters are part of some shows that are tied to MLB.
This isn't a recent revelation. This has been an evolving embrace of the gambling industry. And with all the money that fans put into it, you can bet that teams and leagues are all going to look into ways to pull revenue from it.
We're a long way from Shoeless Joe Jackson.
Q: Do you think the Cardinals have considered adding another established pitcher (i.e. Trevor Bauer) to cover some of the innings shortages of the younger pitching staff? I know it's probably cost prohibitive, at this point, but it seems like good insurance.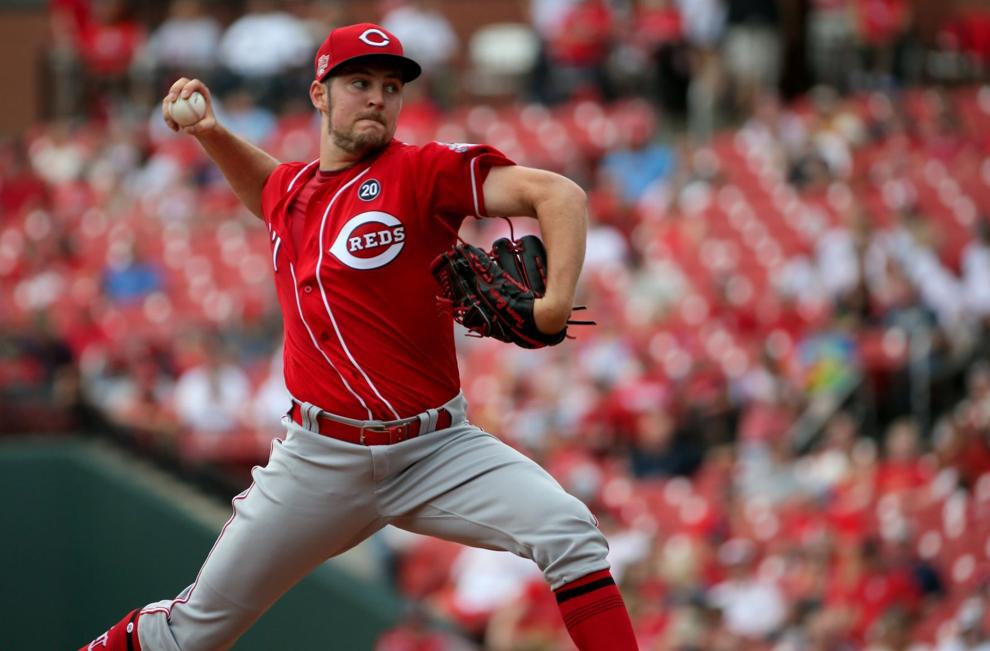 A: Good question. There's a good argument to be had that the Cardinals should double-down on what they're good at an suffocate opposing teams' lineups to get their way to a division title. At last check, with several agents and sources around the Cardinals, they have not been "active" on pitchers. The one exception has been Adam Wainwright. There was a word going around that they had made a play for a pitcher and might actually sign him -- but that was erroneous, and there was the repeated description as the Cardinals not "active" on pitchers. The Cardinals have been at the periphery of many things in this market. Hard to see them in the Bauer market, but if some of the other starters seek one-year deals then the Cardinals could rethink and move in, especially if Wainwright has moved on.
Q: Why is it that Cardinals fans think that ownership owes them to put out a championship caliber team? All that is owed is a product on the field. Nothing more, nothing less.
A: I disagree. The brand, the history, and the way the Cardinals market themselves is a contract with the fans, especially when it comes from a public trust. The Cardinals have manufactured a reputation on being a crown jewel of the National League, and the NL leader in World Series trophies. They can't now turn to the fan base they have nurtured with that notion for generations and say: "Kidding."
That's a breach of trust. That's a breach of the public trust. That's a breach of branding.