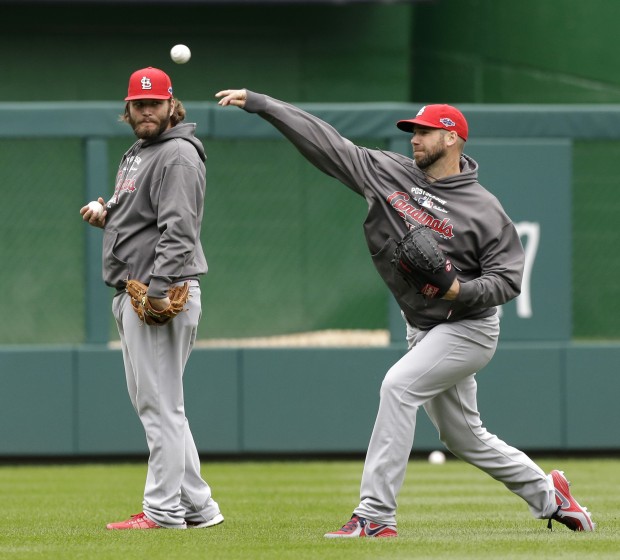 WASHINGTON • Plenty of moments challenged Chris Carpenter this year — from the March day he lost sensation in his right shoulder to the July day he submitted to high-risk surgery to the day he disobeyed protocol and began to push himself before doctors recommended.
They all led to today's moment at Nationals Park in a game Carpenter willed himself to pitch.
"Well, obviously, everybody knows that it wasn't supposed to happen," Carpenter said shortly before the team's Tuesday workout in preparation for Game 3 of the Cardinals' NL division series pairing against the Washington Nationals. "But I'm excited for it. And I put a lot of work into it to hopefully have this opportunity. I didn't know if I was going to have this opportunity or not. And, fortunately, I do."
Carpenter made only three regular-season starts covering 17 innings. He admittedly had "nothing" in his first appearance but has constructed two quality starts. He's still chasing his first win. Today represents the 16th postseason start of his career. All have come for the Cardinals.
Carpenter enters today's start opposite ex-teammate Edwin Jackson 9-2 in postseason, including 4-1 in this round. Convention doesn't apply to what Carpenter can or can't be expected to provide.
"If you're not excited about pitching in a game like this there's no need to play the game," Carpenter said. "That's what it's all about: coming out and having the opportunity to pitch in the postseason when everything matters, and hopefully do the best you can to give your team a chance to win."
Even when the Cardinals were prepared to scrub his season, Carpenter refused to let go.
July 19 surgery to alleviate compression of nerves that ran to his right arm should have sidelined him down for the year. The club said as much. Carpenter never listened and appeared against the Chicago Cubs less than two months later.
"As soon as it happened, it was time to go," he said about a 75-minute surgery that removed the first rib on his right side and left a scar near his neck.
Carpenter waited four weeks to heal and hasn't paused since. He returned to the Cardinals' rotation without a minor-league rehab. He instead returned smack in the middle of his team's push for a leftover wild card.
Carpenter confessed Tuesday to sensing the strong anticipation for today's start. "Like I said, this is what I live for. It's the day before the start and I've got that going already. I couldn't wait to get in here and talk to you (media) guys and do my thing. It's an exciting time."
The Cardinals initially viewed Carpenter's potential return as a nice bonus, an inspirational narrative, or gravy on a sometimes bitter season. However, the fresh loss of lefthander Jaime Garcia to shoulder issues makes Carpenter's availability a necessity more than a luxury.
No longer is Carpenter's leadership discussed as his primary asset, though it carries tangible significance. The Cardinals need his arm.
"If I can make pitches and I do it the right way, I'm going to have success," said the 2005 National League Cy Young Award winner and 2009 runner-up. "It's how you deal with getting yourself into that situation, that relaxed state to be able to do that. It's all mental. You stay out there and you continue to talk to yourself. You continue to make sure you have the right thoughts in your mind to be able to execute a pitch. That's how simple it is."
Carpenter earned four of the Cardinals' 11 wins last postseason. Two occurred in clinchers, including World Series Game 7 against the Texas Rangers. He also toppled the Houston Astros on the season's final day, allowing his team to cap a magical 23-9 run that overtook the Atlanta Braves for the league's wild card.
Carpenter finished with more than 273 innings, remarkable for a 36-year-old, especially one who had required two shoulder operations and an elbow ligament replacement.
This summer's procedure addressed numbness that had crept from his right forearm to his shoulder and occasionally to his face. The odds of beating the Nats seem less imposing when compared to August's odds of him appearing today.
Along the way Carpenter hasn't just rescued his season. He also helped Lance Lynn escape a mental funk that followed the All-Star pitcher when removed from the rotation following a two-inning start Aug. 24. Lynn responded by winning his last five appearances, including four starts, to finish with a staff-high 18 wins.
Lynn's odyssey began in March as Carpenter's replacement in the rotation. He got a second chance following an oblique strain suffered by Jake Westbrook. Now he may receive his first postseason start because of Garcia's absence.
Carpenter saw what everyone else saw: an impressionable talent hindered by his own demeanor. Lynn would react to borderline calls that went against him or porous fielding behind him. Carpenter offered advice that Lynn accepted.
"I'm proud of him for how he's come back and done what he's done," Carpenter said. "It takes some edge, it takes some guts to do that. My message was for him to be himself, learn from your mistakes. You're going to screw up. People are going to look at you funny. But be yourself because you can't go out there and pitch like somebody you're not."
Lynn earned Monday afternoon's win in an extended emergency relief role following Garcia's two-inning start. Rather than a demotion, Lynn had seen his postseason return to the bullpen as an opportunity.
"Carp made the point that when you look at yourself each night that you did what you knew it took to being successful," Lynn said Tuesday. "I got back to being myself. He reminded me that being myself is good enough to pitch here."
In a season of strange twists, Carpenter gained a save before a win.
The Nationals are sticking with the same lineup in Game 3 of the NLDS. Edwin Jackson gets the start. Click any player below to see his stats.
Manager Mike Matheny continues the same lineup for Game 3 of the NLDS. Chris Carpenter gets the start. Click any player to see his stats.