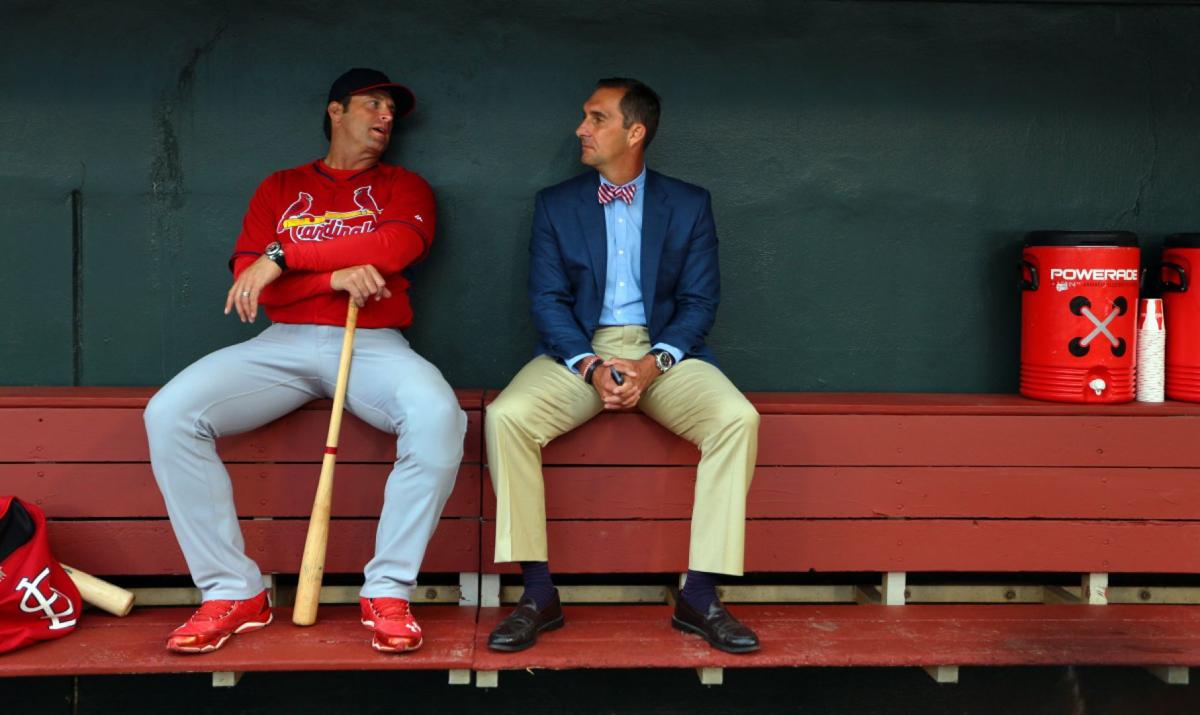 Cardinals general manager John Mozeliak had to be ready for the first question fired his way by fans Saturday afternoon at the team's annual Winter Warm-Up, but not for how many people asked it. As he sat on the main stage and invited a crowded room of fans to ask him anything, the first question came from multiple corners but was only one word long.
For much of the offseason the Cardinals have been linked to the jewel of free agency, pitcher Max Scherzer. The St. Louis-area native and former Mizzou All-American is a Cy Young Award winner, a righthanded ace and the next starter in line for a record sum. He also remains unsigned as spring training approaches, and the market for Scherzer has been undefined, at best. The Cardinals have not denied an interest in Scherzer, just a preference to avoid the long-term commitment and $200 million total salary he's seeking.
Mozeliak outlined the current members of the Cardinals' rotation, the insurance starters in place and the market factors pushing the team away from such a pursuit.
"We are out of the big pitcher market," Mozeliak said. Asked whether it was a "longshot" to sign a high-profile starter, Mozeliak continued: "I would say longer shot. Unlikely at this point. The way we're set up, it doesn't make sense to be doing that."
The Cardinals have remained informed — and even, at times, engaged — in the conversation for starting pitching. They have had interest in Phillies lefty Cole Hamels, though in previous attempts they found the Phillies' asking price too high. The Cardinals have had discussions about Detroit lefty David Price, but acquiring him at this point would mean having both him and Jason Heyward zooming toward free agency at the end of the season. The Cardinals have not had interest or substantive talks with the agent for righty James Shields. The team has not shied from its ability to add payroll nor the possibility of adding a high annual salary, but the seven-year commitment at a high figure has been unpalatable.
Mozeliak also reinforced his plan to remain patient and at least see what his starters offer during spring training. Adam Wainwright and Michael Wacha are returning from injuries but are expected to be ready without limitations for spring. The club wants to give Carlos Martinez a shot at the opening in the rotation with Marco Gonzales and Tyler Lyons as depth alternatives.
Also, there's Jaime Garcia.
Limited to 16 starts and less than 100 innings the past two seasons combined, Garcia has started throwing. Shoulder surgery ended his 2014 season after seven starts. The Cardinals are not counting on his contribution, but Mozeliak said it would be difficult to ignore a healthy Garcia.
"When he pitches, he's really good," Mozeliak said. "Knowing that he does exist and he does have the possibility of helping us, there is a level of optimism. … Let's be honest. He's made one little quarter turn. This is a big lap to make before he's actually competing at the major-league level. Having said that, he does feel good."
To the fans, Mozeliak insisted he's not "chasing a big pitcher."
There's time to do that — whenever there's a need.
"A lot of rumors. A lot of speculation. We have been an organization that tends to be opportunistic if something should arise," Mozeliak said. "But at this point I don't feel we need to do that. I feel there is some depth for the Cardinals. At this point, no, we are not actively shopping."
With a promotion to the majors last September to monopolize his time, Cardinals prospect Stephen Piscotty used the opportunity to complete his degree — in atmosphere and energy engineering, from Stanford. With his alma mater on the quarter system, Piscotty was able to finish the Class AAA season and jump right into classes in September and finish his bachelor's by December. Then he went into a different lab to work on something else.
He's working on an advanced degree of power.
Piscotty, 24, hit .288 with a .355 on-base percentage and a .406 slugging percentage in his first turn at Triple-A Memphis. He has the frame and arm to play right field and he hit 15 homers in 2013, but he has often looked for a way to unlock thump from a line-drive swing. At Stanford's baseball facilities this offseason, Piscotty worked with his college coach to get more extension in his swing and more lift.
"I'm not trying to redo anything," Piscotty said. "It's just a minor adjustment to maybe increase a little bit more power but stay within my game. The Cardinals, coaches, organization have all preached to play to your style of game, and I want to continue to do that but maybe drive a few more balls out of the park. … We're not going to be able to tell until I do it."
Cardinals officials, employees, and players have been given a black lapel pin with the initials "OT" and the number "18" to wear this weekend. The pin memorializes outfielder Oscar Taveras, who was killed in an automobile accident in October. He was 22. The team, seeing this weekend as the first time the players and fans have been in the same vicinity since Taveras' death, also has scheduled a video tribute Sunday for the outfielder. Sunday was chosen because of the date, Jan. 18, which is the number Taveras wore last season, his first in the majors.
• Center fielder Peter Bourjos received clearance from team doctors Friday to advance his rehab and begin hitting Monday. Returning from hip surgery, Bourjos has been running on a treadmill at 100-percent effort, and now can take those workouts out of a gym and onto the field. 
• The Cardinals unveiled the fan ballot for their 2015 Hall of Fame class. Eight players were chosen by a committee to appear on the ballot: Steve Carlton, Joe Torre, Ted Simmons, Bob Forsch, Mark McGwire, Matt Morris, Edgar Renteria and Keith Hernandez. Fans will be able to vote two players into the Hall. Last year they elected Willie McGee and Jim Edmonds. Voting will start in March. 
• Assistant hitting coach Bill Mueller, a St. Louis native who will be wearing a Cardinals jersey for the first time in his career this season, suggested that the last time he rooted for the hometown team was Game 7 of the 1985 World Series from the "nosebleed seats." As a big-leaguer he had to hide his cheering. "Secretly probably," Mueller said. "But I can't say that."