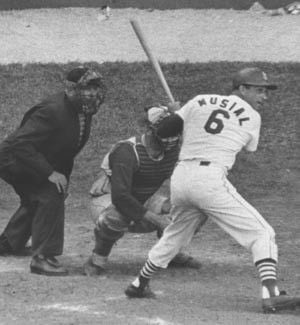 As the 1960s began, the incomparable Stan Musial was on the back end of an illustrious career. But he wasn't quite ready to concede. He maintained a childlike love for putting on the uniform and a deceptively intense competitive fire. In the history of baseball, no one has enjoyed playing America's pastime more than Musial.
"He was as good a competitor as you're ever going to find," said Bill Virdon, the 1955 National League Rookie of the Year who played with Musial in '55 and part of 1956. "He loved the game and he loved to compete."
Musial was embarrassed by his .255 average in 1959 and the diminished role assigned to him by Cardinals manager Solly Hemus. The 38-year-old slugger was spending more time on a trainer's table and fewer days in the lineup. His concentration, unshakeable in his youth, was waning.
"He told me at the batting cage one night that he found himself looking at the Busch sign in center field, or wondering how the restaurant was doing, things like that," said Dick Groat, the Cardinals shortstop at the time. "His concentration was not as solid as it was when he was the king of all hitters."
Among Musial's greatest assets always had been his eyesight. But Musial was losing his ability to wait until the last instant to recognize and react to a pitch. He told his friend, author James Michener, "The ball looked so much smaller than it used to. First base seemed to be actually further away."
At one point, Musial had his eyes checked, only to be told there was nothing wrong ... nothing, other than the natural aging process.
The eyes growing weak, the reflexes receding, the legs feeling the wear of 18 big-league seasons, Musial realized his time was short.
Still, Musial could compensate for diminishing skills with his baseball intelligence. Convinced he could still have an impact, he committed to a rigorous fitness program during the winter of 1959-60. For inspiration, he set his sights on personal goals – the National League record for career hits and the major league mark for total bases both were within reach.
In January, Musial approached Cardinals management and volunteered to absorb a $20,000 paycut, reducing his league-leading salary to $80,000. That spring, he looked like the Musial of old. But by June 11, his average had dipped to .235 and Hemus benched Musial in favor of younger legs.
"I caught a lot of grief for it," Hemus said. "When I looked back on it, I regretted the way it was handled, but you can't look back. I know it hurt Stan, but he never said anything, never complained. It wasn't like him."
Late in June, an injury to outfielder Bob Nieman left Hemus little choice but to ask the 39-year-old Musial if he could play left field. In his first start, Musial singled and threw out a runner at the plate. He then hit .450 over his next 60 at-bats to raise his average to .317.
A sentimental selection to the 1960 All-Star team, Musial singled as a pinch-hitter in the first of the two Mid-Summer Classics that year. Two days later, he returned to Yankee Stadium for the first time since the 1943 World Series. Pinch-hitting again, he lifted his record-setting sixth All-Star Game home run into the third deck in right field.
He said afterward: "You know, I just had a feeling I was going to hit one. I can't explain why you feel that way, but you just do."
Musial finished the season with a .respectable .275 average, 17 home runs and 63 RBIs in just 378 at-bats and a career-low 84 starts. The Cardinals finished third, but an 86-68 record bode well for next season.
Even close friends believed Musial would make 1960 his final season. To that end, Post-Dispatch beat writer Bob Broeg wrote a piece for the October 1960 issue of Sport magazine titled, "Goodby Stan: A Warm Farewell To Musial." But No. 6 had other ideas, and Cardinals management was on the same page.
"After all," crusty Cardinals chairman Gussie Busch said, "Stan is still the greatest Cardinal of them all, and we hope he'll play as long as he's able."
That sentiment notwithstanding, a 40-year-old Musial again fell out of favor with Hemus early in 1961. After an 0 for 3 against the Chicago Cubs on May 7, Musial was batting .191 and headed back to the bench. But he soon rallied.
On May 21, playing in the first game of a doubleheader, Musial went 3 for 5 with a home run and five runs batted in. On June 7, he went 4 for 4 with two home runs. Two weeks later, he hit a three-run homer and his ninth career grand slam to drive in seven runs in a 10-5 win over the Giants. The home runs gave Musial 2,340 career extra-base hits – only Babe Ruth had more.
In mid-July, the Cardinals were seven games under .500 and 14½ out of first place when Hemus was fired. His replacement, Johnny Keane, revitalized Musial's career. The new manager immediately began playing the old star more frequently. As the season drew to a close, Keane called Musial aside and told him, "I want you back, not to play less next year, but to play more. I've watched you and I'm convinced you could have played more."
Keane's words were music to Musial's ears. He finished the '61 season with a .288 average, 15 homers and 70 RBIs while starting just 102 games.
Under Keane, the Cardinals were 47-33 and concluded with an 80-74 record. Once again, hopes were raised for the coming season.
As the 1962 season began, Musial realized he needed 29 hits to surpass Honus Wagner's NL hits record and 84 bases to crack Ty Cobb's MLB total bases standard. The NL had expanded by two teams – New York and Houston – and the diluting effect on pitching staffs surely would help the cause.
Meanwhile, Musial made some adjustments. He tweaked his unorthodox batting stance, standing slightly more upright. He committed to taking outside pitches more often to the opposite field. He switched to a lighter bat and shortened his stroke. He dropped 12 pounds during the offseason, beginning the season at 180.
"I know I tried awfully hard to justify Johnny Keane's belief that a 41-year-old man could still play regularly and help a young club," Musial said.
On Opening Day, Musial started in right field, his favorite position. He went 3 for 3 against the Mets, tying Mel Ott's NL record by scoring his 1,859th career run.
So it would be in the remaining days – a milestone seemed to fall almost every time Musial played. On May 9, he went 2 for 4 in a win over the Giants to raise his average to .394 with 19 RBIs and move to within a hit of Wagner's mark. Cognizant of the record, he went 0 for his next 19 at-bats before singling off Juan Marichal to tie Wagner on May 15.
A ninth-inning single off Ron Perranoski on May 19 made Musial the NL's new career hits leader. A crowd of 50,000 in Los Angeles stood and gave the perennial Dodger-killer an extended ovation.
In the end, Musial acknowledged, "I never worked so hard for two hits."
One record down, Musial assaulted another. He banged out 12 hits in his next 27 at-bats and passed Cobb's total bases record on June 22 by smashing a homer and a single in the same inning.
At the Polo Grounds on July 7-8, Musial tied a major league mark by hitting home runs in four consecutive at-bats. In late July, he slammed his 14th homer off Don Drysdale to break Ott's NL career RBIs mark. With the Dodgers trying to run away with the pennant, Keane played Musial more often in August. He responded early, stringing together four consecutive multi-hit games to raise his batting average to .359. The old-timer was leading the league in hitting.
But as the long summer stretched into late August and September, Musial's tank ran low. He fell behind Frank Robinson and Tommy Davis in the NL batting race and his hopes of an improbable eighth batting title at age 41 dissipated.
Still, while the Cardinals missed the postseason for the 16th consecutive season, Musial had given fans something to remember. His average of .330 was third best in the NL, which Davis paced with a .346 mark. Musial's average was the highest by a 41-year-old in the 20th century. Playing in 135 games, he added 19 home runs and 82 RBIs – his most productive totals since 1957.
Musial was named the NL Comeback Player of the Year. He could have been honored as the most amazing 41-year-old in the history of the game.
Despite the '62 restoration, Musial ran into opposition when he returned in 1963. Hired as a special consultant, Branch Rickey immediately began asserting himself into personnel matters. And in what some might call ironic, the 81-year-old "Mahatma" called for the 42-year-old Musial to retire.
Rickey, whose presence created friction with general manager Bing Devine, felt the organization needed to build with younger players. In one report, after watching Musial play, Rickey wrote: "He can't run, he can't field, and he can't throw. 25 Musials would finish in last place ..."
Devine and Keane felt otherwise, believing Musial could still contribute on the field and in the clubhouse. Busch finally interceded, remarking, "Since when do you ask a .330 hitter to retire?" As it turned out, awkward as it seemed, Rickey was not entirely off base.
Musial, baseball's most enduring star, finally succumbed to the ravages of time. His performance suggested otherwise early in the season. He enjoyed a remarkably productive May, swatting seven homers and collecting 23 RBIs. For a month, it seemed like 1962 all over again, but it didn't last.
Musial would hit only one more homer over the next two months. Mired in 4 for 30 skid in late July, Musial met Devine for breakfast one morning and between sips of coffee, told him "After this year Bing, I'll have had it."
The final farewell came on Sept. 29, 1963, a bright, sunny day at Busch Stadium. When Musial arrived at the ballpark, "The Man" stopped manager Keane and jokingly asked, "Am I playing today?" Pregame ceremonies lasted nearly an hour. Both the Cardinals and the visiting Cincinnati Reds lined the baselines, while dignitaries, friends and family members sat in chairs beside a bank of microphones at home plate.
Commissioner Ford Frick addressed the crowd of 27,576 and delivered a line that would later be inscribed on Musial's statue: "Here stands baseball's perfect warrior. Here stands baseball's perfect knight."
Owner Busch announced No. 6 would never be worn again and Musial was presented with a framed likeness of a statue to be erected in his honor outside the new riverfront stadium. The design, titled "The Man and the Boy," differed from the statue eventually erected.
Struggling with his emotions, rubbing his eyes, his hair and his mouth to compose himself, Musial told the crowd, "This is a day I'll always remember. This is a day of both great joy and sorrow ..."
He thanked his wife and his children. He thanked God for giving him the ability to play baseball and lastly, his voice cracking, he thanked the fans. "I hate to say good-bye," Musial said. "So until we meet again, I want to thank you very much."
Musial compiled a profoundly symmetrical hitting career. He finished with 1,815 hits at home and 1,815 hits on the road. He hit 252 home runs at home, 223 away. He had 90 triples at home, 87 away; scored 999 runs at home, 950 away; stole 38 bases at home, 39 away.
He scored 1,949 runs and had 1,951 RBIs. Lifetime, he batted .323 or better in every month of the season. And to this day, no major league player has had more hits in one uniform. Although he only saw him play at the end of his career, the loquacious Bob Costas once summed up Musial most astutely:
"He didn't hit a homer in his last at-bat (like Ted Williams); he hit a single. He didn't hit in 56 straight games. He married his high school sweetheart and stayed married to her, never married a Marilyn Monroe (like Joe DiMaggio). He didn't play with the sheer joy and style that goes alongside Willie Mays' name.
"None of those easy things are there to associate with Stan Musial. All Musial represents is more than two decades of sustained excellence and complete decency as a human being."