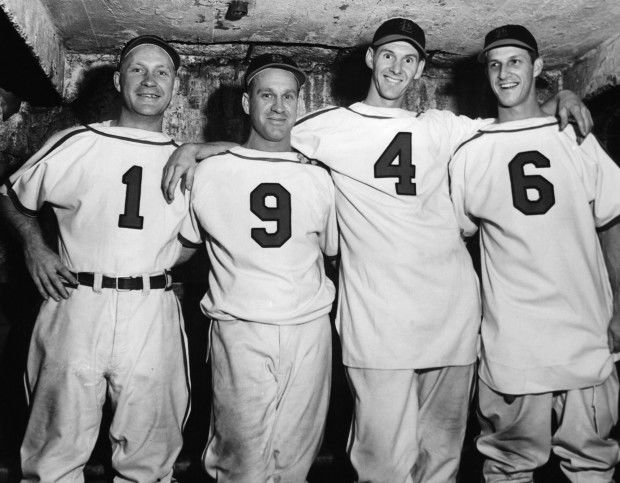 1941 At 20 years old, Stan Musial had the highest batting average at Springfield, Mo., in the Western Association (.379), at Rochester in the International League (.326) and the National League — although he did not have enough at-bats to qualify for the batting title in any of the leagues. In 12 games with the Cardinals after being brought up from Rochester, Musial hit .426 and excelled in the outfield. After Musial had five hits and made several outstanding plays in a doubleheader, manager Jimmy Wilson of the rival Chicago Cubs said, "Nobody can be that good."
1942 In Musial's first full season in the big leagues, he helped the Cardinals to their first World Series title in eight years. The Cardinals had to win 106 games to outdistance Brooklyn's 104, with left fielder Musial catching the final out in the first game of a doubleheader in Chicago. This would be the first of 16 straight .300 seasons for Musial, who had 10 triples to go with his 10 home runs. This would be the first of four pennant-winners Musial would play on in his first four full seasons. He was never on a champion after that, though.
1943 This would be the first of Musial's seven batting titles as the Cardinals won their second of three straight National League titles — they are the last team to do so. Musial, moved from left field to right field this season, led the National League in four offensive categories — hits (220), doubles (48), triples (20) and average (.357). This season also netted him his first of three Most Valuable Player awards.
1944 While some of the Cardinals' stalwarts had gone off to serve in the Armed Forces during World War II, Musial was with the Cardinals one more year before he would leave for the service in 1945. A second straight batting title was within his reach. But center fielder Musial (Terry Moore was in service), who led the league with 51 doubles, suffered a late-season injury in an outfield collision and lost out to Brooklyn's Dixie Walker by 10 points for the batting crown. A third straight World Series brought Musial and the Cardinals their second Series win in three years as Musial helped the Cardinals beat their Sportsman's Park landlords, the Browns, in six games.
1945 Did not play. Musial entered the Navy on Jan. 23, 1945, and was initially assigned to non-combat duty at the Naval Training Station in Bainbridge, Md. On ship repair duty at Pearl Harbor later in the year, he was able to play baseball every afternoon in the naval base's eight-team league. After being granted emergency leave to see his ailing father in January 1946, Musial briefly was assigned to the Philadelphia Navy Yard before honorable discharge from the Navy in March.
1946 This is the year that Stan became "The Man." At a July game in Brooklyn, Post-Dispatch sports writer Bob Broeg had asked Cardinals traveling secretary Leo Ward what the Ebbets Field fans were chanting when Musial came to bat. Ward informed Broeg that they were saying, "Here comes the man." Musial, who wore out the Dodgers in Brooklyn, became "The Man" in the Post-Dispatch the next day and forever more. Musial won both his second batting title (.365) and Most Valuable Player award as well as leading the Cardinals into the World Series, where they beat Boston four games to three. Musial, who led the league in runs scored (124), hits (228), doubles (50) and triples (20), was notable, too, for turning his back on a Mexican League offer which included a five-year, $125,000 contract plus five bonus checks of $10,000 apiece. Musial was making $13,500 at the time.
1947 Musial's salary improved from $13,500 to $31,000, the most owner Sam Breadon ever had paid a player. But he had health problems early in the season. When Musial was hitting .140 in May, he was diagnosed in New York with acute appendicitis. Musial vetoed surgery in New York and flew back to St. Louis to be examined by Dr. Robert Hyland, who suggested that Musial's appendix could be frozen and removed after the season. Musial also was found to have tonsilitis but his tonsils weren't removed until season's end either. Despite his health woes, Musial finished the year with a batting average of .312.
1948 His tonsils and appendix removed in the off-season, Musial set off on his greatest season and third MVP award. Musial, who had a career-high 39 home runs, missed by just one homer of leading the league in runs, hits, doubles (46), triples (18), RBI and batting average (.376). He hit an astonishing .415 away from Sportsman's Park but the Cardinals finished 6 ½ games behind the Braves, who won their last pennant as a Boston team. Musial also struck out only 34 times while drawing 79 walks. He had five hits in a game on four different times, tying Ty Cobb's record and homered in the All-Star Game. And when he was criticized in a newspaper article for appearing in cigarette advertisements, he decided never again to do those ads.
1949 With his partner, Julius "Biggie" Garagnani, Musial opened what became the hugely popular Stan Musial and Biggie's restaurant. More conscious of hitting for power, especially early in the season, Musial wound up with 36 homers this year although his average "dipped" to .338. He still led the league in hits at 207 and earned his sixth consecutive All-Star Game selection. Of the Cardinals' 157 games (there were three ties), Musial played every one. The Cardinals won 96 games but finished one game behind league-winning Brooklyn and the Cardinals never would come as close again in the final 14 seasons of Musial's career.
1950 Another batting title for Musial, who hit .348 and enjoyed a 30-game hitting streak, longest of his career. But the Cardinals were starting a decade in which they wouldn't win a pennant and rarely competed. Musial played first base and all three outfield positions for a Cardinals team which finished fifth at 78-75 as nobody else hit above .300 nor did any pitcher win more than 14 games.
1951 Musial won the National League batting championship this year, too, hitting .355 with another 30-plus homer season, a league-leading 12 triples and 108 RBI. He was the first player to snare two consecutive batting titles since Rogers Hornsby in 1924-25. The Sporting News named Musial its major league player of the year but Brooklyn's Roy Campanella was voted the MVP. Musial couldn't help the Cardinals from finishing 15 games out of first place.
1952 Musial's third straight batting title and sixth overall came in a season he considered a subpar one for him. His .336 average was the lowest with which he won the title and he also had home run and RBI totals of "only" 21 and 91, respectively, although he did have a league-leading 42 doubles and 194 hits. He also reluctantly made the only pitching appearance of his big-league career. When it became apparent that Musial would outdistance Chicago Cubs outfielder Frankie Baumholtz in the batting race, Cardinals ownership and manager Eddie Stanky convinced Musial to pitch once to Baumholtz in the final game of the season. Baumholtz, a lefthanded batter, switched to the right side and lined a shot to third base, where Solly Hemus couldn't handle the ball. Musial then returned to his position in center field, later saying, "I'm not proud of that box-office circus."
1953 With the Cardinals' franchise up for sale, Musial and longtime teammate and friend Red Schoendienst advised their friend and fellow duck-hunter Gussie Busch to consider buying the team. Busch used the resources of Anheuser-Busch to purchase the Cardinals for $3.7 million. Sportsman's Park became Busch Stadium although Gussie Busch had wanted to call it Budweiser Stadium. Musial just missed a fourth straight batting crown. Though he hit .375 from mid-June on he finished at .337, seven points behind Brooklyn's Carl Furillo, and five points behind Schoendienst. Musial did lead the league with 53 doubles.
1954 Perhaps the finest day of Musial's career came on May 2. In a doubleheader against the New York Giants at Busch Stadium, Musial hit three homers in the opener and then two more in the nightcap (he had a potential sixth HR pulled down at the track by Willie Mays), setting a one-day, major-league record he held alone until 1972 when St. Louisan Nate Colbert hit five in a twin bill for San Diego. Musial, in the midst of playing 895 consecutive games, remained in the lineup despite a knee injury and slumped in the last month of the season but still finished with a .330 average, 35 homers, 41 doubles and 126 RBI.
1955 The Cardinals, heading south, won only 68 games and finished seventh in the eight-team league. Musial, playing first base again, got his 2,500th hit in June but dropped off to .319 though hitting 33 home runs. Even so, he still was tied for second in batting average, nine points behind Philadelphia's Richie Ashburn. Musial was done with World Series at this point but not All-Star Games. He won this one for the National League with a 12th inning home run off Frank Sullivan in Milwaukee. This was one of six home runs Musial would hit in 24 All-Star Games.
1956 "Trader Frank" Lane broke up the Cardinals with several deals, including trading Schoendienst to the New York Giants for Alvin Dark. Lane even talked of sending Musial to Philadelphia for ace righthander Robin Roberts but Musial's business partner, Garagnani, told an Anheuser-Busch official that Musial wouldn't report to the Phillies. That threat didn't really mean anything then, but Busch telling Lane that Musial was untouchable did mean something. Musial won his second and final RBI crown with 109 but had, at that point, his lowest season average at .310 as the Cardinals finished a mediocre season at 76-78. Musial was rewarded by The Sporting News, which named him the player of the first decade after the war (1946-55). Musial, ever modest, said, "I don't hit like (Ted) Williams, field like (Joe DiMaggio), pitch like (Bob) Feller or run like (Jackie) Robinson."
1957 On June 11, Musial tied the National League record for consecutive games played with his 822nd, a streak that began on the last day of the 1951 season. But when he took an awkward swing at a pitch on Aug. 22, Musial suffered a fractured bone in his left shoulder socket and torn muscles over the collarbone to end the streak at 895. He would miss two weeks and when he came back, he more or less had to poke at the ball. Going 16 for 31 with that approach, Musial, at age 36, finished with a .351 average for his seventh and final batting title and drove in 102 runners out of 171 in scoring position. Before the season, Busch announced the club would retire Musial's No. 6 when his career was over.
1958 Musial, who had taken a $5,000 salary cut the previous year, signed the first $100,000 contract in league history. Then, on May 13, he became the eighth player to reach 3,000 hits with a pinch double in Chicago. A train taking the Cardinals and Musial back to St. Louis stopped at several cities on the way, much like a political bandwagon tour. When the train finally reached Union Station here near midnight that night, Musial was greeted by 1,000 or so fans and he spoke to them, finishing his remarks with, "No school tomorrow, kids." The next night, playing at home, Musial socked a home run for his 3,001st hit. Musial was hitting .370 in mid-July but becoming more worn physically at age 37, he finished at .337 with just 62 RBI. This season would mark the last of his 16 straight .300 seasons.
1959 Musial, trying to conserve himself at age 38, took it easy in spring training rather than going through his usual regimen and it was the wrong choice. He started out with just one hit in 15 at-bats although he did break up no-hit bids on April 16 and April 19 by Chicago's Glen Hobbie and San Francisco's Jack Sanford, respectively. A game-winning home run on May 7 made Musial the first major league player ever with 400 home runs and 3,000 hits. But manager Solly Hemus reduced Musial's playing time and Musial finished the season with just 115 games played and a career-low .255 average and he scored just 37 runs. After the season, there was a rumor that Musial would be traded to the Yankees for St. Louisan Yogi Berra but nothing happened.
1960 Based on his 1959 performance, Musial requested and was granted a pay cut from his previous $100,000 salary to $75,000. Eager to prove his substandard 1959 performance was the result of improper conditioning, Musial enlisted the aid of Walter Eberhardt, the physical fitness director at St. Louis University and he had a better year at .275, including his sixth All-Star Game home run, a drive at Yankee Stadium on Musial's last appearance there and first since the 1943 World Series. In June, newspapers speculated that Musial would retire at age 39 but he addressed the speculation in September, confirming that he would play again in 1961.
1961 At age 40, Musial was a part-time player until Hemus was fired as manager in mid-July and Johnny Keane took over. Keane said he would play Musial more, which he did, and also said he would play him more the next year, too, if Musial came back. "I'm going to play him enough to qualify for the batting championship," said Keane. With the Cardinals seven games under .500 at the time of Hemus' dismissal, Musial got hot the last couple of months of the season and led the Cardinals to an 80-74 record. He started just 102 games but still had 70 RBI.
1962 True to his word, Keane did play Musial enough to qualify for the batting title and, at age 41, Musial finished with a .330 batting average, good for third in the league, and 82 RBI. As a pinch hitter, he had an almost preposterous 14 hits in 19 at-bats. Musial got his last of 20 All-Star Game hits that year and and on July 7-8 at the Polo Grounds, he tied a major league record by homering in four consecutive at-bats, with his final three homers coming on July 8, making him, at 41, the oldest player to hit three homers in a game. On May 19, he singled off Los Angeles lefthander Ron Perranoski to pass Honus Wagner's league record for hits.
1963 At age 42, this was Musial's swan song. He singled twice in the final game of the season at Busch Stadium to give him an almost inconceivable 1,815 hits at home and 1,815 on the road. His 475th and final home run was one of the most dramatic in his career although it came in a losing cause. After the Cardinals had won 19 of 20 games to crawl within one game of league-leading Los Angeles, the Dodgers came to town for a September showdown. Musial homered off Johnny Podres to tie the first game at 1-1 in the seventh inning but the Dodgers went on to win that game and the next two, outdistancing the Cardinals by six games for the pennant. Musial was two for three in his final game, a 3-2 win over Cincinnati, which featured a rookie second baseman named Pete Rose. Some 18 years later, Rose would surpass Musial's National League hits mark.