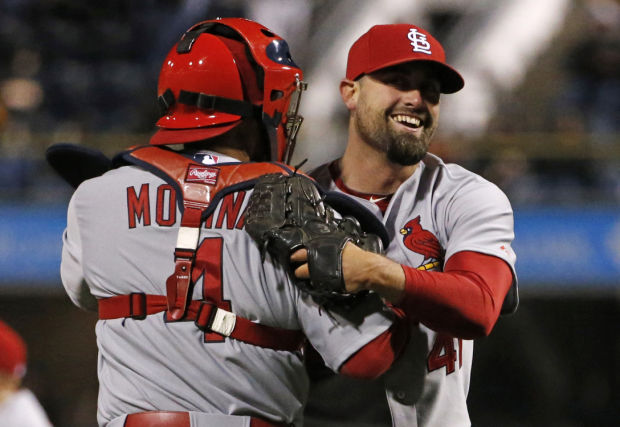 The number that best defines Cardinals reliever Pat Neshek's season so far has been zero.
Neshek threw two scoreless innings in the Cardinals' 4-2 win over Arizona on Thursday. That's 18 consecutive scoreless appearances for the sidearmer, covering 16 2/3 innings, the third-longest streak in the majors at the start of the day. It's been more than a month — April 9 was the last time — since he allowed a run. His ERA is down to 0.86.
Neshek's appearance, however, did provide him with one non-zero number. After the Cardinals tied the game in the sixth, they scored the go-ahead run in the seventh, which gave Neshek his first win — and his first decision, for that matter — in 23 appearances with the Cardinals.
"With relieving, that's kind of out of your hands," Neshek said. "You try to throw strikes, keep the game within reach and maybe our hitters will score. Tonight, they did."
It's been a dream start to the season for Neshek, who came to spring training as a non-roster player and earned a spot in the majors. At times, he seemed to be marveling after the game at just how well things have been going for him while struggling to find the words to describe what has happened, other than to say when you're going like this, it's an awful lot of fun.
"It's crazy," he said. "I don't know what the heck changed to give me those couple extra miles an hour, to make me trust my fastball. Something just clicked. It makes it a lot of fun when you're hitting 91, 92, 93 with my slider. God dang, it's a blast out there.
"When you're hitting your spots, throwing with that velocity, from my arm angle, with the deception, when you're hitting that spot, it's just a lot of fun."
The opposition may feel different.
"I don't think guys like facing him," manager Mike Matheny said. "Just watching the at-bats they take against him, righties and lefties. The velocity helps that. The changeup against lefties is working. The slider's always a tough pitch to pick up."
And best of all for the Cardinals, Neshek could throw two innings on Thursday. With Carlos Martinez needing a day off, Matheny turned to Neshek for two innings for just the second time this season, and he gave up just one hit while striking out two and working through the heart of the Diamondbacks' order. He neatly provided a bridge from starter Lance Lynn, who went six innings, to closer Trevor Rosenthal, who pitched a 1-2-3 ninth.
"That was a big, big outing for him and for us," Matheny said. "For him to throw those two innings in that part of the lineup, that was something we desperately needed. He had a great day."
"It's been a rough week," Neshek said. "I think I've been up just about every day except the off day, but my arm's responding great. I haven't really been too sore this year. I've been in the weight room. Everything's coming together."
The Diamondbacks were clearly in the no-fun column.
"First off," said first baseman Paul Goldschmidt, who struck out against Neshek in the eighth, "he's got good stuff. Second, it's just different. … Nobody throws like Neshek. I haven't really seen that.
"He's got good stuff and good movement on his slider. I only saw one fastball today."
When Neshek signed with the Cardinals, he was prepared to do anything, and he still says he doesn't know what his job is in the bullpen.
"Everything," he said. "I don't even know. That's kind of what I signed up for, to come in to close games, come into blowouts, come into tie games. You never know what you're going to get. I've pitched in a lot of high-leverage situations. I feel like that's where I've excelled in the past. I always dreaded doing low-leverage stuff. Ugh. Hopefully, I'm gaining some trust and keep getting those innings."
As long as the zeroes keep coming, he certainly will.