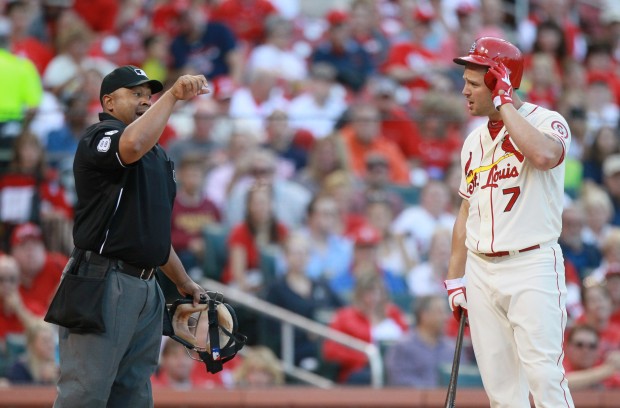 After nearly a week of surviving with a fashionably late offense, the Cardinals never got in the swing Saturday night because of something any harried host would fret.
The mystery guest continues to throw them off.
For the third time in as many games, a pitcher they had scant, if any, history against confounded the Cardinals in the early innings, and that unknown was enough for Seattle to follow rookie James Paxton to a 4-1 victory at Busch Stadium. In his second big-league start, Paxton (2-0) held the Cardinals to two hits through his six scoreless innings, and for the fourth time in five days the Cardinals failed to score in the first five innings. This time, there was no late-inning jazz to save them.
"Every once in awhile you go through ruts where you have a hard time getting the offense jump-started, and that's what we're in right now," manager Mike Matheny said. "We've got to get some offense going. Our pitchers have started stepping it up. There's nothing wrong with us getting a couple hits early. There's nothing wrong with us scoring a few runs."
The Cardinals lost for only the second time on this nine-game home stand, which concludes Sunday afternoon with the final interleague game of the season. The loss dropped them back into a first-place tie with Pittsburgh. The Cardinals' magic number for a playoff invite dropped to seven with Washington's loss. Any combination of Cardinals' wins or Nationals' losses that equals seven in the final two weeks of the regular season will assure that Cardinals at least the NL's second wild-card berth.
The home stand has been highlighted by a pitching revival, a refreshing trend that continued Saturday with rookie Michael Wacha. Other than an inning where he walked Paxton on four pitches to spur Seattle's decisive two-run rally, Wacha (3-1) pitched around the trouble created by loose control of his fastball. Including Wacha's five innings, the Cardinals rotation allowed seven earned runs in its first 50 2/3 innings of the home stand, good for a 1.24 ERA. It's been an assertive week that the Cardinals have needed because of a snooze-button lineup that has only stirred in the final innings. In the past five games, the Cardinals have been outscored, 8-2, in the first five innings of the games, and both of the runs came in the loss. The Cardinals have nine hits total in the first six innings of the past five games. That's one hit for every 10 outs.
They've waited on the offense and won three of the five games because of the quality starts from the rotation — six of them in the past eight days.
It is the starting staff they know.
It is the starters they don't who vex them.
On Thursday, Milwaukee rookie Tyler Thornburg won against the Cardinals in their first look at him. All-Star Hisashi Iwakuma kept the scoreless for seven innings before the 29th-ranked bullpen in baseball faltered for a walk-off loss Friday night. Paxton, a lanky lefty with velocity, maintained the edge newcomers have had against the Cardinals.
"It's tough to get a good feel for what a guy is trying to do," leadoff hitter Matt Carpenter said. "We face the Pirates 100 times. We know exactly what A.J. Burnett has. We know exactly what Francisco Liriano has. We come in here and have these guys and nobody knows anything about anybody. If you combine that with a guy who throws the ball well, like Paxton did, it can make it tough."
Paxton represented a double whammy for the Cardinals. They are the only team in the National League with a winning record overall and a losing record, 17-23, against lefties. He had only one previous big-league start, and a batter like Carpenter, who likes to see how a pitcher does on video against similar hitters, had only three at-bats to work with. He could scan hours of film on Iwakuma and see exactly how the Mariners' righty approached Daniel Murphy or Lance Berkman, two hitters Carpenter uses as reference points.
Brock Peterson, who homered off Paxton in Class AAA this season, provided a scouting report that spread through the clubhouse. He also was in the lineup, as Matheny went to a right-leaning starting group. Choosing Shane Robinson over lefthanded-hitting Jon Jay or Peterson ahead of slugger Matt Adams, left the Cardinals with five spots in the lineup, including Wacha's, with an average of .270 or less. A third of the lineup didn't have an average above .220.
Paxton, who Carpenter described as "glove and elbows, everything flying every which way," retired the first eight batters in that refit lineup. The Cardinals got one runner to second base against the rookie they may have to wait three years to see again. In his second big-league plate appearances, Paxton also worked a walk that tilted the game. After a leadoff hit single by Dustin Ackley in the fifth, Paxton wanted to bunt Ackley to second. Instead, Wacha walked him on four pitches.
"I didn't throw a strike," the rookie said. "He's trying to give me a free out."
Two batters later, Franklin Gutierrez tagged Wacha for a two-run double. The runs ended Wacha's scoreless streak at 23 2/3 innings, the longest by a Cardinal this season, and gave Seattle the only runs needed. Kendry Morales added a solo homer in the eighth to extend the lead. Wacha was effectively wild with his fastball, getting a season-high seven strikeouts but also walking four.
While the Mariners found offense against a pitcher they didn't know, the Cardinals had to reach for their single run in the eighth. Carpenter raced for second on a single to right field to beat the throw and claim his 50th double. He took third on a groundout and scored on a wild pitch. Matheny said it was clear Carpenter "was trying to spark us, get us going."
It was late. It wasn't enough.
Matheny said the lineup is in "a lull" with 14 games remaining in the regular season and an armada of unknown pitchers out there because of expanded rosters.
"It's all about wins," Carpenter said. "If we can win 1-0 from here on out I'm sure we'll take it. But, we'll keep grinding after this series. We're going to Colorado and this is September — we're going to face a whole slew of guys from the bullpen and people who have been called up (from the minors) that we've never faced. You've got to be ready to go.