As the ninth inning progressed Friday night in Game 1 and Cardinals closer Ryan Helsley lost a feel for his pitches, the only thought he had was pushing through for the final outs, not signaling to the dugout that an injured, stiffening finger was causing him issues.
"Maybe, wave them in, you know?" Helsley said Saturday when asked. "Hindsight is 20-20. When you're in that spot, you want to compete, win the game. Tough way to lose."
Three days after jamming his right middle finger into the turf at PNC Park, Helsley found himself in the biggest ninth inning yet of his closing career and could not maintain a grip on his pitches. He walked two batters and hit a batter to force home a run before being removed from a game the Cardinals once led 2-0, but would lose, rapidly, 6-3. Helsley had an MRI taken of his finger late Friday night and specialists determined there was not ligament damage or further damage he could do to the finger, Helsley said.
He was not available Saturday for Game 2 of the National League Wild Card, meaning the Cardinals would have to leave the game to another closer to extend their season.
Helsley was encouraged to play catch, loosen the finger, flush the inflammation from it, and be ready, if needed and if possible, for a Game 3 on Sunday.
In the eighth inning Friday, Helsley had no issue snapping off 100-mph fastballs or landing his breaking pitches. The trouble he had spinning balls while playing catch Thursday had vanished perhaps because of "a little more adrenaline," he said. But between innings, he said, the finger stiffened. In the ninth, he could not feel how much pressure he applied to the baseball with it — leaving him unsure how or when the pitch left his finger. He had felt no pain but lacked "feel."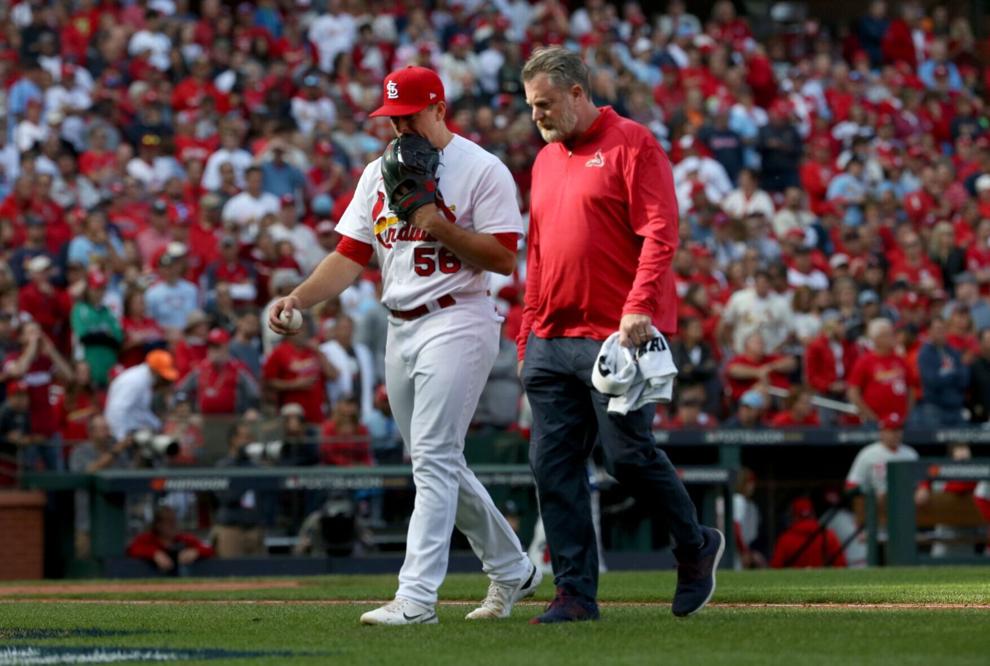 The question facing the Cardinals and manager Oliver Marmol was how soon they should have recognized the issue and moved to replace Helsley.
In his office Saturday, Marmol said he reviewed that sequence of the game overnight and arrived at one alternative. He could have replaced Helsley ahead of the Alec Bohm at-bat, the one that included a slider in the dirt and the hit batter.
"There's no easy way around that one," Marmol said when asked about moving sooner due to the injury. "Your best chance for that game to end is Helsley. I've replayed this numerous times. The Bohm at-bat is the only one that I can think of doing it — after the second walk."
Marmol had Jack Flaherty warmed and ready for that at-bat, but he opted to instead pit Andre Pallante's groundball-getting knack against Jean Segura's groundball-hitting tendencies. Pallante's two-strike pitch did get Segura off balance for a meek grounder. That grounder, however, slipped through the defense for a two-run, game-flipping single.
Marmol agreed that he could have removed Helsley ahead of the Bohm at-bat or during it — after the spiked pitch — but noted the spot it would put Flaherty with the bases loaded.
"Asking him to do something he's basically never done," the manager said. "Tough spot for anybody."
But it's the spot he's hired to manage.
It's a line that the manager and the Cardinals have had to find at least once before during the season — where a pitcher is not "waving them in," but something seems off.
"He was more erratic than we've seen this year," Marmol said. "So you're constantly thinking, 'Is he OK?' There's no communication that it wasn't. There's no pain. It was just a matter of being able to finish his pitches and locate. At that point, you trust your All-Star closer who has been really good all year to figure it out."
Cardinals dig deep for last Albert Pujols, Yadier Molina gifts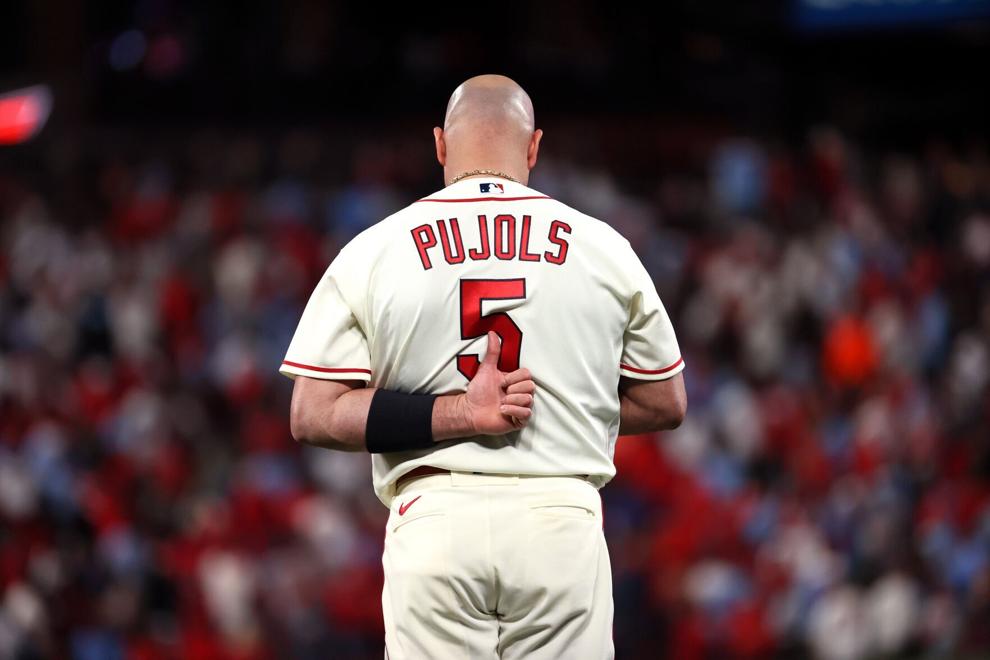 Following the final regular season game of the season, the Cardinals dug up and removed home plate from Busch Stadium so that it could be framed and presented to Yadier Molina as a gift from Cardinals ownership. First base from the game was given to Albert Pujols, who started that game at first, the position he manned as a three-time MVP for the Cardinals in the Aughts.
Both players have announced their retirement at season's end, and they were celebrated before the start of the final regular season game.
As an additional touch to the home plate gift, Adam Wainwright, the longtime starter and starter in that finale, autographed the front edge of the plate so that his name is at the point where pitches first cross.
Phillies' revealing late-game choices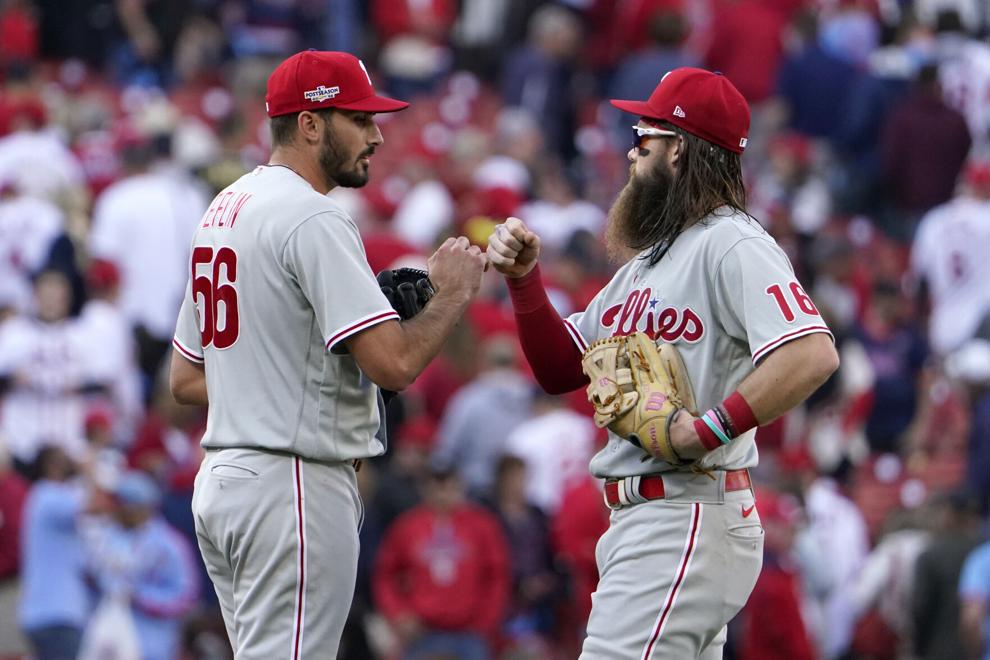 The Phillies' use of their bullpen in Friday's first game was of interest to Marmol, who did not see left-hander Brad Hand and right-hander Seranthony Dominguez getting ready when the Cardinals threatened in the ninth. The pair combined for 14 saves this year, nine by Dominguez.
Former starter Zach Eflin, who gained his first major league save a few days before when the Phillies wrapped up their wild-card berth, allowed a run in the ninth and had the tying run at the plate but fanned Molina to end the game. Left-hander Jose Alvarado, who has two saves, and David Robertson, who had 20 for two teams in 2022, preceded Eflin. But no Hand, still fresh from the injured list where he had spent late September time trying to heal elbow tendinitis. And no Dominguez, who was nine for 11 in save opportunities but missed more than three weeks in late August and early September with triceps tendinitis and then was cuffed about for much of the remainder of the season as his earned run average rose from 1.64 to 3.00.
"We're prepped for any of them," said Marmol, "but yeah, it tells you a little of where they're at."
Kyle Schwarber on spark that (re)launched Pujols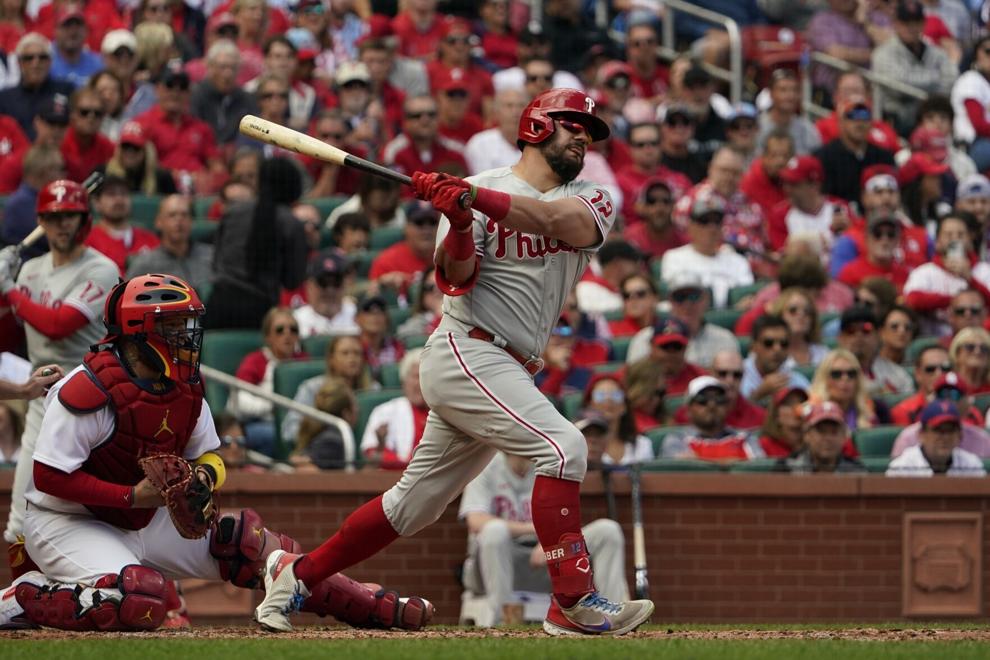 Philadelphia leadoff hitter and former Cubs slugger Kyle Schwarber entered this year's Home Run Derby as the top seed, leading the group of contenders in homers and on his way to leading the National League with 46 home runs. But he was hardly the favorite. And knew it.
His opponent in the first round was — Pujols.
"For me, it was a really cool moment just to be going up against one of the best hitters of my generation," Schwarber said. "I grew up a Reds fan. I grew up watching him terrorize the Reds as a Cardinal. To be out there wanting to go up against him and see all those things that all the guys did for him and how much he enjoyed that … it was awesome."
The moment Schwarber referenced was how other players gathered around Pujols during a pause in his derby competition as if to rev him up, but also in a show of obvious reverence. He had pushed the first round to a tie and then a swing-off, and then powered past Schwarber to the delight of all the players present at Dodger Stadium in July. Even Schwarber.
Pujols and the Cardinals have pointed to that moment as the ignition switch for Pujols' second half — with 18 homers, including the 700th of his career, and a .715 slugging percentage.
"I guess I got him hot," Schwarber said, laughing. "I mean, it's cool to see that. If you trace it back to that Home Run Derby and see how much fun he had there, that's stuff that's pretty cool."
Tyler O'Neill in Arizona, etc.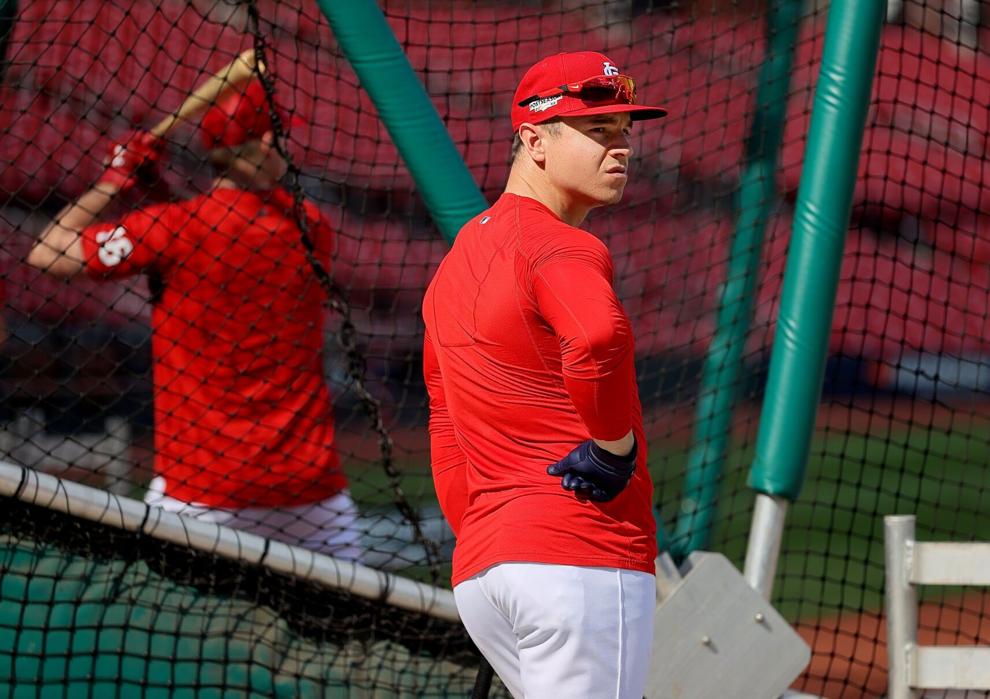 In his first game appearance since injuring his hamstring, outfielder Tyler O'Neill went 1-for-3 with two strikeouts Saturday in the Arizona Fall League. O'Neill, playing for the Rafters, started in left field and scored a run on Cardinals' top prospect Jordan Walker's first AFL homer. O'Neill is in the prospects league this weekend to get game reps for a return if the Cardinals' season continues. … Philadelphia will start lefty Ranger Suarez if there is a Game 3 on Sunday night at Busch Stadium. Suarez was 10-7 with a 3.65 ERA this season, but it will be his first career appearance against the Cardinals. … Throughout the season, Andrew Knizner caught Mikolas starts because of the chemistry between them, but in recent weeks, Molina had regularly shared the field with the right-hander. That, Marmol revealed Saturday, was preparing for the postseason and starts like Molina's in Game 2. "Today was that reason," he said.
Staff writers Daniel Guerrero and Rick Hummel contributed to this article.