Two weeks have passed since the Cardinals' season came to an abrupt halt as they lost two consecutive games to Philadelphia here after rookie manager Oliver Marmol had guided the club to a National League Central Division championship.
There will be four months of reflection before the Cardinals, many of them anyway, gather in Jupiter, Florida, to prepare for the 2023 season, but Marmol said this past week, "I would have done everything the same (in the playoffs), to be honest with you."
Then he did summon one decision he would have made differently. He would have removed relief ace Ryan Helsley after Helsley had walked two hitters to fill the bases in the ninth inning of Game 1 before Helsley hit Alec Bohm to force in the first of six runs the Phillies would score in the ninth in a 6-3 victory.
"That's it," said Marmol. "I don't regret a whole lot."
Helsley, showing uncommon lack of control after striking out two of the first three men he faced, was coming off an absence of several days. He had jammed the middle finger of his pitching hand while while making a fielding play during the last series of the regular season in Pittsburgh.
But he stayed in, said Marmol, "because he didn't say he was hurt."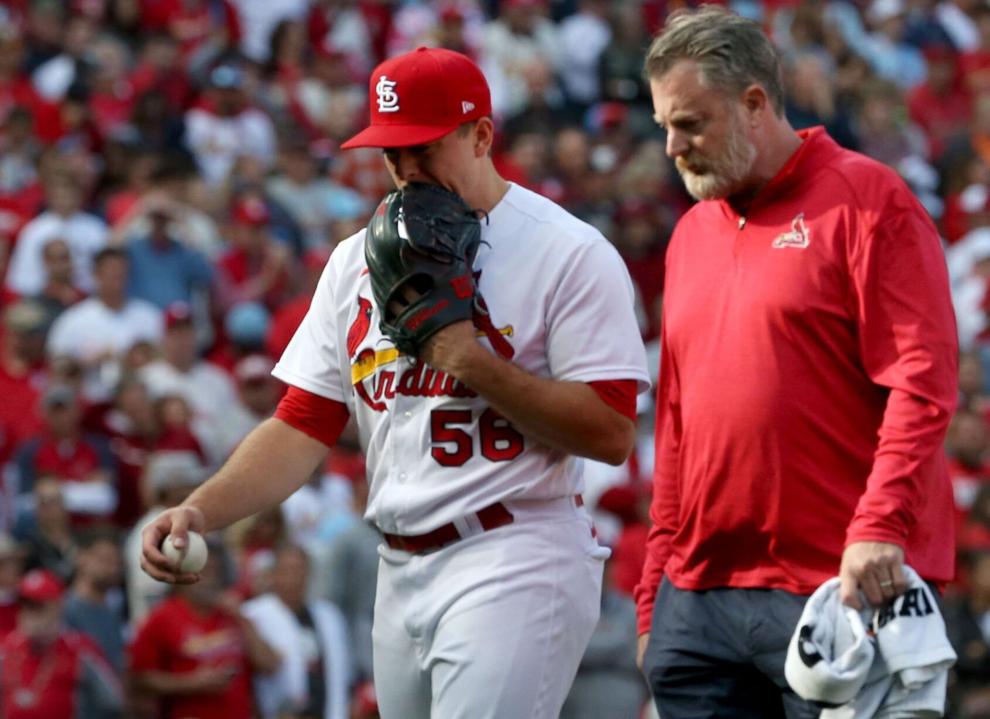 Helsley later would say he didn't have the feel for his pitches, but he had retired the first three men he faced before not retiring the next four. He said his finger didn't hurt at any point.
"When you have a guy that's really good and has been good all year," said Marmol, "and you're going to replace him with somebody who's generally not as good, you've got trust the fact he's going to figure it out in that particular at-bat. And he didn't.
"When Yadi (catcher Yadier Molina) or when 'Mad Dog (pitching coach Mike Maddux)' went out there, if Helsley had said anything about his finger, we would have taken him out. That wasn't the case.
"Even the next day, when I brought him into the office, I asked him, 'Why didn't you say something was hurt?' He said, 'Because it wasn't. If I was hurt, I would have signaled to the dugout. It was stiff, and I couldn't finish the pitches but nothing hurt. And I felt fine when I went out there for the eighth."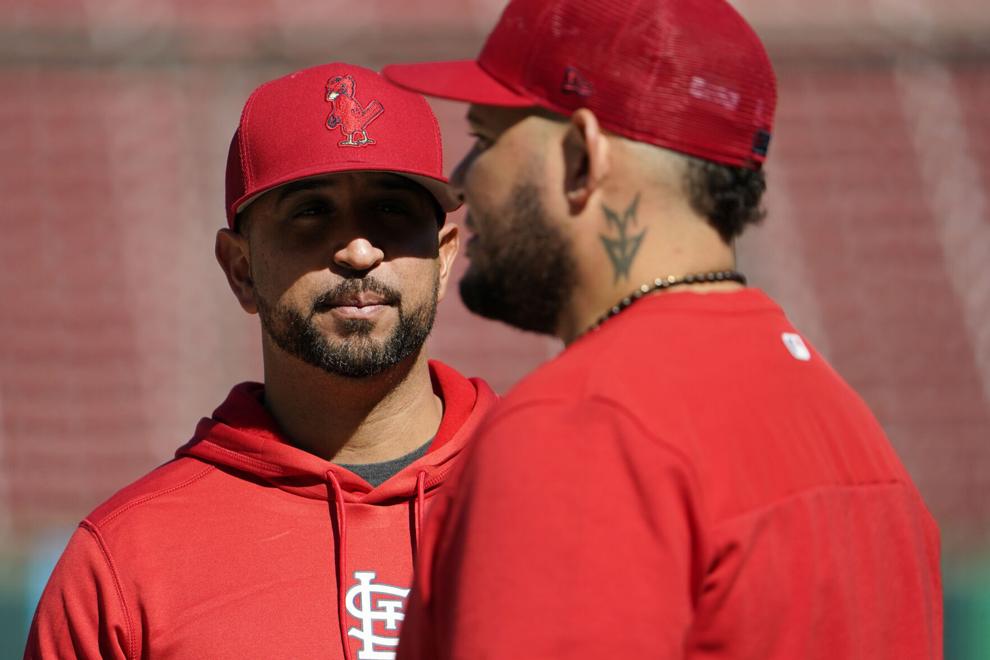 The first walk, to Bryce Harper, came after J. T. Realmuto had singled off the end of his bat, but Helsley was ahead of Harper in the count at 1-2.
"And then your All-Star closer walks (Nick) Castellanos and you bail on him?" said Marmol, recalling his thought at the time.
"Circumstantially, it's a lot tougher in the moment than when you're sitting there and saying, 'Yeah, go bring in (Jack Flaherty).'"
But Andre Pallante, rather than Flaherty, not accustomed to coming out of the bullpen, ultimately came in to face Jean Segura with the bases loaded in a 2-1 game. The situation called for a double play or at least a strikeout, neither of which Pallante got, as Segura singled past second baseman Tommy Edman to give the Phillies the lead.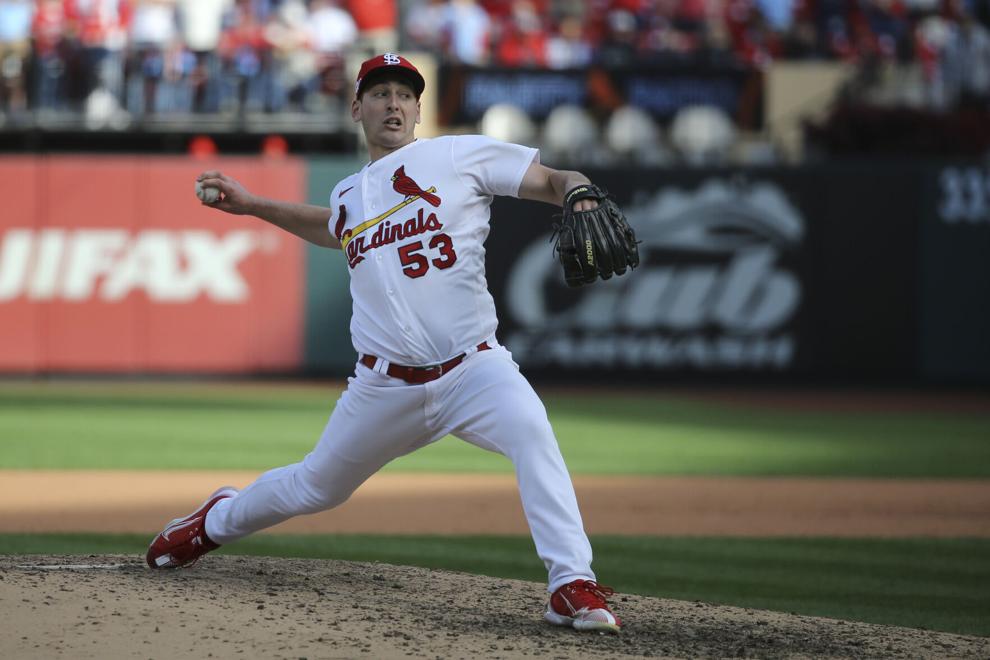 But, in the brief time that Flaherty pitched this season, his strikeout rate wasn't as high as it had been in his excellent year of 2019, his last full season, when he fanned more than one-third of the hitters he faced at a total of 231. His walk rate was much higher this year, also not necessarily a good thing with the bases loaded.
He had faced Segura three times in 2019 and none of those at-bats resulted in a strikeout and perhaps that also guided Marmol's decision not to use Flaherty in that spot.
Helsley wasn't initially targeted to pitch more than one inning in the game, but he had replaced Giovanny Gallegos, who was programmed to go two frames, after Gallegos had walked No. 8 hitter, Bryson Stott with a two-run lead with one out in the eighth.
"Gio's bad with the running game," said Marmol. "Stott would have stolen second and third off of him and cut the lead in half. By walking Stott, that forced me to bring in someone who is good at the running game, and that's Helsley. So, that's what contributed to making that change and (trying) to get five outs.
"If Gio gets Stott, I would have let him finish that inning, for sure.
"Stuff just didn't work out," Marmol said. "Do I think any one person blew it? No. 'Goldy' and 'Nado (Nolan Arenado)' just didn't feel great going into that series.
"Helsley? If he had said he was hurt, I would have yanked him immediately. But he didn't.
"You look at Gio's outing that day. And Helsley's outing. None of them had command of their stuff. (Jordan) Hicks got through his inning, but he was very erratic. He had no idea where it was going. It was cold."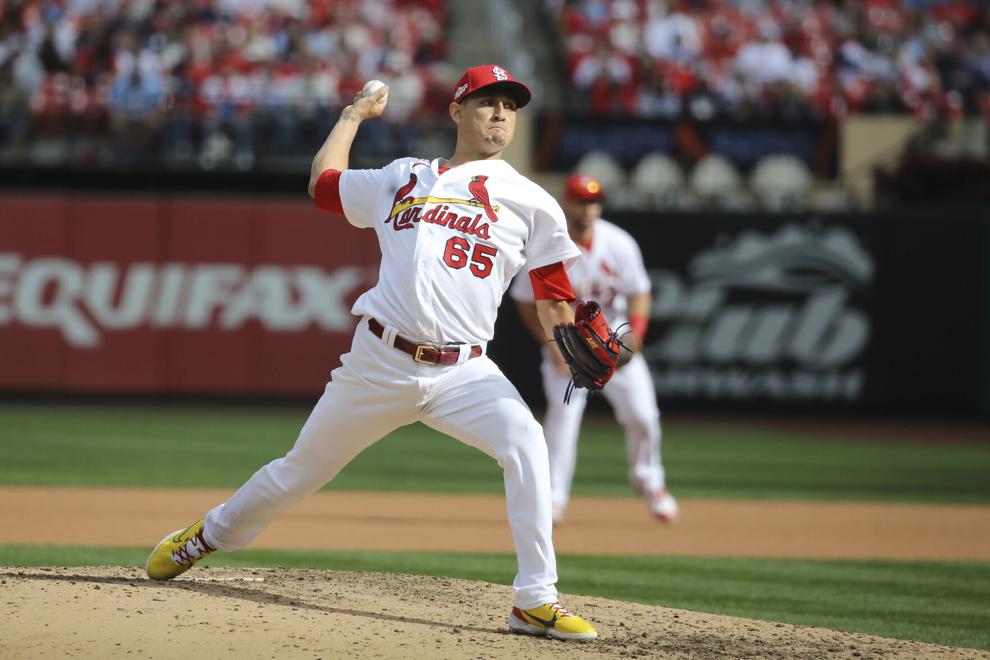 A prevailing theory was that the Cardinals had lost their momentum after clinching the division title on Sept. 27, but Marmol countered, "The reality of it was that we didn't have momentum for the entirety of the last month. It was a combination of us winning just enough games and doing enough things well to win while Milwaukee didn't."
The Cardinals were a modest 17-14 from Sept. 1 through the end of the regular season on Oct. 5.
"Guys weren't feeling the way they wanted to going into that three-game set (with Philadelphia). It's unfortunate," said Marmol. "If your guys that hit are feeling good, everything looks great.
"I always want to measure success off of winning a World Series, because no one gets to spring training without that goal, right? You always want that to be the goal, but in a three-game set, hell, anything can happen. The Dodgers are sitting at their houses right now."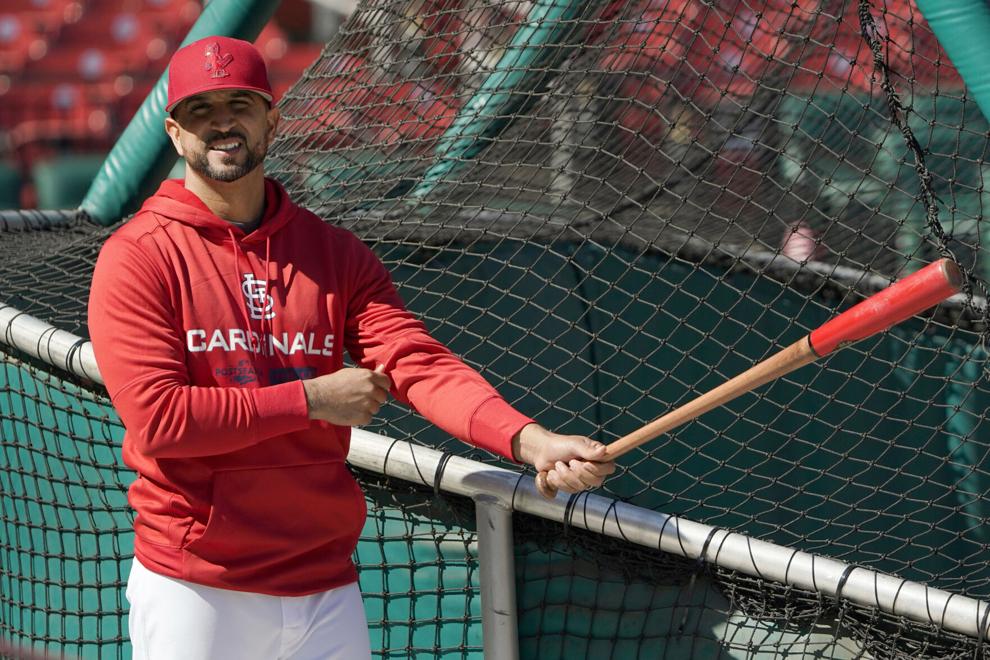 Two teams who won 101 games are also sitting this dance out — the New York Mets and Atlanta Braves.
"These are teams that won a whole lot of games," said Marmol. "Anything can happen (as in the Phillies going to the World Series).
"If a team does the right thing for five days, you're done. In our case, two games."
Marmol, for that matter, is sitting at home, too, but for the moment, his home is St. Louis and not his actual residence near Ponte Vedra Beach, Florida.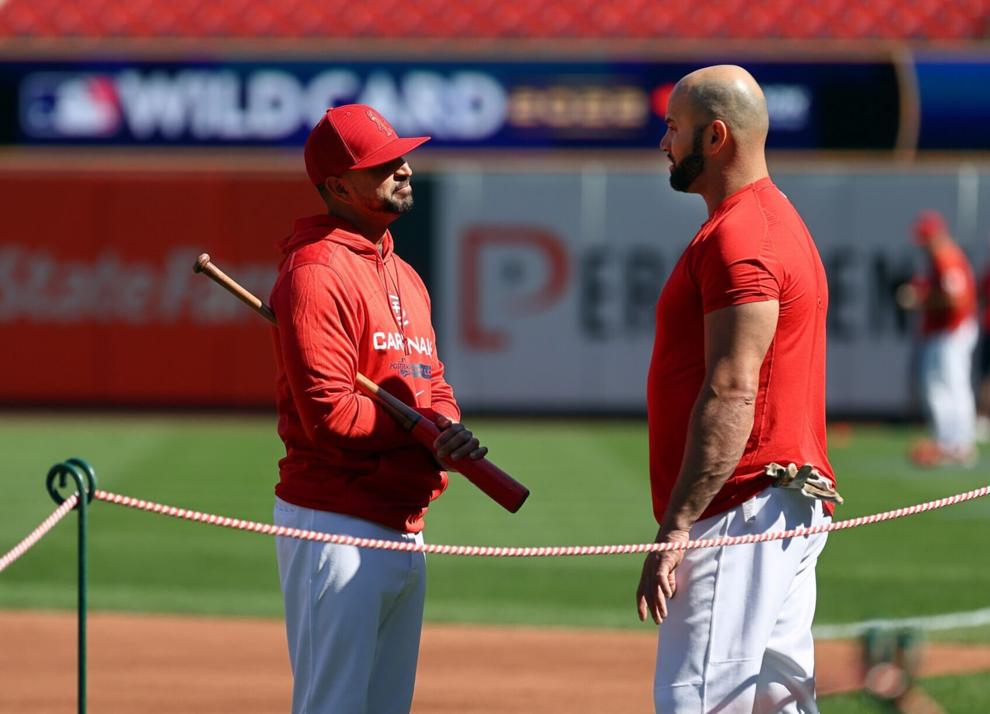 "This is a different pace," said Marmol. But he said his wife, Amber, "likes the vibe" here and that the family might stay through Christmas. And what does Marmol do when he's not managing?
"I'm ultra-competitive," Marmol said. "My wife told me the other day, 'You've got to find something else to compete at.'
"I'll race my kids," said Marmol. "I need to win at something."
Marmol's daughters are 3 and 5, so they probably would need a handicap of sorts.
"But," joked Marmol, "what are they going to learn if you don't beat them? The world is not going to hand them everything. They've got to learn early on that life is hard."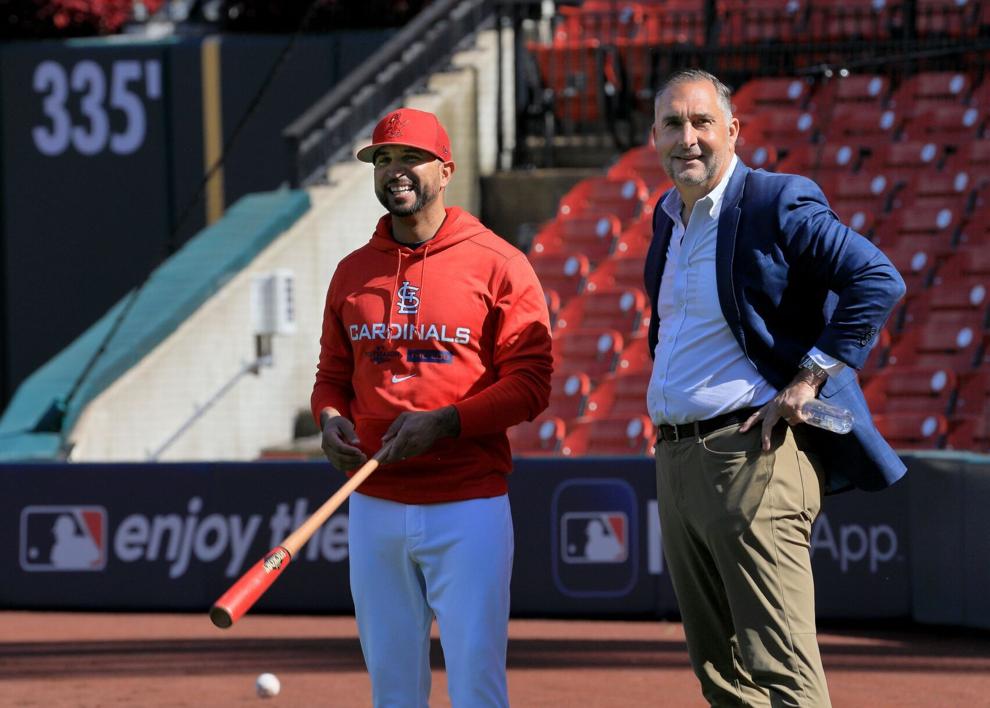 Earlier in the week, it was too cold for the family to go to the zoo or do any racing outside, but Marmol said, "We've got room in the basement."
For night-time entertainment, Marmol fashions going to a hockey game or two and that Blues coach Craig Berube — Marmol called him "Craig'' — had said to contact him.
Most of Berube's associates call him 'Chief,' and Marmol said, "He came into my office once. He's a large human.
"I'll call him whatever the heck he wants me to call him."