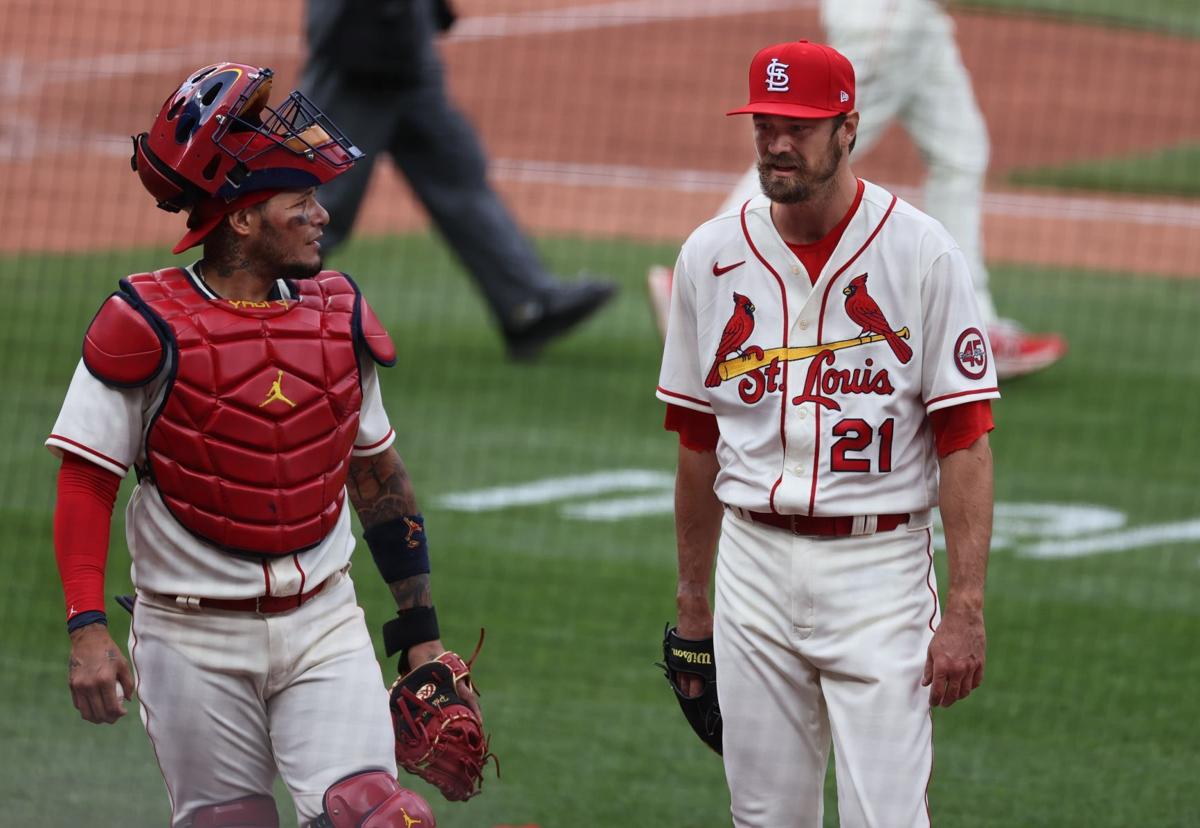 An injury the Cardinals did not expect to linger didn't as Paul Goldschmidt returned to the lineup Saturday after missing the home opener, and now they wait to see if an injury that could linger — does.
Tyler O'Neill left Saturday's game with a groin injury that happened in the second inning as he tried to outrun a double play. O'Neill's pace slowed considerably as he ran for first, and the Cardinals had him examined and scans taken of the area to determine the severity of his injury. A full diagnosis is not expected until Sunday morning, but the Cardinals will have a player, possibly outfielder Lane Thomas, nearby if O'Neill heads to the 10-day injured list.
"Getting evaluated," manager Mike Shildt said. "Trying to figure out whether it's a day-to-day thing or it's an IL thing."
Goldschmidt, who did not miss any of the Cardinals' 61 games or 11 doubleheaders in 2020, was unable to play Thursday because back stiffness left him sore and certain the Cardinals had better alternatives for the lineup. His backed seized Wednesday night after he got home, and it did not relent the next morning, and not at all during that day's opener.
Goldschmidt notified the Cardinals he felt better Friday and was not inhibited Saturday as he returned to the lineup to single and walk in five plate appearances.
"You're always trying to be smart," Goldschmidt said. "Can you go out there and physically do something? Yeah. Was I at 100 percent? No. It probably would have been detrimental, I think. Those other guys who were at or near 100 percent had a better chance to perform. Obviously, you want to play. You know how important opening day is, but you've got to have a long-term view as well.
"Is it necessarily the right thing or best thing for the ballclub?" Goldschmidt said. "It's not about me, it's about this ballclub. That's the thought process."
That will be the same process the club has with O'Neill. The Cardinals could elect to play short for a day if O'Neill's recovery appears to be quick, but as they quest for consistent production from the outfield and near a roster move to add a pitcher, there will be hesitance to carry an unavailable player on the bench too far into this week.
Kim poised for return
By the time the Cardinals return to the road this week, bound for Philadelphia, they expect to have Kwang Hyun Kim in the rotation, perhaps in time to face the Phillies. Kim is scheduled to throw a 90-pitch simulated game Sunday at the Cardinals' alternate-site camp in Sauget, where many members of the Cardinals' Class AAA roster are housed.
Kim missed several weeks of spring training due to back stiffness, and he has been on an extended, spring-like program to build arm strength. Other than bouncing geographically from Jupiter, Fla., to St. Louis to across the river, he has had no detours in his schedule, and if he recovers well Monday will be assigned a start on the upcoming road trip.
The Cardinals have discussed using a modified six-man rotation, one that would prioritize certain pitchers for a five-day schedule and fill in accordingly.
"He did a great job starting last year," Shildt said of Kim. "I don't see any reason why he wouldn't get back in the rotation. We just have to figure out what that's going to look like."
Replay revisited
A pivotal play in Saturday's game exposed a blind spot in baseball's current replay rules. In the sixth inning, the Cardinals had the potential tying run negated when rookie Justin Williams was struck by a ball that home plate umpire Alan Porter ruled fair. That decision cannot be reviewed because it is a boundary call that happens in front of the third-base umpire.
Anything behind the umpire can be challenged and reviewed via video.
Shildt advocated for replay to be expanded to plays like Saturday's because the camera is going to have a better angle and less obstructed view than the umpire.
"And here's why," the Cardinals manager explained. "That ball is the home plate umpire's call until it gets to third base. That's a hard thing for an umpire to do especially with a righthanded hitter who can block him out by making that call. I do feel like that's more of a reviewable play, but alas it's not."
Wong to injured list
The tears that came in his first plate appearance were replaced by wince in his third. Kolten Wong's check swing on a curveball from Adam Wainwright aggravated the infielder's oblique soreness and put him on the injured list Saturday. The Milwaukee Brewers' leadoff hitter and former Cardinal fixture at second is hopeful his oblique strain will require only the minimum 10 days to recover, but it assures he will miss the weekend series back at Busch.
"I was trying to compete, trying to see what I could do, but I was at the point where I just needed to stop," Wong told Wisconsin reporters Saturday morning. "I was doing more harm to the team that good."
In his first appearance as a visitor at Busch, Wong received a four-pitch walk from Wainwright. The Gold Glove winner has sweetened his .105 average to start the season with five walks and two bruises from being hit by pitches. He started the day with some discomfort in his oblique and the tightness intensified during the game to the point that he had to be replaced in the field. Wong had oblique injuries while with the Cardinals, though he said those were on the right not left, where the current inflammation is.
The Brewers activated Jace Peterson from their alternate-site camp, started him at second, and moved Bobby Wahl (oblique strain) to the 60-day injured to create a spot on the 40-man roster.
"I think we just want to quiet this thing down," Wong said. "It's at that point where it's not a full-blown oblique strain. I told them I don't want to sit back and wait for this thing to heal. I want to do the things I can to stay ready so I can get back out there and it's not a transition that will take forever. I'll be ready to go."
Extra bases
Nolan Arenado's double in the first inning Saturday gave him at least one hit in his first eight games with the Cardinals. It's the longest hitting streak by a new Cardinal to open the season since Roger Maris in 1967 also had hits in his first eight games. … Before Arenado's on Thursday, four times since 1900 had a Cardinal making his home debut in St. Louis hit a game-winning homer in the eighth inning or later. The last was Chris Speier in July 1984, per Elias.