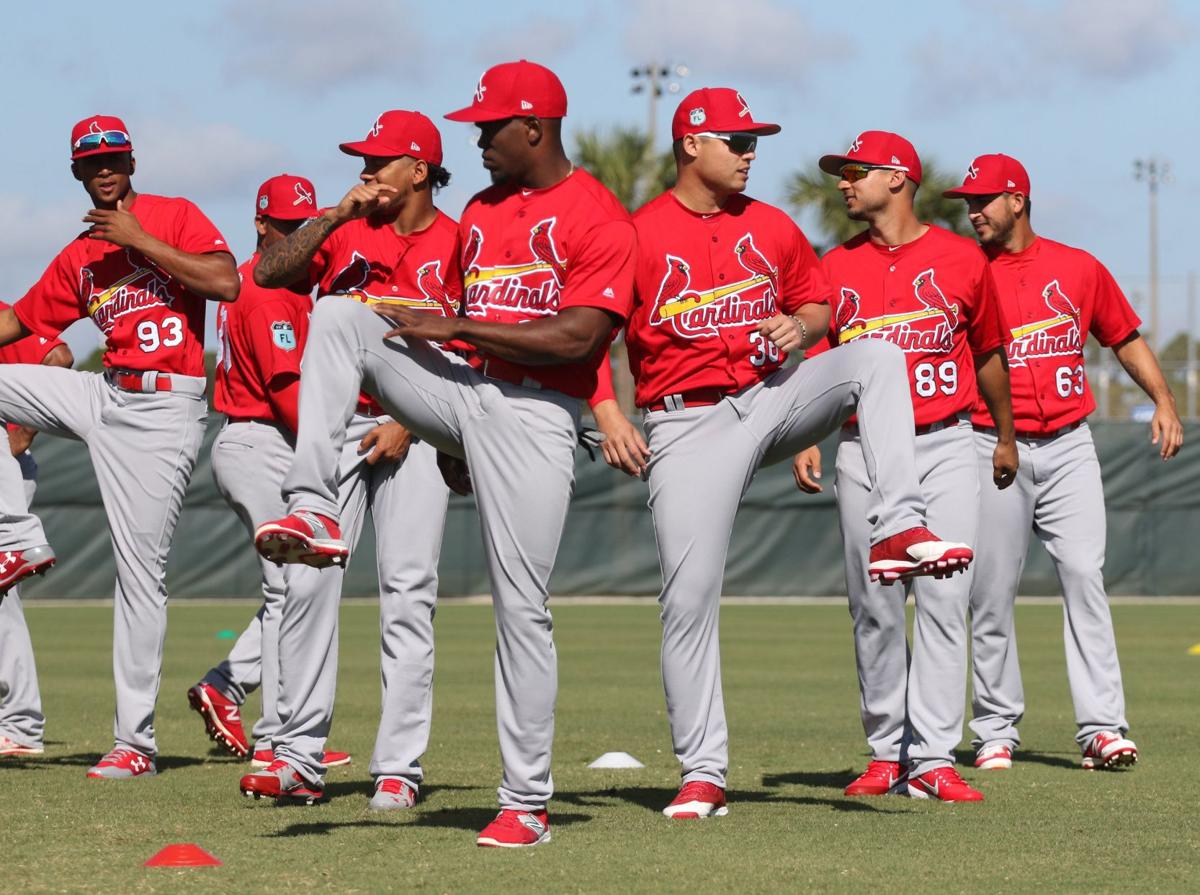 JUPITER, Fla. • Although he defected from Cuba in 2012, Aledmys Diaz has kept a close eye on the talent in his native island's Series Nacional over the last five years. He watched televised games from afar as a fan, appreciating the deep talent.
The All-Star shortstop watched Jose Adolis Garcia's televised games multiple times. He was more than willing to share his scouting report on the 2016 Serie Nacional Most Valuable Player when general manager John Mozeliak inquired. By then, however, the Cardinals already were deep into their pursuit of the young outfielder.
Actually, Diaz delivered his most important scouting report to Garcia, not about Garcia.
Diaz was having breakfast on Feb. 25 when the chiseled 6-foot-1, 168-pound Garcia approached him shortly after reporting to Roger Dean Stadium for his first day in big-league camp. Sensing a bit of apprehension, Diaz welcomed Garcia to the Cardinals and, more importantly, promised to serve as a mentor.
Diaz, after all, can appreciate how the little things most Americans take for granted can prove monumentally difficult for players who were born and raised in communist Cuba.
"I know it's very difficult," Diaz said. "That very first step when we get here is very difficult when you get here to the United States. You don't know anything here, and I told him I will help him in any way.
"It's very difficult, very, very difficult. It's all real new for us here."
Diaz is the Cardinals' only big leaguer who can truly appreciate the unexpected hurdles that await Garcia, 24, as he tries to ascend to the majors while dealing with all the typical hurdles that most minor leaguers face.
There's no denying there are major hurdles to overcome on the way to Busch Stadium for any young player, whether you were born in St. Louis, elsewhere in the United States, Puerto Rico, the Dominican Republic, Panama or any other Latin American country.
The road to the majors is littered with hopefuls who saw their dreams die somewhere in the minors because of injuries, lack of major-league talent, mental strength, temptation or countless other setbacks. In most cases, the on-field tests are the easy part of the transition for Cuban ballplayers.
Sure, Cuba's Serie Nacional isn't quite on par with Major League Baseball in terms of competitiveness. But the U.S. has a legion of Cuban defectors who have starred in recent years. Diaz, Aroldis Chapman and Jose Abreu are just three former Serie Nacional players who have been major-league All-Stars since 2014.
Conversely, Garcia's older brother, Adonis, defected from Cuba in 2010 and eventually signed with the Yankees in April 2012. He spent almost three years in the Yankees' organization before he was released in April 2015. He signed with the Braves a week later and finally reached the majors at 30 years old on May 19, 2015.
In Diaz, Adolis Garcia will have a mentor who can appreciate the struggles that await, on and off the diamond. It's almost easy to forget that the Cardinals designated Diaz for assignment on July 8, 2015, just 16 months after they gave him a four-year, $8 million contract.
The Cardinals took Diaz off the 40-man roster, but he played well enough the rest of the season at Class AA Springfield to merit a spot on the 40-man roster in November 2015.
He then took advantage of his opportunity after a rash of injuries opened up a spot for him in the majors in the second game of last season. He eventually was named to the National League All-Star team as a replacement on July 7, one day before the one-year anniversary of the Cardinals' decision to designate him for assignment.
By the time he represented the Cardinals in the All-Star Game, Diaz had grown in confidence on the field and off with a strong command of the English language. The ability to communicate freed him of a heavy burden that had hampered his development.
"Not speaking English is very difficult," he said. "You can't communicate. To have a Latino or Cuban to help you would make a huge difference."
Diaz dedicated himself to learning English after his first minor-league season. The new language may have been one of the easiest transitions, though. As difficult as it may be to fathom, he also struggled with some of the freedoms we take for granted.
"I remember in 2014 it was difficult because you come from a socialist system," Diaz said. "When you come here, capitalism is all different with all the liberty we have. You have a credit card. You have to get a driver's license. A lot of us don't even have the opportunity to have a car in Cuba. All those adjustments off the field are more difficult than the adjustments on the field."
As romantic as it may sound to be showered with a $2.5 million signing bonus like the one the Cardinals gave Garcia or the $8 million contract Diaz received, it's a daunting adjustment to go from living in a communist regime to suddenly having millions. Mercurial Dodgers outfielder Yasiel Puig is perhaps the biggest example of a Cuban defector who has struggled adjusting to his new fame and wealth.
Fortunately for Garcia, Diaz vowed to help ease what will surely be a difficult transition.
"I was very happy to go somewhere and find an acquaintance who helps you and extends his hand to help like family," Garcia said. "It's something very important. I'm very happy to be here near Aledmys."
Jose de Jesus Ortiz
@OrtizKicks on Twitter