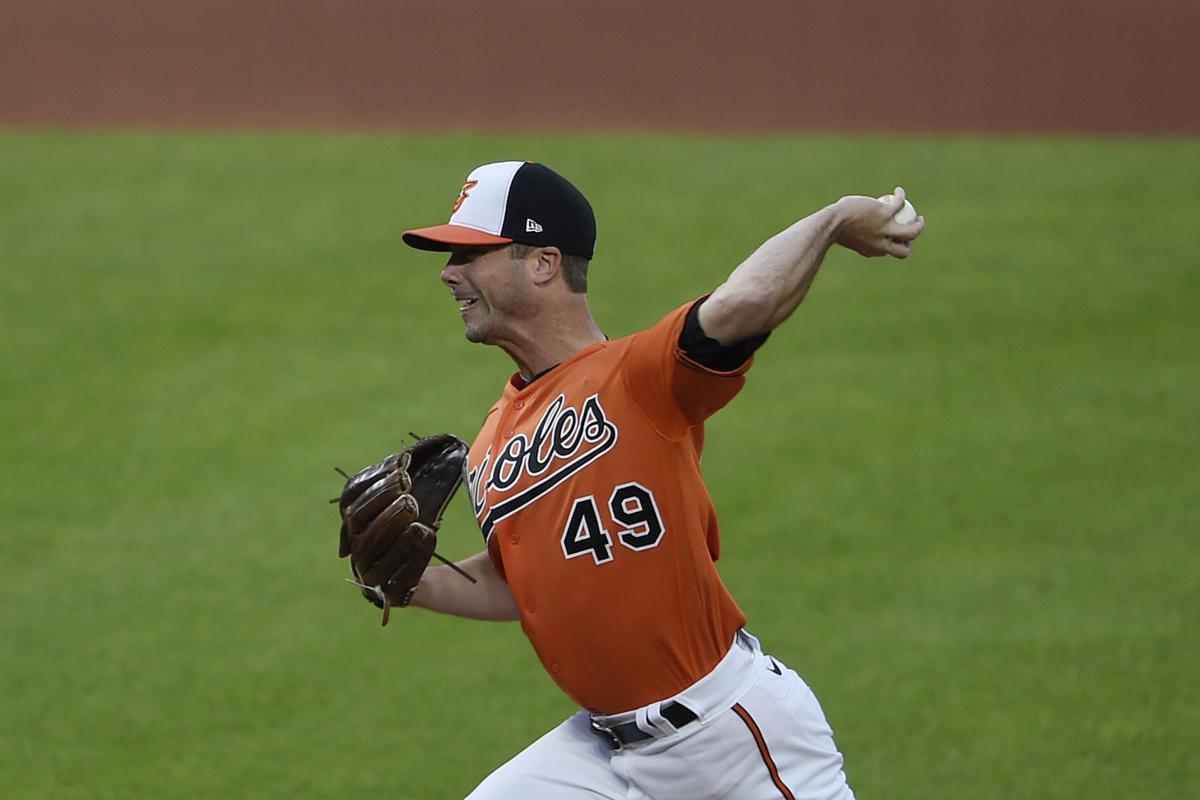 ATLANTA — Less than 24 hours after he gained his official release from the Texas Rangers, Wade LeBlanc found himself Thursday on a 6 a.m. flight out of Lake Charles, La., bound for Atlanta and an awaiting contract offer from the Cardinals.
"I didn't wait around," LeBlanc told the Post-Dispatch a few hours later, leaning against the dugout railing at Truist Park. "At this point in my career, I realize for me to be successful I need a good defense and a good catcher, and it's hard to find anybody better than what we've got here. So, when they called, it really wasn't a consideration to see who else calls."
LeBlanc, 36, signed a major-league deal with the Cardinals that was finalized about three hours before first pitch Thursday, and he was available against Atlanta, wearing No. 49. Major League Baseball's modified protocols updated just this week made LeBlanc's immediate move to the Cardinals possible. He confirmed he has been vaccinated, and that meant he did not have to go through an extensive intake process.
The Cardinals have canvassed the market for pitching depth to add some reinforcement and regularity to a staff undermined by injury and inefficient outings. They've reached out to teams that might be open to trading starting pitchers — asking prices are high, their leverage lacking — and accumulated a wave of free-agent additions. On Thursday, the Cardinals signed righthander Brandon Dickson to a minor-league deal and he immediately reported to Class AAA Memphis. Dickson, who appeared in 2011 with the Cardinals and received a World Series ring, recently pitched for Team USA in the Olympic qualifying tournament, and he has spent several seasons in Japan.
The Cardinals have also approached Shelby Miller about a reunion and a minor-league deal. The free-agent starter is entertaining offers from several other clubs.
LeBlanc had an opt-out in his minor-league contract, and he said the Rangers recently notified him they did not have a spot for him in the majors. He pitched seven shutout innings for Class AAA Round Rock this past Friday, drove home to Lake Charles to await his next stop on a nomadic season, and within 12 hours of his official release had a major-league job. Two of the words Cardinals manager Mike Shildt used to describe LeBlanc illuminated why.
"Strike-thrower," Shildt said.
The Cardinals' pitching staff leads the majors in walks with 292, and the bullpen has contributed 147. Short starts have left the bullpen to stomach leftover innings, and all the walks have ballooned the pitch count of those innings.
Part of the same Padres' 2006 draft class that featured David Freese, LeBlanc has moved between the bullpen and rotation throughout his career. He started 27 games as recently as 2018 with Seattle, and the previous year he finished 18 games and appeared 50 times in relief with Pittsburgh. And he throws strikes. LeBlanc's 2.70 walks per nine is the 13th-lowest of any active lefty with more than 650 innings pitched. With Class AAA affiliates for Milwaukee and Texas this season, LeBlanc made seven starts and had 33 strikeouts and 10 walks in 34 2/3 innings to go with a 3.12 ERA.
In six appearances for Baltimore in the majors this summer, he walked one in 6 2/3 innings and struck out six to go with a 9.45 ERA.
"When I'm at my best, I'm keeping the ball off the barrel," LeBlanc said. "So I'm getting guys to jam themselves. I'm getting guys to hit it off the end of the bat. And for that to be successful I need a defense. I need a good defense. That's the approach — to be as aggressive as I can because if I'm not in the strike zone then guys can wait me out. I have to force the issue. I have to force them to make them make the decision and get them into swing mode."
To make room on the active roster for LeBlanc, the Cardinals optioned righthander Seth Elledge to Class AAA Memphis. Max Moroff was moved to the 60-day injured list after shoulder surgery to clear a spot on the 40-man roster for LeBlanc.
With Daniel Ponce de Leon and Jake Woodford in the bullpen as long men, Shildt said LeBlanc could be utilized in a variety of spots, not just long relief. He will offer a lefthanded complement to Ponce de Leon's accordion role of sometimes pitching short, sometimes pitching several innings, and, if his performance meets a need, possibly to start a game.
"I'm trying to find the right fit," LeBlanc said. "If it takes four teams to find it, so be it."
Edman returns, Sosa relieved
After missing two games with an abdominal soreness, Tommy Edman returned to the starting lineup and right field Thursday. Shildt said the 72 hours Edman had between games gave him a chance to rest and not risk worsening the injury with any twist or torque required on the field. Edman gained clearance from the medical staff and was back at leadoff in the lineup Shildt sent to players late Wednesday night.
Edmundo Sosa, who took a 97-mph pitch to his right hand Wednesday, proved his availability Thursday by going through a series of drills on the field that included throwing with the bruised hand and hitting. After the workouts, Sosa said the hand was sore and he had it in a protective brace, but that he didn't have any difficulty throwing or gripping tight the bat.
"Scary," Shildt said of the moment Sosa got hit. "Thankfully it's way better than it looked."