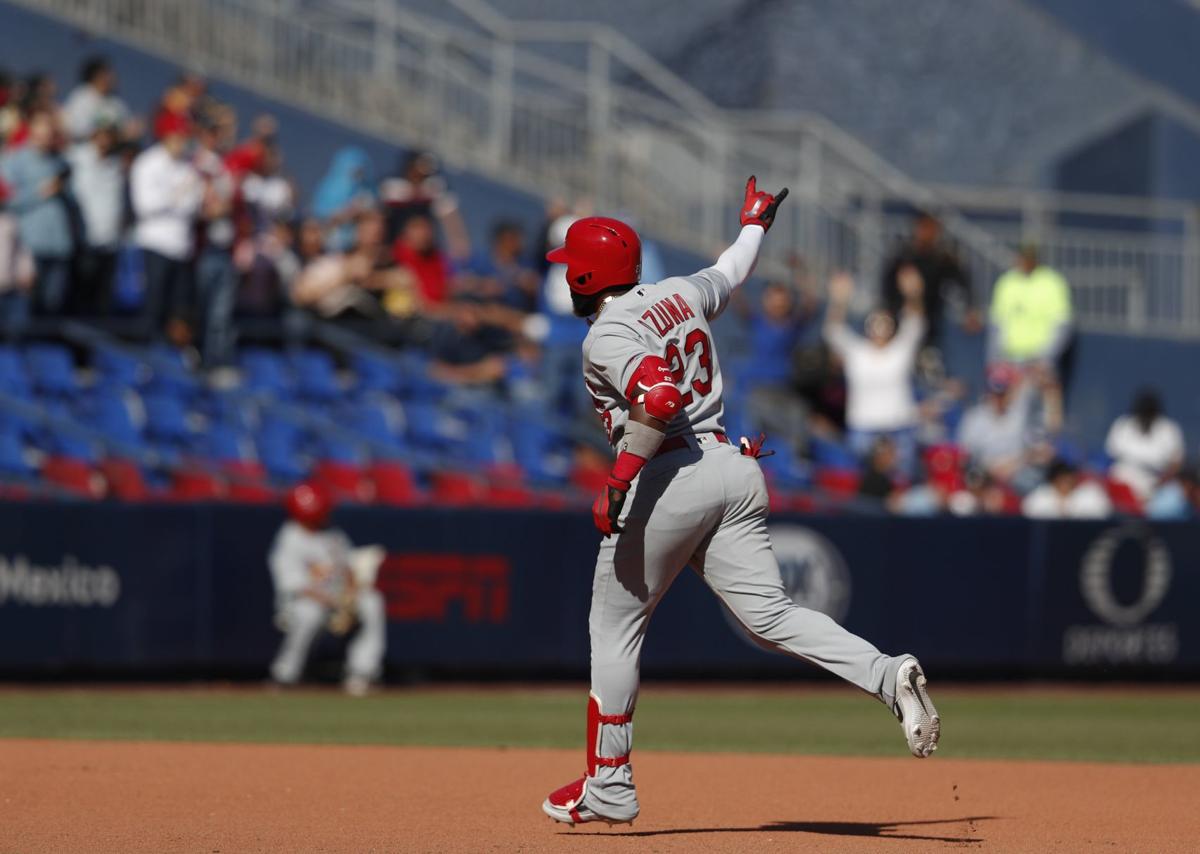 MONTERREY, MEXICO • The sensation that would eventually meet him at the plate found Marcell Ozuna first in left field at Estadio de Beisbol Monterrey. There, a few times during the Cardinals' two games abroad, Ozuna trotted out to his position, accompanied by the stadium's music and swaying fans and found his rhythm.
He shimmied his shoulders, subtly.
"You've got to give a little bit of love for the fans," said teammate Jose Martinez. "That's the way we do it in winter ball."
That pep in his step and thrill of a place he likened to playing at home in the Dominican Republic led Ozuna to predict that he was going to hit a home run Saturday and then do himself one better by hitting two on Sunday. The left fielder put the Cardinals ahead with a three-run homer in the first inning and then helped muscle them to a 9-5 victory against Cincinnati. The win split the Mexico Series between them and the host Reds and sent the Cardinals back to the States with their sixth win in seven games.
Home runs from Ozuna and O'Neill in the first inning pushed the Cardinals to a 4-0 lead that vanished in the fifth. Matt Carpenter snapped a 4-4 tie with a leadoff home run in the seventh, and Ozuna's homer and Martinez's two-run, pinch-hit single extended the lead. That freed the Cardinals to give Giovanny Gallegos, the only Mexico native on either roster, two batters in the eighth to bridge the game to closer Jordan Hicks. Neither game was a sellout, but the crowds filled the stadium all the same — with cheers, with chants, with enthusiasm, and with a party that continued more than an hour after each game ended.
During one late-game pitching change, manager Mike Shildt turned to Yadier Molina and asked, "How much do you enjoy this?"
Molina responded, "I love it. I could do it every day."
"The passion of the crowd that the Latin people show — whether it's a major-league game or a winter league game — it's something that pulls you, something pumps you up," Ozuna said, in Spanish. He added in English, "It felt (familiar). You play for a reason here. In Latin countries, everyone wants you to do good, for you to do the best. That was the thing for me — give my best to them."
For so much of the past two months, Ozuna has been trying to get his shoulder, his swing, and his body in tune. He has, at times, looked to be anxious at the plate, and his hero saw it. Before Sunday's game, Ozuna was asked who he looked up to as players, and he mentioned three hitters: Vladimir Guerrero, Manny Ramirez, and Boston slugger David Ortiz. Ozuna talks often with Ortiz, he said, and he'll receive supportive messages from Ortiz. Earlier this season, Ozuna said he "was going crazy" and Ortiz saw him groping for his swing.
Ortiz offered advice Ozuna repeated, in Spanish, on Sunday.
"A real warrior comes out when you are struggling," he said.
The best Ozuna always seems to come from the most comfortable Ozuna, the buoyant "Bear" who needles teammates, hops into the cage, dances in left field and plays to the camera by promising to hit a home run. How he handled the forever highlight of him climbing the left-field wall at Busch only to have the ball and him drop onto the warning track, gave his teammates license to laugh, too. During a joint press conference filled with questions about Mexico for Gallegos, Ozuna was asked if the relief pitcher gave him any suggestions about visiting.
"He's not from here," Ozuna deadpanned, until he got a laugh.
In the first inning a walk from Carpenter and a double from Paul Goldschmidt put the lineup in motion the way Shildt imagines. Up came cleanup hitter Ozuna with two runners on, and he tagged a low pitch over the right-field wall. Tyler O'Neill added a homer as nine Cardinals faced Reds starter Anthony DeSclafani in that inning. In the seventh, against righthanded reliever Jared Hughes, he pulled 2-1 pitch deep into the left-field seats — a gift to the same fans he said made him feel at home. He had three extra-base hits and four RBIs in the series, and only struck out once, in the last of his nine at-bats at Palacio Sultan.
"I appreciate that he's using the whole field because he doesn't have to create any power. He's already got a ton of it."
Said Martinez: "A lineup-changer. One hundred percent."
Cardinals starter Miles Mikolas delayed the Reds for four efficient innings, and then, like Adam Wainwright the day before, ran into trouble the third time leadoff hitter Jesse Winker saw him. Winker snapped Wainwright's shutout with a home run Saturday, and on Sunday he obliterated the Cardinals' lead with a three-run shot off Mikolas. John Gant (3-0) got the win in relief as the Cardinals, again, pulled away in the final three innings. Carpenter's home run off lefty Amir Garrett went where not one of the Reds' four outfielders used against Carpenter could catch it.
Ozuna's homer followed three batters later, and the Cardinals scored four of their five runs in the seventh with two outs.
"We showed a couple of different ways of being resilient," Shildt said. "And resilient is not always fighting back. It's really always fighting. And that's what this team does. It always fights."
The success of the Mexico Series could be measured in merchandise — Cardinals colors were well-represented in the crowd — and ticket sales, future trips abroad or recurring trips to Mexico. Shildt said he'd welcome an invitation back as Major League Baseball moves to making Mexico a regular stop in the regular season. Or it could be the sensation that ripples into the standings. The Cardinals have yet to have their first four hitters going all at once. Goldschmidt had his three-homer game at Miller Park, where the Cardinals open a series Monday, and No. 3 hitter Paul DeJong had a 12-game hitting streak. Carpenter has yet to go consecutive games without a hit. Ozuna has been searching, reaching, adjusting — and then came Monterrey.
The Bear started to dance.
"I had never been to Mexico. This is my first time here," Ozuna said toward the end of his press conference. "The only thing I say is I love it."