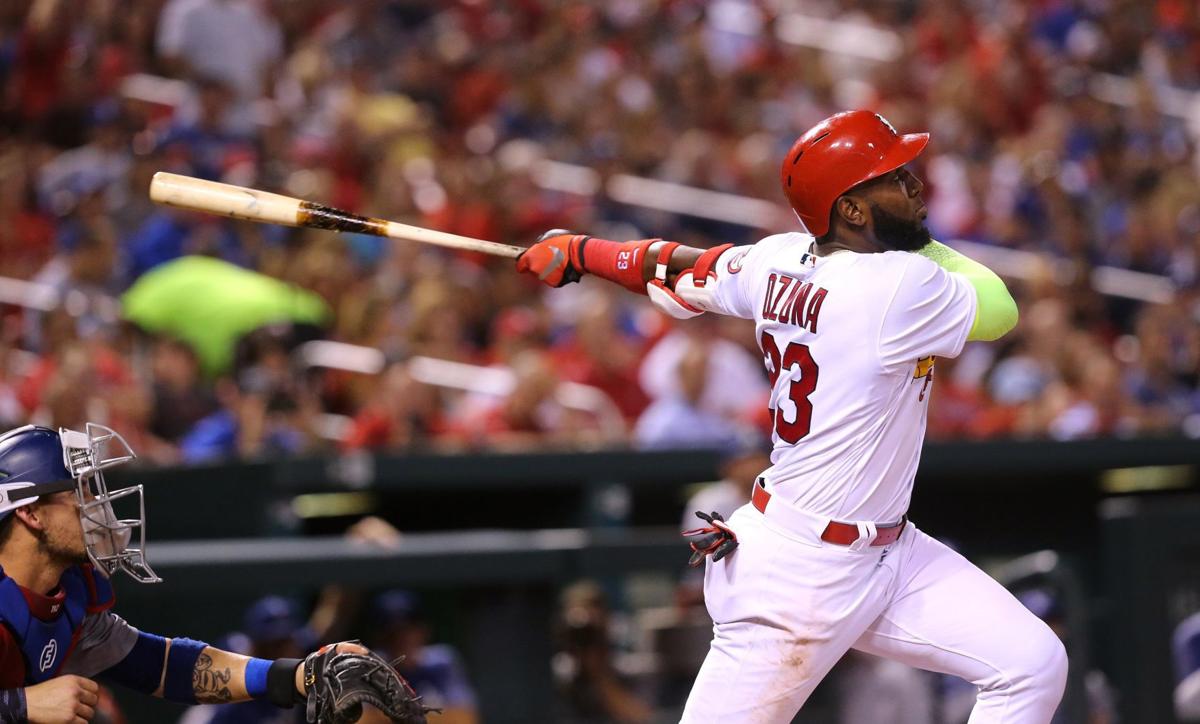 There were times this season when Marcell Ozuna would swing his arm back for a throw from left field and know as soon as the baseball left his fingertips, pain or numbness would arrive, crackling up his forearm toward his right shoulder.
He knew how long it would be before he could move it again.
Ten seconds. Nine. Eight.
He'd raise it up to get blood flowing.
"In my mind, I didn't want to stop," Ozuna said. "I wanted to keep playing, keep swinging, keep doing what I can do with one arm. For that? I don't want to stop. I don't want to be in the training room all the time. On the DL? No, no. I could wait. I want to play, play hard, and do my best. I said, 'I'll get through it.'"
As the Cardinals open their final home stand of the regular season Friday night with a chance to secure a berth in the postseason for the first time since 2015, the bat acquired to drive them back to October has arrived, as advertised. Ozuna had a hit in every game of the series in Atlanta, an RBI in three of his past five games, and since relenting to treatment for an obvious and limiting shoulder injury he's hit .324, slugged .632, and had a .997 OPS in September. He has hit with more power more consistently since a visit to Los Angeles resulted in a cortisone shot and 10 days on the disabled list.
He has, as his agent Scott Boras said, returned to that "superstar level" of production, hitting well a few weeks before the treatment and thundering away after it. That invited questions the Cardinals must consider as they cling to a slim lead for the National League's second wild-card berth: Could the injury have been addressed earlier? Could this production have arrived sooner?
"I don't really second guess it," said John Mozeliak, president of baseball operations. "The hardest part is when you don't have 100-percent transparency. (Trainers and coaches) can really only go with what they see when they know something is not right. You noticed it, right? He's one of those players who never wants to be out of the lineup. You respect that. I would imagine it had to do with confidence in the physician (in Los Angeles), we were there, and it all lined up to say now is now. Had we been there two weeks earlier, it might have been then. Two weeks later, maybe then.
"His contribution to the club we always believed would be felt from A to Z, from start to finish," Mozeliak concluded. "I think that's what we're seeing."
Ozuna remains limited on his throws from left, but after the treatment he said his shoulder feels so good "I can finish my season perfect." In a candid conversation at his locker recently about the injury, he stressed he didn't regret waiting to surrender to the pain. "I am enjoying my moment right now," he said.
This moment, after all, is new to him. In his four full seasons with Miami, the Marlins never finished better than second, and even that season (2017) they had a losing record and were 20 games back in the NL East. Ozuna, now 27, finished that season with career highs across the back of his baseball card — 37 homers, 124 RBIs, and a .548 slugging percentage — and his manager, Don Mattingly, suggested he was the MVP of the team even though the lineup had NL MVP Giancarlo Stanton. Ozuna smiled as he started ranking his best seasons, saying that 2017 summer had to be tops because of the lineup, the fun, the team, the numbers. This season, his first with the Cardinals, "is maybe second. But we don't know yet. It could be first."
Playoffs are his tiebreaker.
That's the difference between where he plays now vs. 12 months ago.
"It does not matter how many home runs you hit in the game if you lost the game. You know what I mean?" Ozuna said. "There, you play for your numbers. Here, you play for a reason."
Ozuna then listed several situations he'll face as a cleanup hitter — such as first and third, one out — and how what he does in that moment and how he performs "the fundamental little thing" could lead to team success. He continues to get text messages pushing him and prodding him from Hall of Famers Tony Perez and Andre Dawson, two officials with the Marlins during his time there. He pointed to his phone and said he had heard from them recently. The message they send orbit a similar theme.
And, yet, despite that 10-second warning in his shoulder, he played on.
When the Cardinals acquired Ozuna from the Marlins in a four-player trade at the winter meetings, they were aware of the shoulder issue. Mozeliak confirmed that the team believed it to be "more of a throwing issue." Ozuna had a limited throwing program throughout spring training, and it was clear in the opening games of the regular season that the Cardinals were going to adjust to weaker throws from him. Since he had hit through the shoulder issue in 2017, the Cardinals expected he would in 2018. Instead, his power eroded. His groundball rate spiked. The pain in his shoulder was, he said, "way worse."
When asked, Ozuna would insist the shoulder was not restricting him at the plate — but opponents' eagerness to test him inside said otherwise. In August, at Dodger Stadium, Boras watched that from his seats behind home plate.
"After watching Ozo play in person and talking with Ozo it was obvious his swing and approach on inside pitches was altered," Boras wrote in a message Thursday. "His power and bat speed were not the same. We then had him see Dr. (Neal) ElAttrache and he noted a significant deficiency in his strength. Following the treatment his strength noticeably improved and the pain dramatically decreased. His slugging percentage is near normal."
The tests Ozuna went through included strength tests and, the left fielder said, an MRI. That MRI was compared against the one the Cardinals had to start the season, and an increase in inflammation was found, he said. An impingement, officials described, had caused the irritation and limited his ability to extend — to throw a ball, or to drive one.
Ozuna said he'll have to go for additional tests at the end of the season. It's possible that a cleanup will be necessary to correct what the cortisone shot could not tame. Mozeliak said the team has come through the process with an "offseason strategy" that includes specific strengthening exercises and other treatments to avoid similar limitations next season.
In the 25 games leading into the appointment in LA, Ozuna hit .327 and slugged .554, and he had six home runs in that stretch, three of which came in consecutive games toward the end of July. Ozuna mentioned that stretch, some of which was against the Cubs, when asked if the All-Star break was a chance to get the treatment his shoulder needed. Manager Mike Shildt acknowledged that Ozuna was "a little more compromised than maybe we realized," and then suggested a comfortable shoulder wasn't the only source of confidence.
"He's been setting the tone for us," Shildt said. "Clearly Ozuna is in a good spot. The good news about a guy like him anchoring your lineup is it's residual."
This past spring training, Ozuna's former manager Mattingly likened "Big Bear" to the ace of a pitching staff, the batter who "takes pressure off the other guys and changes everyone around him." That's what Shildt meant by residual, and that's what former teammate Christian Yelich referenced earlier this season when he suggested Ozuna was capable of going on a binge that "lights the world on fire." All three Marlins outfielders traded this past winter — Yelich, Ozuna and Stanton — are on teams that, today, would be in the postseason. All three were acquired by teams to help carry them to the postseason.
Now, as he taps his toes on the way to the plate, waggles his bat, there's a different countdown for Ozuna. It's not how long he has before his shoulder cooperates. It's how many games remaining, and how many wins are between him and a place he's only heard about: October.
"I'm ready. I want that. I want it," Ozuna said. "We're right there. Every loss it's like, 'Oh my god.' We win, and we're right back. Let's keep it going. I want to be there in the playoffs. I want to know."
Keep up with the latest Cardinals coverage from our award-winning team of reporters and columnists.