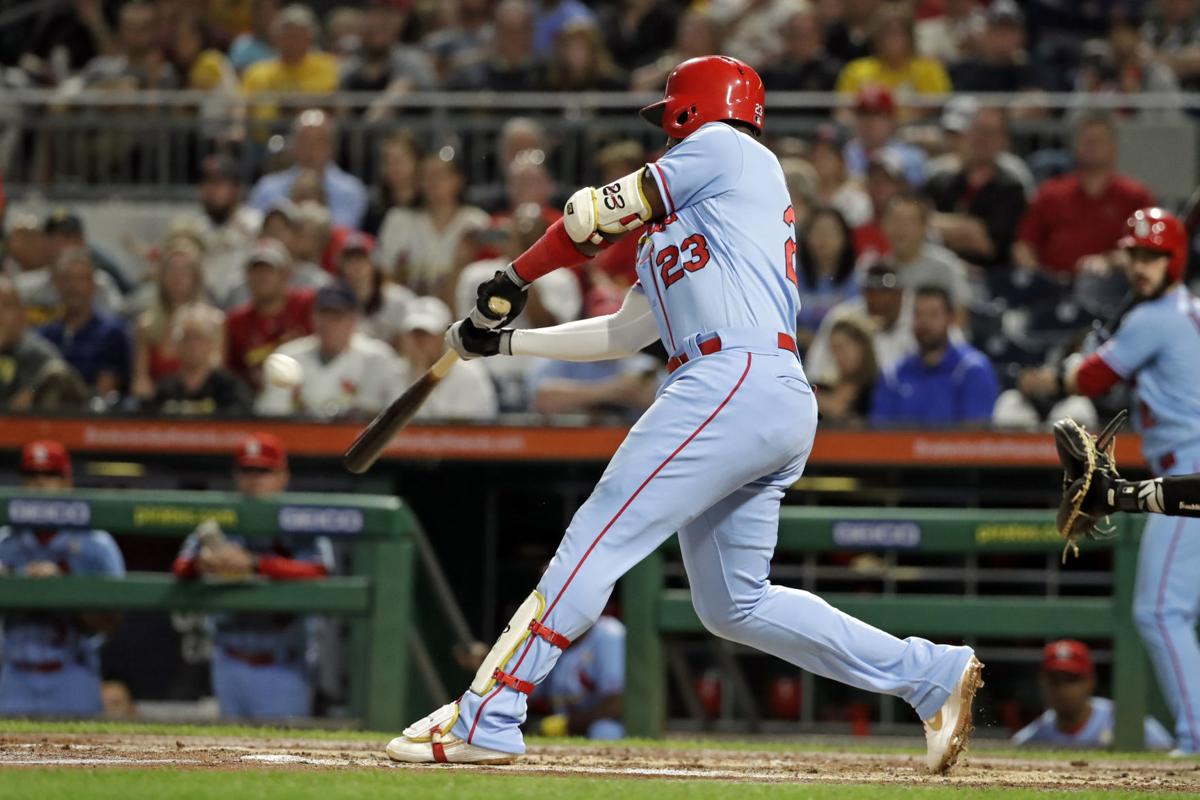 The regular-season clock might be ticking down on Marcell Ozuna as a Cardinal. Ozuna, who turns 29 in November, will be entering free agency for the first time and will be at or near his peak. He should have a collection of suitors, perhaps including the Cardinals.
The potential of his hitting 30 homers and driving in 90 runs despite missing five weeks because of a hand injury would seem to corroborate such interest. On the flip side, the Cardinals feel they have a logjam of outfielders.
There are revived Dexter Fowler, defensive wiz Harrison Bader, promising Lane Thomas, versatile (see infielders) Tommy Edman, oft-injured slugger Tyler O'Neill, pinch-hitting specialist Jose Martinez and Randy Arozarena, who batted .358 at Memphis and .309 at Springfield.
Who has to be considered also is Adolis Garcia, who had 32 homers and 96 RBIs at Memphis although his 159 strikeouts vs. 22 walks is disturbing.
And, of course, there is crown jewel Dylan Carlson, the Texas League's Most Valuable Player at age 20 and who will be considered for a regular spot next spring.
Given recent events, the time for contract discussion with Ozuna probably is down the road a little and he agrees. He said he wants to come back next year.
"That's my priority," he said. "My agents just have to do their job."
He said there had been no discussions of an extension but that he wasn't disappointed about that.
"It's OK," he said. "Just play the game hard and don't worry about that. Right now, my mind is on the playoffs."
Having spent most of his career with the Miami Marlins, Ozuna isn't used to being in first place, or even the first division, at this time of year.
"I'm enjoying this right now, especially the way we're playing, since I got back (from his injury). I love it," he said.
Ozuna said he could smell the playoffs and said, "I will be excited to be there. The guys that have been there tell me how they're going to play in the playoffs. I want to be there and show what I can do.
Heading into Tuesday night's game at Colorado, the Cardinals have won 37 of their past 55 games. Since Ozuna returned on Aug 3 after suffering fractured fingers on his right hand when he dived into first base, the Cardinals are 23-12. And their magic number for clinching the division is 16.
"Look at the way we're playing," he said. "We're playing a good ballgame. We're not trying to do too much. We're trying to play 'little ball.' Fundamentals."
Ozuna said he had not been bothered at all by his hand. Neither is he having any trouble with his right (throwing) shoulder on which he had surgery in the offseason and which was weak this spring.
"I've been working with Willie (coach McGee) a couple of days a week., throwing long," Ozuna said. "It doesn't bother me. It doesn't hurt or anything."
His batting average is a modest .255, belying his production.
"Offensively, I lost a month so I couldn't put myself in the situation I want to be," he said. "But I helped my team — just a little.
"It's fun . . . because we're in a pennant race."
Another potential free agent, righthander Michael Wacha (who is set to start Tuesday's game against Colorado's Chi Chi Gonzalez), also is 28 years old. He is less likely to be back with the club next year because, unlike Ozuna, the team probably won't make Wacha a hefty, one-year qualifying offer. But, Wacha, too, said he isn't concerned about his future, or free agency.
"I really don't think about it too often, with the season going on," he said. "I love St. Louis. It's been a new home to me and so it would definitely be weird playing somewhere else. I would like to come back . . . but the focus right now is playing ball.
"It's an exciting time. We're playing some good baseball."
Wacha, as a 22-year-old, made his name in the 2013 postseason when he won four games, nearly pitched a no-hitter and was named the National League Championship Series Most Valuable Player as he steered Cardinals into the World Series.
He won Game 2 in the Series but lost the deciding Game 6, in Boston.
His next two postseason entries also did not end well. Brought in from the bullpen, he surrendered a series-ending homer in the 2014 league championship series in San Francisco. Then he allowed three homers in suffering a loss in a 2015 division series the Cardinals dropped in Chicago.
"I've had some of the highest of the highs in the postseason and some of the lowest of lows," Wacha said.
And he said he would like one more chance to be there.
"You see what Michael Wacha has done his last few times out there," teammate Adam Wainwright said. "He's back. He looks great to me."
Wacha has given up only two runs over his last nine innings as the Cardinals' staff has been rolling. Over 43 innings in the past seven games, Cardinals starters have allowed two runs — one by Wainwright and one by Miles Mikolas.
That means none by young staff aces Jack Flaherty and Dakota Hudson. Flaherty, for two months, has allowed only an average of a hit every other inning and a run every 11 innings, besides striking out an average of 11 per nine innings.
Hudson has reeled off five wins in succession to get to 15, allowing no runs in four of those starts.
"Jack's been incredible the whole second half," Wainwright said. "That's what we expect from Jack the whole year next year. Every time he takes the mound, I feel like he's going to throw a no-hitter and that's a good feeling.
"Dakota has been incredible all season long. He's been super consistent and been driving the ball downhill better than I've ever seen him. Those two guys, I told everyone who would listen before the season, that they were two phenoms, so it doesn't surprise me at all."
Ozuna said, "Flaherty and Dakota are the same. Those guys . . . you go into the outfield and you stand right there. You don't see any fly balls or anything."
Wacha came up in 2013 when the Cardinals had another collection of promising young pitchers such as Carlos Martinez, Trevor Rosenthal and Joe Kelly.
"It's very similar," Wacha said. "We had a lot of young guys who contributed that year (2013). And we have a couple of guys on this staff who have carried us for a while.
"I'm looking forward to seeing what they've got left in them. These guys are never satisfied. They're always trying to work on something, always trying to learn. It's been really cool to watch."
Manager Mike Shildt and pitching coach Mike Maddux have mapped out a plan whereby either Hudson or Flaherty is starting in every one of the remaining six series. And both are slated to pitch in a four-game set in Chicago Sept. 19-22.
Three of Wacha's final four scheduled starts will be on the road, which means his final home start could be Sunday, against Milwaukee.
Again, said Wacha, that is not on his mind.
"Our focus is winning the division," he said. "We don't want to mess around with any of that wild-card stuff."