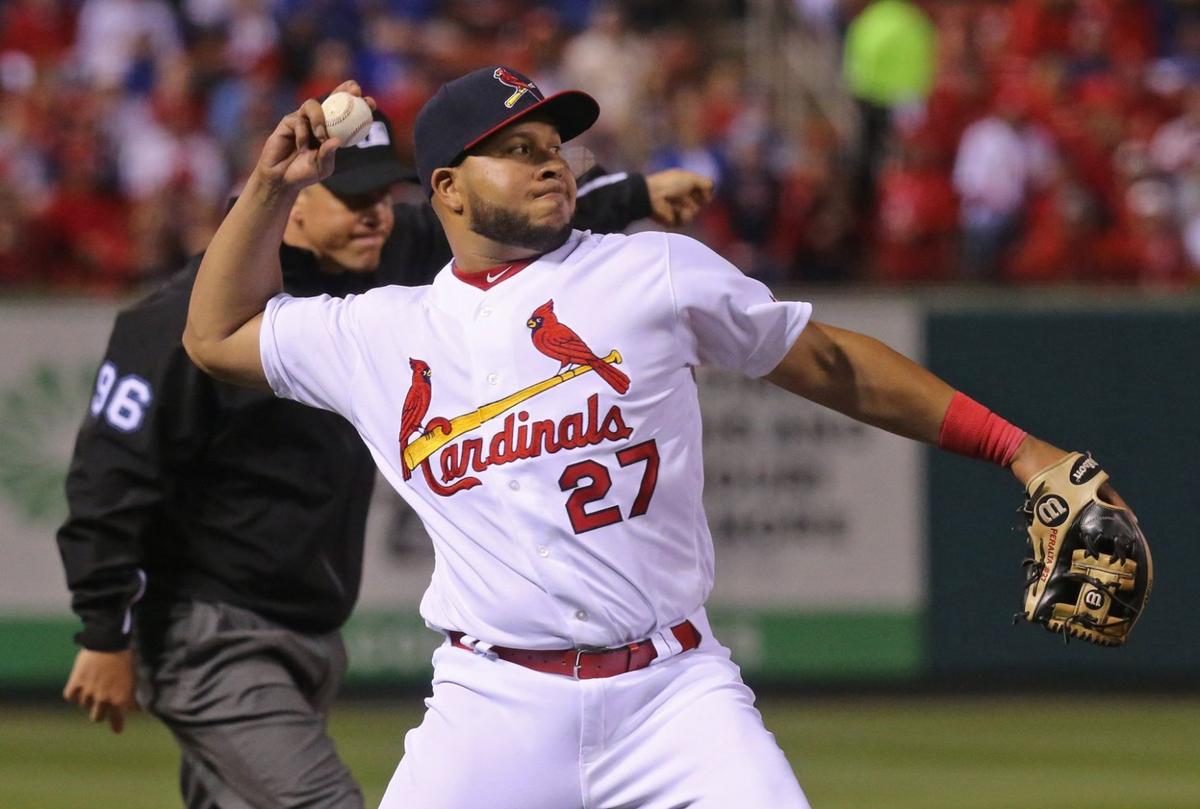 The sudden haze that swallowed the production and pep Jhonny Peralta had throughout spring training and left him, at best, lethargic in the field concerned manager Mike Matheny.
The explanation they discovered alarmed Peralta.
"Something is not right," Peralta said, describing the message from the manager about two weeks ago. "I feel weak in the field. Dizzy, a little bit. No energy in the field. Got tired easy. Everything together — it just did not feel right. I got a lot of questions."
Zapped by an upper respiratory infection toward the end of a strong spring, Peralta began taking medication — and then experienced side effects that worsened his condition. On Saturday, as some teammates got in extra work due to the postponed game against Cincinnati, Peralta, for the first time, described how blood tests and further exams traced the exhaustion he felt to his reaction to pills he had taken. Peralta said there was concern about his liver — "That's no joke," he said — and since the Cardinals placed him on the disabled list April 16 he has had regular tests to assure his health.
Peralta was set to take grounders Friday for the first time since the DL, and he hit in the batting cage. He has been able to begin working out to regain some strength.
The Cardinals intend for Peralta to increase his baseball activities through the next few days, and he could head to Florida by the end of next week to appear in some minor-league or extended-spring games. One possible schedule has Peralta rejoining the team in Miami as it opens a road series there on May 8. In Peralta's absence Jedd Gyorko has emerged as the starter at third and the Cardinals' cleanup hitter.
"Big part of our team," Matheny said Saturday of Peralta. "We want him to be right, first of all for health's sake, and after that we need everybody we can get."
When Peralta returns to the active roster, he does so with the .120 average that helped reveal something was wrong. At first, Peralta described his struggles as having difficulty with off-speed pitches. Turns out, it wasn't that simple. Peralta struck out nine times in his first 25 at-bats, and his three hits were all singles. He appeared to have difficulty in the field as well, moving a beat slower than the Cardinals saw him during spring training.
The veteran, who turns 35 next month, missed most of last season with a torn muscle in his left hand, and when he returned he felt weakened by the injury and sluggish from his recovery. He shed weight this past winter and regained strength in his hand, and the Cardinals universally lauded how he played in spring. He had a team-high six doubles during Grapefruit League play, and he tied for the team lead with extra-base hits. In the field, he proved more adept at his new position, third base, and Matheny started the season with Peralta at cleanup.
From the opener, Peralta felt different.
"I know my body," he said. "I know I didn't feel right in the field. I know what I can do. At the same time, if your body doesn't feel right there is nothing you can do in the field. More than anything I didn't feel right in the field. … It was weird. I come up here (to the regular season) and I strike out a lot. I strike out, but not like that. I didn't feel strong."
The suddenness of the slip caught Matheny's eye.
"You get concerned about guys when something doesn't look right," Matheny said. "We watched him throughout most of spring and it was, 'Hey, he's really moving well, he looks strong.' And then something hit a point and I started asking the medical guys, 'Is there anything going on?' Yeah, he has some upper respiratory stuff. But let's look into this. It just doesn't look right. Jhonny was really good about being honest about how he was feeling and not doing the, 'I'm just going to grind and go.'
"I think he, deep down, once we started talking about it, realized something didn't feel right," Matheny concluded. "And that was leading to not looking right. Medical guys tried to jump all over it."
Once the issue was identified, Peralta stopped taking the medication.
He did not go to the hospital, receiving treatment instead at the ballpark.
The Cardinals placed Peralta on the 10-day disabled list and, at the start of this home stand, said it could be 10 to 14 days for the medication to leave his system. Peralta said the difference in how he felt was obvious once he stopped the medication, and also had a chance for the infection to retreat. All it took was recognizing there was a reason things looked wrong to his manager and felt wrong in the field.