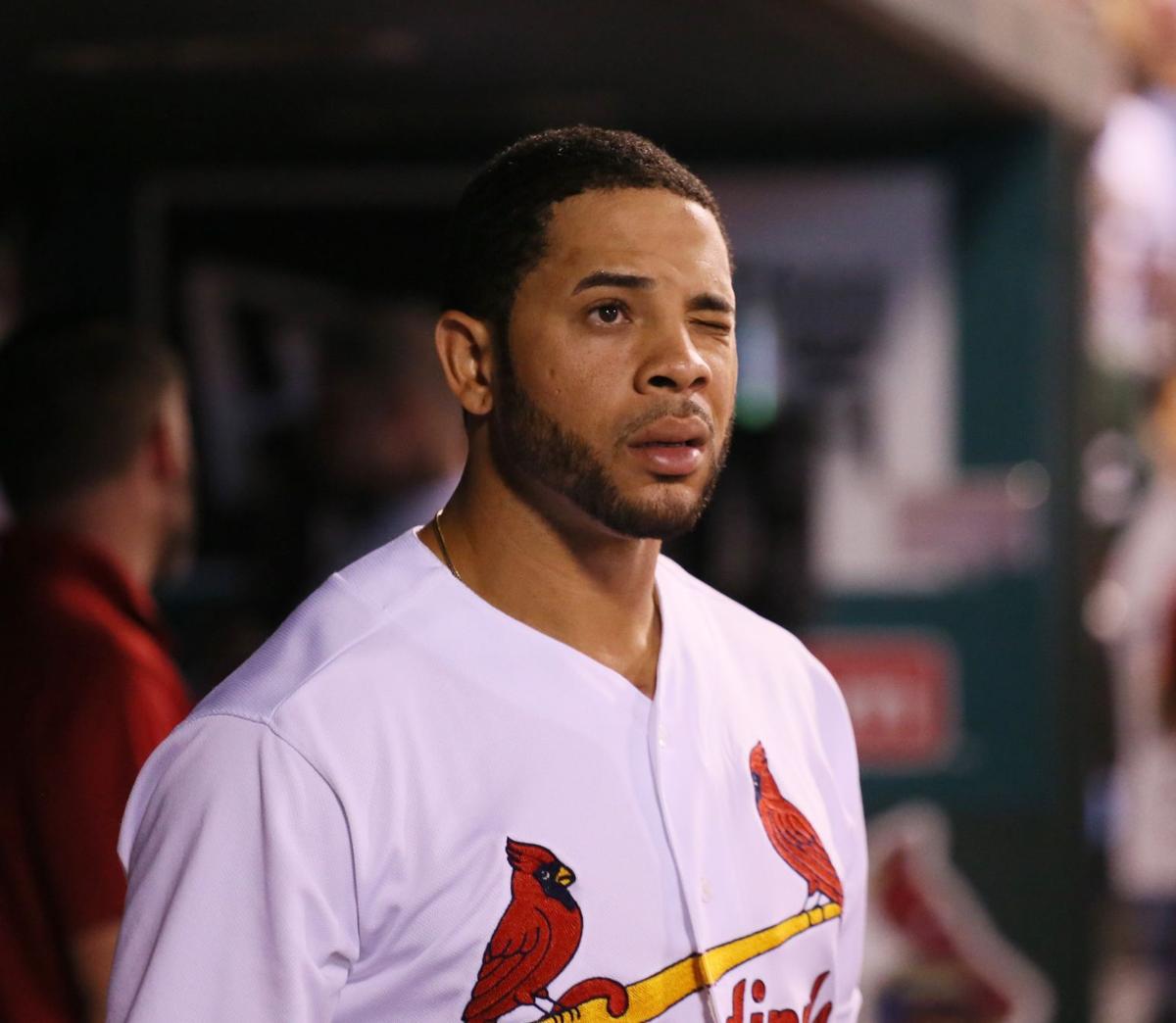 Just as the Cardinals' outfield seemed relatively intact after some injuries, center fielder Dexter Fowler was out of Sunday's game and for several more after bruising his left knee while crashing into the wall Saturday night. And Tommy Pham, the club's most productive hitter this season, was also out Sunday, with a vision problem.
This one, however, was not the longstanding issue Pham has had with finding the right contacts to cope with his degenerative eye condition, keratoconus, which causes abnormalities in the cornea. Pham said his eyes were irritated by a reaction to eyedrops prescribed by the club as he dealt with eye dryness.
"The preservatives irritated my eyes. In trying to help me, it hurt me," said Pham, who got another solution from his own eye doctor in St. Louis.
"I thought it was the lenses," said Pham, "because I was experiencing headaches for about two weeks now." Pham had the contacts checked Saturday at his doctor's office and they were found not to be the culprits. He plans another visit to his doctor Tuesday and is hopeful of playing that night.
Fowler won't be back that soon, although manager Mike Matheny said an MRI exam found no tears in his leg. "But there is significant swelling (inside the knee) that we're not really going to have any answers for the next couple of days," Matheny said.
The injury came as Fowler gave futile pursuit to an Adam Frazier drive that became an inside-the-park home run as Fowler fell back to the ground and stayed there while right fielder Harrison Bader had to retrieve the ball.
Bader, Stephen Piscotty and Randal Grichuk made up Sunday's outfield. "We're juggling some outfielders here (including Jose Martinez, playing first base), who have all been able to contribute," said Matheny.
"During day games, for whatever reasons, (Pham) has had more trouble seeing, so we'd be compounding that issue today (by playing him)."
Pham, however, said he didn't notice anything different in his daytime and night vision, although the statistics say he has hit .319 in night games and .280 in day games.
GYORKO A WEEK OR MORE AWAY
While third baseman Jedd Gyorko ran for the first time Saturday since he suffered a torn right hamstring two weeks ago, he is not ready to return to the active roster yet, still feeling some tenderness.
"Heading in the right direction but still not good enough to get into a game yet," said Gyorko, who said he was told this would be a three- to four-week process. "We're two weeks out," he said. "I was hoping to be a magic healer. which I'm apparently not yet.
"I'm probably a few days away from being able to pinch hit and then once I can run and cut and turn without any pain I can start taking ground balls. We're hopeful that it's pretty soon but until the pain is gone, we don't know.
"It's never fun. It's not something I like to deal with, but that's where we're at. I can't afford not to make it to first (out of the batter's box) or do something that's going to cost us the game. It's too important right now."
MOLINA ON MOLINA
Bengie Molina, older brother of Cardinals star Yadier Molina, is the analyst for the Spanish broadcasts the club has during September, with national Hispanic Heritage Month actually Sept. 15-Oct. 15. On Saturday night, B. Molina called a Y. Molina home run. Not quietly, or impartially.
"I almost lost it," joked Bengie, who was hoping his language was not too colorful or even X-rated. "I almost got fired."
Then, Bengie got to call another Molina homer, a three-run job, on Sunday, after Pittsburgh righthander Ivan Nova had spun Molina around with a fastball.
Bengie Molina, asked if he behaved himself on this one, said, "Not really. I'm sure I'll be getting a call from Mr. (Bill) DeWitt and Mo (John Mozeliak), saying, 'What are you doing, buddy?'"
LYNN TO START TUESDAY
As expected, Lance Lynn, pitching on his normal four days' rest, will move up to start Tuesday here against Cincinnati and then again Sunday at Chicago. Rookie Jack Flaherty will be given a couple of extra days of rest and will pitch Wednesday, with Luke Weaver starting Thursday. That would leave Carlos Martinez, Michael Wacha and Lynn to face the Cubs in Chicago next weekend.
MEMPHIS ADVANCES
Patrick Wisdom homered, doubled, singled and drove in four runs and both Tyler O'Neill, who also homered and doubled, and Aledmys Diaz had three hits as Memphis outlasted Colorado Springs 13-10 in the decisive fifth game of the their Pacific Coast League playoff series at Colorado Springs. Memphis will play El Paso in the best-of-five championship series, starting Tuesday in Memphis.