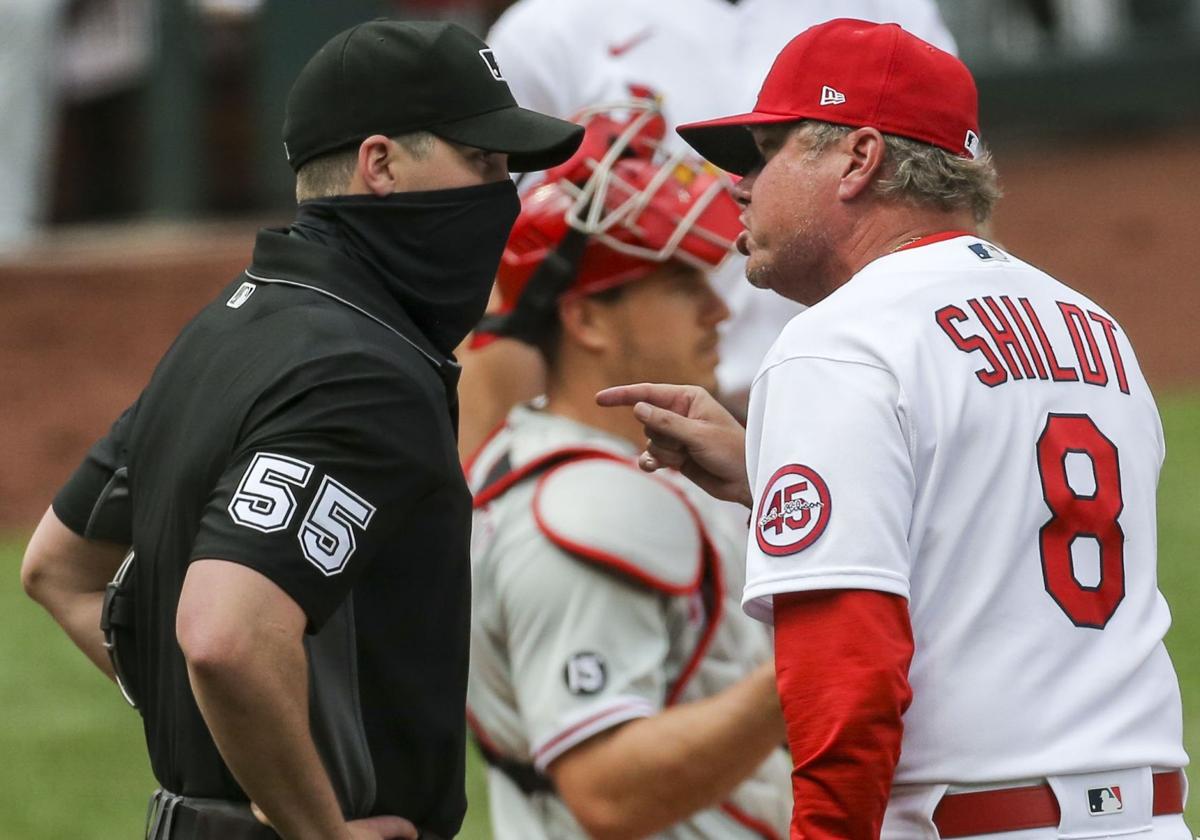 Center fielder Harrison Bader, who has been out since the middle of the exhibition season with a right forearm problem, has been activated by the Cardinals from the 10-day injured list and will be with the team in Pittsburgh for a weekend series to begin Friday. But veteran righthander Adam Wainwright and lefthanded reliever Andrew Miller won't be.
Wainwright went on the COVID-19 injured list because of contact tracing involving a family member and Miller, who allowed two runs in the seventh inning on Thursday, went on the regular 10-day IL with a blister on a toe of his right foot.
Reliever Kodi Whitley was recalled from the alternate camp to replace Miller while president of baseball operations John Mozeliak said that Wainwright likely would be out only for the weekend. He was slated to pitch in Pittsburgh on Sunday but that start will go to Carlos Martinez now.
"It really was precautionary, not to put him on the plane, not to have him travel," said Mozeliak, who was hopeful that Wainwright could face the New York Mets here next week.
Miller's toe injury is "chronic," Mozeliak said. "We just want to do some studies and see what we can do to help him."
Phillies get even
'Cardinals manager Mike Shildt, asked before Thursday's game if he was worried that some of his sluggers might be in jeopardy, especially after the Cardinals' Genesis Cabrera hit two Philadelphia batters on Wednesday, including Bryce Harper in the face, and after Jack Flaherty hit Cincinnati's Jonathan India on Sunday, answered, "Yeah. We hope that people can separate it in a sense of it clearly being unintentional.
"We also appreciate the fact that people are going to be rightfully upset that guys got hit in some really ugly places.
"You would hope they would look at it in a big picture, but I can't say it's out of the realm of possibility."
In the ninth inning Thursday, Shildt's concern was realized. Hard-throwing Phillies reliever Hector Neris hit Nolan Arenado in the upper back near the shoulder blade with his first pitch to Arenado, who was batting with two outs and nobody on. Arenado, without any drama, went directly to first base.
Shildt soon found himself ejected, technically for arguing a called strike on Tyler O'Neill, the next hitter, but that was a carryover from his debate with home plate umpire Brennan Miller about Arenado being hit.
"I'd said my piece after Arenado got hit, but it was a ball and strike argument," Shildt said.
Was it retaliation that Arenado was hit? Shildt said he thought so but he understood it.
"I think everyone handled the situation the last couple of days very appropriately," Shildt said. "It could have gotten really ugly. We've had some really ugly things take place on the field, following an incident that everybody regretted last night.
"There's still some unwritten rules in baseball. We knew there was a possibility of retaliation today. It wasn't intentional but there's a thought where I could understand that you want to stand up for your guys.
"Nolan handled it properly. He didn't like it but understood it was a possibility. It's an eye for an eye. Neris, I'm sure, will deny it, and that's fine, too. I understand, too. That's smart, actually.
"He did it right. He took one shot. He got (Arenado) low, fairly low.
"It's old-school baseball. We didn't mean to hit a couple of their guys but nonetheless some of their guys got drilled pretty good. So you can expect some retaliation and it was done as clean as possible.
"I said my piece out on the field … and we move on. That's how the game polices itself. That's why you didn't see this ugly, 'people-going-nuts' skirmish."
The score of the game was 4-3, Cardinals. The score of the series was 2-2. And the score between the Cardinals and Phillies appeared to be settled, especially after Harper, according to Shildt, sent a comforting text to Cabrera.
"You want to talk about a first-class move," said Shildt.
"Whoever is a fan of Bryce Harper or who has children who are fans of Bryce Harper, support that guy — because what he sent over in a message today was completely a class act.
"He wanted to make sure Genesis knew that he was aware that it was not intentional and that if (Cabrera) needed to talk and make sure he was OK mentally about what took place that he was free to have a conversation with (Harper). He had empathy for the guy that hit him, so a lot of respect for Bryce Harper for the kind of player he is but even more respect now for how he handled a very tough situation."
When the dust had cleared after four days, Shildt said, "We're dead even," and that could apply to more ways than one.
Three-batter rule debated
Elledge up, Oviedo out
Earlier Thursday, the Cardinals brought up righthander Seth Elledge, who was with the club periodically in 2020, posting a 1-0 record with 4.63 earned run average and striking out 14 in 11 2/3 innings.
Righthander Jovan Oviedo, who pitched five innings in a start on Wednesday, was optioned to the alternate camp. During the Cardinals' stretch of 17 games in 17 days — they are at game seven now — Shildt said Oviedo would make a couple of starts as the sixth starter but he didn't say they would be in succession. Oviedo would have to stay down for 10 days before he could be brought back, unless there was an injury.
"He is going to have (the two starts), said Shildt. "I'm just not going to declare."