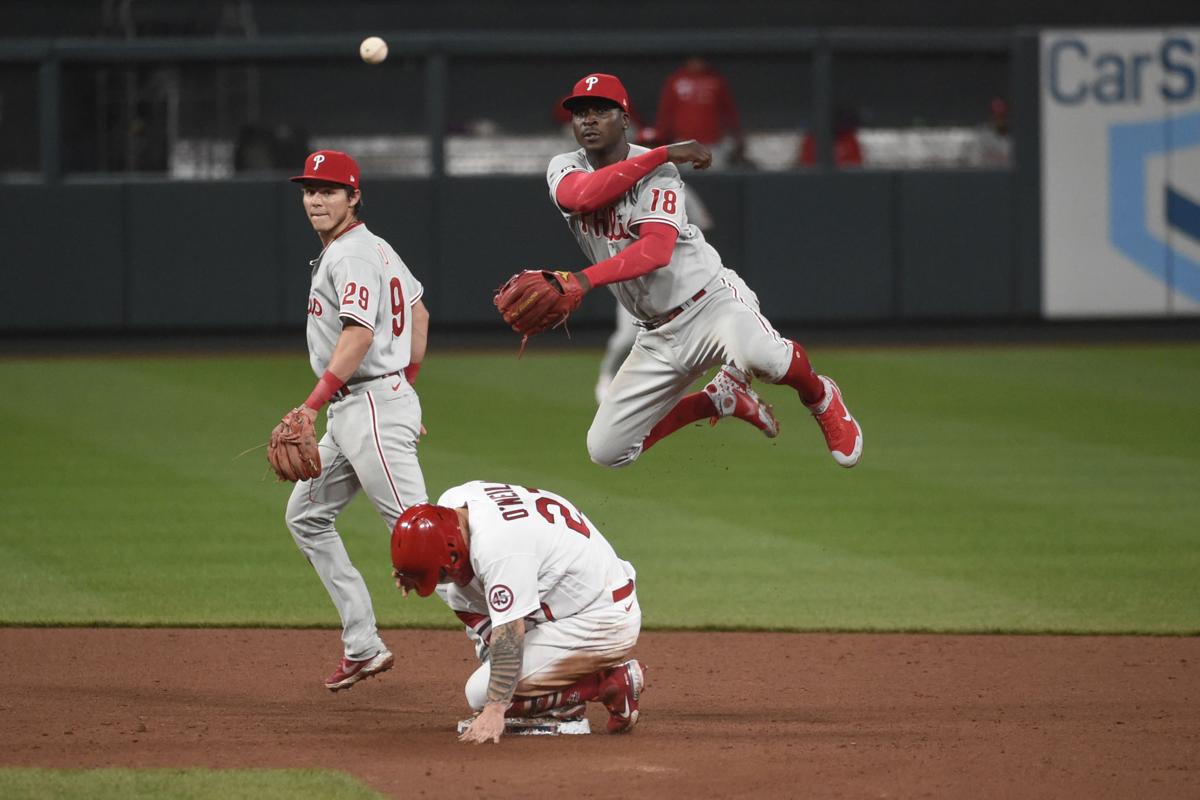 Except for a misplaced slider to Brad Miller that went for a two-run homer in the fifth inning, Cardinals rookie Johan Oviedo largely was in control Wednesday night at Busch Stadium.
Making his first start of the season as the Cardinals' sixth starter in the rotation, the hard-throwing righthander struck out seven and walked just two in five innings — although one of the walks had been to backup catcher Andrew Knapp to open the fifth inning, when the Phillies tied the score.
By stark, painful contrast, Cardinals lefthanded reliever Genesis Cabrera was not in control, by any means, in the sixth inning.
His first pitch in the sixth, at 97 mph, hit Bryce Harper in the cheekbone and possibly nicked his nose, knocking his helmet from his head and forcing the Phillies' star out of the game and into a local hospital for observation. Cabrera's next pitch, at 95 mph, nailed Didi Gregorius in the ribs.
James Hoye's umpiring crew gathered and issued warnings to both benches, starting with the Phillies. That did not make Phils manager Joe Girardi, who already was on the field, any too happy and Girardi was ejected. He thought Cabrera should have been ejected.
However, Andrew McCutchen then singled home Harper's pinch-runner and the Phillies ran it out for a 5-3 win over the Cardinals, whose reputation hasn't been helped in the past few days by two opposing hitters being hit in the head (also Cincinnati's Jonathan India) and another in the ribs.
Harper, in an Instagram post, said, "Ninety-seven to the face, Sweet.
"Everything feels good. Everything came back good. . . . Face is still there. We're all good."
But Girardi, who had been hit in the face as a player with the Chicago Cubs in 2000, wasn't as amused.
Before Harper had authored his update, Girardi said, "We just pray that everything is OK there. Say a prayer. He was bleeding a little bit. He was walking. He's a tough character."
Girardi, discussing why he was so irate on the field, said he hadn't said anything to Cabrera.
"I was motioning that he should be thrown out," Girardi said. "I understand why they give the warnings. I understand they don't want things to escalate. But if a guy hits a guy in the face and a guy in the ribs with two pitches he's got to go (be ejected).
"If you're really protecting the players, obviously he doesn't have command. He's got to go. What if I got another lefty up? Now I've got a shortstop that probably might have to have imaging on his ribs. And you're going to let (Cabrera) stay in the game? Is it because of the three-batter minimum? I don't know. He's got to go. Just for the safety of the players."
That the Phillies immediately took the lead and keeping it meant a lot to Girardi.
"That's a brotherhood in there," Girardi said. "We've got two guys who are hurt, and one that is extremely scary when you get hit there. And I can tell you from experience. We worry about all of the velocity, but sometimes our game probably needs to worry about command a little bit more than velocity.
"I don't think (Cabrera) did it on purpose. I'm not saying that. But for the protection of the players he's got to go."
Cardinals manager Mike Shildt agreed with Girardi that Cabrera needed to come out of the game, but for different reasons. Shildt, who doesn't like the three-batter rule all that much, said he would have removed Cabrera after Harper had been hit — if the rules had allowed him to do so.
"That's a failure of the three-batter minimum," Shildt said. "It absolutely is that. Completely, absolutely, no doubt.
"But that's the rule. And it led to Gregorius getting hit and, just an unfortunate scenario. I can completely understand (the Phillies') aggressive response. Joe handled it appropriately. He's got to stand up for his guys. We expect their dugout to be upset and bothered by it."
A contrite Cabrera, speaking through a translator, said, "First of all, I'm very sorry for the entire situation. My prayers go out to Bryce Harper. The plan was to come inside with the fastball. I wasn't feeling it that well."
Before he finished his postgame Zoom, Cabrera wanted to apologize again.
"I really want to wish him the best. I hope he has a speedy recovery and he's able to come back to baseball activities," Cabrera said.
"The game kind of got away from me at that point. I'm really sorry for everything that happened today. None of it was intentional."
Shildt said, "Obviously, it wasn't intentional. Completely unfortunate that the ball got away from him."
Shildt felt a little better when he heard of Harper's post.
"Our dugout went out to check on him," he said. "We were instinctively like, 'Oh, gosh.'''
"(Cabrera) felt terrible. We can go out there to calm him down but that's a tough thing to deal with in competition."
Cabrera hit four batters in 22 1/3 innings in 2020, including Pittsburgh's Kevin Newman, who suffered a crushed nerve in his left knee when hit by a 97 mph pitch.
Oviedo allowed just two hits and one run until the fifth when his slider to Miller misbehaved.
"I was thinking down and in," Oviedo said.
But the 23-year-old mark made his mark.
"I faced 'Ovie' a lot during my rehab stint," said Cardinals left fielder Tyler O'Neill, who had been out because of a groin injury. "He deserves to be a starter. He's going to help us win a lot of ballgames."
Shildt went one step farther: "This guy is going to be a real beast in this league."
O'Neill, who had three hits, rifled a two-run homer 420 feet to left in the second inning. Then, Paul Goldschmidt unloaded another tape-measure homer, 431 feet to almost dead center in the Cardinals' third against Vince Velasquez.
The Cardinals had runners in five of the final six innings but didn't score. Their defense contributed sparkling catches by right fielder Justin Williams and second baseman Tommy Edman but there was no big hit to be had against five Philadelphia relievers.
There was just concern from everybody about one of the game's great stars, who was celebrating his ninth anniversary as a major leaguer.
Derrick Goold of the Post-Dispatch staff contributed to this report.