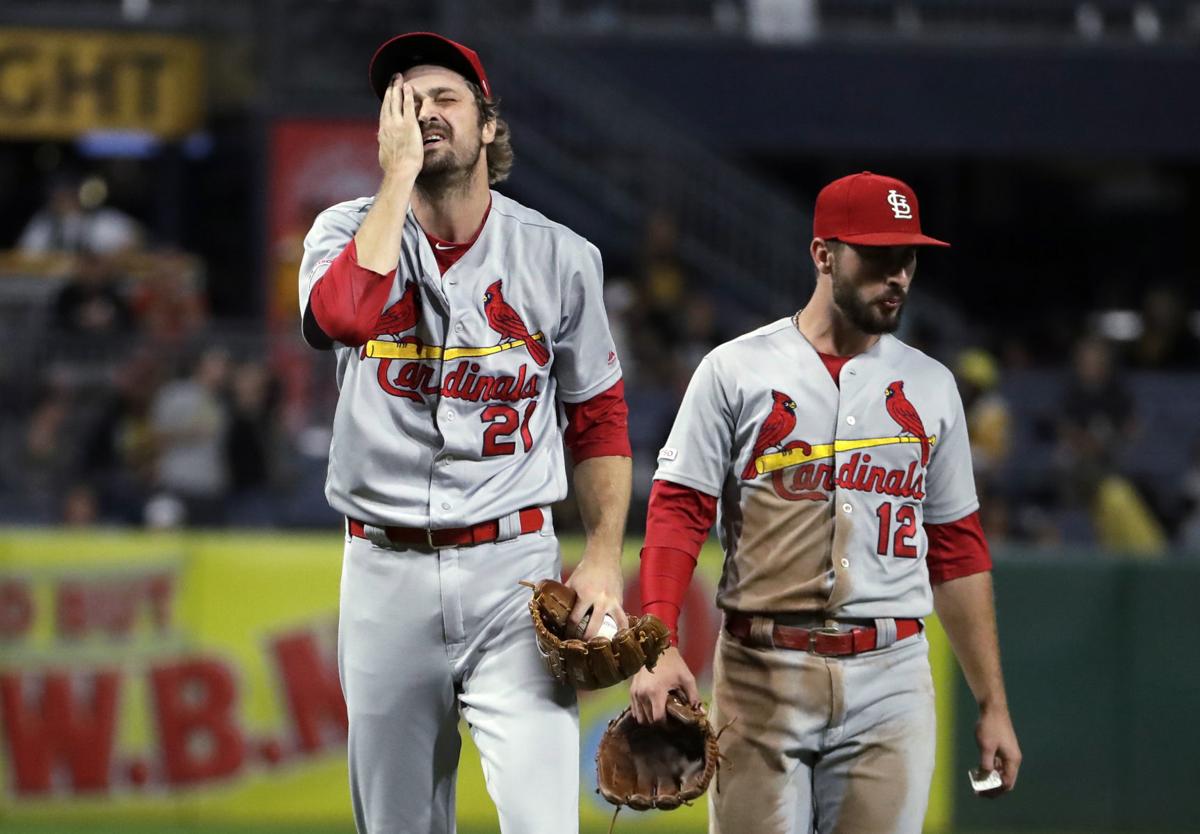 PITTSBURGH — For the second time in three days, normally sure-handed Cardinals shortstop Paul DeJong mishandled a potentially inning-ending forceout at second base Friday night. And the mistake turned into a disastrous, multi-run inning.
Pittsburgh caught and then passed the Cardinals with a six-run burst in the seventh. The Pirates added two in the eighth to speed off to a 9-4 win, their first over the Cardinals in seven games at PNC Park this season.
The rally in the seventh came after Tommy Edman's second homer of the game had sparked a two-run flurry in the top of the inning.
Reliever John Gant allowed a leadoff single to pinch hitter Cole Tucker in the seventh and walked Kevin Newman with one out. Lefthander Andrew Miller relieved to strike out switch-hitter Bryan Reynolds and remained in to face righthanded-hitting Starling Marte, who grounded up the middle to the left of DeJong.
DeJong moved quickly, made the reception and in the same motion was going to flip to second baseman Kolten Wong but couldn't get a grip on the ball and he belatedly floated a throw, almost shoving it to Wong. But too late to get the sliding Newman.
The inning continued. And continued. With four more hits.
"I was playing way over and was a little out of control trying to get to the ball," DeJong said. "I just didn't get it out of my glove.
"(Marte) would have been safe if I threw it to first. I probably should have glove-flipped it instead of trying to transfer it.
"I don't know. I just didn't make the play, that's all I can say. I thought I was in good position to field it. Just one step a little too late. Newman had a big lead at first and got kind of a head start.
"Any other average runner, I'd probably get him. But bang, bang." DeJong had had indecision on a similar play against San Francisco on Wednesday, prolonging the inning long enough for the Giants to go ahead with three runs. 
As each succeeding run scored on Friday, DeJong might have wanted to dig a hole at shortstop but he said, "I knew it was it over. I was hoping our guys could pick me up but it just didn't work out that way."
With the bases loaded, Josh Bell's blooper to right landed just outside the reach of first baseman Paul Goldschmidt, and the Pirates were within 4-3.
Pinch hitter Melky Cabrera lined a single past DeJong to tie the game. That was all for Miller, who gave way to righthander John Brebbia, who had no more success. Jose Osuna, who had been nothing for five against Brebbia, singled to put the Pirates ahead and Adam Frazier tripled in two runs to put them farther ahead.
Marte's two-run hit off Mike Mayers in the eighth put the game out of realistic reach.
Miller, the losing pitcher, wasn't exactly thrilled with how he performed either, even though he made only one bad pitch, the one that tied the game.
"The pitch to Melky wasn't very good," said Miller, who had held the longtime American League hitter to three hits in 25 career at-bats.
"The problem was that I threw him two fastballs early in the count and missed with them. I felt like if I executed one of those, he's in a much tougher spot. I've had success with him in the past.
"But being behind (in the count) 2-1 and the way that inning was going, I'm trying to create action. I just left it too up, too middle, and his eye-hand coordination — bat to ball — is just so good, he's going to do exactly what he did."
As to the other two hits, by Marte and Bell, Miller said, "That's baseball. That's the way it goes.
"I came in and (get) the first guy and you get kind of excited to finish the job, but I wasn't able to do it tonight. It stinks. I hate losing any game.
"These are all so important. I had my chance to stall that inning and I didn't get it done."
Manager Mike Shildt said, "Clearly, (the Pirates) took advantage" of the play that didn't get made. "We just couldn't get the force at second," he said.
Edman, who has played himself into a regular job, if not necessarily a regular position for the Cardinals, is not only versatile in the field but a fleet runner who has been thrown out only once in 12 stolen-base attempts.
The lithe, 5-foot-10 infielder/outfielder, who has been up less than half a season, ripped his sixth homer of the year, a two-run shot, to cap a 10-pitch at-bat in the second inning, and added a long solo homer, his seventh, in the seventh.
The switch-hitter connected off Richard Rodriguez with one out in that inning. The Cardinals tacked on another run when Harrison Bader walked and pinch hitter Matt Carpenter doubled into the right-field corner, sending Bader flying home from first.
But it all came tumbling down in the home seventh, as earlier did Miles Mikolas' Cardinals club-record streak of consecutive starts in which he had issued two walks or fewer.
That streak ended at 43 as Mikolas walked four, but he was sturdy enough to allow just one run over five innings before his pitch count, which had reached 99, caused Shildt to go to the bullpen.
"I'm happy to keep runs off the board but I'm not really happy to go only five innings," said Mikolas, still 8-13. "I kept it thee, but I'd like to go deeper in the game."
The streak ended officially with two walks in the fourth. "Time for another one," he said.
It was the first multi-homer game for Edman, who also has demonstrated his power with 14 doubles and four triples.
"I'm obviously not the biggest guy," he said. "Playing an infield position, they probably think I'm just going to slap the ball. I think I probably surprised a few people this year."
Edman said he had some adjustments in his swing path so that he could "barrel more balls." His previous home run high for a minor league season had been seven in 2018, a figure he has equated in 247 major league at-bats this year.
"It's always been in there," he said. "It's just something I had to unlock. Right now, my swing is in a place where I'm able to stay in the (strike) zone for a longer time.
"It's been a gradual process. When I first started switch hitting, I didn't have nearly the power lefty as I did righty. It's definitely more even now."
The Cardinals had been saddened to hear just after the game from video coordinator about the death from brain cancer at age 38 of outfielder Chris Duncan, a popular member of the 2006 World Series champions.
The mood in the clubhouse was going to be somber enough anyway. And, the fact that the Chicago Cubs also lost, keeping them 2 ½ games behind, wasn't really all that important to those who had known Duncan.
Keep up with the latest Cardinals coverage from our award-winning team of reporters and columnists.