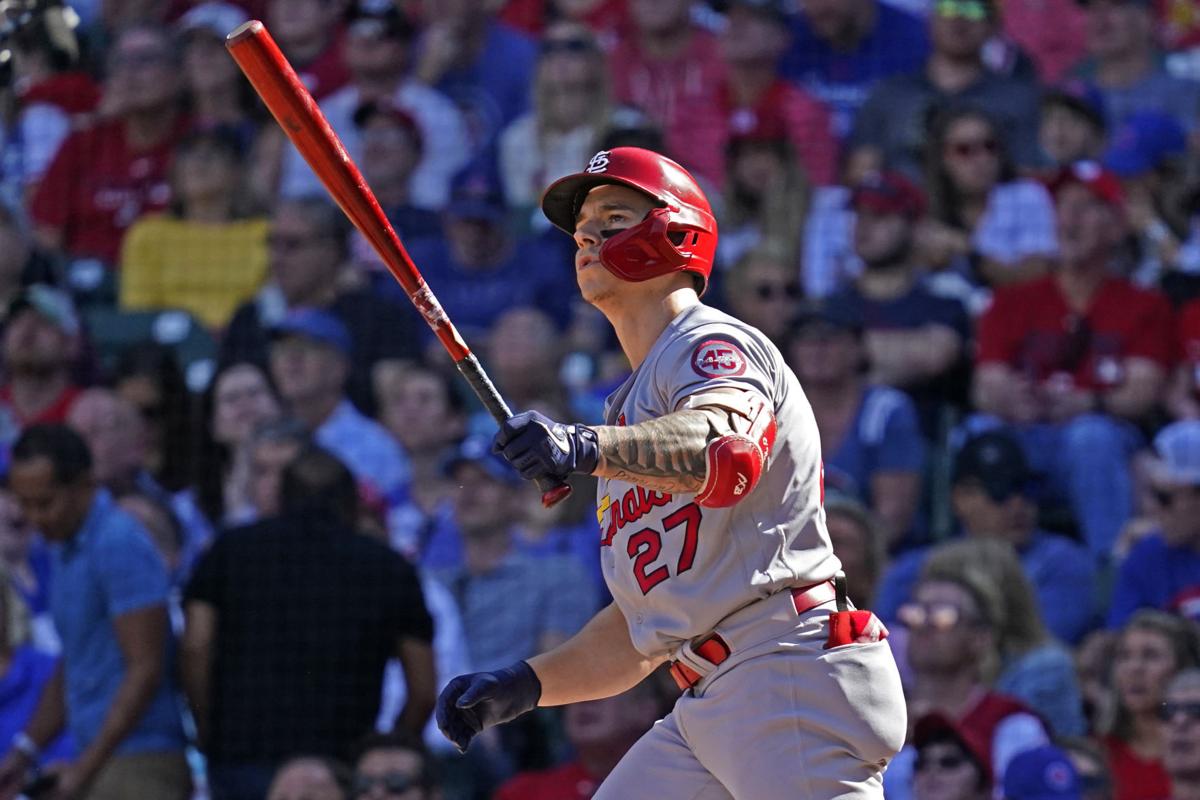 It was just a Tuesday in early September with the Dodgers in town and an imposing, steep climb ahead when Cardinals manager Mike Shildt remained committed to his plan to get Paul Goldschmidt a day off and may have changed the course of the season with a keystroke.
The planned break for Goldschmidt meant a rewrite of the lineup. Rookie Dylan Carlson had moonlighted at No. 3, and here was a chance to nudge him up and take another look at a rising option for No. 3 Shildt had started to eyeball. When the lineup went out to players the night before that Sept. 7th game, typed into the third line: Tyler O'Neill.
He had three hits that night, has not been out of the three spot since, and the Cardinals haven't been the same.
"I'm not a big believer in coincidence," Shildt said Sunday morning at Wrigley Field. "I think there's some cause and effect to that."
The Cardinals lost that Tuesday game to the Dodgers, and then O'Neill & Co. deadlifted the club, turning a drifting contender into a historic force. O'Neill hit nine home runs, slugged .718, as the Cardinals won 18 of their next 19 games. They return to Busch Stadium on Tuesday for the final regular season homestand and are on a club-record 16 game winning streak. Their coronation as the National League's second wild-card winner is one win away. Champagne will be in the building Tuesday night.
The day O'Neill moved into the No. 3 slot, the Cardinals languished at 69-68. Four teams in the running for the second, and final, wild card had more wins. Their playoffs odds scraped bottom, at 2.8%, per FanGraphs. In the past 20 days, they have one of the most dynamic offenses in baseball, a Halley's Comet winning streak, consecutive NL player of the week awards, and those odds — well, they look a lot like the chances of O'Neill staying at No. 3: 100%.
"The timing of that move it certainly put an uptick in our offense, right?" said John Mozeliak, president of baseball operations. "I think really what you're seeing out of Tyler is what we were hoping for when we made that deal (in 2017). Now you're seeing everything we hoped for — having that middle-order bat. It's exciting. All of sudden you feel wherever you are in the lineup you have the opportunity to score."
Another example arrived Monday when Harrison Bader, often the No. 8 hitter in the lineup, won the NL's player of the week seven days after O'Neill did. Bader hit three home runs in three days as the Cardinals swept a four-game series vs. the rival Cubs. Bader hit .517 for the week and raised his batting average from .246 to .270.
O'Neill's move to No. 3, sandwiched between Paul Goldschmidt and Nolan Arenado, has become the epicenter of the production rippling from the lineup.
Since Sept. 7, the Cardinals led the majors in runs (120) and have the most home runs (35) in the National League. They lead the NL in runs this month (148) and have seven more homers than any other NL club in September.
Most of their games in this streak have been on the road, where they've been stronger offensively, but not with this might. Their .493 slugging percentage as a team ranks second, and if they're not hitting for extra bases they're taking them with 16 steals, the second-most in that span. For the first time in club history they have three players with at least seven homers in September, and Bader has six. Goldschmidt and O'Neill rank first and second in runs scored since Sept. 7, with 24 and 22. Arenado joins them as the only trio from the same team to rank in the top 20 for RBIs in that span.
Goldschmidt is sitting on .714 for a slugging percentage in September.
He got that day off, returned to bat second with O'Neill behind him, and Goldschmidt has hit .352 with seven homers, a 1.187 OPS, and almost as many extra-base hits (14) as strikeouts (15). Arenado has hit .239 at cleanup since O'Neill leapfrogged ahead of him, but has 15 RBIs.
"I think 'Goldy' has looked really good in the two spot. That felt right," Shildt said. "Nolan can hit anywhere. O'Neill was taking consistent at-bats. It all just worked out. He's got a good feel and that just started to make sense."
Shildt gave O'Neill cameos at the No. 3 spot starting in late August and started to see whether the left fielder magnetized to the spot. The manager saw an evolving hitter and rare blend of speed and power to let loose between his two cornerstones. After O'Neill's first start at No. 3, the Cardinals are 23-7 in his 30 games, and he's hitting .308 with a .682 slugging percentage and a 1.057 OPS in the third spot.
After a recent win, because recently they've all been wins, Arenado remarked how O'Neill moving into the No. 3 spot "makes the lineup a lot better."
He went on to explain that O'Neill needed more at-bats. Arenado has been candid all season about his preference to hit cleanup but willingness to bat anywhere. Frustrated by his average, Arenado has remained hungry for RBIs and "done a good job with guys in scoring position." With O'Neill's speed he's in scoring position at first. And, Arenado explained how batting fifth or sixth didn't get O'Neill as many at-bats as "we need to get him."
The modern view of lineup dynamics has teams putting their best hitters higher in the order, featuring them at No. 2 or in some cases leadoff to maximize at-bats. Like so many other paradigms in the game reshaped by analytics, the traditional, treasured view of the No. 3 hitter as the lineup's fulcrum has been diminished. That spot comes up more often with two outs and no one on — and thus less chance to do damage.
It's debatable how much impact comes from the order of the lineup, but the impact of an order that — in terms the Cardinals are now using — "clicks" is clear. Guaranteeing O'Neill that chance in the first inning — to start something with two outs, to finish something with two on, to put something in position — has unlocked a lineup that for a long time was less than the sum of its parts.
In eight games of this 16-win run, the Cardinals have scored in the first inning.
In all eight of those rallies, O'Neill has played a part with either a hit, a run, or an RBI, and in a handful he's homered to get all three.
That Tuesday night against the Dodgers, O'Neill had two doubles among his three hits and came into the postgame news conference after a 7-2 loss to Albert Pujols and LA. The Cardinals were four games back in the wild-card race and O'Neill started listing all the things they had to do, and now. They needed to "piece some together," to "do the little things that make us the Cardinals."
He talked of being humbled by the Dodgers and how, he said, that should motivate the Cardinals to come out the next day "with a little fire under our butt."
They've lost once since he said that.
In hindsight, it's clear who lit it.