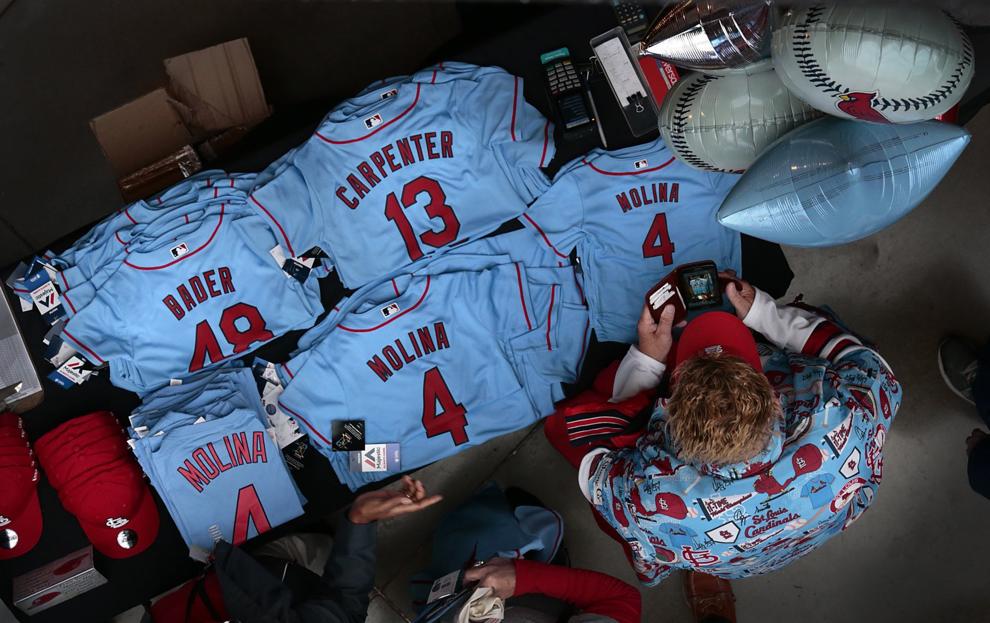 Adult Road Alternate Embroidered Jersey
Saturday, April 20 vs. Mets, 1:15 p.m.
As we've seen in youth fashion recently, the influence of the '80s remains hot, and the Cardinals are no different, breaking out a version of the 1980s baby-blue jerseys for Saturday road games in 2019. Embroidered jerseys are always a big hit, and this one gives you a chance to sport the new blue at home.
Adult road gray embroidered jersey
Saturday, Aug. 31 vs. Reds, 6:15 p.m.
This embroidered jersey also features an embroidered front logo, so waiting until close to game time to grab one of these probably won't work well.
Kids Road Alternate Yadier Molina jersey
Sunday, April 28 vs. Reds, 1:15 p.m.
Why should adults get all the fun? Kids going to this game score big, with a baby-blue jersey of a fan favorite, a voucher for a free ticket and a free pre-game frozen treat.
Friday, April 26 vs. Reds, 7:15 p.m.
Might want to get to the park early for the stainless steel tumblers featuring the Cardinals' catching legend. Last year, fans clamored for these cups. This time, the team will have another 30,000 for fans 16 and older. Ready, set, drink!
Bobblehead bonanza
Stan Musial and Red Schoendienst double bobblehead
Saturday, Sept. 14 vs. Brewers, 6:15 p.m.
A must-have for any true Cardinals fan. The bobblehead honoring the 50th anniversary of Stan the Man's induction into the baseball Hall of Fame and Red's 30th anniversary celebrates two of the greatest players in team history.
Marcel Ozuna Mystery Jersey bobblehead
Friday, May 24 vs. Braves, 7:15 p.m.
Yeah, yeah, we can already hear some of you from the cheap seats: The mystery with this bobblehead isn't whether he'll be worth his contract or if he'll go a full season without oversleeping the start of a day game. No, the mystery is which of the Cardinals' four jerseys the slugger will be wearing on your bobblehead.
Mystery Hall of Fame Opening Day Car Parade bobblehead
Saturday, April 6 vs. Padres, 1:15 p.m.
A bobblehead showing the Wizard of Oz in a parade would make many fans' entire season. Fans 16 and older will get a bobblehead featuring Ozzie Smith, Whitey Herzog or Bruce Sutter.
Yadier Molina and Roberto Clemente double bobblehead
Friday, May 10 vs. Pirates, 7:15 p.m.
Here's a bobblehead you're not likely to see elsewhere. This giveaway for those 16 and older features the two Puerto Rican stars renowned for their humanitarian efforts. Plus, "double bobblehead" is fun to say.
Sunday, July 28 vs. Astros, 1:15 p.m.
No mystery with this bobblehead — just some sort of design that features Albert Pujols, Jim Edmonds and Scott Rolen, who each scored a top-five finish in the 2004 NL MVP race. Will all three heads bobble? Are they connected to the same body? So many questions...