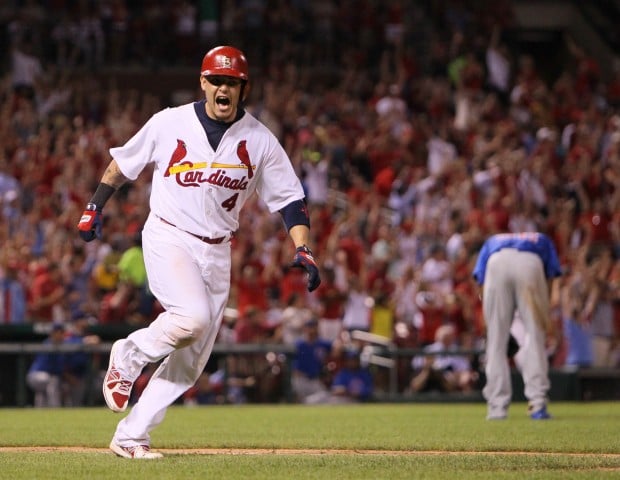 While lamenting Wednesday afternoon the sudden losses he experienced at Busch Stadium, Chicago Cubs manager Dale Sveum also marveled at the hitter responsible for several of them and how trickier it's become to pitch to Yadier Molina.
Sveum cataloged the types of pitches the Cardinals' catcher has belted for base hits — down and away, inside, breaking balls — and called him "extremely locked in."
It didn't take long before Sveum had another example.
Adding to the list of late losses for the Cubs, Molina turned on a low and inside fastball and lifted it for a two-run homer to snap a tie in the sixth inning.
Cubs starter Edwin Jackson said Molina hit the pitch "I wanted to throw."
Molina's fifth home run of the season proved Sveum's point and powered the Cardinals to a 4-1 victory against the rival Cubs at Busch.
"We use the term 'joke' around here," Cardinals second baseman Matt Carpenter said. "He's a joke. He is that good. It's like you just know that he's going to do something great every night. That's the kind of player he is — just irreplaceable. He's a joke."
Sveum had another term for Molina: MVP.
Molina's bolt into the seats beyond the left-field wall rewarded Cardinals sinkerballer Jake Westbrook with his first victory since returning from the disabled list.
Westbrook allowed one unearned run through seven solid innings. He teased 14 groundouts from the Cubs, who needed two errors from the Cardinals to get their one run.
Trevor Rosenthal pitched a scoreless eighth to hold onto the three-run lead, and closer Edward Mujica threw a perfect ninth for his 21st save in 21 chances.
The Cardinals catcher started Wednesday's game with a .367 batting average, the highest in baseball. He peppered Sveum's club with three hits Tuesday night and reached base in all four plate appearances.
Molina has sharpened his All-Star claim and inflated his average against the Cubs all season. In five games, Molina has slugged .736 against the rivals, and his one-for-four Wednesday dropped his average against the Cubs to only .526 (10 for 19). Molina has reached base in 17 of his last 19 home games against the Cubs.
"Just gradually each year (he) gets better and better as a hitter," Sveum said. "But each year, too, you see like some other little adjustment he's made in his hand position, his stance, his back side, whatever. … He's there to hit every single pitch."
Jackson (3-8), a member of the Cardinals' 2011 World Series team, held his former club to one run before Molina's homer.
Allen Craig's RBI single in the first inning scored Carpenter, who joined Matt Holliday with a two-hit game. That was all the Cardinals could muster until Holliday's leadoff single in the sixth led to Molina's 385-foot shot. Two batters after Jackson hit Jon Jay with the last pitch he threw of the game, Pete Kozma completed the Cardinals' scoring with an RBI single to score Jay.
The pitch Jackson threw to Molina was a 93-mph fastball that Molina had to reach down as if with a golf club to drive. Jackson refused to "second-guess the pitch." Had he called it instead of hit it, Molina wouldn't have either.
"That pitch was good — good location," Molina said. "I was looking inside so it made it easy for me to get to that pitch. Sometimes you get lucky."
An efficient contrast to Jackson's more deliberate, loping pace, Westbrook thrived by driving pitches into that same area of the strike zone, if not lower. Against the Cubs at Wrigley Field in early May, Westbrook felt trouble seeping into his right elbow. His arm ached and he couldn't find a comfortable release point during that game.
His pitches strayed as a result and he couldn't maintain the necessary command of his best pitch, the sinker. He received the first of two anti-inflammatory shots the next day and was on the disabled list within a week. Westbrook was sidelined more than a month because of irritation in the right elbow.
The righty returned to the rotation last weekend in Miami and had a start creaky with rust. What he couldn't find in Miami and couldn't physically do back at Wrigley came to him quickly Wednesday. He could extend his arm without pain and command his fastball.
"I fight it when my release point is all over the map," Westbrook said.
Sixteen of Westbrook's 21 outs came without the ball leaving the infield. The Cubs tied the game 1-1 in the second inning and then only got one batter safely to second base for the rest of Westbrook's seven innings.
Anthony Rizzo got to second base when Carpenter misfired on a potential double-play ball. Rizzo scored on a sacrifice fly when Molina had Jon Jay's throw in plenty of time but couldn't maintain control of the ball as he tagged Rizzo.
Molina received his third error of the season as a result.
The five-time Gold Glove catcher came up four innings later with a runner on and the score still tied. Dating to the two-run homer he hit to down the Mets in Game 7 of the 2006 National League championship series, Molina has had a knack for "big hits at big times," Cards manager Mike Matheny said. When he struggled as a hitter, Molina drew confidence from clutch.
After delivering again against the Cubs, just as Sveum said he could, Molina explained how he felt in those spots with a gesture. He pointed to his 4-year-old son, Yannuell, who has the same haircut as dad and was waiting nearby patiently to go home.
"I've been like that since I was like him, since I was a kid," Molina said. "I like to be in that moment. I like to be there when the team needs me. I'm not afraid to be out there at that time and to do well."