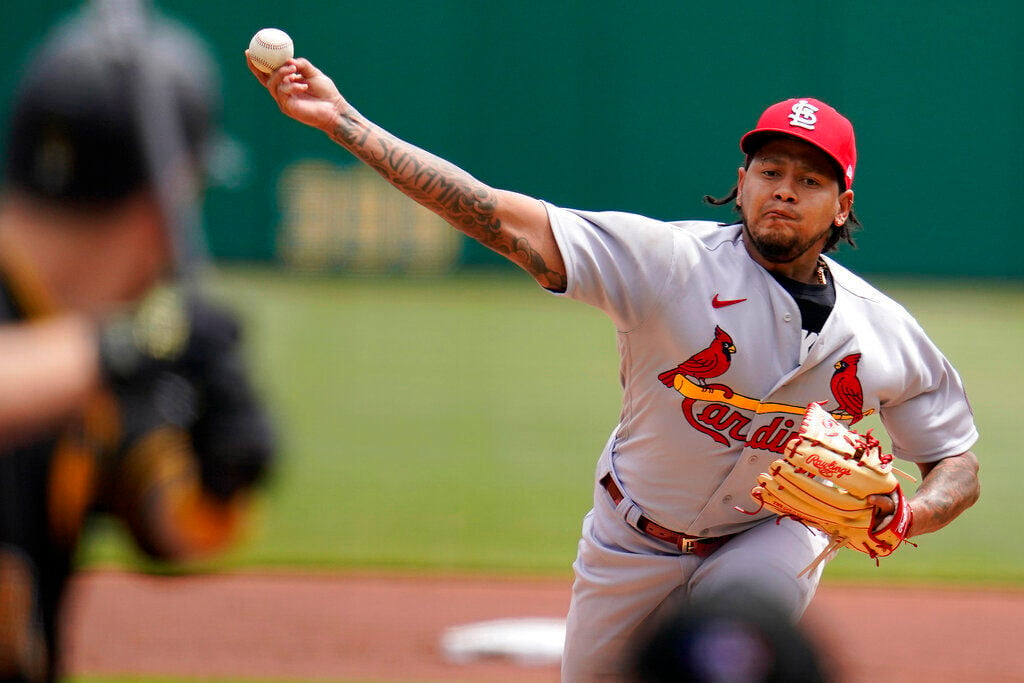 PITTSBURGH — When Carlos Martinez came to the plate in the sixth inning Sunday during his win at PNC Park, he had something on his mind other than taking his at-bat.
He apologized to Pirates catcher Jacob Stallings.
"Sorry, man," both players described him saying.
Two innings earlier, on an 0-2 pitch, Martinez had let loose a fastball that sailed and struck Stallings in the right cheek. Stallings remained in the game, and he told Pirates reporters after it that he felt fine — bruised, but not injured. He expressed no malice, and there was nothing more to it for the Cardinals than a mistake.
But it was the third time this season that the Cardinals have hit an opponent in face or head with a pitch and second time in five days, including Bryce Harper getting hit near the nose last Wednesday. Each has been similar to Sunday's — wild, not purposeful — and there has been no indication of intent from the Cardinals. They are aware of how other teams might view the trend. Bruises do not come color-coded for intent or accident.
"We're not trying to do it," manager Mike Shildt said. "The ball gets away. I really don't want to make more of this than it is. I'm glad he's OK. A couple of balls get away. Let's don't make it a thing here. It's clearly not. I understand we have to address it, and I've got to answer to it."
It's trickier getting a grip on possible answers for it.
The Cardinals were one of three NL Central teams that entered Sunday in the top five for hitting opposing batters with pitches one month into this season. The Cubs led, at 24, and two Sunday by Martinez pushed the Cardinals to 21 in 28 games.
The Pirates hit three Cardinals with pitches in the three-game series. The division has a black-and-blue element to it as Pittsburgh long pitched inside unapologetically, and the Cubs have Reds have had their vigorous exchanges. According to research by Baseball Prospectus, the NL Central features six of the top 10 "rivalries" when measured by total hit batters from 2017-2020. Cubs-Reds have combined for 77. Cardinals-Pirates are up to 72 after this weekend.
Overall this season, baseball has seen a swell in the rate of hit batters. Entering play Sunday, there were 379. In 2019, the last full season, a total of 1,984 batters were hit in 2,429 games. At the current pace, teams will reach 1,984 this season in 2,078 games.
This comes during a confluence of changes affecting pitchers: a new baseball reengineered to curtail offense; hardline memos from Major League Baseball about enforcing foreign substances; and limited workloads for pitchers in 2020.
Martinez said he does not feel any difference in the baseball that would contribute to a lack of control.
There have been examples in which pitchers, particularly in cold weather, will use foreign substances to get a better grip and better command —which hitters usually ignore because better command is good for their safety, too.
The Post-Dispatch asked Shildt if any of these could be factors.
"I wouldn't dig that deep," the manager said. "It's a little bit of anomaly. Sometimes those things sprinkle through the course of a season. Unfortunately, there have been jumbled a little bit together with a couple in the last week. They're isolated instances. Is it the baseball? It would be pure speculation. Is it substances? I don't think that's it at all."
In addition to being in the top five in hit batters, the Cardinals have the fifth most walks allowed and seventh most wild pitches. First-place Milwaukee also is in the top seven in most walks, wild pitches and hit batters.
If more pitches are out of the zone, there are more walks, more chances a pitch will be wild, and more possibilities of leaving a mark. A day after Harper and teammate Didi Gregorius were hit by consecutive pitches, the Cardinals' Nolan Arenado got hit late in a game by the Phillies.
Shildt said succinctly he does not want this topic to get out of control.
"Can't ignore it and we have to answer for it," he said. "They're individual situations that happened relatively close together. I don't know what more to tell you."
'Waino' set, tests for Hicks
After coming in contact last week with a family member who tested positive for coronavirus and missing the weekend series in Pittsburgh, Adam Wainwright has passed all necessary tests and is expected, as planned, to start Monday night's game against the Mets.
His return to the roster and subsequent move to create a spot for him could be how the Cardinals address another question about the pitching staff.
Jordan Hicks, who left Saturday's game because of inflammation in his surgically rebuilt right elbow, will meet with team physicians Monday and have a battery of exams and scans taken of the joint to determine a course of treatment. The Cardinals did not make a roster move Sunday in part because they'd exhausted the taxi squad's available pitchers already, could not get a pitcher to Pittsburgh with the quick turnaround, and they could wait to see how Hicks recovered.
"Just for a complete reassurance not to jump the gun that Jordan is going to be on the IL," Shildt said of the reliever going on the 10-day injured list. "I think there's optimism. If we end up having to take a small pause, we might make a decision for 10 days. But we want to give ourselves that opportunity to gather all the facts."
Wainwright was placed on the COVID-19 injured list and is eligible to come off at any time. If the Cardinals elect to swap him and Hicks on the active roster, Hicks would be eligible to return next week during a series in Milwaukee.
Cardinals pitcher Daniel Ponce de Leon, placed on the IL on Friday, also will meet with doctors and have imaging done to determine the cause of soreness in his right shoulder.
Extra bases
Paul Goldschmidt received a scheduled day off Sunday and to avoid rearranging the lineup completely, Shildt subbed Matt Carpenter in at first base and batting third. Carpenter walked twice. Other everyday players will be getting plotted off days during this 17-game, 17-day stretch.
• John Nogowski (bone bruise, hand) continues to regain his grip strength, Shildt said, and in the coming weeks will be scheduled for at-bats with Class AAA Memphis on a rehab assignment.
• On Wonder Woman bobblehead day, the Pirates drew 7,343 to PNC Park, where capacity remains limited by COVID-19 protocols. In the three-game series, the Pirates drew 5,953 for a chilly game Friday, and 7,331 for Saturday's game.