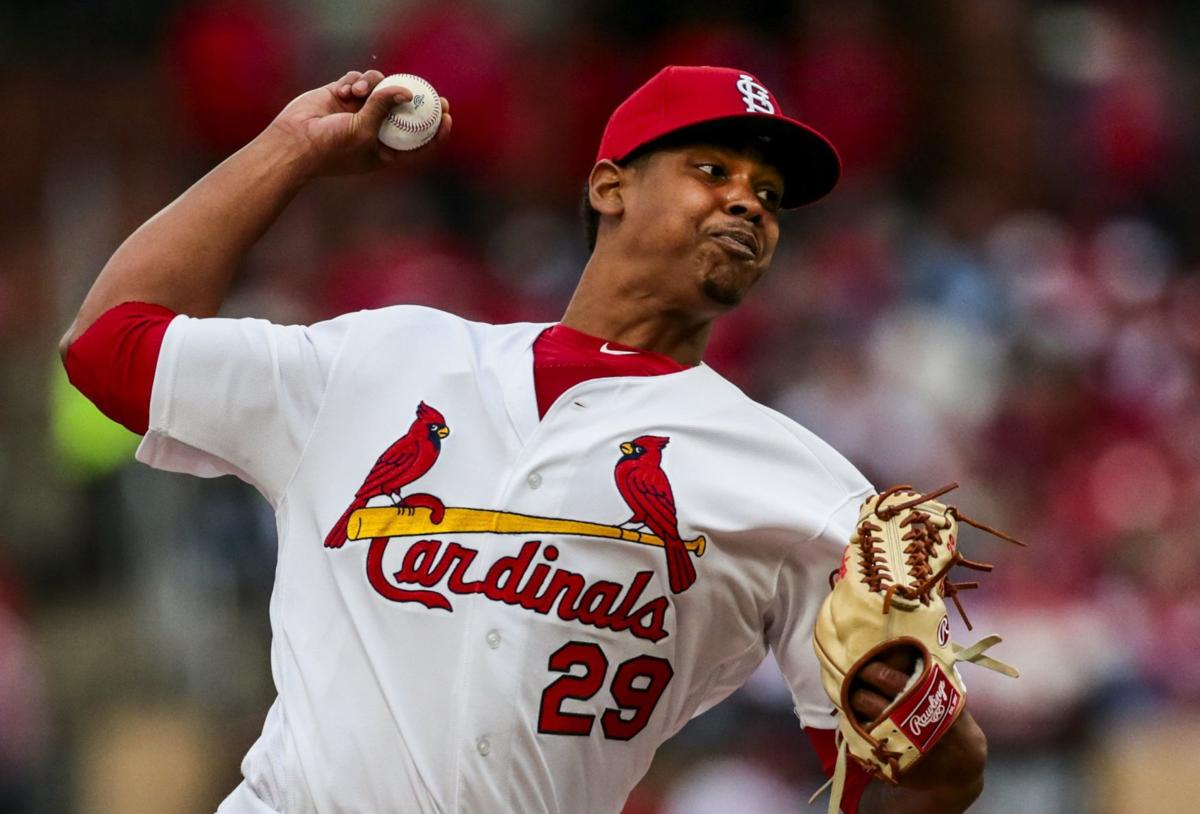 Before there was a Jack Flaherty, there was Alex Reyes. While Flaherty, now the Cardinals' pitching ace at age 24, was winning five games at Class A Palm Beach in 2016, Reyes was winning four games for the Cardinals in less than half a season in the majors and compiling a dazzling 1.57 earned-run average while holding hitters to a .201 average.
While Flaherty is the more polished righthander now, Reyes was more a freight train then with a high-90s fastball and crackling breaking ball and the makings of a changeup, too. And then just before spring training in 2017, he felt something amiss in his arm while throwing in New Jersey. When Reyes arrived in Jupiter, Fla., it quickly was decided that he undergo Tommy John elbow surgery that put him out for the season.
In 2018, he continued his recovery on his own program on the back fields at spring training. And then in May, cleared to pitch again competitively, he ripped through the Cardinals' farm system, pitching 23 innings at four stops in the system, allowing just seven hits and no runs and striking out 44. This included a Pacific Coast League record nine in succession in his final minor-league start.
It was on to Milwaukee on May 30, where he reeled off four more scoreless innings before coming out with a right lat strain that put him back on the disabled list. Another season was lost.
This past year, Reyes, after an up-and-down spring training, made the Cardinals' bullpen at the start of the season but had control problems, walking six in three innings before being sent back to Memphis. Three weeks later, he was on the injured list after breaking his left pinkie finger when he punched a wall following a disappointing start.
Later, after he had gone back to Florida to rehabilitate and then was cleared again to pitch, he made only a few more appearances before he was shut down with a pectoral strain. In 10 games at Memphis, he was 1-3 with a 7.71 ERA, with 23 walks and 38 strikeouts in 28 innings.
In a few days, Reyes, still on the roster, will report to Jupiter to take one more crack at this. But, no matter what happens this spring, his offseason at least has had clarity.
He spent most of it at home in the Dominican Republic. He said it was more settling "just for me to be in an environment where it's not rehab and not worrying about something or thinking I had something I had to fix. Just having a regular offseason and giving me the opportunity to work on my own with my trainer.
"Mentally it helped most not being around rehab, rehab, rehab. It's been three years of strictly rehab for me. I thought it was huge for me to be with my family, as well. I had my daughter there every day, smacking me in the face and waking me up."
Reyes, who said he has lost weight from his listed 235 pounds, threw his first bullpen session a couple of weeks ago and said he "felt great.
"I'm throwing more and more and, hopefully, have my talents on display. Going into the offseason, there weren't really any restrictions on me, and everything is going smooth."
The probability of Reyes cracking the Cardinals' starting rotation seems slim, for the moment. President of baseball operations John Mozeliak said, "It's going to be tough for him to break our rotation given the talent and the names we have in it. We are going to bring him to camp and stretch him out the best we can. But I think the likelihood of how he most likely contributes to the Cardinals in 2020 is in the bullpen."
Reyes, for his part, said, "My job is to show up to spring ready and make that decision tougher on them."
While outside expectations are all but through the roof for Flaherty, the expectations for Reyes, which used to be even higher, largely have been tempered.
"I've never looked into those (outside) expectations," Reyes said. "I have my own expectations. My main goal is to be healthy. I haven't been able to do that the last three years, and there's obviously a change I needed to make."
He said he never had considered quitting. "No, I believe in myself," he said. "Nobody will be able to take that from me. That never crossed my mind."
Reyes then broke down his own expectations, which are lofty. He said he envisioned himself "a solidified starting pitcher. Wherever you want to put me — 1, 2, 3, 4, 5 — I just want to be on a starting five and go out there and throw 200 innings."
While not having been ready to concede, Reyes admitted his confidence could have been shaken by events of the past three years.
"It's definitely hard," he said. "But I know what I can do. Every time I take the mound my only thought is that I'm better than whichever hitter is in the box. That could be any hitter. That's just how I've always been."
There have been growing pains, such as the one in his left hand.
"That was a really dumb mistake — a sign of immaturity," he said of his taking on the wall.
"When I got sent down (in April) that was the first time I'd ever been sent down in my career. Learning how to deal with those situations is something I've thought about this offseason.
"'Shildty' (manager Mike Shildt) and I spoke a lot when it happened, and he gave me some pointers on what I need to do. We've been able to get close. He was my manager in Memphis when I first got called up, and he's always been a huge mentor for me."
"I never felt like they were pushing me away. It was more frustration on my side with me not handling my job on the field. I let it get the best of me. Shildty has always been there for me. And I love him for that."
As Reyes says, "It's been a hard three years."
Yet, here he is again. And he's only 25, one year older than Flaherty.