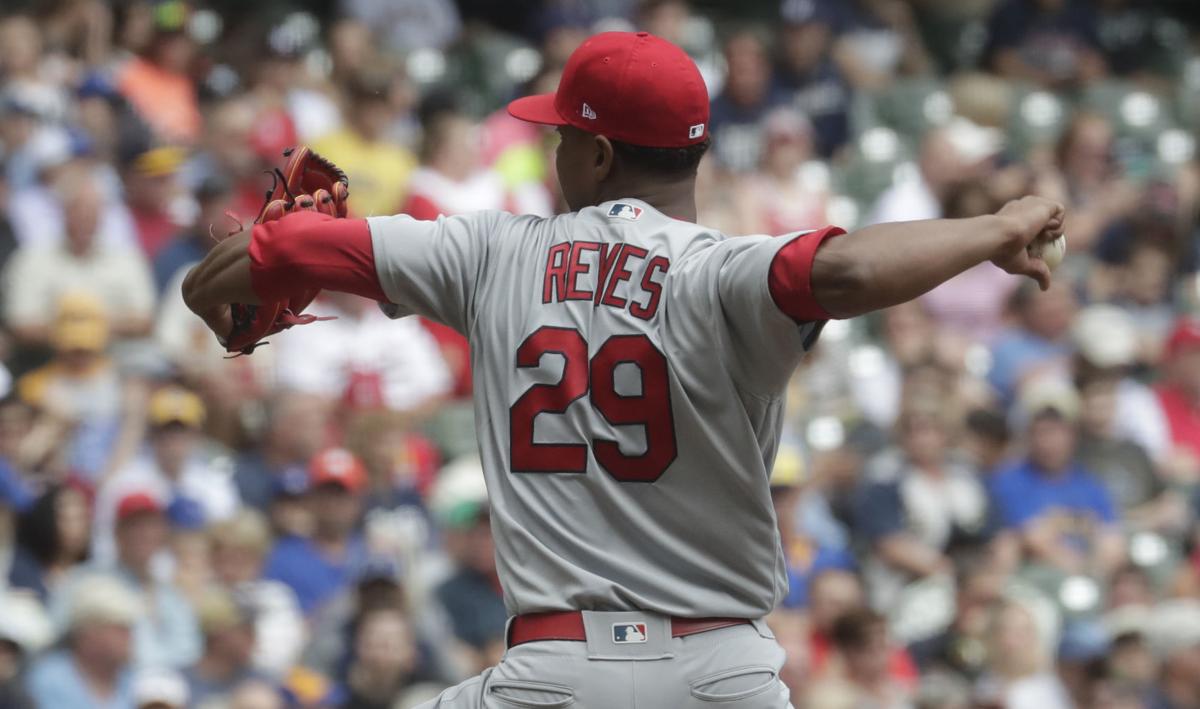 Cardinals manager Mike Matheny met with Alex Reyes on Thursday to talk about the pitcher's MRI and its demoralizing results.
"I don't know how to properly describe it," Matheny said. "You could see it in his eyes. He was beyond sad."
It took Reyes 468 days — 1 year, 3 months, 14 days — to get back to a major-league mound after Tommy John surgery to repair a torn ligament in his right elbow, and it took him one day and four innings to go back on the disabled list. The MRI showed Reyes with a right lat strain, a strain that general manager Michael Girsch termed "significant." The Cardinals put Reyes on the 10-day disabled list, but it will be much longer than that.
"It is not going to be a couple starts," Girsch said. "It's going to be more than a few starts."
And just like that, the Cardinals' hot young pitching prospect is gone again. After surgery that kept him out the entire 2017 season, recovery and a rehab stint this season that was the stuff of legends, Reyes is back on hold, for who knows how long.
"It's frustrating from a team perspective," Girsch said. "I can't really imagine it from Alex's perspective, the amount of time he's put in, the amount of effort he put in to re-form his body, to really get in peak physical condition, to do so well in his rehab and get a few innings into his first appearance and come down with this. I'm sure, it's tough to take."
Girsch said the injury was more serious than Carlos Martinez's lat strain, and Martinez will miss close to a month with his. Mets pitcher Noah Syndergaard had a lat injury that kept him out almost five months, though Girsch said he had no idea if Reyes' injury was comparable to Syndergaard's.
While the Cardinals aren't sure how long Reyes may be out, the team knew something was wrong on Wednesday. Reyes' velocity dropped in the third inning, for which he pled fatigue, and in the fourth inning he winced and flexed his shoulder, which brought Matheny, pitching coach Mike Maddux and trainer Adam Olsen out to the mound. Reyes said he was fine and threw the next two pitches at 96 and 97 mph. (Matheny and Girsch both said they didn't know if Reyes may have caused the injury trying to increase his speed on his final pitches.) He came out at the end of the inning.
"I got out there and I felt like we were being a little over-protective," Matheny said. "He kind of gave us a look like we were crazy, which was encouraging. He said that everything was good. We were just trying to make sure. We got the news after the game that once he cooled down, he wasn't feeling quite right."
"The first we knew about it was really this morning," Girsch said. "Postgame, when the adrenaline went away, he was stiff, he was sore, sore enough that we knew we were going to DL him and he'd miss at least one start. … But when he went to the doctor this morning they termed it a significant strain."
While Reyes is going out of town to get a second opinion, Girsch said the tests show that the problem is isolated to his lat and there are no issues with his surgically repaired elbow.
And just like that, the Cardinals are back to where they started with their rotation and all that talk of how the team would deal with having six quality starters is back on hold. Martinez made a rehab start in Springfield on Thursday night; he could move back in to the rotation on Tuesday, when Reyes was supposed to be making his second start.
"I hate when I'm right," Matheny said. "That's not the way you want it to be. We'd love to see him out on the mound every fifth day. You still know he's going to have a great career and still end up doing great things for us this season. But, just that he worked so hard for that date to get back in there and then any of kind of delay at that point, it's just hard for a guy.
"Once again, we don't exactly know what we're looking at but any delay after you've waited this long is going to require more patience. But we're all prayerful that we get ahead of it, figure it out and get him back as strong as ever."
"Alex was a big part of our plans for this year," Girsch said. "He was seemingly going to be off and running yesterday, and now we're sort of not sure where he's going to be."
Keep up with the latest Cardinals coverage from our award-winning team of reporters and columnists.