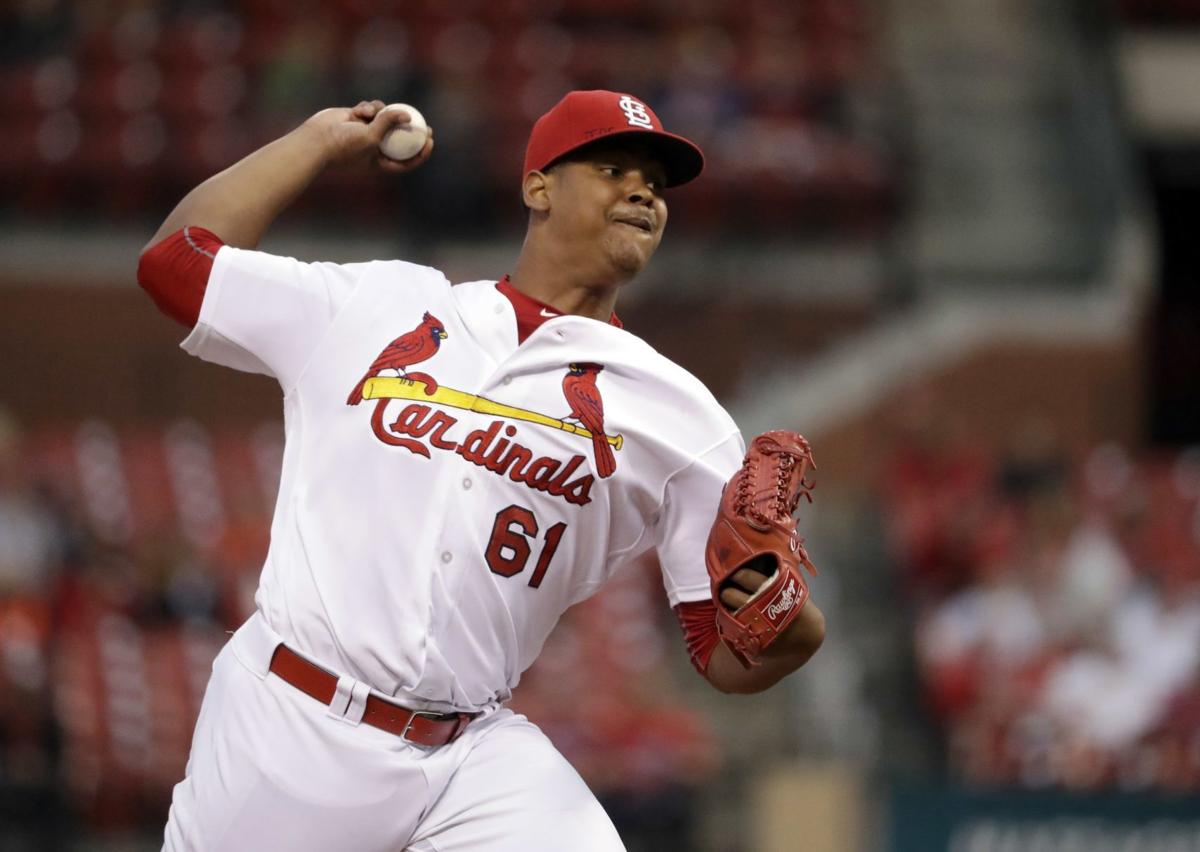 LAS VEGAS • As the Cardinals sift this winter through their options to protect late-game leads, there is one young, internal candidate for a pivotal role who has the Cardinals thinking about how they'll protect him.
Health is only the beginning for rookie Alex Reyes.
The Cardinals' longtime top prospect has been limited to four innings total in the majors the past two seasons because of elbow and shoulder surgeries. The Cardinals expect him to be strong and close to full speed by the time spring training opens in mid-February, and they have him scheduled to arrive as a starter. From there, the team's need and the 24-year-old righthander's readiness could assign him any role from starter to reliever, closer to Class AAA Memphis' rotation, and in every case his innings will be managed.
"We want to be smart about this," said John Mozeliak, the team's president of baseball operations. "We want to take a cautious approach to his spring training usage. See how he throws. See how he's reacting. See how he feels, physically. Then determine if we're going to put our foot on the gas."
Baseball's winter meetings concluded Thursday with the annual Rule 5 draft, and the front offices for all 30 big-league teams quickly returned to their corners. In the coming days and weeks they'll continue doing a lot of what they did while all in the same hotel at Mandalay Bay Resort and Casino — sort through trades, email, text, and rarely meet in person. There proved to be more slow play than action this past week as a total of 16 transactions were, officially, completed. Baseball had as many free-agent signings (six) as waiver claims (six).
The Cardinals made a trade for a lefthanded-hitting utility fielder, Drew Robinson, and picked up a pitcher off waivers. They made progress in pursuit of a lefty reliever as they learned enough about free-agent Zach Britton's asking price and interested teams to also pivot and explore in greater depth the market for trades. A late-night run on relievers early Thursday took two righthanders, Jeurys Familia and Joe Kelly, off the market even as their three-year, $30-million deals helped set the market price.
Unless their shopping for a lefty goes awry or a righthander with closing experience falls into range, the Cardinals intend to fill several key late-inning roles with selections from their stockpile of starters, a group that includes Reyes.
Reyes missed the 2017 season due to Tommy John surgery, and he raged through a rehab assignment this past spring only to have his shoulder come undone after four innings in the majors. Including rehab starts, he's thrown 27 innings in the past 26 months. The Cardinals want to be conservative as they increase his workload after such a prolonged absence.
"There is no magic number," said general manager Michael Girsch. "I think in some ways it's almost easier to ramp a guy up who missed a season than it is to ramp a guy up who had 50 innings in 50 appearances. I (don't) know what the number is as we sit here today. It's going to depend on how he feels and where he's at."
The Cardinals will have Reyes report to spring training on a starter's program, though he may be a week or two behind the other starters as they ease him into work. The plan is to have him ready for opening day or soon after — but the role and team is TBD. Or, as Mozeliak said repeatedly this week, "wait and see." The Cardinals are open to having one of the top pitching prospects in the game open the season at Class AAA as a starter in order to prove durability and health before arriving in the majors. They also acknowledge the possibility a relief role could be a way to reduce innings and, with some rules in place, maximize his effectiveness.
Reyes could have an apprentice year like Adam Wainwright did in 2006, and the Cardinals feel their manager and coaching staff is nimble enough to understand if Reyes cannot be used on back-to-back days or his weekly innings might be rationed.
His health will dictate his availability. The need will determine his role.
"You can handle any pitcher who has limitations when they can be used as long as they're covering innings," Girsch said. "If you can cover 85 innings out of the bullpen that's a really useful bullpen piece. That's more than the average bullpen piece. So you're fine. Even if you do it in 50 games instead of 60 or 70 or whatever. This is all stuff we've got to figure out. Who is in the bullpen, who is on our roster, (and) who is healthy. Come March, when we get to the point, I'm not overly concerned that we can't take advantage of all these options."