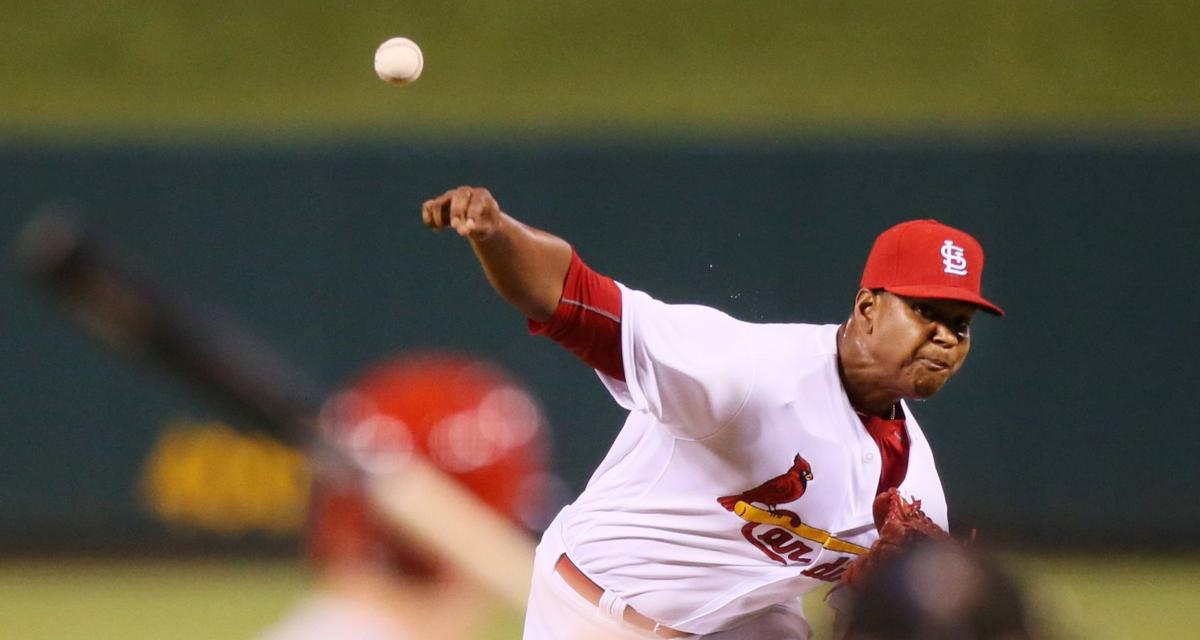 HOUSTON • While rookie Alex Reyes is adapting to a new role in the crucible of a playoff race, the Cardinals are also learning how to balance what their prized prospect can do now without risking what they expect from him in years to come.
Reyes had the first mid-inning relief appearance of his career Tuesday, and the team is measuring him for a more prominent job in the late innings. But each step for their pitcher and the team is new – from how long it takes him to warm up to the throwing routine he must establish before a game. The 21-year-old righthander has yet to allow a run in six innings with the Cardinals, and he's only just started a regular schedule as a reliever.
"We're still kind of feeling our way through it," manager Mike Matheny said. "We just kind of watch and how he rebounds. He's going to have to get into a routine with his long toss and his flat-ground (work) and just a little different program than he's had in the past. I think we're going to have to be very aware of what the trainers are seeing and how he's feeling and then just adjust every night."
There aren't Reyes Rules, per se, but the Cardinals are shaping his workload. Since arriving from Class AAA Memphis, Reyes has followed a similar schedule to the one that he had in the Redbirds' rotation.
His first appearance in the majors came on what would have been his between-start throw, and his second appearance was a three-inning relief appearance on his usual day to start. The Cardinals wanted to be protective as he worked his way from a 100-pitch start in the minors to a role in the major-league bullpen. Matheny said Tuesday was designated as Reyes' first day as a "normal" reliever – available as needed. Still, there are some loose guidelines to avoid overuse.
Reyes needed 37 pitches to get through two scoreless innings in the Cardinals' victory Tuesday, and that left him unavailable for Wednesday's game. With an off day Thursday, Reyes could pitch Friday or he could be saved to back up rookie Luke Weaver, Saturday's starter at Philadelphia.
"My arm strength — I feel like it's the same, still feeling good," Reyes said. "It's been fun being able to throw twice a week, maybe three times a week."
Matheny referred to Reyes' warmup process as a reliever as an "unknown" until he's done it a few times. At Wrigley Field, Reyes warmed up swiftly, and he was able to do the same Tuesday. He did not throw with the same velocity Tuesday as before, but the Cardinals see that as possibly finding a way to be more efficient. He did strike out four batters Tuesday, but it was the 37 pitches that it took him to get six outs that influenced his availability for the days that followed.
That total is three pitches shy of the stress-zone the Cardinals use to determine when a young pitcher could be pulled from a single inning. They want to be cautious with Reyes, even as they reinforce the importance of efficiency.
His success may fit a higher-leverage role, but his day-to-day availability will determine that and availability related to efficiency.
"I think the efficiency comes with experience (and) experience comes with opportunities," Matheny said. "He's doing a great job. He's getting outs for us. He's always going to balance that like Carlos (Martinez) – am I a strikeout guy because I can? Or, am I going to try and get quick outs and not necessarily going to into your second-level stuff. Some guys back off and try to get to a point where they can get quick outs and that's not always a good philosophy either. … It's learning how to try and use pitches than get the quick outs is the advanced step in their developing."
SIEGRIST SET FOR FRIDAY
Coming out of Sunday's game, when Kevin Siegrist had to be removed because of a "dead-ish" sensation in his left arm, Matheny made the decision to sit him for the entire Astros series. Siegrist was able to play catch and clear any lingering sensations in his left arm enough that the team feels he'll be ready Friday, if needed. The lefty has had nerve issues with his arm before, and he traced Sunday's lack of fire to a stiffness, a knot in his back.
Since returning from the disabled list, he's attempted to build strength in the back, and the discomfort there may have led to the "hit or miss" feel of his arm strength.
Siegrist said he felt fine playing catch in Houston.
RESIDENT HOUDINI
For the second time in as many appearances, rookie Matt Bowman worked out of a bases-loaded, no-outs quagmire Wednesday. This one he did not contribute to making. Sam Tuivailala, who was added to the roster Tuesday to replace Seth Maness (elbow surgery), allowed (with the help of an error) all three batters he faced to reach base.
With no Seung Hwan Oh (rest), Reyes or Siegrist available, Matheny returned to Bowman, who has emerged as the team's fireman.
As he did Sunday at Wrigley to get the win, Bowman worked free of the jam without allowing a run. A reliever who pulls off such a trick is credited with a "Houdini." On Wednesday, Bowman used a different sleight of hand: strikeouts. A sinkerballer who specializes in coaxing groundouts, Bowman couldn't let a ball get in play without likely allowing a run, so he went to the changeup – and got two strikeouts. The solved the inning.
"I think he and Yadi (Molina) are getting a good feel for how to expand the plate," Matheny said. "He's got guys really considering the sinker all the time. His last two outings have been extremely impressive."