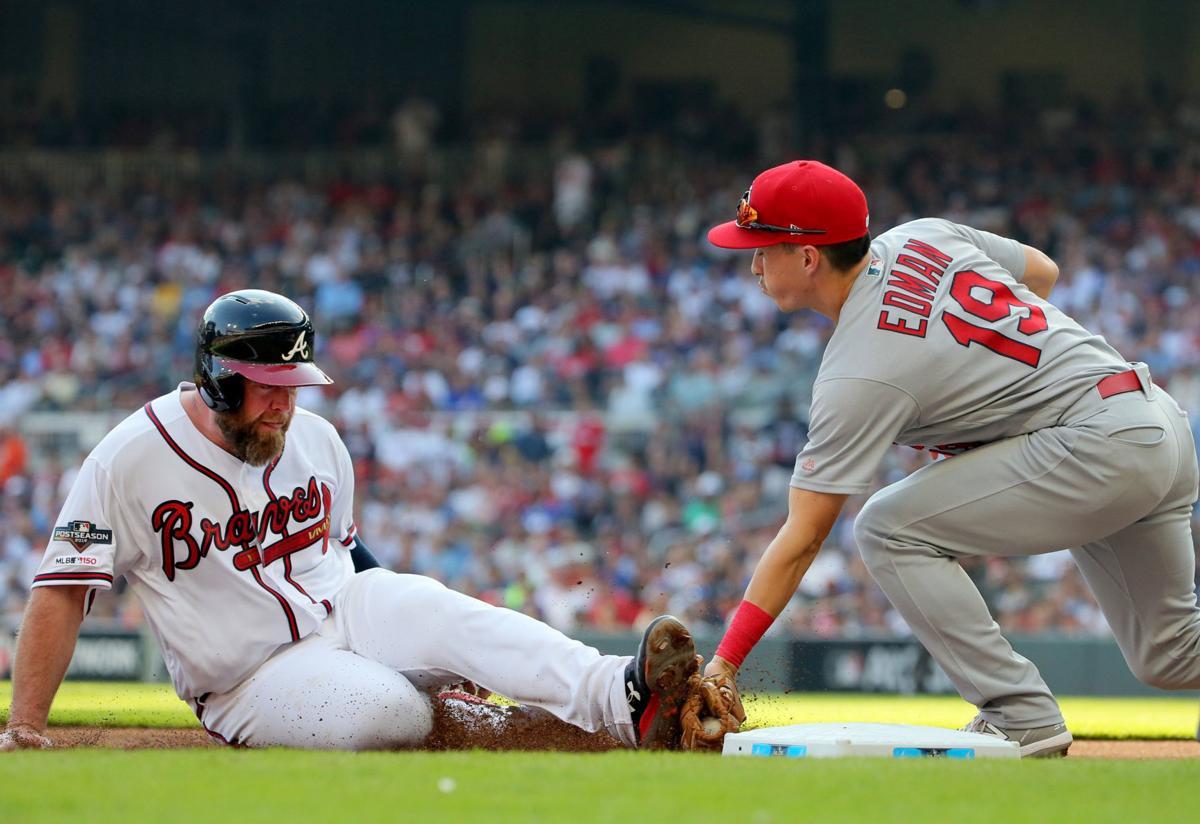 ATLANTA — As the Cardinals finalized their bullpen for this short-burst playoff series against Atlanta, they sided with left over right, recent over résumé, and, when at all possible, a dash of overpowering velocity.
Rookie relievers Ryan Helsley, Genesis Cabrera and Daniel Ponce de Leon were named to the Cardinals' National League Division Series roster early Thursday when the team submitted it to the commissioner's office. Cabrera is one of three lefties in the bullpen for the Cardinals to counter the Braves' cavalcade of lefthanded hitters. Helsley, with his 100-mph fastball, and Ponce de Leon, who was scarcely used all September, bring above-average fastballs and multi-inning possibilities. Ponce de Leon cracked the postseason roster in place of John Gant, a setup reliever who was undone by walks in the past month.
"Ponce being the one guy you could stretch out – that was really the tiebreaker for us," said John Mozeliak, president of baseball operations. "I think in any postseason game you tend to see starters come out earlier. So, this trend has been going on for a decade where when you're bringing in that fresh arm, you'd like it to be dynamic. You'd like it to be one that is eye-popping. And when you look at how our bullpen sets up, that's what it does."
The position player side of the roster lacked the same surprises. Speedy center fielder Randy Arozarena scored the fourth outfielder spot ahead of Tyler O'Neill – just as he saw more playing time down the stretch than O'Neill did. Yairo Munoz got the nod for his versatility ahead of righthanded pinch-hitter Rangel Ravelo, who, like O'Neill, will be traveling with the Cardinals this postseason.
Gant, also traveling with the team this series, threw live batting practice to teammates Wednesday at SunTrust Park, and manager Mike Shildt said that if the Cardinals advance it's possible that Gant "will be on that roster."
The Braves' Game 1 starting lineup revealed the reason the Cardinals carried Cabrera, Tyler Webb and veteran lefty Andrew Miller into the best-of-five NLDS. Starting with No. 3 hitter Freddie Freeman, Atlanta has a stretch of five batters who struggled against lefties. Freeman, Josh Donaldson, and Nick Markakis – Atlanta's No. 3, cleanup, and No. 5 hitters – had a combined .240 average and .417 slugging percentage against lefties this past season.
With finesse lefty Webb, power lefty Cabrera, and slider-riding playoff vet Miller, the Cardinals had three different looks to give that bloc of Braves. Webb and Miller both pitched in Game 1 against Freeman, and Cabrera loomed with his 96-mph fastball as deterrent.
"When you're looking at what he brings to the table, it's electric, right?" Mozeliak said. "And I think just trying to harness that is probably most important. I think he could be a valuable resource for us as we enter postseason."
Ponce de Leon, a leader for Class AAA Memphis' rotation and spot starter in the majors, expressed frustration late in the season because he felt if he didn't pitch much in September there was no chance he'd win a role in October. Struggles around him created an opening and with three scoreless innings of relief during the 19-inning loss in Arizona, Ponce de Leon got his footing.
It doesn't hurt that he threw 97 mph in that appearance.
"He provides a length that we can count on," Shildt said. " ... If we need the length, which we hopefully do not, he'll be available. But he's also able to navigate both sides of the lineup."
Honoring Skaggs
When Jack Flaherty starts Game 2 of the NLDS on Friday, he'll do so as more than the NL pitcher of the month for August and September and more than a budding ace certain to receive Cy Young Award votes. He will as a friend memorializing Tyler Skaggs.
Los Angeles Angels pitcher Skaggs died in June at a Texas hotel while the team was on a road trip. Flaherty and Skaggs became friends through baseball and would work out together in the offseason. Days after Skaggs' death, Flaherty spoke about how he wanted to draw inspiration from his friend's approach.
In his next 16 starts, Flaherty trimmed two runs off his season ERA and, with an 0.93 ERA in 106 1/3 innings, had one of the best seconds half in baseball history.
As he did for each of those starts, Flaherty will wear cleats with Skaggs' name on them and he'll etch the Angels pitcher's initials onto the mound.
"Absolutely," said Flaherty. "I write his initials and his number in the dirt right behind the mound when I start. Every time I get the ball I kind of come from behind the mound and I see it. … Not necessarily before every pitch but before every hitter. No matter what goes on, I see his name, his initials right there. He's always with me. I can feel him. You just feel that energy."
Waino starts Game 3, Hudson Game 4
When the NLDS shifts to St. Louis, the Cardinals will start the pitcher who has had more success at Busch Stadium III than anyone, ever. Veteran Adam Wainwright will make Sunday's start for Game 3, and it will be his first playoff start since October 2014. Wainwright went 9-4 with 2.56 ERA in 16 starts at Busch this summer, and since 2016, the righthander is 24-11 with a 3.09 ERA in 48 starts there.
"Really talking about experience," Shildt said. "Been really good at home."
Unless needed extensively earlier in the series, Hudson will start Game 4 if necessary, Shildt said. Flaherty can return on regular rest if there's a Game 5. In 2003, Atlanta manager Brian Snitkner managed the Braves' Class AA team in Greenville, South Carolina. One of his starters was 21-year-old Wainwright.
"I loved him then and I probably love and respect him more now," Snitker said. "He's one of my favorite guys that I've ever been a part of in baseball. I just have nothing but the utmost respect for who that man has become, what he does for so many people and his legacy that he's going to leave on the baseball field."
Snitker, a longtime minor league manager in the Braves' system like Shildt was in the Cardinals' system, saw the similar paths both took to manage in the majors – a role that seemed distant not destined as they work their way up as "organizational men."
"It makes you feel good that the industry will allow guys like us to have this opportunity," Snitker said. "I think it says a lot about the organizations when guys like us get this opportunity. It probably wouldn't have worked if either of us would have gone to another organization and (then) tried this job out."
Molina, etc.
With his start Thursday, Yadier Molina appeared in his 90th playoff game, becoming the ninth player in baseball history with that many. Just ahead of him is Atlanta great Chipper Jones, with 93. No other active player has more than 70. … Jones, a Hall of Famer, threw out the ceremonial first pitch Thursday. … Twelve of the 25 players on the Braves' postseason roster were not on their opening day roster. "It's just an indication what you go through over the course of a long season – injuries, performance, the whole thing," Snitker said. … Miles Mikolas' double in the third inning Thursday was the first extra-base hit in a playoff game by a Cardinals pitcher since Chris Carpenter had one in Game 1 of the 2012 NL Championship Series. … Braves reliever Chris Martin left the game after warming up for the eighth inning with tightness in his left oblique.
Cardinals vs. Braves photos