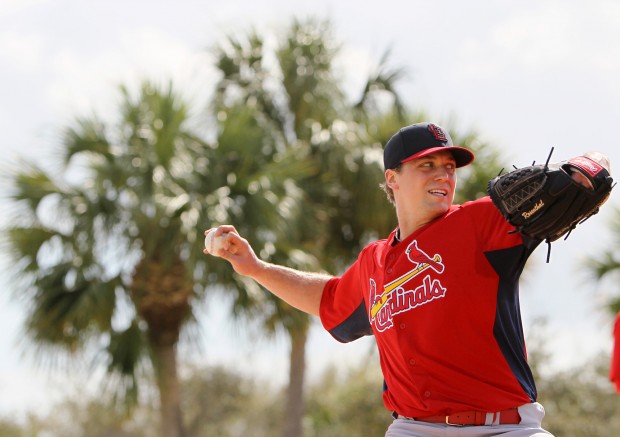 JUPITER, Fla. • Chris Carpenter won't be starting the first game of the exhibition season Saturday for the Cardinals, let alone the regular-season opener or probably any game this year because of a nettlesome nerve issue that has resurfaced. But his pupil, as it were, will start the first Grapefruit League game Saturday for the Cardinals here against Miami.
Righthander Trevor Rosenthal, a postseason sensation out of the bullpen last year at age 22, has been told by manager Mike Matheny that he will open up and then 21-year-old righthander Michael Wacha, last year's fast-rising top draft pick, will follow Rosenthal after the former throws two innings or 40 pitches.
In essence, Carpenter's No. 1 or 2 spot in the Cardinals' rotation this year will be the No. 5 spot for someone else. And Rosenthal, who made 19 regular-season appearances in relief in 2012, posting a 2.78 earned run average, in addition to his postseason work out of the bullpen, is as strong a candidate as any.
Rosenthal, the 100-mph thrower who has been working on a changeup, was advised to prepare to be a starter this spring, "but be ready to do whatever they ask me to do.
"It's easier to prepare as a starter," said Rosenthal, who had a 0.00 ERA for 8 2/3 postseason relief innings in which he allowed two hits and struck out 15 while walking two.
"I've been working on the mental approach of being ready to go deep in games and having that concentration for longer," Rosenthal said.
Much of Rosenthal's offseason approach came from his workouts with Carpenter in St. Louis after Rosenthal moved across the state from Lee's Summit, Mo.
"He's had so much experience and seen so much," Rosenthal said. "There's no way to run out of questions to ask the guy. He's really awesome about contributing his knowledge and passing it along, as well as how much respect he has for the Cardinal uniform. For us young guys to see that and carry it on will be one of the most important things for the organization to continue its success."
Carpenter more or less adopted Rosenthal last spring when he saw how hard-working and how eager to learn Rosenthal was, and Rosenthal said that the veteran righthander had kept in touch with him while Carpenter has remained in St. Louis.
"I know that right now, he's not real happy about the situation," said Rosenthal. "He wants to be here and physically he's not able to.
"I know it's tough. I'll try not to bother him too much."
As impressive as Rosenthal was late last season, so, too, has the 6-foot-6 Wacha been not only this spring but after he signed out of Texas A&M last summer.
"He goes about it the right way," said Matheny. "You see him asking questions. You see his head down doing his work.
"But when he gets on the mound, you can see there's a confidence there. He's got some pretty unique stuff, too."
Besides his good fastball, Wacha has an above-average changeup, said Matheny. "And a curveball that's better than I thought it was. There's some reason to be excited about the potential he has."
On Friday, the Cardinals will play a simulated game with coaches pitching. "A full intrasquad game, with our pitchers throwing, I have zero interest in," said Matheny. "Our guys have zero interest. The guys just don't get that much out of it."
Matheny said that he felt some of the players had "hit the wall a little bit" Wednesday, so he was going to shorten some of the drills today.
Shortstop Rafael Furcal continues to throw but not extend himself, said Matheny. Furcal, who suffered a torn elbow ligament last Aug. 30, has been bothered by a spur this spring but Matheny said the medical staff "assumed that was going to be in there anyhow."
Outfielder Jon Jay, who fell five days short of qualifying for salary arbitration this winter, has agreed to terms for this season. Jay made $504,000 last season.