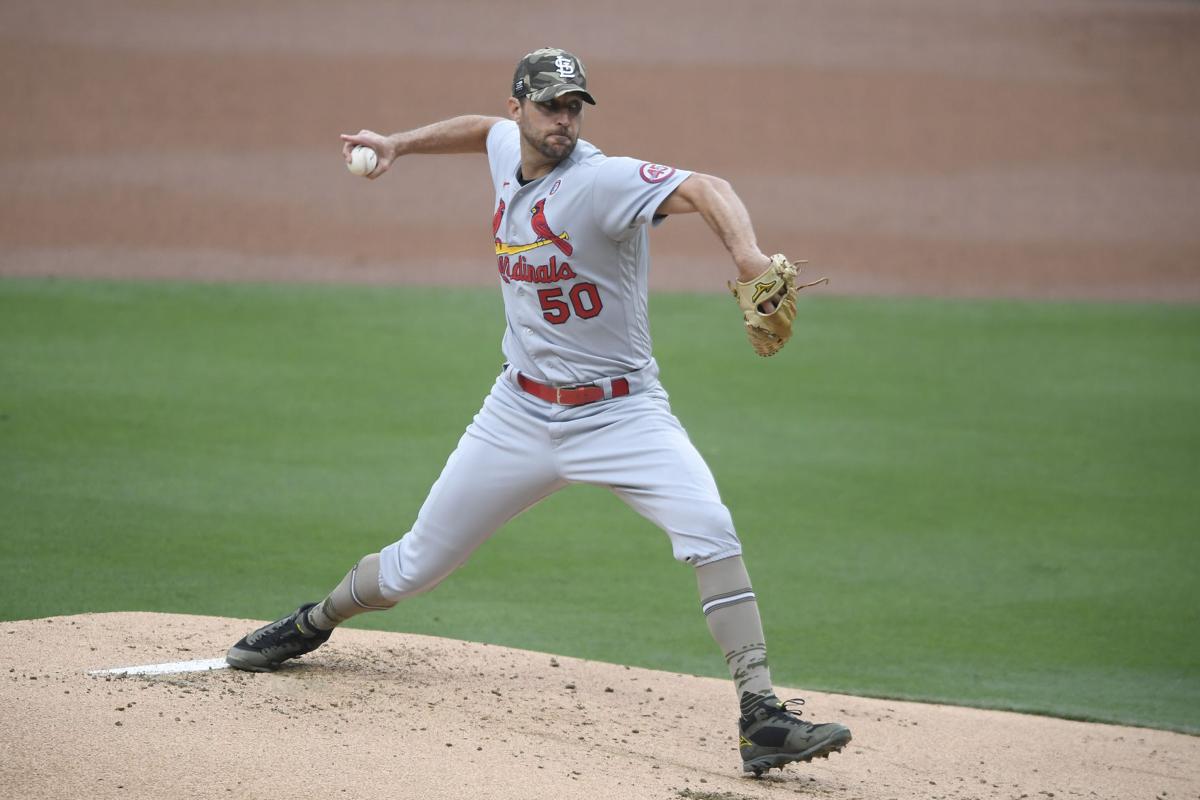 SAN DIEGO — The assignment entering spring training for reliever Junior Fernandez was to dramatically reduce the walks by throwing more pitches over the plate, and he did so often that he got hit around and swiftly sent down.
In the weeks since he's corrected his mechanics and been able to get a better feel for the difference between throwing any strike and a quality one.
"I'm able to make way better pitches," Fernandez said. "Closer to the strike zone, instead of misses far from the strike zone. If you don't get ahead in this game, it's really tough for you get outs as a pitcher."
Don't the Cardinals know it.
In Friday's late, laborious loss to San Diego, the Cardinals walked a dozen batters. Four of them scored to usher the Padres to a 5-4 victory. It's the second time in less than 10 days that the Cardinals walked at least 11 batters in a game, and as a team they had not done that twice in the same month since July 1994. The Cardinals started Saturday leading the majors in walks with 170, 12 more than the next closest team. They also are second in the majors in hit batters (28), and early in Saturday's late game against San Diego two walks had become two runs for an early Padres lead against starter Adam Wainwright.
"That's not a good recipe for winning," pitching coach Mike Maddux said Saturday afternoon, sitting along foul territory at Petco Park. "The plus side is that even though we have stubbed our toe in those two games, we've been in those games so that's a little testament to even though we put ourselves in a bad spot, they're fighting to keep runs off the board. At the end of the day, you look back and say, 'How did they score?' It was all the free pass.
"We can't pitch not to walk people," he continued. "We have to pitch to get outs. You also have to utilize your defense, which is one of the team strengths."
Manager Mike Shildt began his Zoom conference with St. Louis media Saturday revisiting the walker's dozen Friday and wanting to detail how not all walks are equal.
There are walks earned by the batter.
There are walks given for strategy, to avoid a batter.
And then there is the third category — the one too often seen Friday.
"The walk that is not as competitive," Shildt said. "It's a four- or five-pitch walk, and that was the case more or less (Friday). A big part of how we look to compete is to throw strikes, put the ball in play, and let the defense work."The root cause of the walks is a blend of personnel, inexperience, and rust. Several of the pitchers the Cardinals used Friday had not pitched in several days, and their lack of crispness was apparent. Pitchers overall throughout baseball have had limited innings the past 12 months, and the Cardinals' pitchers, along with other teams along Florida's Treasure Coast, had fewer innings available this spring. Added to the active roster Saturday in place of starter Johan Oviedo, who was returned to Triple-A Memphis, Fernandez pitched often in backfield games, and there he was hit around on strikes over the middle as he tried to avoid walking. Shildt said "candidly" the reports from the minors have mentioned Fernandez's ongoing inconsistencies, despite a better feel for his mechanics.
For the Redbirds, he has seven strikeouts and one walk in 3 1/3 innings.
Being more aggressive inside the strike zone will be Oviedo's assignment in the minors after he walked five batters in Friday's game. But the rookie isn't alone.
Righthander John Gant leads all starters with 27 walks in 34 1/3 innings, despite his 1.83 ERA. The Cardinals' rotation has combined to walk or hit 100 batters — 83 and 17, respectively. Shildt has referred to how some starters, like Gant, "play in traffic."
"It's about execution and it's about being on offense," Shildt said. "One of the positive traits was that out of all the traffic that was out there we limited a lot of damage — and have. Let's have that mentality prior to the traffic."
Mikolas on deck
Aiming for around 85 pitches and then a one-way trip back to St. Louis, Miles Mikolas will make his third and likely final rehab start Sunday for Class AAA Memphis. By optioning Oviedo back to the Redbirds the Cardinals signaled the plan to have Mikolas make the start when the rotation returns to that spot, as soon as next weekend against the Cubs.Maddux said Mikolas has appeared strong when they have seen him in person, throwing between-start bullpen sessions at Busch Stadium.
"We want Miles back to where Miles should be," he said.
In his two previous starts, Mikolas has allowed five runs on 10 hits through 6 1/3 innings, and he's struck out eight vs. one walk. His velocity has improved and, vitally, the soreness that followed his recovery from aggressive throws in spring training has been tamed. An outing of between 80 and 85 pitches puts him on target to be capable of 90 to 100 in his first big-league start since the 2019 National League Championship Series.
Cards couldn't see fit for Pujols
Even before Albert Pujols officially became a free agent Thursday with his release from the Los Angeles Angels the Cardinals had international discussions about whether to pursue a reunion, weighing the obvious fan appeal and buzz of nostalgia alongside any baseball benefit. They compared him to the righthanded-hitting options they had previously put on their bench, and explored whether such a limited, pinch hit role would appeal to him.
A source with the team described "headwinds at this time" for a fit.
Pujols, moving from one LA team to another, had an agreement in place with the Dodgers on Saturday, a source confirmed. It's a move similar to the one the Dodgers made for David Freese several years ago — getting a righthanded-hitting veteran who can platoon at first and be a deterrent off the bench. They get a player with October experience in the autumn of his career. Pujols make the prorated minimum for the remainder of the season. The Cardinals' next road trip finishes at Dodger Stadium (May 31-June 2), and the Dodgers visit St. Louis from Sept. 6-9.
Martinez, Etc.
Carlos Martinez will throw off a mound Sunday at Busch, weather permitting, and test his recovery from an ankle injury that put him on the injured list this past week. After a few days in a boot to recover from the injury he got slipping down a staircase while celebrating Jack Flaherty's first career homer, Martinez was able to play catch at a considerable distance without difficulty and that has him ready for some "light" mound work, the Cardinals said. That will determine his next step. … Daniel Ponce de Leon pitched two scoreless innings for Class AAA Memphis as his rehab assignment continued. Ponce de Leon walked three batters, including Christian Yelich, the former MVP who is on a rehab assignment for the Brewers.