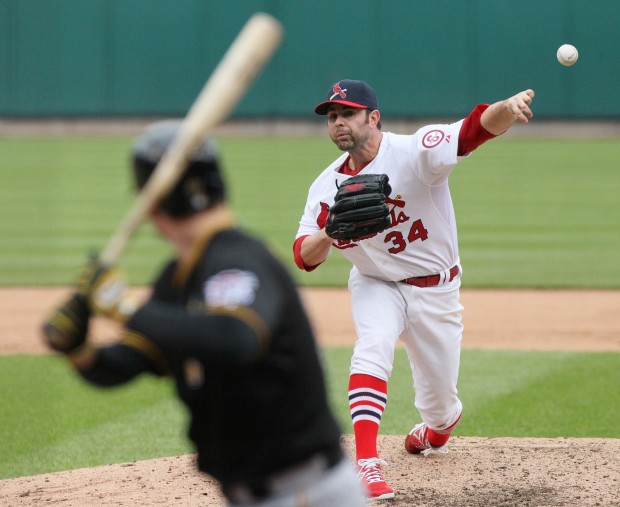 PITTSBURGH • With little room and no role for lefty Marc Rzepczynski in the majors, the Cardinals traded him to the Cleveland Indians on Tuesday, the eve of the non-waiver trade deadline, for a minor-league infielder.
The market will have to shift before today's 3 p.m. deadline for the Cardinals to make a more impactful move.
"The market is pretty well-defined – it's slow to see things actually happen," Cardinals general manager John Mozeliak said. "There are opportunities to see players traded by (the deadline). I don't feel very optimistic that we'll be one of those active clubs. There is still time on the clock and things could change."
In addition to offering Rzepczynski around, something the Cardinals had done earlier in this season, Mozeliak and his front office have been eyeing the market for starting pitchers this month. Any talks with the Chicago White Sox about starter Jake Peavy seemed to have cooled by Tuesday, if not earlier in the process, because of the asking price. Philadelphia Phillies lefty Cliff Lee does not have the Cardinals included in his no-trade list, though the Phillies want a prospects-rich return for the former Cy Young Award winner, who has two years and more than $60 million guaranteed remaining on his contract. Cardinals prospect Carlos Martinez has been coveted by teams that have been in contact with the Cardinals.
CBSSports.com reported that the Cardinals had approached the Angels about shortstop Erick Aybar. The Cardinals have maintained a toe in the market for a shortstop, seeking out details on availability and potential cost. The 29-year-old infielder is owed more than $25 million over the next three seasons. The Cardinals had no intention of offering a top prospect without receiving a significant upgrade in return at either shortstop or starting pitcher.
Mozeliak declined to discuss any specific players.
He agreed that the team's list of players had shortened, saying "it's a fairly narrow search at this point." That was part of why he had "little optimism." Mozeliak has said in recent days that the Cardinals would aim high or stay put, and that they were willing to part with the "right pieces" if a substantial addition was possible.
The Cardinals optioned Rzepczynski and Fernando Salas to Class AAA Memphis to refresh the bullpen for Tuesday's doubleheader. The demotion for Rzepczynski made it clear the Cardinals would look to move him. In a market crowded with lefties, who are in demand, the Cardinals wanted to find a higher-level minor-league player in return for Rzepczynski.
The Indians offered Juan Herrera, a 20-year-old shortstop from the Dominican Republic. A slick fielder, Herrera has hit .275 with nine doubles and 11 RBIs in 39 games for the Indians' short-season Class A affiliate. Herrera continues the Cardinals' attempt to collect middle infielders, and he'll report to the short-season State College.
Rzepczynski was expected to join Cleveland on Tuesday evening.
"I wanted it to work and to contribute in St. Louis," Rzepczynski said. "If it wasn't going to, I'm happy to get a fresh start."
To take the places of Rzepczynski and Salas on the active roster, the Cardinals promoted righties Michael Blazek and Keith Butler for the doubleheader. The Cardinals added starter Tyler Lyons as the 26th man for the doubleheader, an added player allowed by a rule adopted last season. Butler was cast as a long reliever to cover innings if needed during the doubleheader. Both players had to leave Texas before sunrise Tuesday to catch a flight that got them to Pittsburgh on time. Blazek was immediately used.
The righty, who has an assortment of breaking pitches, struck out three batters in a scoreless 10th inning during the first game of the doubleheader. Blazek struck out Pirates All-Star and No. 3 hitter Andrew McCutchen on a slider to end the 10th inning.
"He's done a nice job every time we've seen him," manager Mike Matheny said. "Been solid."
Cardinals broadcaster Mike Shannon will run the team's official Twitter feed during tonight's game against the Pirates. Shannon's comments will be relayed in 140-character bursts at @Cardinals on Twitter. The Dodgers did a similar evening with Vin Scully earlier this season. … Oscar Taveras is at least 10 days away from returning to a lineup as he continues his rehab from a high ankle sprain. Taveras has been hitting and is advancing toward full-speed baseball activities. … Class AA manager Mike Shildt will serve in the same role for the Salt River Rafter, a team in the invitation-only Arizona Fall League.