It had been 104 days since spring training camps had been closed because of the coronavirus and Cardinals manager Mike Shildt, asked how long he had been preparing for a restart, said Wednesday, "Well, 103 days."
As the Cardinals prepare to open summer camp next week, with their first full workout slated for a week from Friday, Shildt said his excitement level was "high. And higher every day.
"Hey, play ball! Those are the words we're going to hear. And, in my world, those are two of the best words you could possibly hear," said Shildt.
The normal 162-game season will have had 102 games shaved off it when it begins either July 23 or July 24. And Shildt said a question he is most asked is "What are you going to do different? It's a sprint."
Shildt said, "My answer is that we're in a sprint/marathon mode during the regular season, regardless. Every day matters, so in a traditional full season, we're in a sprint mode . . . every day. There's a daily sense of urgency to that game.
"Preparation is going to look different but we're not going to prepare more. And 60 games is not like 10 games.
"Effectively, we were in a similar position in our division last year," said Shildt.
A year ago on July 24, with roughly 60 games to go, the Chicago Cubs, Cardinals and Milwaukee all were within two games of one another, and the same three teams, besides Pittsburgh and Cincinnati, will be tied for first place with 60 games to go this year.
President of baseball operations John Mozeliak noted that Shildt had managed before in short seasons, such as in rookie-level Johnson City when he won a league championship and another division title, and also at Springfield when there were split seasons.
"It is different," said Mozeliak. "Understanding how to manage halves is how you should think of this 60. He's someone that certainly has the DNA of always having his team ready."
At the beginning of this short season Shildt said he would have at least 16 pitchers on a 30-man roster. That roster will shrink by two players after two weeks and two more players after two more weeks, leaving the club at the prescribed 26 for the final month of the truncated season.
"I don't think we would go over 14 position players so that puts us at a minimum of 16 pitchers," Shildt said.
Mozeliak all but concurred when he said, "The purpose of the expanded (roster) for the first 14 days is to give yourself a little extra pitching."
The reason the Cardinals wouldn't need more than 14 position players is because, for the first time in the National League, teams will be playing with a designated hitter in every game and won't be pinch hitting much.
Shildt doesn't deny that he will miss the National League style of managing, with more strategy involved as far as pinch hitting and lineup double switches.
"It's just a better game," he said. "But, here's the thing. It's no longer the game. I do have an opinion about it, but the fact of the matter is that we play with a designated hitter and we have a three-batter minimum (for pitchers). And my job is to manage within those parameters.
"To expend any more energy thinking about it or talking about it is not a wise use of those resources. This is what we have."
Starter Adam Wainwright, who has won a Silver Slugger award but probably won't bat any more, tweeted Wednesday, "So long, National League. It was fun while it lasted."
Even without pinch hitting for the pitcher, there will be several relievers involved in every game because the starters aren't apt to go very far, at least at the beginning of the season.
"You probably are looking at more multiple inning situations (for relievers)," said Shildt, the league's 2019 Manager of the Year as voted by the Baseball Writers' Association of America. "It's really important that guys are able do it but . . . you've got to make sure you keep guys fresh so you've got availability the next day."
At first, at least, there will be no cheers, or boos at Busch Stadium, and Shildt said he would miss both.
"Oh, absolutely," he said. "You're going to get second-guessed and people are going to have their own opinions if things aren't going well and they're going to voice them in whatever manner they think is appropriate. But, for the most part, we get a lot of support from our home group and support when things aren't going as well.
"I, we, are going to miss the support of our fan base and the interaction and the energy that they bring. As things progress, we'll just get it in a different manner. We won't get as much of that stimulation at the moment but I would expect that with the different forms that our new society works within, we'll still be able to feel supported by our beloved fans."
While Shildt has been planning for the resumption of camp — and Mozeliak, incidentally, said former coach and current instructor Jose Oquendo will be both here and in Springfield for the "taxi squad" camp — Shildt said he had sought the counsel of former managers, including Hall of Famer Tony La Russa.
"The shorter time to get ready — how they would think about it," Shildt said. "The key to it is being smart about the balancing act of making sure guys are healthy and making sure we take care of guys when the season starts and then, clearly, there's some competition that matters and making sure we've got a sweet spot with both.
"Of course, I've talked to Tony more than anybody but Mr. (Joe) Torre has been able to give advice when we have our conference calls with the other managers. He's had some words of wisdom that I've heeded."
Hall of Famer Torre, now with the commissioner's office, was the Cardinals' manager the last time there was a work stoppage in Major League Baseball. But, when the players struck in August, 1994, that ended the season. There was no restart. There was no World Series.
And no cries of "Play ball," until the spring of 1995.
SHILDT'S LINEUP CHALLENGES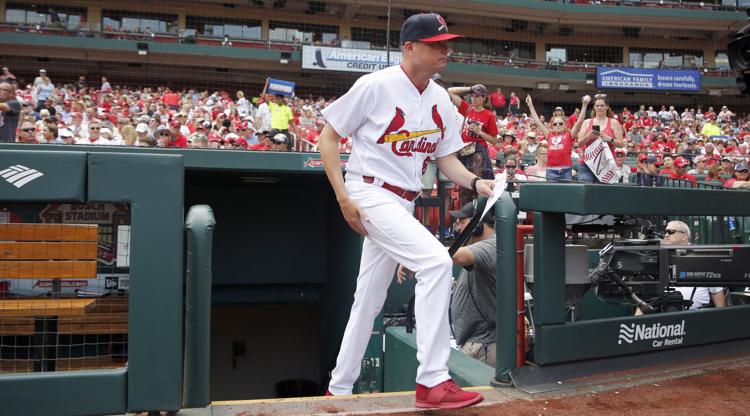 QUESTION: If a full 60-game season gets played out, what are the biggest differences in how that season will be managed compared to a 162-game marathon? What are the challenges for Cardinals manager Mike Shildt?
BENFRED: Specific to the Cardinals, I'm most interested in how Shildt handles slow-starting veterans if he has any. Specifically, slow starts from veterans who have recently struggled. If Matt Carpenter and Dexter Fowler stumble out of the gate, there isn't much time to wait to make some changes.
The "it's a long season" method doesn't work when it's 60 games. Especially with the DH available, and especially with expanded rosters, there's really no excuse to prioritize contract politics over playing guys who are locked in and ready to roll for a 60-game sprint.
Tommy Edman, Dylan Carlson, Lane Thomas should not be twiddling their thumbs if the guys ahead of them on the depth chart aren't producing. Give the vets a shot. But some changeups will be needed soon if they start slow.
ROOM FOR CARLSON ON THE ROSTER?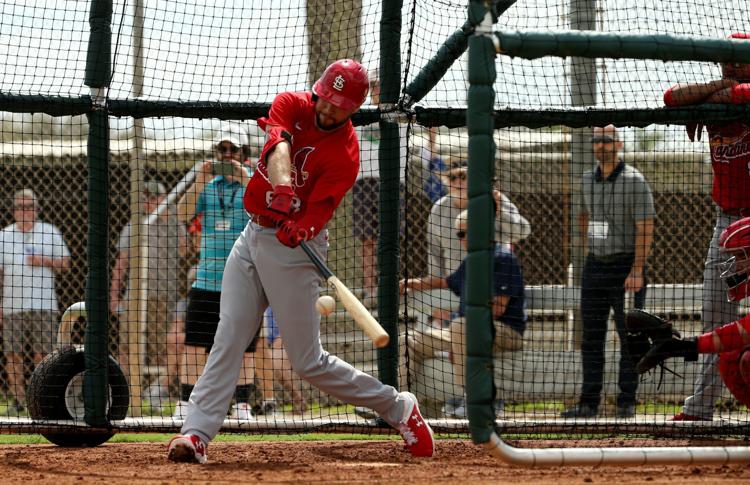 QUESTION: An expanded roster means a better chance Dylan Carlson makes the team, but if he's on the roster and starting his service-time clock, shouldn't he be a starter to maximize his development and contributions?
BENFRED: What they should do, I think, is put him on the roster and find chances to use him. If he plays well, better than others around him, then the situation takes care of itself.
What I don't think they will do, or should do, is name him a starter just because it's a 60-game season without minor leagues, when they were prepared to start him in Memphis if it had been a normal season.
BREAKOUT PLAYER IN 2020?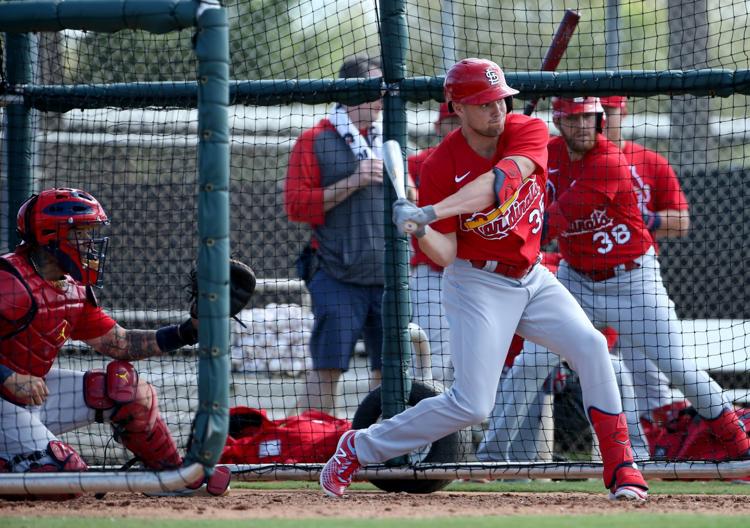 QUESTION: Who's your bet for breakout Cardinals player this season?
BENFRED: Lane Thomas. I think he would have made more waves last year if he didn't hurt his hand, and the expanded roster plus the addition of the DH, gives him more wiggle room to grab hold of a spot and not let it go.
EDMAN OVER CARPENTER AT THIRD?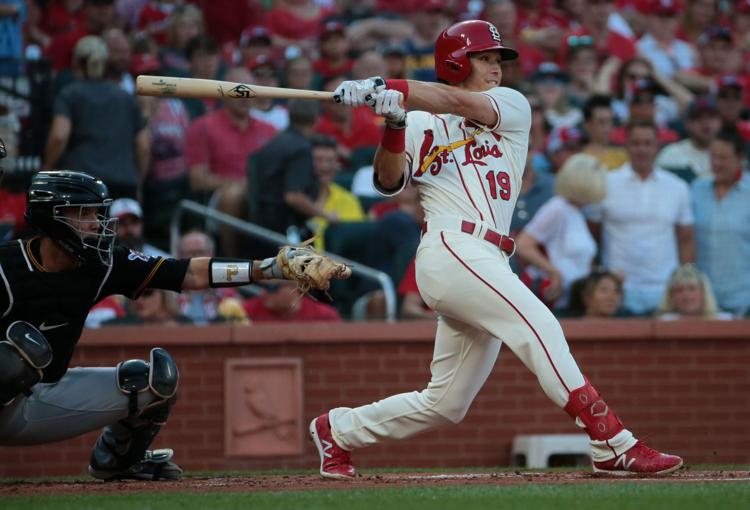 QUESTION: Wouldn't you rather have Tommy Edman starting at third base every day instead of Matt Carpenter? Especially in a 60-game season?
BENFRED: That depends which Carpenter I'm getting.If it's the one who can look like the hottest hitter in baseball for a 60-game stretch, I want him in the lineup every game.
If it's the one who looks like one of the least competitive hitters in baseball for a 60-game stretch, I want him on the bench.
He's going to get a shot to prove he's in the zone.
I'd give him that, too.
Carpenter at DH from time to time would make a lot of sense as a way to get Edman time at third. Edman can play pretty much every other position, too.
CARDINALS' STRENGTH IN A 60-GAME SEASON?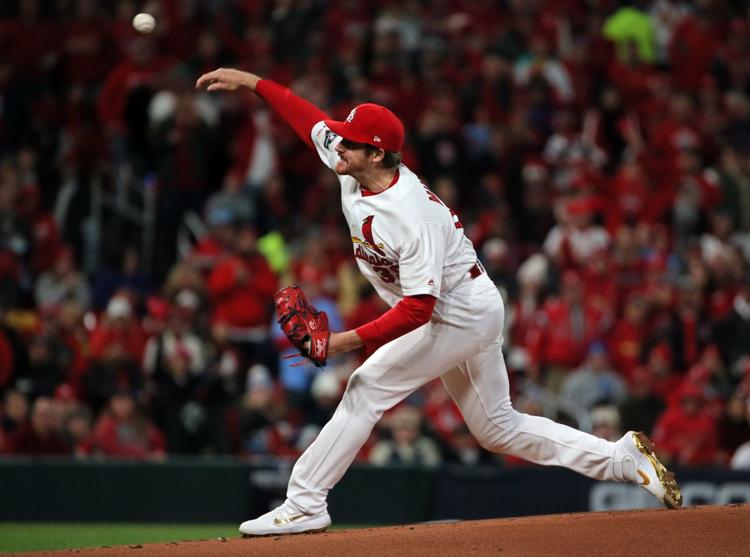 QUESTION: What are the Cardinals' strengths and weaknesses in a 60-game season?
BENFRED: Strength is pitching, pitching, pitching. A bunch of arms. A bunch of healthy arms.
Miles Mikolas should be good to go. I think the Cardinals should toy with -- gasp -- a six-man rotation in order to get the most out of all starters and bank (unfortunately) on the chance that someone is going to have an arm-related hiccup due to the strange season.
Weakness? It could be the DH. The downside that comes to mind is the lack of an obvious answer there. The Cardinals can use that to their advantage, perhaps, by cycling guys through and seeing if someone sticks, or using it to get young players on the field.
But some teams have more proven thumpers who will slide into that spot and become a force.
DH DEBATE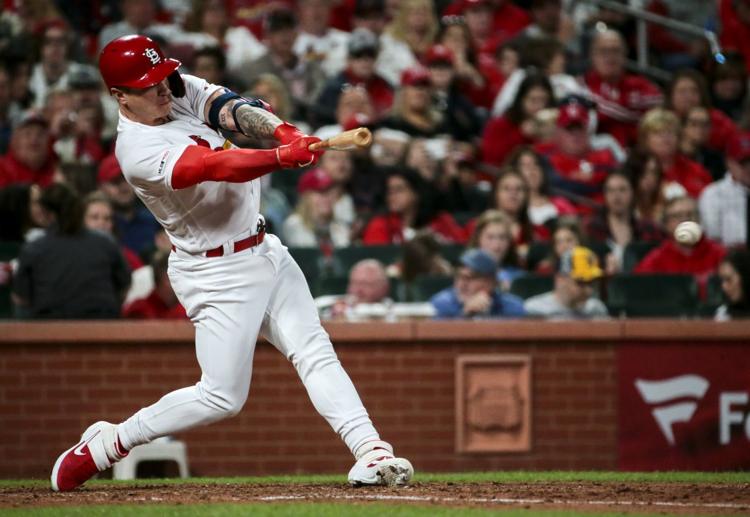 QUESTION: What about Dexter Fowler at DH against righties and someone else against lefties? That way, Dylan Carlson plays right field with Tyler O'Neill or someone else in left field.
BENFRED: Fowler was better against righties (.245/.350/.425) than lefties (.213/.331/.352) last season, so that would make some sense. But if he's struggling in 2020 to the point that he can't be an everyday outfielder, then you probably have a better bat against righties available as your DH. Brad Miller, for example, averaged .274 and slugged .600 against righties last season.
John Mozeliak has suggested the Cardinals are going to try to fill their new DH need from within. Tyler O'Neill would be my No. 1 option because it would create time for Dylan Carlson and Lane Thomas in the outfield. Carlson and Lane Thomas could also serve as DH options to get O'Neill in the field.
I would expect a similar cycle of infielders to potentially get shots there too: Brad Miller, Rangel Ravelo, Tommy Edman and perhaps Matt Carpenter. It's going to be a spin cycle.
DOES SHORT SEASON HELP CERTAIN TEAMS?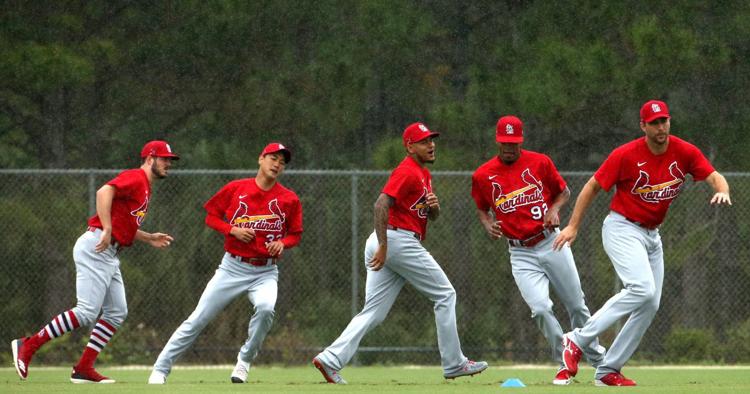 QUESTION: Will certain teams be helped more than others by a shortened season?
BENFRED: Of course. Fast starts will mean a lot more. One bold roster change — the promotion of the right rookie, the trade for a game-changer — could have a much bigger impact.
I think aggressive teams that embrace the sprint will be rewarded more than old-fashioned teams that are slow to adapt to the altered landscape.
Teams with quality pitching depth will also have an advantage, because I imagine there will be a lot of snags with arms.The Cardinals are in good shape there.
WILL THERE BE FANS IN THE STANDS?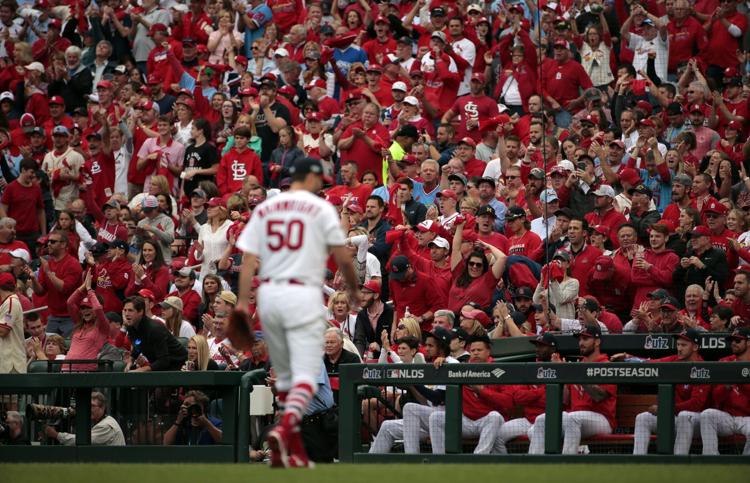 QUESTION: Do you think it could be possible to get fans in the stands before the baseball season ends, if even in a limited amount?
BENFRED: No one is ruling it out. It could get complicated, though, considering the huge back-and-forth owners and players just had about how to move forward without fans in the stands. So, if that's going to change, will there be more friction?
What I do know is that places like Ballpark Village or the Wrigley rooftops are going to make some money if they can find a way to let people see the field from their venue, and if those places are somehow owned by the teams, I imagine the players are going to express some frustration about that, considering they heard a lot about how much money owners are going to lose without fans in the stands.
Until we are back to normal crowd-wise, there could be a small but very lucrative window to let a few fans pay large amounts of money to see live sports. People with big dollars will pay big to say they were one of the few people who saw it in real time.
COULD IT ALL COME CRASHING DOWN?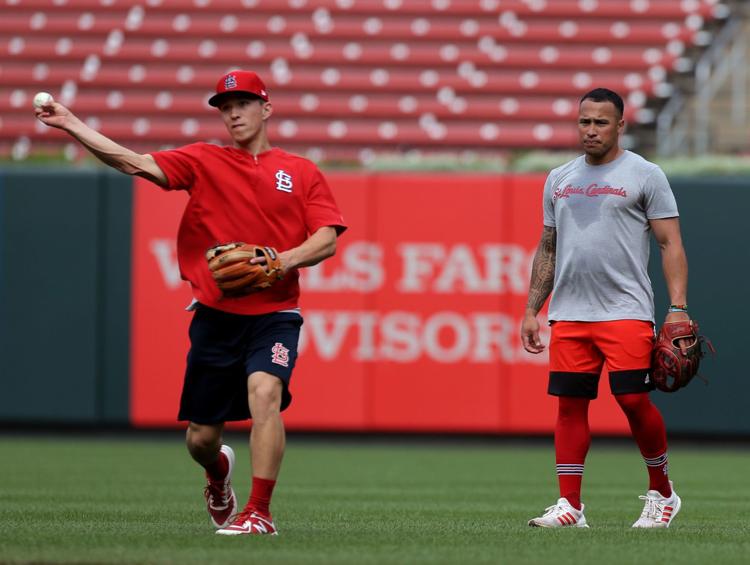 QUESTION: Aren't we just a couple of team-wide shutdowns away from baseball having to punt? Sorry for being skeptical, but I don't see there being 60 games and a postseason.
BENFRED: You should be skeptical. That would be wise. Beating the virus was always going to be the hard part of playing in 2020. That didn't change just because owners and players turned their negotiations into a monster headache.
Now the truly hard part begins. Baseball would not be attempting to start back up again if it wasn't willing to weather some coronavirus speed bumps. It's going to be impossible to keep the virus out entirely, as we have already witnessed with the positive cases as players started to trickle back into camp.
What has to happen is an avoidance of enough virus-caused turbulence, either due to the number of players/teams not available or due to examples of serious health problems that make decision makers rethink this plan. If the virus in baseball becomes a bigger topic than the baseball season, then it probably gets shut down.
RECORDS OR NOT?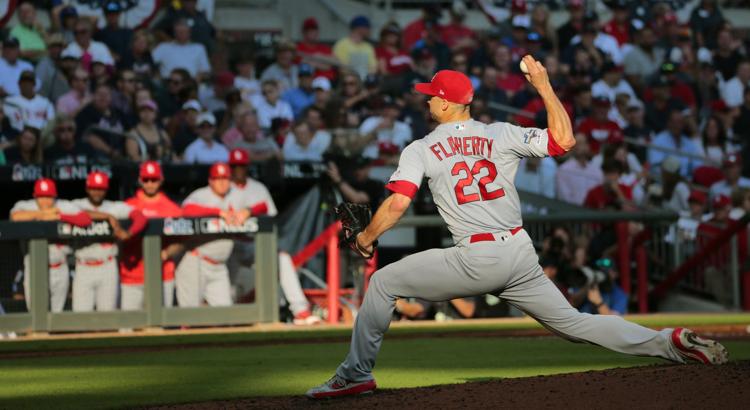 QUESTION: How will you view any records set this baseball season?
BENFRED: With context. A great ERA or OPS will not mean as much because it was not built over the long grind of 162, but to simply shrug off the challenges this 60-game season presents feels wrong.
Players are creatures of habit and repetition. Those who overcome a hurdle no one could have predicted to excel are going to be remarkable in their own way. Everyone has a level playing field in this strange season, so these records will still matter, but will need to be accompanied by the proper context.
DID PLAYERS GAIN ANYTHING?
QUESTION: What exactly did MLB players gain by not accepting the owners' last proposal? They left stuff on the table, and can't possibly think they are going to win their grievance if they pursue one.
BENFRED: You answered your own question. Players won on their desire to uphold the March 26 agreement as they saw it, believing it secured full prorated pay per game, and they protected their collectively bargained right to pursue a grievance against the owners that will likely attempt to prove the owners negotiated in bad faith by trying to delay the length of the season.
If you don't think they can win that, you probably think it's a bad deal to protect that right.
I don't know if they can win it or not. We don't know everything they know about the negotiations.
BASEBALL BETTER OFF WITH A SALARY CAP?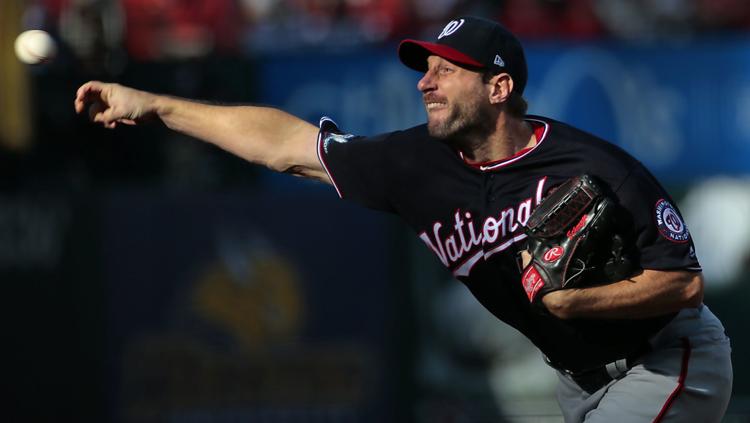 QUESTION: Would MLB be better served with a salary cap and a salary floor?
BENFRED: It's a good question, as that's the model the other leagues have adapted, but the players have been pretty dead set in not having their revenues directly linked to the owners' revenues.
Part of that reasoning was on display during this recent back-and-forth about the 2020 season. Players don't trust owners' word on what the revenue is. You can't agree to split something down the middle if the two sides disagree about the size of the pie being split.
A salary floor would be great, because it would force tanking teams to have to spend to lose. I'm not sure there are enough owners who want all teams to try to compete. If there were, we would have heard some complain about the tanking trend. None of them do.
WHO'S TO BLAME FOR THE MLB FIASCO?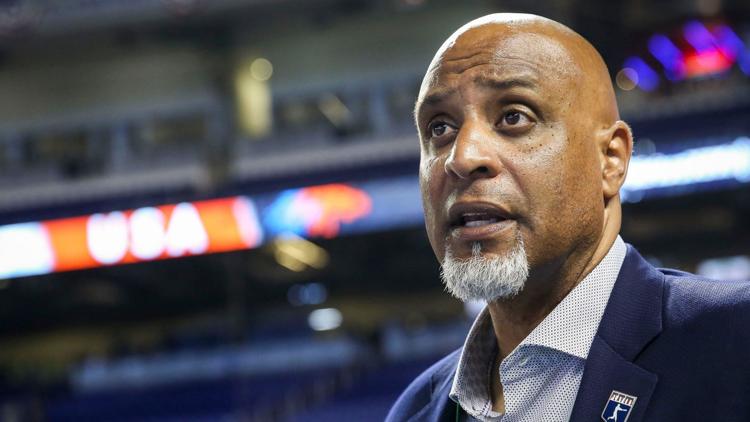 QUESTION: Who is most to blame for the process that led to this 60-game season becoming such an embarrassing mess?
BENFRED: Everybody. But the two faces of the talks that could and should have led to a longer season are commissioner Rob Manfred and players' union head Tony Clark. They failed to keep discussions from being about how to make the most out of 2020, and let them lapse into CBA-like rhetoric, filled with low blows, media leaks and most importantly, a lot of wasted time.
If both sides were serious about making real progress together, they would make sure both of these leaders were replaced before it's time to hammer out the next CBA.
I hoped this round would make a strike or lockout less likely after the 2021 season. That does not appear to be the case.
WILL GRIEVANCE PROCESS DO MORE DAMAGE?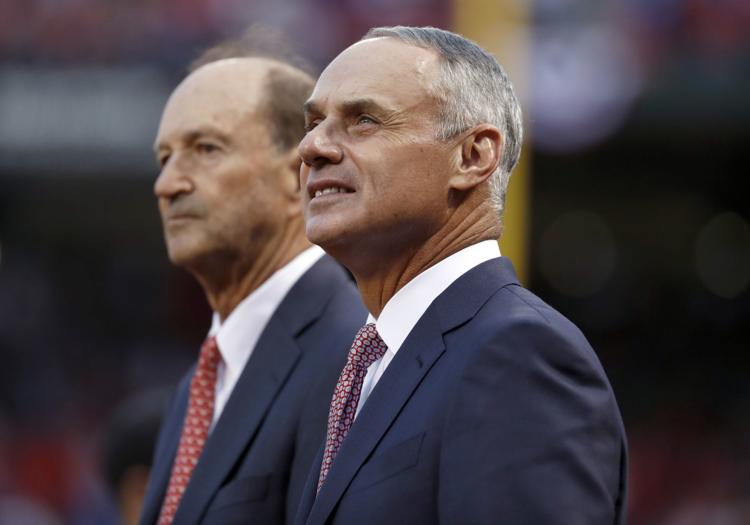 QUESTION: Can you give some more info on a potential MLB grievance process if players pursue one against the owners?
BENFRED: Players have 45 days to officially file a grievance that accuses owners of negotiating in bad faith during the talks that set the terms of the 2020 season. Essentially, what they would be trying to prove is that the owners delayed mandating a season in order to shorten the number of games that could be played.
You can see the owners have done some things to help protect themselves, one of which was deciding a 60-game season would be imposed instead of a shorter one, like 45. They could have punished the players for not accepting the last proposal. They did not, at least in terms of number of games. Owners will also say they offered more games, but players will argue that the per-game pay was smaller in those offers. And so on.
There's chatter the players would be coming for something like a billion dollars with the grievance. It would be decided by MLB's independent arbitrator Mark Irvings, who would hear the case. This would not interrupt the season. It would play out alongside the season, and might take longer than a season to end.
What it won't help is the relationship between these two sides as they near negotiations for a new collective bargaining agreement after the 2021 season. Players must think they have a decent shot at doing some damage with a grievance, because they were determined not to accept a compromise that gave away their right to pursue one.
Keep up with the latest Cardinals coverage from our award-winning team of reporters and columnists.