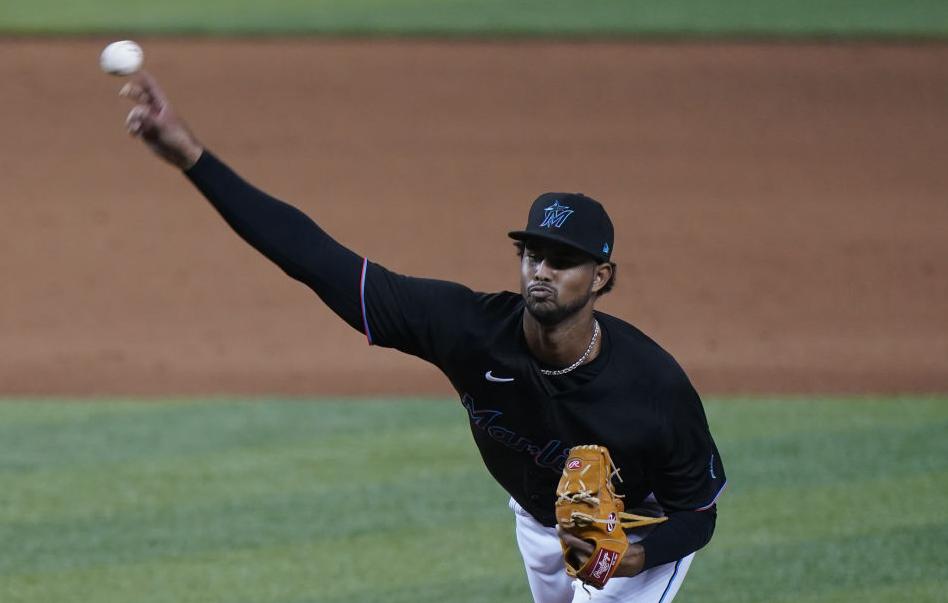 JUPITER, Fla. — Johan Quezada, a new Cardinals pitcher in camp, is 6 feet 9 inches tall and just as long as he is confident. On Sunday, he said proudly that he wanted to be the righthanded Randy Johnson and said, "I know what I've got. And it's hard to hit."
The 255-pounder's fastball has been clocked at 98 mph. But those haven't often enough been strikes. The Dominican Republic native got into three games out of the bullpen with the Miami Marlins in 2020 after spending seven minor-league seasons in the Minnesota Twins organization, where he struck out 182 but also walked 149 in 180 innings and unleashed 57 wild pitches in his first four pro seasons.
But in Quezada's final season with the Twins, at Class A Fort Myers in 2019, he had cut down those walks to 28 in 52 1/3 innings while going 7-2 with a 3.44 earned-run average as a reliever. Since then, his career has taken a somewhat dizzying path.
He signed with the Marlins only to be claimed on waivers last Oct. 10 by Philadelphia. He wasn't with the Phillies long enough even to get a cheesesteak before the Cardinals acquired him for cash less than two weeks ago.
"This is baseball. This is how it is," Quezada said. "I know this is a business. It hasn't been easy, but, like I tell you, this is baseball.
"You cannot get used to something because you can get traded or anything can happen."
Anybody who's that tall and can throw that hard always is going to get a look. It is the Cardinals' turn now.
Handling his first Zoom with zest for the Cardinals, Quezada said that being 6-9 "is a good advantage. There are not many pitchers that can throw from that height. The hitters are not used to that, so it's good."
The 26-year-old was a starter for only his first year in pro ball before being converted, and relief may be what the Cardinals have in mind for Quezada. "I don't mind," he said.
"If they want me to start, I'll start. If they want me to relieve, I'll do it. Just give me the ball."
Under any circumstance, though, Quezada is going to have to show more than just a passing knowledge with home plate.
"I know I'm on a good team (for) pitching, so I think I'm going to get better with command than it was before," he said. "That's my main goal.
"Stay focused and don't mind what happened on the last pitch. Stay in control."
Should he ever harness a consistent strike-throwing delivery, Quezada could be even more imposing as he throws a fastball and ends up, seemingly, inches from a hitter.
"I don't know how to tell you how fast, but it's fast," he said. "That's hard for a hitter. They tell me that."
Several Cardinals pitchers already have spoken to Quezada, notably Adam Wainwright, Genesis Cabrera and Alex Reyes. Quezada said he felt he could get "a lot better.
"I see myself as a rigthanded Randy Johnson (the Hall of Fame lefthander), striking everybody out. That's my goal," Quezada said.
Besides his four-seam fastball, Quezada said he had a slider and occasionally offered up a two-seam fastball. "My goal is to get ahead (in the count) and let my pitches do the work," he said.
"I know the ball is hard to hit. And when the ball comes hard, even harder. They're always swinging for me to throw a fastball but I can throw a good slider, too. So, deal with that."
Most athletes his size are basketball players, and Quezada said he had many people tell him he should be one, too. "But I always answer that I was born in the wrong country to play basketball," he said. "Baseball is the main sport in the D.R. If you want to get (to be) known, you have to play baseball."
And Quezada plans to be known.
"I know what I've got and it's hard to hit. So, I've got the advantage of that," said Quezada.
Around the bases
Besides Quezada, the Cardinals also signed a couple of weeks ago backup catcher Ali Sanchez, who had been with the New York Mets. Venezuelan Sanchez, who had one hit in nine at-bats with the Mets in 2020, is known as a catch-and-throw player (he cut down 46% of prospective base stealers in the minors) and has worked on learning to be bilingual so as to deal better with his pitchers.
Sanchez said he had been looking forward to working with longtime Cardinals All-Star and Gold Glover Yadier Molina and hadn't been disappointed.
Veteran lefthander Andrew Miller, who had been absent for personal reasons, was on the field during a windy day Sunday. There were no throwing sessions by pitchers, who worked more on fielding fundamentals.
Because of the exhibition schedule being shortened to 24 games, manager Mike Shildt said some of the starting pitching candidates might have to pick up their innings either in relief or in "B" or simulated games on the back fields. Monday will be the first official work day for the entire squad.