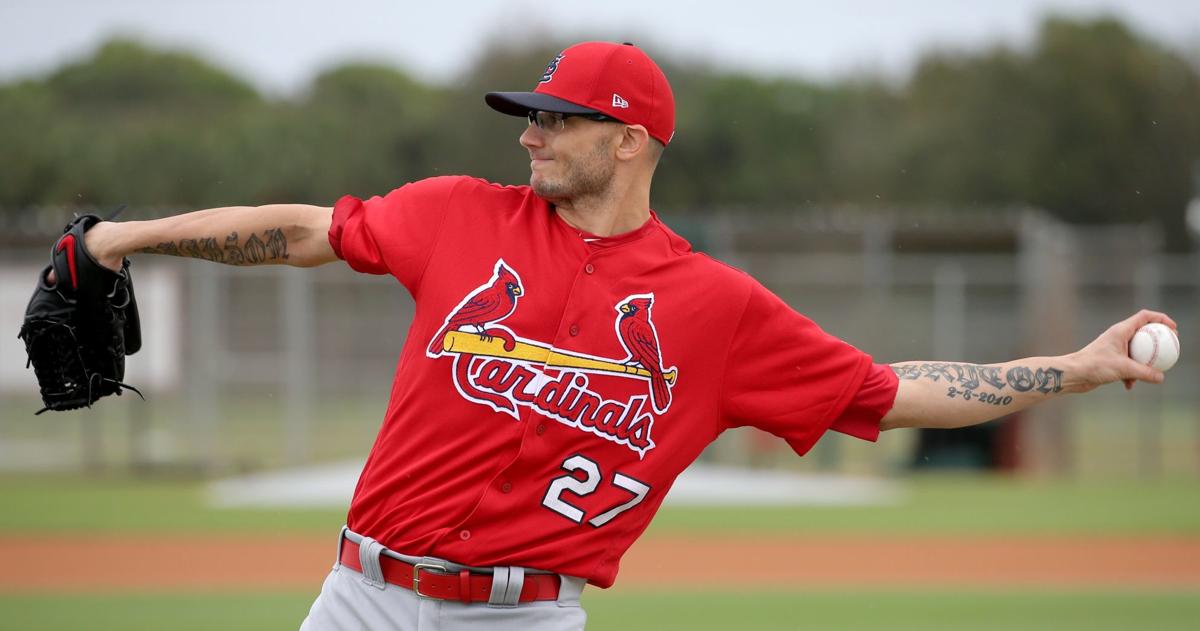 PORT ST. LUCIE, Fla. • With fewer innings remaining to find his way and more pounds to add to his weight, Cardinals lefty Brett Cecil appeared in a game for the first time in 11 days and continued to find results that, like his frame, are thin.
The lack of snap on his fastball and control of his delivery prompted Cecil to talk Sunday with the team's trainer about rethinking his diet so that he can gain some lost weight and restore balance to his mechanics. In one inning of work against the New York Mets, Cecil slipped loose from trouble and did not allow a run, but he walked Tim Tebow and hit a batter, and eight of his first 12 pitches were balls. For the first time the Cardinals left open the possibility that Cecil would not break camp on the active roster.
"We are aware there is an opening-day date," manager Mike Shildt said. "We are also aware there are six months after that. So, while we do want guys to feel ready, to be ready for opening day, we don't also want to try to get somebody ahead of where they should be to try and push a date that may not be realistic. We will evaluate in a vacuum, so to speak, with him.
"Build him up," the manager continued. "If that works out, and it works for opening day, fantastic. If not, we will reevaluate from there."
The word Shildt used to describe Cecil earlier Sunday was "committed" — committed to the side work he's doing to correct his delivery, committed to the preparation asked of him for spring and committed to a training program that melted weight off. Cecil shed 30 pounds this winter, and has continued to lose weight throughout spring training. He has hovered between 200 pounds and 205 pounds in the past week, and touched 199 pounds recently.
"I can't tell you the last time I was a hundred-anything," said Cecil, who pitched last season at 235 pounds or more.
Like pitchers in past years who have had a dramatic change in body type — Lance Lynn losing weight, Shelby Miller stacking muscle or Adam Wainwright adding bulk — Cecil has had to search for new balance and timing on the mound. Used to moving more mass in mechanics, Cecil has sped up his torso, opened his lead shoulder earlier and left his pitching arm to catch up, sliding it instead of snapping it. The results are clear in his lack of command — and what's become a drift in velocity.
Against the Mets, Cecil did not throw a pitch harder than his first pitch, at 88 mph. His fastball loitered around that velocity last season, too, and he said it's been since 2017 that he's felt "something behind" the pitch. By spinning too quickly Sunday toward third base "I am cutting myself off," he said, and not getting any force behind the fastball.
Cecil turned eventually to lean on his curveball and changeup. With one out, Cecil got ahead of Tebow, the lefthanded-hitting former Heisman Trophy winner, with two foul tips. Tebow took a fastball that sailed well wide, another pitch that was off the edge and then accepted a walk.
Cecil hit the next batter, and 12 pitches into his outing he had two runners on, one out and eight balls. A mishandled groundball that caromed into an out gave Cecil a reprieve . Lefthanded-hitting outfielder Michel Conforto took a changeup for a strike, fouled off a curveball, and then whiffed on another off-speed pitch to end the inning.
"It's nice to pitch out of jams instead of pitch into them and not get out of them," Cecil said.
"I'm older and I know how this game is, and I know how it speeds up. I even predetermined that I wasn't going to let it speed up on me, and it still did. It just still goes to show the amount of focus you need to have. … I was spinning off everything. The shape of everything was good. The changeup and curveball (worked). I just need to focus on staying back longer. Without the extra weight, it's easier to let that front side open and I really have to concentrate on that."
Shildt and pitching coach Mike Maddux removed Cecil from the throwing schedule so that he could work away from the games and box scores and under tutelage in bullpen sessions. Cecil said he did not intend to throw himself back on the mound Monday to work through things because he'll do that on flat-ground throws or in no-throw drills so that he can return to a game sooner. There are 13 days of games remaining in Florida, and at the same time Cecil seeks results in those, he's also looking to add some of the weight lost.
Cecil said he'd like to pitch around 215 pounds.
The 32-year-old lefty has two years and $14.5-million remaining on his contract with the Cardinals, and with the addition of lefty Andrew Miller for late innings the Cardinals are open to carrying three lefties in the bullpen — or two. Lefty Chasen Shreve, who has allowed one run and three walks in 3 1/3 innings this spring, is out of minor-league options. Shildt called Cecil's command Sunday "spotty," and credited some of that to the lack of work and layoff between games. Cecil traced it back to the same issue he had in his first game —muscle memory and a delivery synched to a larger man.
The option the Cardinals allowed as a possibility would mean finding an ailment to place Cecil on the injured list. He'd continue work in Jupiter, Fla., as the season opens.
"I'm not going to get discouraged. It's not what I wanted, but my arm felt good," Cecil said of his Sunday return. "Once my mechanics are fine-tuned to where my arm feels good, I can get out there and get in rhythm. With the work I'm going to put on the side, the rhythm of getting into games should come along pretty quickly."