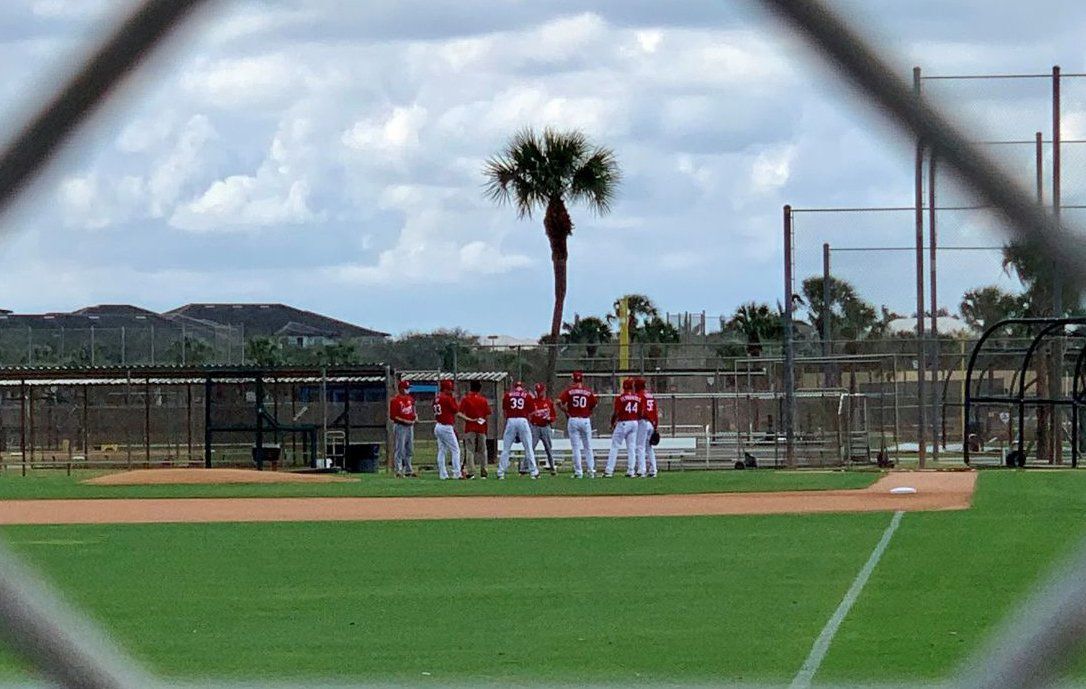 JUPITER, Fla. — The crossroads at the start of any Cardinals spring training is the "six pack," a series of six mounds nearby the main building, where before six pitchers could be found throwing at once. A throng of teammates, coaches, trainers, and executives in golf carts gravitate toward its location as a place to stop, chat, watch before ducking into the clubhouse. It is where Adam Wainwright introduced himself to Yadier Molina, where Chris Carpenter began his rise to ace, and where the differences of 2021 came into sharp focus.
At high noon, atop the "six pack," Jordan Hicks stood alone.
The Cardinals' once and future closer's first official throws this spring, his first spring training since Tommy John surgery, came after other trios had left the mounds. Coach Mike Maddux stood at an appropriate distance nearby, and a trainer, too. An executive watched, no golf cart needed. And 60 feet, 6 inches away was catcher prospect Ivan Herrera with the best view of all, wearing a mask, just one more familiar around here than everyone else's. Hicks' quick delivery, quicker arm, and quickest sinker were on display as he lifted his left leg and pushed off the pitching rubber, like a falcon from a limb, his wingspan reaching out before letting a fastball soar. He threw with obvious health, familiar mechanics, darting moving on his breaking ball, and the usual search for command that comes with missing 20 months.
It was the kind of test drive that usually draws a crowd, but instead was a reminder of a cardinal rule in place — avoid crowds.
"For so many years you see everybody gather, you see all the players take the field as a group," president of baseball operations John Mozeliak said, listing the traditional snapshots of spring. "And unfortunately, none of that is happening this year. The anticipation for the start of today is still very real, still exciting for everybody who is down here.
"But I think we all realize it is different."
Physicals began at 8 a.m. local time and a precise rotation of pitchers and catchers circulated through the offices, through the weight room, through the clubhouse — all as prescribed. Advertised as the day for pitchers and catchers to report, Wednesday quickly became the first workout for pitchers and catchers at Cardinals camp. Nolan Arenado, the prized acquisition of winter and five-time All-Star, took batting practice in the cage, wearing Cardinals' red for one of the first times. Yadier Molina, in his gear, gave a wink as a trio of pitchers that included Kodi Whitley finished up their bullpen sessions.
Prospect Griffin Roberts threw on the near end of the "six pack" while Giovanny Gallegos had his workout on the far end. On a far field, Miles Mikolas, flanked by Adam Wainwright and Kwang Hyun Kim, listened to manager Mike Shildt.
The expectation, Shildt said, is to get as much done as usual.
Farther apart from each other.
"It's not any real different in what we're looking to accomplish with our Day 1," Shildt said during a morning Zoom conference call with media. "We've looked back at the last couple of years' Day 1 spring training. We take notes and modify it for today. The good news is we're already in small groups to begin with. The other good news is we have this wonderful complex down here that allows us to spread out."
A city of tents — some white, some striped spearmint; five today, two more coming Saturday — has popped up all around the Cardinals' main building, like a carnival come to town. Only this one does not want crowds to see its show. No food is permitted in the building, so a few of the tents are set up for players and staff to eat. Members of the 40-man roster are in the main clubhouse, each separated by an open locker, and that puts non-roster players in the minor-league half of the building. There is, as Shildt said, "no team dialogue in a clubhouse setting." There's a tent for that.
A tent has been raised right outside the weight room to allow for more room between workouts, and on Wednesday outfielders Tyler O'Neill and Lane Thomas, two early arrivals, had to jog to the minor-league weight room because access for the main room was booked.
The schedules are so tight it's as if they've crossed spring training with a train station.
"The look of this camp is much different," Mozeliak said. "We even have a tent right — remember where the old media room used to be? That's now an outdoor weight room. Just the look of what this camp looks like is much different."
Said Shildt: "We're pretty much an outdoor operation."
For the first several days of spring training, only team personnel — players, coaches, execs, officials, in-house media — are allowed on the premises. Fans, annually able to attend workouts on the backfields, won't be permitted this season, though limited tickets will be sold for games. On Wednesday, a member of the media was able to see the "six pack" from the sidewalk — which is a buffer between the team with its restrictive COVID-19 protocols and the culture lurking just outside that, well, wears a looser mask.
All around Roger Dean Stadium are restaurants open for business, and within the fence are players and personnel who, until March 1, cannot go in restaurants.
That is the line the Cardinals and other major-league clubs are walking this spring — doing all they can to avoid an outbreak of the coronavirus and prepare for a regular season. Mozeliak requested a list of the personnel who had antibodies present during intake testing, and received 15 to 18 names, including staff. They may use that information to construct groups and further buffer players. So many of the protocols in place such as the "six pack" limit or the small groups of four or six moving together is all done to create a distance harder for COVID-19 to leap. They want to avoid the virus igniting a brushfire through a roster if it slithers through the gates.
"What we've really impressed upon our players is you can get carryout, you can have something delivered — just please remember that you cannot go to a bar, restaurant, or large gathering," Mozeliak said. "Ultimately there are two big tests we have to pass. One is can we avoid having an outbreak in our camp. And two, we have to prepare for a season and make sure we have a roster we're excited about, we believe in, and we think can be competitive. We're going to be running kind of parallel paths."
Hicks is one of the few pitchers on a limited program as he comes back from injury, and the plan remains to ease him toward games. Although permitted to play shorter games this spring, the five teams on the east coast of Florida have all agreed their Grapefruit League contests will be nine innings, Mozeliak said. To get needed innings for all the pitchers the clubs are already starting to schedule back-field games and scrimmages. One official is running that schedule while another handful are memorizing the COVID protocols which have been like "drinking from a firehose," Mozeliak said.
And so, there were fewer people to see their closer make his first stride toward returning, no media to record it, just a few coaches wearing masks, a trainer or two, an executive, and in the distance a reporter. There was nothing normal about the scene but the focus of the scene.
Hicks alone on the mound.