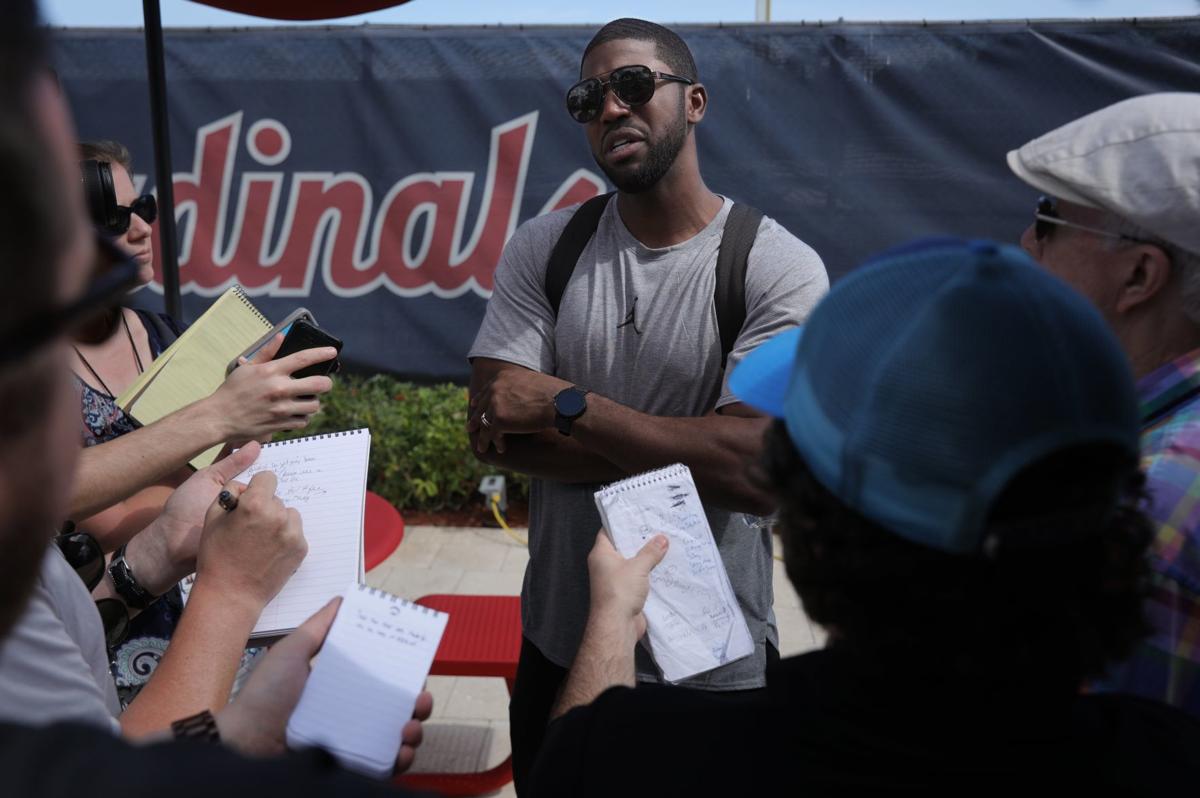 JUPITER, Fla. • One way the weight of last season has been lifted from Dexter Fowler is the word he used Friday afternoon to describe his swing, though it could just as easily apply to his position, his spot in the lineup, or even his relationship with the manager.
"It's simplified," the veteran said.
For the first time since August, when a broken foot ended his fractured season, the Cardinals' switch-hitting right fielder has been doing baseball things on a baseball field the past few days. An early arrival to Cardinals spring training, Fowler hit on the field with teammates Friday, and he has been doing drills with coach Willie McGee and the other outfielders during informal workouts at the Cardinals' Roger Dean Stadium.
John Mozeliak, president of baseball operations, said it's "no secret" the team wants Fowler to start in right field and expects a "bounce in his step." For that to work, Fowler needs a pep in his bat, and while working with Barry Bonds in January he felt a familiar swing return.
He agreed it was like home.
"Made it so simple and it's easy to repeat and you have more room for error," Fowler explained in his first comments since reporting to camp. "You realize you don't have to do too much to get what you need out of hitting the ball. You start doing too much, everything else breaks down. You start getting out of whack. You start trying new things. You don't get back to what you know. You start looking and searching, and that will get you in a hole."
On his way to a season littered with career worsts, Fowler lacquered his game in complication after complication. He had played most of 2017 with foot injuries, and he had knee troubles in 2018 before snapping his foot in Pittsburgh during a game. A year removed from a career-best 18 homers and .488 slugging percentage in his first season with the Cardinals, he started slowly, and sporadic production begat sporadic playing time, which begat more sporadic production. His swing abandoned him on both sides of the plate. His batting average sank ultimately to .180. A player known for his on-base percentage finished with a .278 OBP, 90 points lower than his career before 2018.
After an initial setback in his foot's healing, Fowler plunged back into an offseason that included work with a personal trainer and hitting instruction with Bonds. He would send the seven-time MVP video of his swing, and when not together the two would talk via FaceTime, Bonds standing in his office, pantomiming a swing for Fowler to repeat.
Fowler said Bonds' recent take on his swing was simply "perfect."
"Offensively he's always had a really good plate discipline and control of the strike (zone), and I don't think that really went away last year," said new Cardinals new hitting coach Jeff Albert. "That's a skill that is usually pretty consistent. Just watching him again the past couple of days, I think he really has a good swing path, a really good path. He's able to be successful and make a lot of line-drive contact through the years. What I see is he's just making sure to put himself more often in a consistent position to capitalize on his strengths."
That has been limiting the "moving parts" that would make his righthanded swing vary from his lefthanded swing, or the fidgets that he added to his lefthanded swing to allow it to catch up to a fastball that his righthanded swing could get.
"It's simplified," Fowler said. "That's probably the best word."
And that theme reaches throughout his game. Fowler said he didn't "get the benefit of the doubt" in right field, a new position for him, and that his instincts and familiarity will help out there. He called conversations with manager Mike Shildt "honest," even if it's not always something he wants to hear. The communication has improved from the confusion he felt last year with his role, his playing time, or his spot in the team dynamics. Where he'll hit could also gain clarity in the coming weeks.
Bumped from the leadoff spot in 2017, Fowler floated around the lineup, and he mused Friday about hitting No. 2 ahead of newcomer Paul Goldschmidt this season.
The reason? Simply, runs.
"That's a lot of runs for these guys to drive in," he said. "Since I've been here I've been everywhere. I came here to hit leadoff, then they had me hitting third, they had me hitting fourth, they had me the whole nine. … Any time you have stability, up and down. You know what? I think my game will prove itself. If I'm myself out there I think everything will take care of itself."
HICKS, ETC.
Originally listed as one of the throwers for Friday's workouts, reliever Jordan Hicks was bumped back a day to set up his schedule for Grapefruit League appearances. The Cardinals will manage the spring innings for Hicks, Jack Flaherty and Carlos Martinez to assure they're readying for the season and not burning innings they could use September or October. … Alex Reyes (shoulder) had no trouble recovering from his first bullpen session of spring and will receive an extra day of rest between bullpen sessions in the opening week of camp. ... Jose Martinez gave his first baseman's glove to coach Stubby Clapp on Friday morning – and may not get it back. The Cardinals intend for Martinez to spend the spring working in left and right field. At first base, he committed seven errors in 84 starts in 2018.